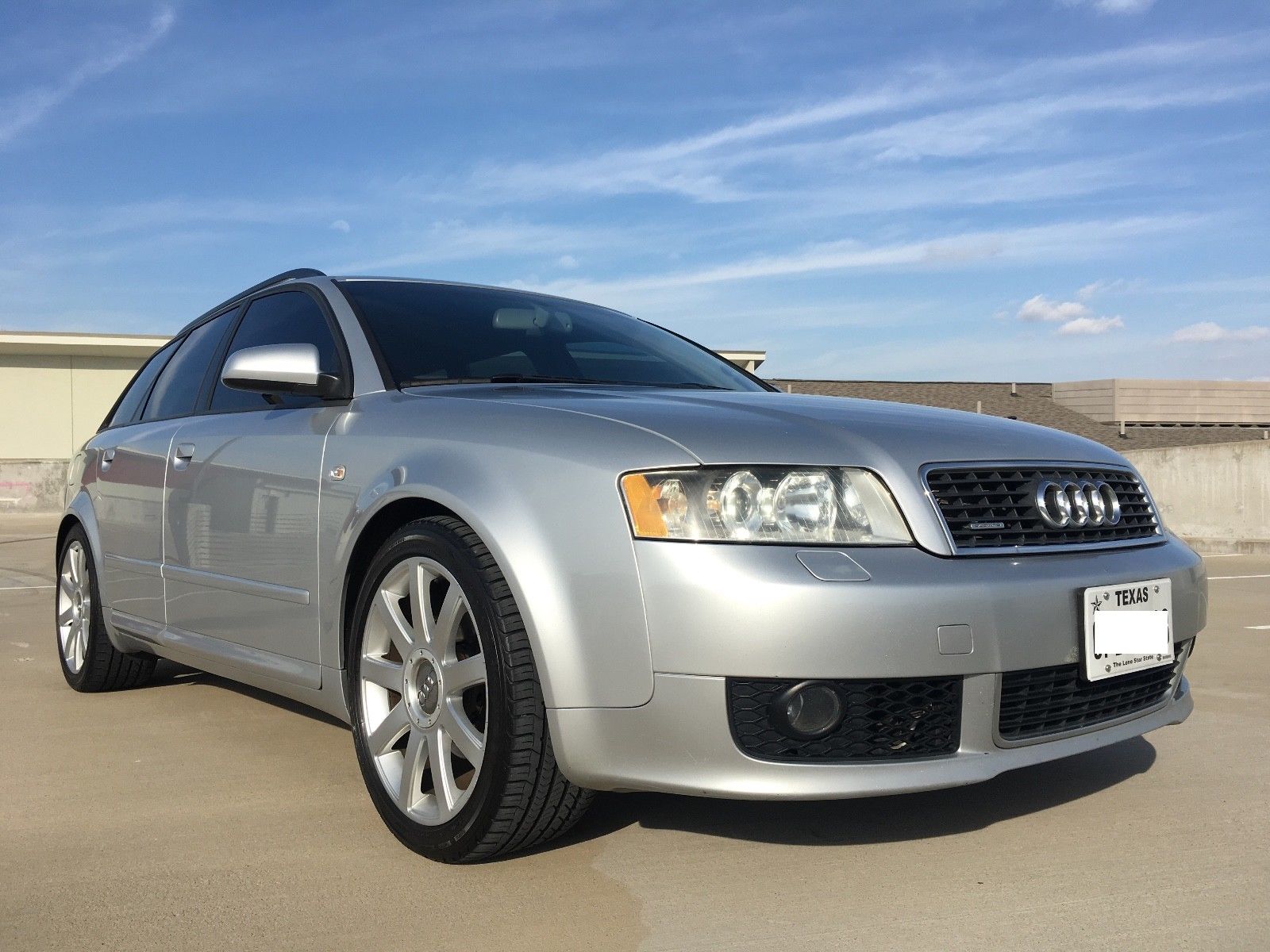 Update 2/17/19: It what's probably no surprise to most, this A4 remains available with only a $500 price decrease to $9,300 now
A few of us sat baffled several months ago as we watched auction results come in. The model in question was the E46 330i – in particular, the "ZHP" performance package. The ZHP was basically halfway between the regular Sport package and the M3, utilizing unique body bits and wheels, a slightly hotter motor, and the transmission borrowed from its bigger brother. Your only option for a 4-door performance 3-series in this generation, not many bought the over-$40,000 price tag. What's interesting is that while these cars were sold alongside the M3 for far less money when new, today they can actually command a premium over the real-deal M.
Case in point – a 33,000 mile Coupe traded for $26,000 earlier this year, and it wasn't alone. It's been labeled the "ZHP tax". There are reasons why a proper ZHP brings M3 money, mind you – they're cheaper to run and they're quite a bit more rare than the M, especially in good shape. And BMW wasn't alone offering them.
Audi, too, had a "Diet S4". Dubbed the Ultrasport Package, for $3,000 it included RS-inspired "Celebration" 18″ wheels with summer tires, the lowered 1BE suspension that was part of the normal Sport package, a unique quattro GmbH/Votex body kit, and a nicely wrapped leather steering wheel and shift knob. It also limited your interior option to black, and a fair chunk of them appear in Light Silver Metallic – also a popular choice on the S4. Unlike the 330i, the USP A4's engine choices weren't upgraded, but you did at least have two – the AWM 1.8T rated at 170 horsepower, or the AVK 3.0 30V V6 good for 220 horsepower. Both were available with choice of 6-speed manual (*5-speed for the FWD models) or automatic, and the basic 1.8T model was about $10,000 less than the 330i. While there was no convertible/coupe USP to compare to the 330i, Audi maintained its trump card on sporty wagons. Just like the ZHP, today the USP A4s command a strong premium in the used market, especially as Avants: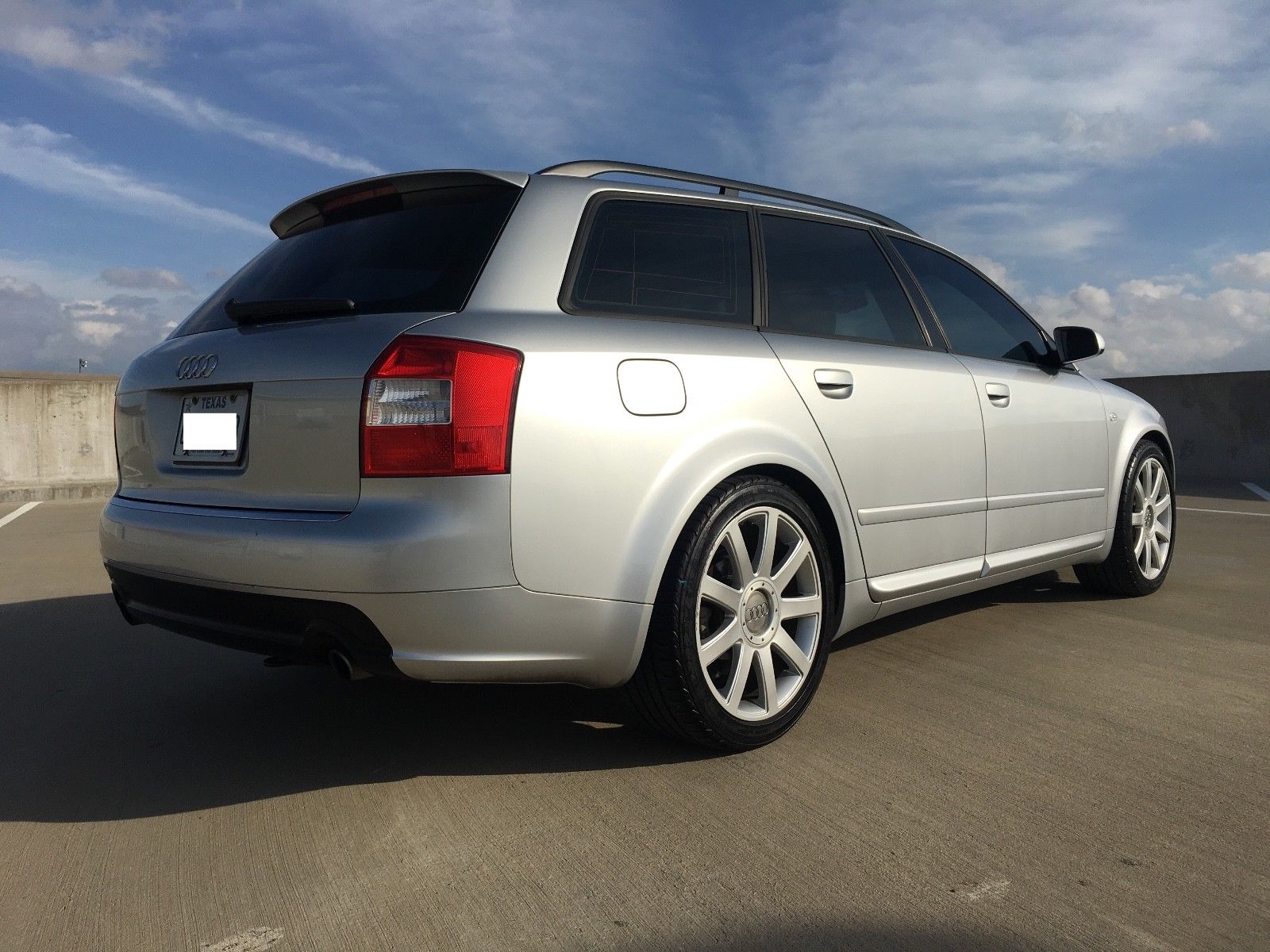 Year: 2004
Model: A4 1.8T quattro Avant Ultrasport
VIN: WAUVC58E84A224754
Engine: 1.8 liter turbocharged inline-4
Transmission: 5-speed automatic
Mileage: 153,500 mi
Price: $9,800 Buy It Now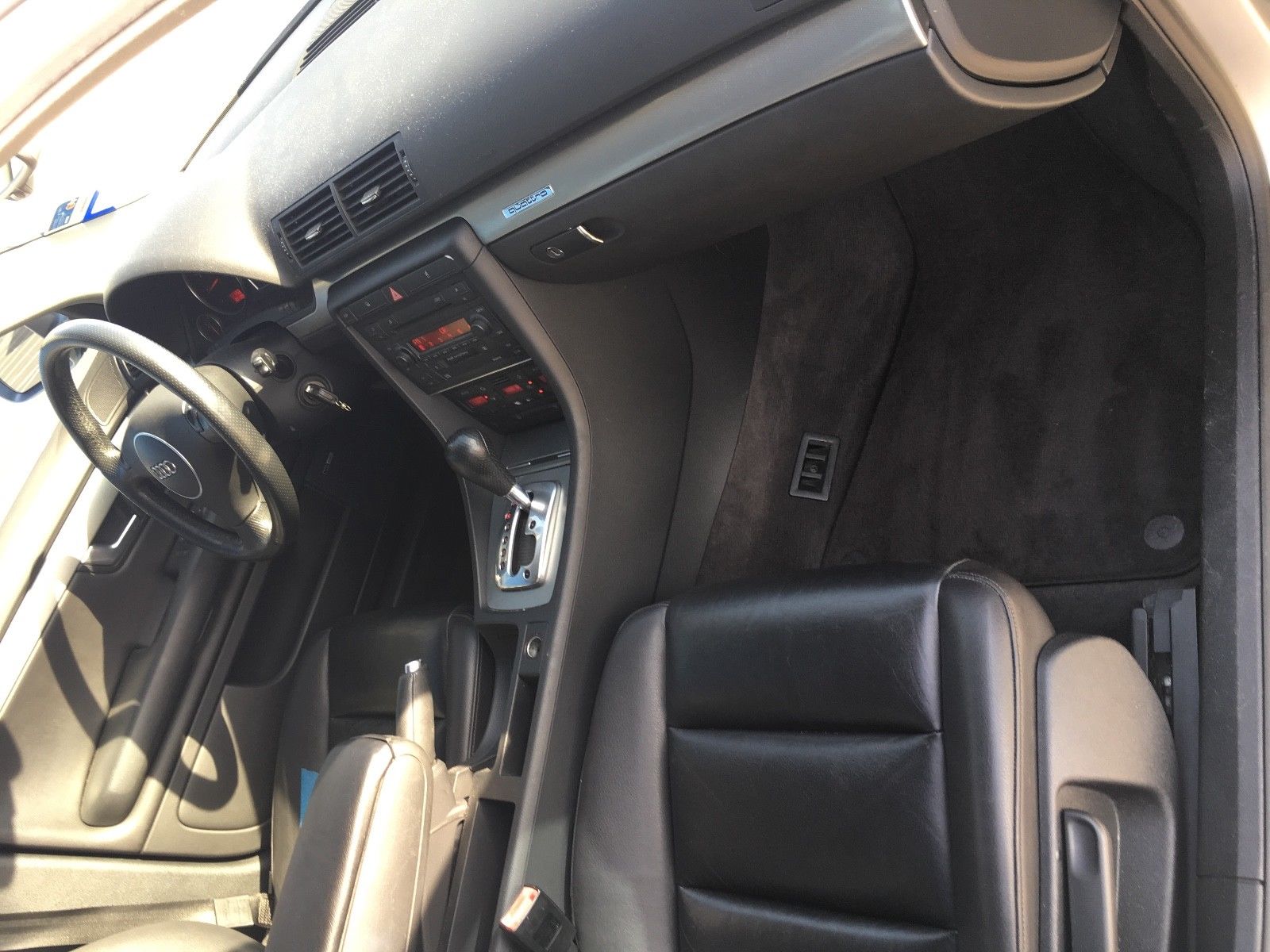 Selling my Avant. It is a genuine Ultrasport Avant. There were only a handful of these packages that made it to the US and even fewer onto an Avant. I no longer have a need for a second vehicle. I'd like to see the car in someone's hands who truly appreciates what it is. It lived it's whole life in CA before making the trip to TX five years ago.

I took a long trip in it last fall. The oil was changed, vehicle inspected, and brought on a 6000 mile road trip where it performed flawlessly and got 37MPG loaded to the gills with items for the family on a 1250 mile stretch. Not a light car or compact by any standard. It has only been driven a handful of miles since.

I have many of the records from the end of the Audi Warranty on. I have had a lot of maintenance done. All work has been done by a Certified VW/Audi Mechanic.

During My Ownership:

Replaced 4 Tires NEW Goodyear Eagle Sport 245/40/18

Performed 4 Wheel Alignment

Replaced License Plate Bolts With Stainless

Plasti-Dipped Rear Lower Valence

Replaced Coolant Flange

Replaced Coolant Temp Sensor

Replaced Coolant

Replaced Related Rubber O-Rings

Replaced Cam Tensioner Gasket

Replaced Cam Tensioner Seal

Replaced Valve Cover Gasket

Replaced Motor Mounts

Replaced Snub Mount

Replaced Passenger Front Inner CV Boot

Replaced Passenger Front Outer CV Boot

Replaced Axle Nut

Installed LED License Plate Lamps

Replaced Armrest Lid Assembly

Reconnected Rear Hatch Actuator to Latch Assembly

Replaced Coolant Overflow Tank Cap

Replaced Oil Dipstick Tube

Replaced Oil Dipstick

Replaced Engine Air Filter

Replaced Cabin Air Filter

Replaced Front Brakes

Replaced Rear Brakes

Replaced Coolant Temp Sensor

Replaced Coolant Temp Sensor Clip

Replaced Related Rubber O-Rings

Performed Tire Rotation

Performed Tire Balance

Performed Alignment Check No Adjustment Needed

Replaced Fuel Filter

New Spark Plugs

Replaced Tail Lamp Bulb

Replaced Coolant Temp Sensor

Replaced Oil breather Adapter w/ 034 Motorsport Billet Adapter

Performed PCV Simplification

Removed PCV Valve

Removed PRV Valve

Routed Valve Cover and Oil Breather Tube under vehicle

Changed Oil Mobil 1 0w-40

Changed Mobil 1 Oil Filter

Repaired Clogged Rear Washer Nozzle

Repaired Clogged Front Washer Nozzle

Replaced Battery w/ Brand New Interstate Mega Tron Plus Battery 9/2015

Replaced Main Engine Fan 10/2015

Replaced Auxiliary/AC Condenser Fan 10/2015

Replaced Upper Radiator Three Way Hose 10/2015

Lubricated Sway Bar Bushings 5/2016

Changed Oil Mobil 1 0w-40

Changed Mobil 1 Oil Filter

Performed Tire Balance

Performed Tire Rotation

Replaced Rear Hatch Struts

Replaced Battery w/ Interstate Mega Iron Plus Battery 2/2018

Replaced Fuel Filter

Replaced Plastic Coolant Screw w/ Metal Replacement

Replaced Driver Inner CV Boot

The car has some minor issues. I will update these as found or fixed.

Small tear in the driver bolster. Been covered with a small piece of painters tape so it wouldn't get worse.

The windshield has some pitting, mostly seen on extremely sunny days. This is what happens with highway driving and multiple one and two thousand mile trips.

The rear section of headliner in the cargo area has sagged. This is a common occurrence among Audi vehicles.

At the service visit for the fans the AC was charged, approximately 35 mos ago now. It is low on refrigerant again. The system has a leak. The AC components, including compressor, were confirmed to be working.

The car has an aftermarket Denison Bluetooth/iPod/iPhone Module that connects to the factory radio. There is a cable that attaches to the iPod/iPhone along with an External Mic for the Bluetooth setup.

Copy and paste this web address for an album with additional pictures: https://flic.kr/s/aHskFy21eU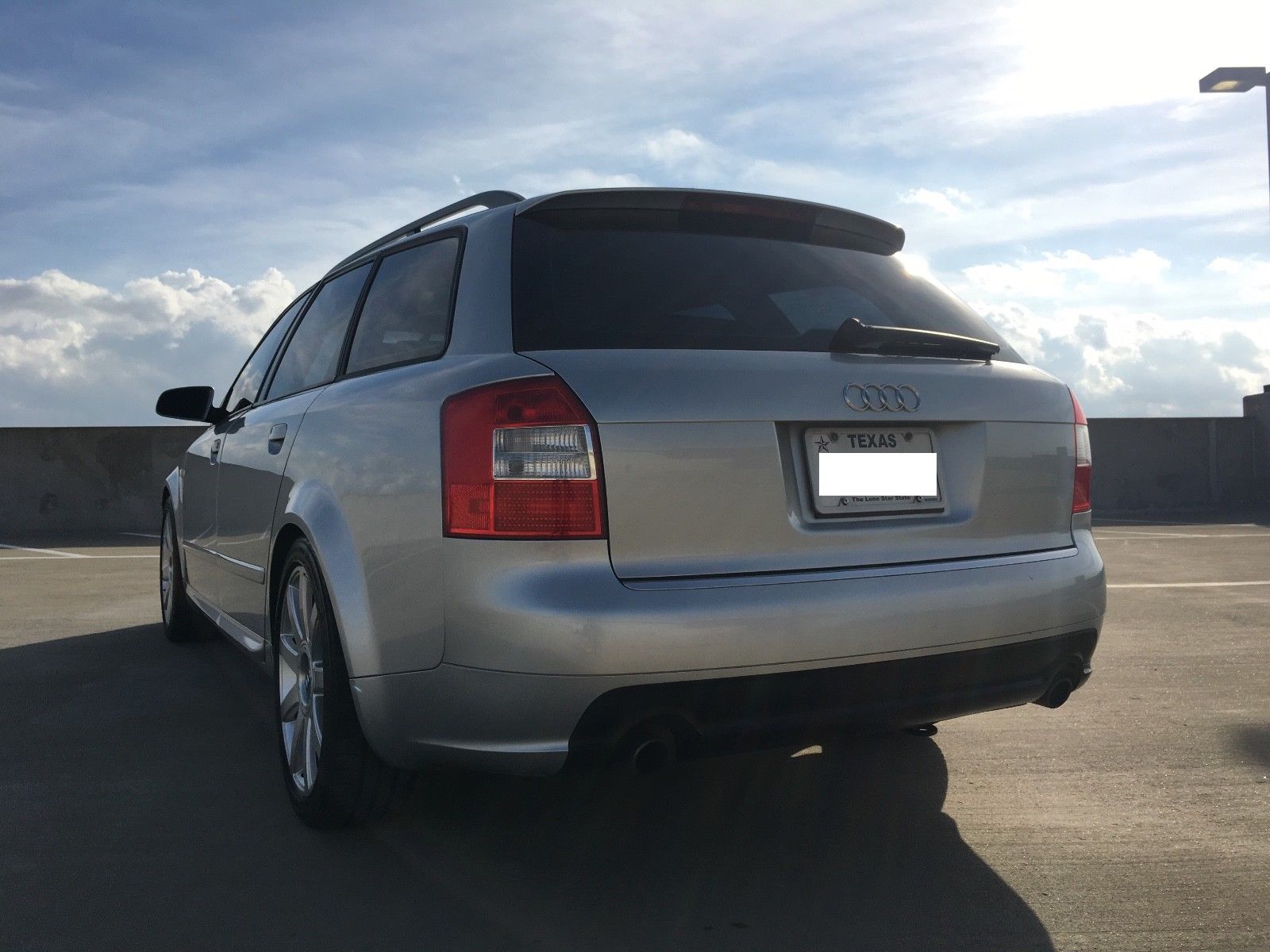 There was a brief trump for the USP package in the 1.8T for 2004 – normal 1.8Ts came with only a 5-speed manual, while the 6-speed was reserved for the USP. However, in 2005 the 6-speed became standard to match the 3.0 models. Of course, that talk here is irrelevant as today's USP Avant has the 5-speed Tiptronic transmission. So equipped, with a few options this car was nearly $40,000 out the door new. It appears to be very clean, but it is not without issues. Part of that stems from the 153,000 miles on the odometer, though the 1.8T is certainly capable of higher mileage. Yet the near-$10,000 asking price makes the non-functional air conditioning, the failing headliner, and the torn interior relatively inexcusable. The seller does list a lot of maintenance performed but doesn't always indicate when things were done, so don't expect all of those items are fresh and trouble-free either. I have a family member who bought a full-fledged 2004 S4 Avant 6-speed with 108,000 miles for the same amount, and if anything more are on the market for around that price today.
Admittedly, the S4 is really another beast in terms of maintenance. But it's also in another league of performance and desirability. If this car had 50,000 less miles, no issues and was a manual, I could totally see the asking price being justified. But your $10,000 would probably be better spent looking into a two-generation newer, much better performing and spacious B8 Avant in this case.
-Carter