When we at GCFSB.com wanted to do another theme week, we really wanted to cross marques, and what better way than with a engine layout that is used pretty universally? Audi started it's love affair with the V8 engine back in 1988-1989 with the release of the then-revolutionary V8 quattro. Boasting reasonable performance, high-class luxury, and go-anywhere in anything quattro all-wheel drive, the V8 quattro would become a cult-classic for Audi fans. Since then Audi's V8 engine has increased slightly in displacement and sprouted more valves, but the heart of these cars has most been assisted by modern electronics that allow cars like the RS4 to pump out an incredible 420 horsepower. Though they more recently have backed away from V8 engines in an effort to gain fuel economy, Audi's legendary RS4 V8 was shouty and sonorous at the same time, producing notes that few other engines can on the way up the tachometer. And while there are few RS4s who's exterior match the shoutiness of the engine, today's example of a Sprint Blue RS4 is shouty for all the right reasons: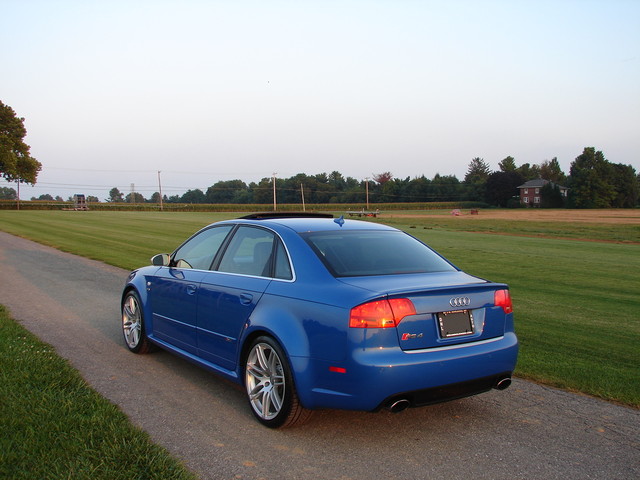 Year: 2007
Model: RS4
Engine: 4.2 liter V8
Transmission: 6-speed manual
Mileage: 67,500 mi
Price: $39,995 Buy It Now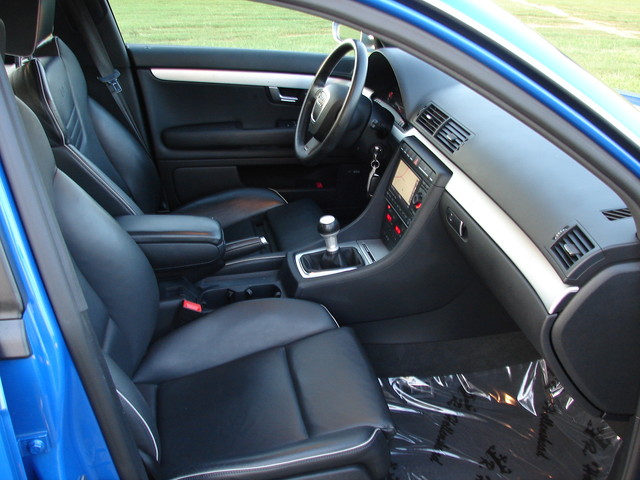 Year: 2007
Make: Audi
Model: RS 4
VIN: WUARU78E57N902003

Mileage: 67500
Transmission: Manual
Engine: 8 Cylinder, 4.2 L
Exterior Color: Blue

Interior Color: Black
Title: Clear

Description

You are viewing a very beautiful car indeed! You are looking at a mint condition CARFAX CERTIFIED 1 OWNER 2007 AUDI RS-4 QUATTRO in the most desirable color available, Sprint Blue Metallic Paint with the Ebony Recaro leather interior!! This car looks fabulous and runs even better! You will hear the sweetest sound ever when you punch the gas & hear the beautiful melody of the Dual Exhaust!! The Blue Paint shines so brightly the reflections are clearly visible! The leather interior is in great shape!! The car runs beautifully thanks to the 420 Horsepower 8 cylinder engine mated to a super smooth 6 speed transmission. Everything in this car works perfectly! THERE ARE NO DISAPPOINTMENTS HERE! This car is ready to go! This car is fully equipped. Starting from the outside you have the handsome Audi alloy wheels with meaty performance tires!! You have a Tilt & Slide Power Moonroof!! You have high power front Xenon headlights as well as front and rear fog lights!! Now to the inside of the car! You have multi adjustable power Recaro sport front leather seats that are heated for winter comfort!! The Rear Seats are Heated as well!! There are one touch power windows and power locks. THERE IS FACTORY NAVIGATION & BLUETOOTH!! There is a high power 8 speaker Audi/BOSE am/fm/6cd/Sirius stereo system with steering wheel controls!! Of course there is power steering as well as power 4 wheel anti lock brakes!! There is the electronic stability control also!! There is electronic cruise control also!! There are dual lighted visor vanity mirrors also!! There are also dual front airbags as well as Curtain (head) airbags and side impact airbags!! THERE IS THE POWER REAR SUNSHADE AS WELL AS SIDE WINDOW SHADES!! This car has a handy trip computer that will calculate your gas mileage, distance traveled and even tell you how many miles you can drive before you run out of gas!! I am sure I am missing a few items as this car is so well equipped! All of the guages are functioning normally as well as all of the interior and exterior lighting. WE HAVE THE ORIGINAL OWNER'S PORTFOLIO & MANUALS PLUS 2 KEYS!! Don't Delay!!
Blue has been the choice for fast Audis since the launch of the legendary RS2. Sure, that blue has changed from RS Blue to Nogaro, and then again to Sprint Blue on the B7s, but the idea remains the same. Like a red Porsche, pulling up anywhere in one of these blue Audis tells the world you mean business, but in a mostly polite way. The RS4 is an incredible performer with reasonable practicality as a daily driver, but is certainly special enough to stand out in the crowd. In my opinion, too many of these cars were specified in silver, grey or black – to me, they just look better in loud colors. The only one I have seen that I desire more than this car is the one special order Viper Green RS4; but day to day, this would do nicely, thank you very much.
The best known issue with the RS4 is carbon buildup, and worryingly there is no mention of this car being serviced, though most of the RS4 community seems to feel that service price is less of a big deal than the community that doesn't own them. Either way, plan on getting it corrected in the future. It's nice to see the original alloys which seemed to disappear quickly from many; here's a hint – we'll want them in the future, so if you buy this car please keep them! Otherwise the car seems to be in great shape as it should for the quite reasonable mileage that's been put onto it. Pricing seems pretty much spot on the middle of the market, and as the blue seems to command a premium over some of the other colors I'd say in the higher 30s this car is pretty well bought.
-Carter