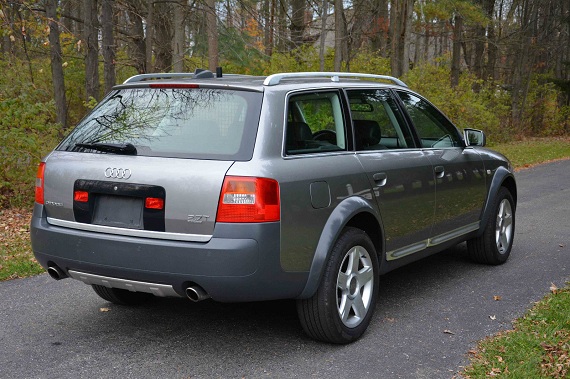 The C5 Audi Allroad was one of the better wagons Audi has brought over to the United States in recent memory. The car was available with initially only the 2.7 twin-turbo V6 out of the S4 and A6 2.7T, but later was also available with a 4.2 V8 making for a smooth operator. What differentiated the Allroad from the S6 was a neat package; out of the box, these cars came with height adjustable air suspension that made for both impressive ground clearance and sporty handling in the twisties. Today I've cooked up an interesting comparison between the two more desirable versions of the car; the 2.7T mated to the 6 speed manual and the V8 4.2 model. Let's start with the manual: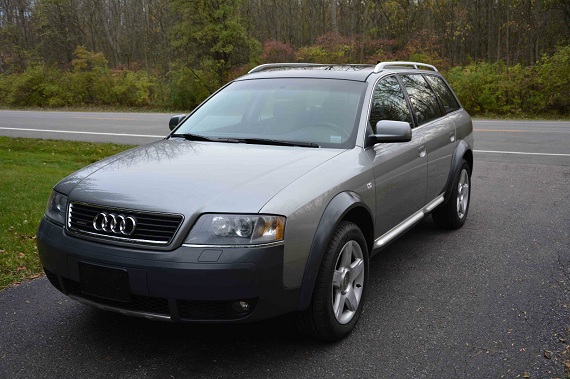 Year: 2004
Model: Allroad 2.7T
Engine: 2.7 liter twin-turbocharged V6
Transmission: 6-speed manual
Mileage: 127,000 mi
Price: $8,500 Buy It Now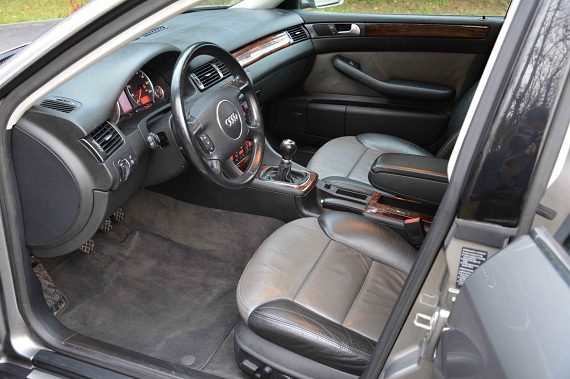 Hello! Up for sale is a 2004 Audi Allroad Quattro. This car is in a great exterior and interior condition. The color is very nice gray metallic and it's the original paint. It has 6-cylinder 2.7T engine with all-wheel drive 6-speed manual transmission. Plenty of power combined with famous Quattro all-wheel drive system makes this vehicle the best for all kinds of weather conditions, especially for winters. This vehicle has currently a little over 127,000 miles. This car looks and drives like new and it's very clean inside and out. Please, look at the pictures, they say it all.

This vehicle is fully loaded. It has black/grey leather interior, powered heated seats and rearview mirrors, 8 airbags, sunroof, power windows, premium Bose stereo system with 6 CD-player and satellite radio, dual climate control, cruise control, ABS, traction control, parking sensors, central locking, alarm, factory xenon headlights, fog lights, 17' alloy wheels, roof racks and much more. It has all matching almost brand new Michelin tires.

The vehicle equipped with famous Allroad air ride suspension, which is a great feature. This system has no issues with lifting up and holding air for weeks. The engine and transmission work great. Timing belt, water pump and all possible seals and gaskets were replaced last week. Only original or high quality german made parts were used, no cheap junk. Check engine light never comes on, neither any other warning lights. No fluids are leaking, no smell of any kind, there are all new brake pads.

Since the vehicle is used, it does have its small blemishes, such as slightly worn headlight switch, dent on rear bumper, burn mark on driver's seat and couple of almost invisible dings on the left fender, nothing major at all. Please, see the pictures. Radio and climate control buttons are in great shape. BTW, Audi has a recall for burned marks on the seats caused by heating element, so it can be replaced for free. This vehicle just passed NYS inspection and it comes with clean NYS title. If you have any additional questions, please feel free to ask.

Winning bidder to pay $300 deposit via Paypal within 2 days after the auction is ended. Bidders with the 5 feedback or less, please, contact me prior to bidding.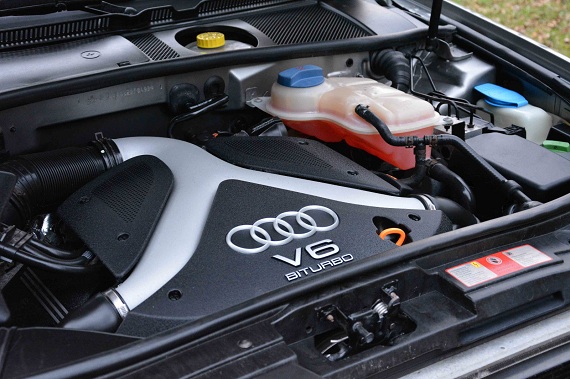 This car looks quite clean outside, and with some recent engine maintenance that's a plus. The interior also looks quite clean and presents well. The Allroads are quite complicated beasties though, and though the seller claims the suspension works perfectly, you can bet either compressor or airbags are going to need to be replaced before long if they haven't been already. It's an expensive repair to undertake, though there are upgraded aftermarket parts now available. Alternatively, you can swap in steel springs from either a S6 or A6, though you loose the ride height adjust-ability obviously. Second downside? The two turbos; while they're great for tuning, they're more often than not a replacement item as the miles grow, necessitating removal of the motor. Those two things got you down? How about this unique V8: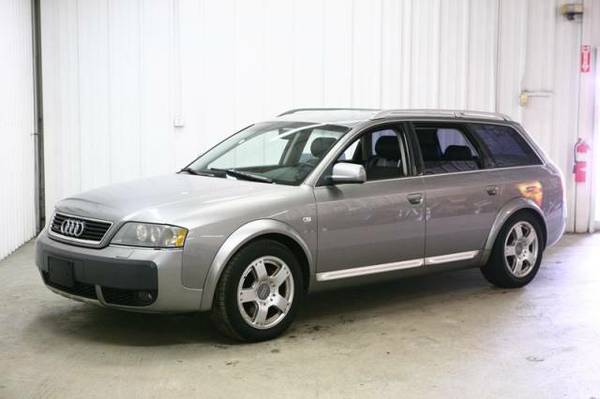 Adding the 4.2 changed the character slightly from the "wooshy" 2.7T to a more refined, torquey driving style with the V8. Ultimately, this relaxed the car and though on the books it looks very similar to the S6, it's a very different car. This particular model is even more different than most, with it's custom interior and monochrome paint scheme: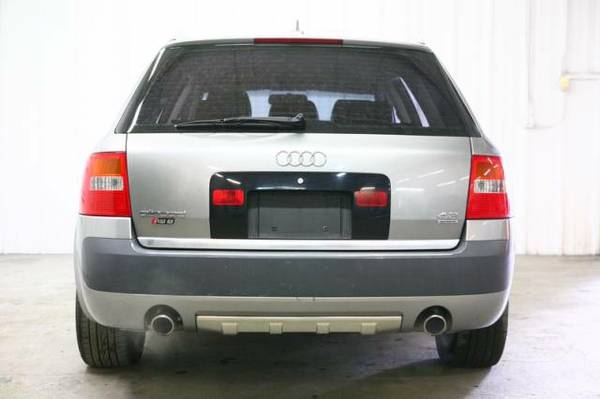 Year: 2005
Model: Allroad 4.2
Engine: 4.2 liter V8
Transmission: 5-speed automatic
Mileage: 116,000 mi
Price: $10,500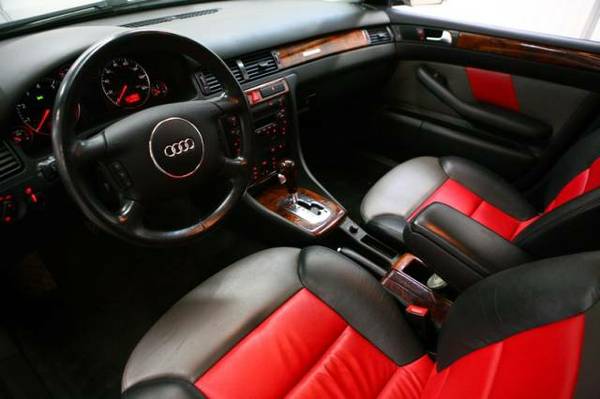 I have a 2005 Audi Allroad 4.2 V8 for sale.

It is a special order and comes with the matching fender flares and body molding to the Titanium Grey exterior. It has custom Black, Grey & Red leather seating and both front and back seats are heated with heated steering wheel. It has Sirius/XM integrated, Homelink, walnut trim in front and back. It also has the automatic and manual variable height suspension. It is automatic with Triptronic shifting. Bi-Xenon auto adjusting & leveling headlamps as well as front & rear fog lights. It has had all of the services done in the past 2000 miles and in the last 500 miles had the air suspension and struts replaced. It has new Michelin tires in the last 5,000 miles. It also has legal front and rear window tinting.

It has 116,000 miles on it which is good average mileage and has been mostly highway. I am asking $10,500 or reasonable offers. Email and calls are welcome. This is for local private sale for cash or bank check only. This will not be shipped, etc. Contact 5085057737 with questions. These ARE actual pictures of the car. More can be texted upon request. I am looking to sell by the weekend.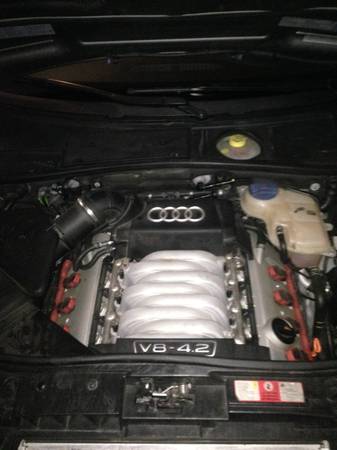 Scared of the turbos and the airbags? Check those two off – the suspension and service has just been done to this particular car. The interior is a bit over the top, but not garish and thankfully not too overdone; I think it's probably liveable, though I don't think it really suits the car particularly well. This example does have the rivited two piece wheels I like more in terms of looks, and the Titanium looks better than the Alpaca Beige.
Despite likely less issues with the suspension, I'd guess that most people would choose to grab the 6 speed. It's a versatile, sporty wagon that maintains driving enjoyment. My parents had one for a while and I always liked driving it, though I dreaded the repair bills it generated. Still, I'd rather drive one of these and fix it often than end up in a Q5. They can even tow a reasonable amount of weight if you're looking for a track hauler – just make sure both the car and trailer are light.
The question is, which Road would you take?
-Carter