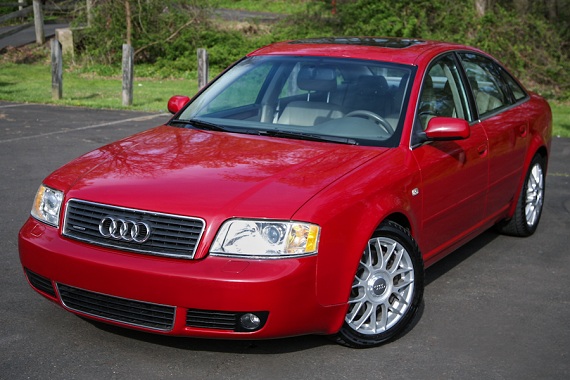 Taking some of the elements of my previous Allroad Showdown and S4 versus A4 3.2 Avant Showdown, this morning I've got another turbo versus displacement showdown, this time amongst A6 sedans. For effectively the same package, these two sedans perform their task in very different ways. It was evident from the Allroad showdown that the manual trumped almost everything else, so as with the S4 versus A4 test both cars today are tiptronic. While that may be disappointing to some, these are both competent luxury sport sedans at a budget price. Let's start with the 2.7T: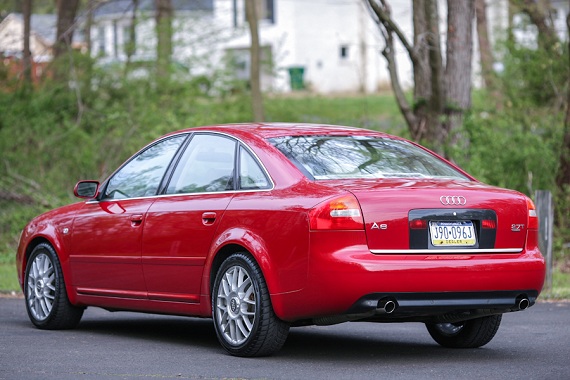 Year: 2003
Model: A6 2.7T
Engine: 2.7 liter twin-turbocharged V6
Transmission: 5-speed automatic
Mileage: 67,000 mi
Price: $11,950 Buy It Now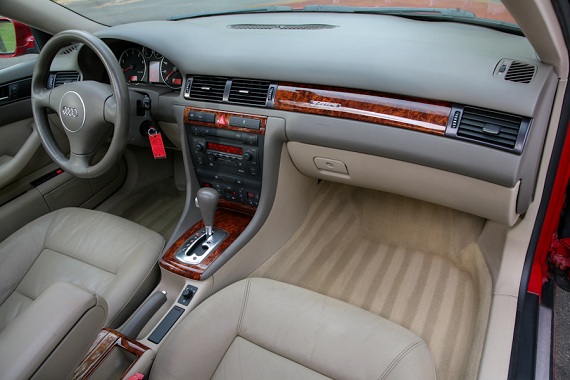 VEHICLE FROM SOUTHERN STATES!

FULLY SERVICED(see records on the bottom)!

TIPTRONIC TRANSMISSION!

TWIN TURBO ENGINE!

All 4 matching tires ( 235-45-R17 ) – NEW
Front brakes – NEW
Rear brakes – NEW
Front rotors – NEW
Over $800 just invested!
17″ Audi SPORT Rims
Power seats
Memory seat
Dual Climate control
CD / TAPE
Folding Rear seats
Original floor mats
First aid Kit
All original books and manuals
CD PLAYER
SUN SHADES!
Dealer Serviced!
LOW MILEAGE Vehicle!
Bose Sound System!
4WD/AWD ParkTronic!

You are looking at a fully loaded luxury car that has been exceptionally well kept; it's an all around great looking vehicle. This gorgeous A6 has been highway driven. This is a great car which combines superior luxury and comfort and sport sedan performance. This is a-never-smoked-in beauty that looks and smells new. The car was garage kept. Great looking bright red exterior and tan leather interior makes this car look great!

THE CAR HAS BEEN SERVICED BY THE DEALER ITS WHOLE LIFE!

The engines is one of the finest German engines ever created – a 2.7L TURBO Engine that runs and feels smooth and provides abundant power. The transmission shifts like on a new car, no skips or slips on shifts.

The interior is spotless while the leather shows almost no wear. The interior also has REAL WOOD trim! The front seats lean all the way back to the rear, so you can actually sleep rather comfortably in the car! The seats are extra comfortable with 16-way driver and passenger seat adjustments including Power driver + passenger 4-way lumbar adjustment provides variable lower back support.

The engine compartment clean, and void of any leaks. All the electrical options appear to be in working order. Audi A6 rates very high in safety, it's not a light car, and has a lot of specially engineered alloys along its frame to dampen any possible impact. The SIDEGUARD Curtain and Rear Side Airbags provide the safety you and your family require.

A very good climate control system is present in this car, with not only front seats control, but you also have ice cold A/C blowing directly at the back seats, while the passengers are able to adjust how much airflow they want! The trunk is very clean and roomy as you can see from the pictures.

This is a unique hard to find automobile that has every option. It's been garage kept, and is in good otherwise condition.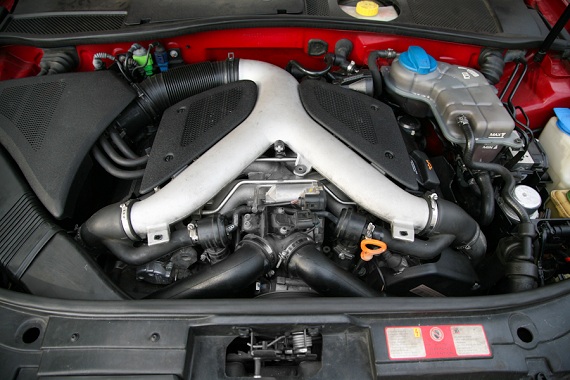 Talk about impressive condition; this A6 sure looks the part. I really like the departure from the typical drab silver or black often found on A6s – this splash of color makes all the difference for me. I love the super-light BBS RC wheels, the interior looks fantastic, and the lower miles are sure appealing. However, the price point is the highest I've seen for a non-S6 for a while – does that price this car out of the market? It just might; for $12,000 you can have your pick of pretty much any C5 A6 or S6. Still, the condition and color are what make the car appealing. Rather have two less turbos and two more cylinders?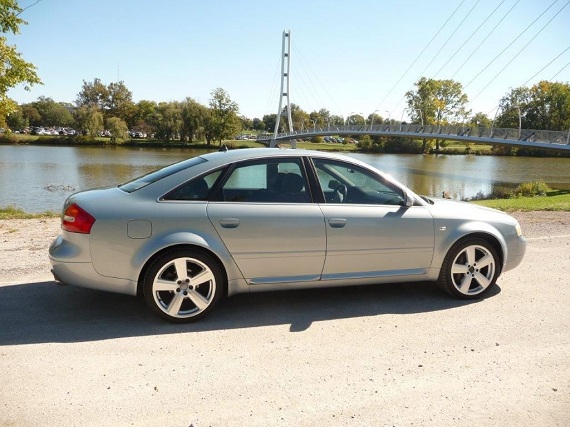 The 4.2 A6 received not only a larger motor, but a host of upgrades to the body; S6-esque door trim, flared fenders and aluminum pieces to lighten up the front end. The result – surprisingly – is that the A6 4.2 with the V8 was less nose-heavy than the 2.7T V6 model. That makes for a bit more sport, coupled with wider-stance tires to really channel some of the earlier C4 S4/S6 model. In addition to making the car a bit more sport-oriented, it completed the look much better, and the 4.2 was the defacto S6 sedan despite not having the full 340hp motor.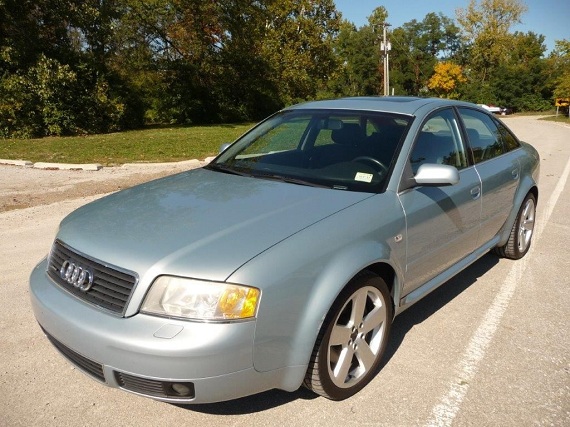 Year: 2002
Model: A6 4.2
Engine: 4.2 liter V8
Transmission: 5-speed automatic
Mileage: 98,000 mi
Price: $9,800 Buy It Now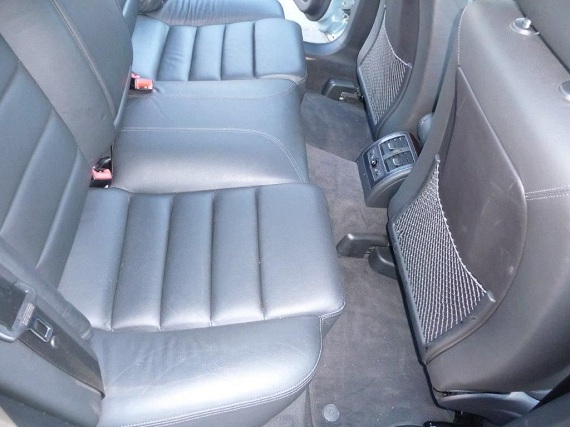 2002 Audi 4.2 Quattro, 2 owners from new. 98,000 well maintained miles. All options including recent Audi sport rims and a set of winter Bridgestone Blizzacks mounted on separate rims. Great in the snow! $9800. Call Neil @ 260-466-8898 Or 513-378-0403 Beautiful, beautiful car. Recent major service completed. Have owned BMW and Mercedes and this car is faster and better In snow.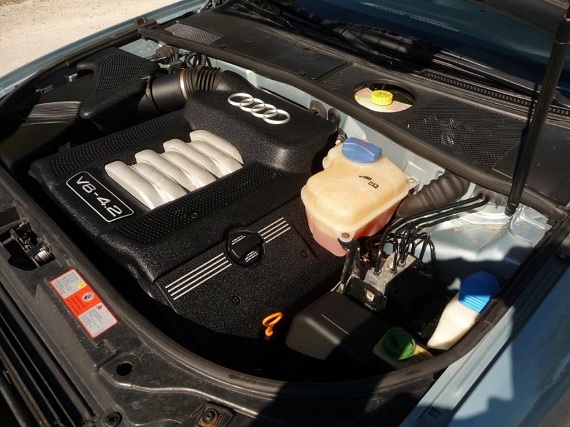 This particular example has more miles, is the not as appealing silver over black, and the condition doesn't look as prime as the 2.7T. On the positive side, it looks more aggressive and comes with a set of snows on the OEM wheels, along with the sport wheels included. Additionally, it's claimed to have a recent service though no mention of what was actually serviced is provided. Importantly, though, it's priced $2,000 under the 2.7T, making it that much more appealing.
Were it me, I'd have a hard time choosing between these two – I really love the color combo and discrete package of the 2.7T, but were I in the market I'd probably hold out for 6 speed manual that really makes the package desirable. That leaves the V8; in my mind, the only problem is that these 4.2s are priced on the verge of S8 territory, and for me that's a much more desirable package. But between these two specific cars, I think I'd choose the 4.2 – which would be the Q-ship for you?
-Carter