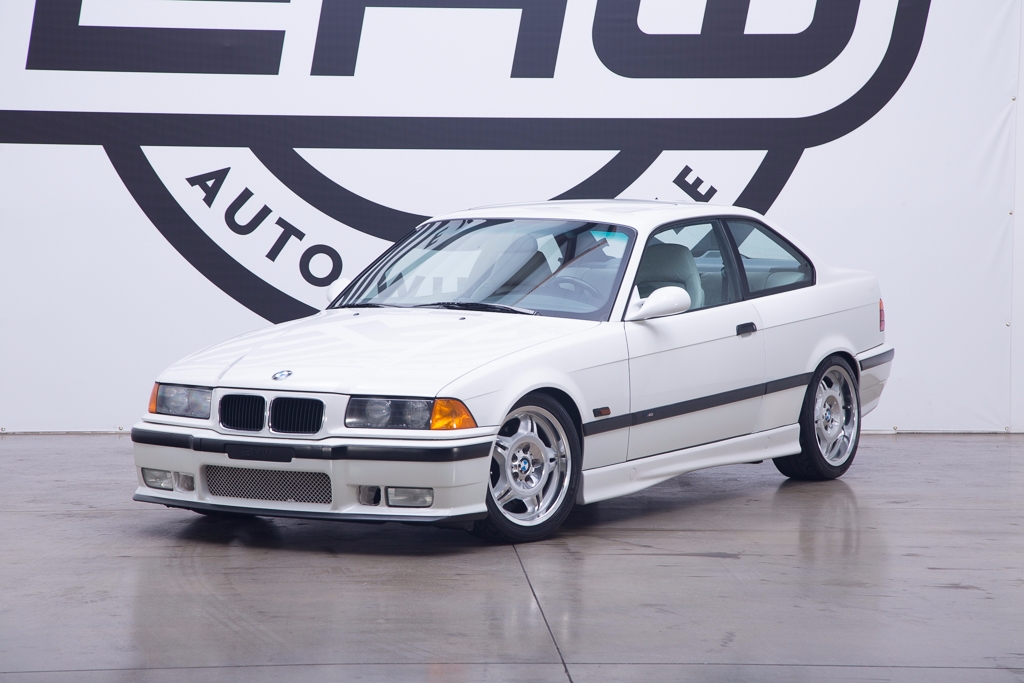 Update 1/25/2018 – the first of this duo has dropped in price from $19,997 to $17,997.
Recently I found myself looking through some old car literature I had amassed over the years. In particular, I was completely enamored with the brand-new E36 M3 when it launched on U.S. shores. I'm not sure why, but of all the E36 variants that were produced, that first-year M has always stuck out to me as the most desirable in the lineup. And now as these cars are on the verge of being considered "antique" and with the E30 market still silly (and the E46 market rising), these early Coupes seem like a great balance of driving, collector-potential and somewhat reasonable pricing.
I say 'somewhat' because sellers have steadily been raising the bar to the point where it almost feels like price fixing. When I looked for '95s on eBay the other day, I started laughing – there were five listed, and their prices were all within $1,000 of each other – and none were cheap. So with that in mind today I'm looking at twin Alpine White '95s. They're almost identically equipped. They're priced within $2 of each other. That's not a misprint – only a small coffee at Dunkin' Donuts divides the asks on these two. But there's a huge difference in mileage; some 60,000 between these two. So clearly the one with lower mileage is automatically the better bet, right?
Not so fast…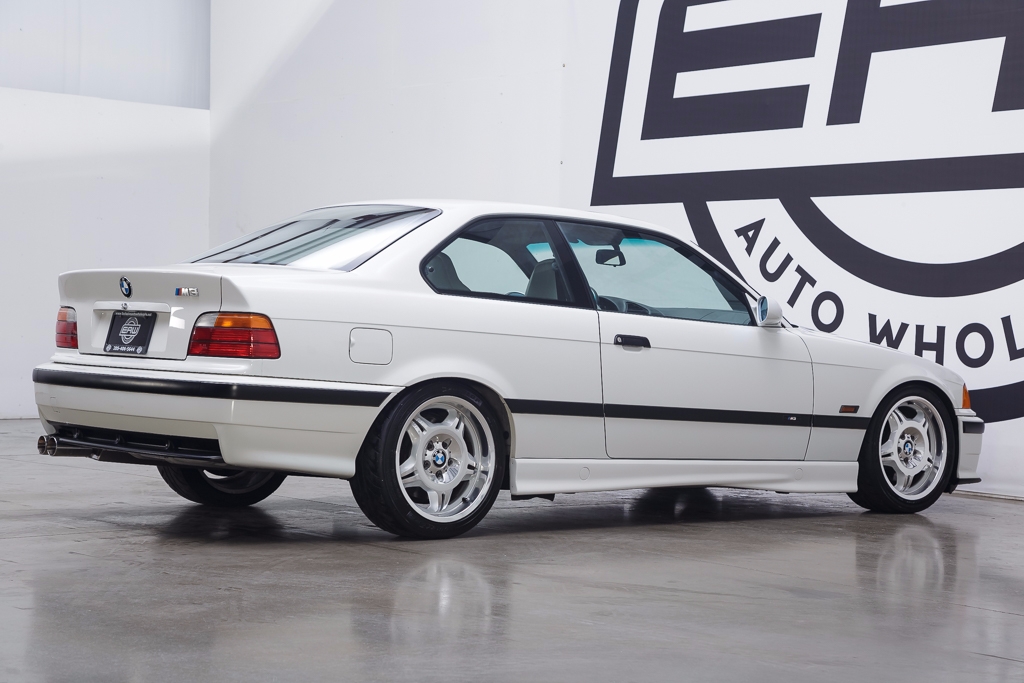 Year: 1995
Model: M3
Engine: 3.0 liter inline-6
Transmission: 5-speed manual
Mileage: 78,572 mi
Price: $17,997 Buy It Now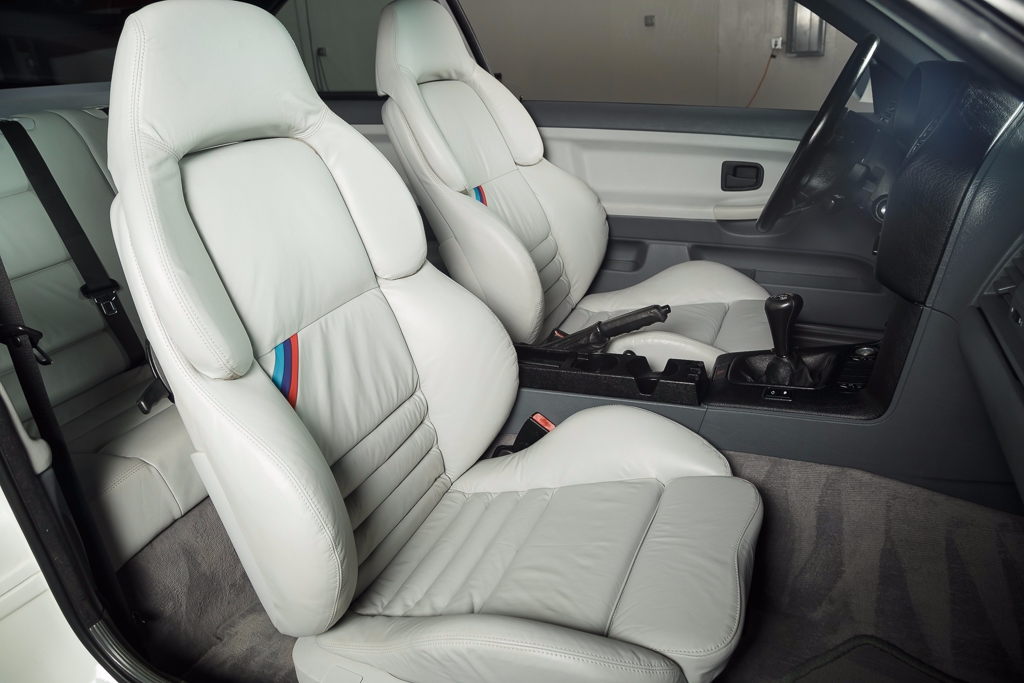 IMMACULATE E36 M3 PREVIOUSLY OWNED BY A TRUE BMW ENTHUSIAST MANUAL TRANSMISSION SERVICED UP LIKE IT SHOULD BE ALWAYS HAS & WILL ALWAYS KEPT IN THE GARAGE THE SEATS ARE BRAND NEW & HAS BRAND NEW LEATHER THIS CAR HAS TRULY BEEN PAMPERED & IS SUCH IS DESIRABLE CAR TO HAVE!!! THIS WOULD BE ONE THAT A CAR COLLECTOR WOULD PUT UP FOR 10 YEARS OR SO & THEN TAKE IT TO BARRETT JACKSON & GET A SOLID RETURN ON YOUR INVESTMENT!!! THE CAR IS AN ABSOLUTE JOY TO LOOK AT & DRIVE!!! GOOD LUCK BUYERS I'M SURE PEOPLE WILL BE FIGHTING OVER THIS ONE!! Visit Exclusive Auto Wholesale online at to see more pictures of this vehicle or call us at 855-841-7117 today to schedule your test drive WE ARE FULL DISCLOSURE & PRIDE OURSELVES IN DESCRIPTIONS AS OUR BUYERS ARE OFTEN OUT OF STATE OR BUYING ONLINE & ARE RELYING ON US TO DESCRIBE THE CARS ACCURATELY TO GIVE THEM THE CONFIDENCE THEY NEED TO BUY CARS FROM US BASED ON THE PICTURES WE PROVIDE & THE DESCRIPTIONS WE WRITE. WE ARE NOT PERFECT WE ARE GONNA MISS SOMETHING MINOR HERE & THERE BUT WE FOCUS ON BEING 100% PRECISE & ACCURATE. WE ARE LOOKING FOR LIFE LONG RELATIONSHIPS TO BE BIRTHED FROM EACH & EVERY SINGLE CAR DEAL. WERE JUST A FEW NORMAL LAID BACK GUYS WHO GET PAID TO DO WHAT WE LOVE BUY & SELL CARS OVER THE INTERNET. AND WE GET TO PLAY WITH SOME REALLY COOL TOYS WHILE DOING IT!! ALL TRANSACTIONS ARE SUBJECT TO A $399.00 DOC FEE PLUS TAX & TITLE TRADE INS ARE WELCOMED. WE LOOK FORWARD TO MEETING YOU & WE ARE BEYOND BLESSED TO HAVE THE OPPORTUNITY BY HELPING YOU GET THE CAR OF YOU'VE BEEN DREAMING OF!!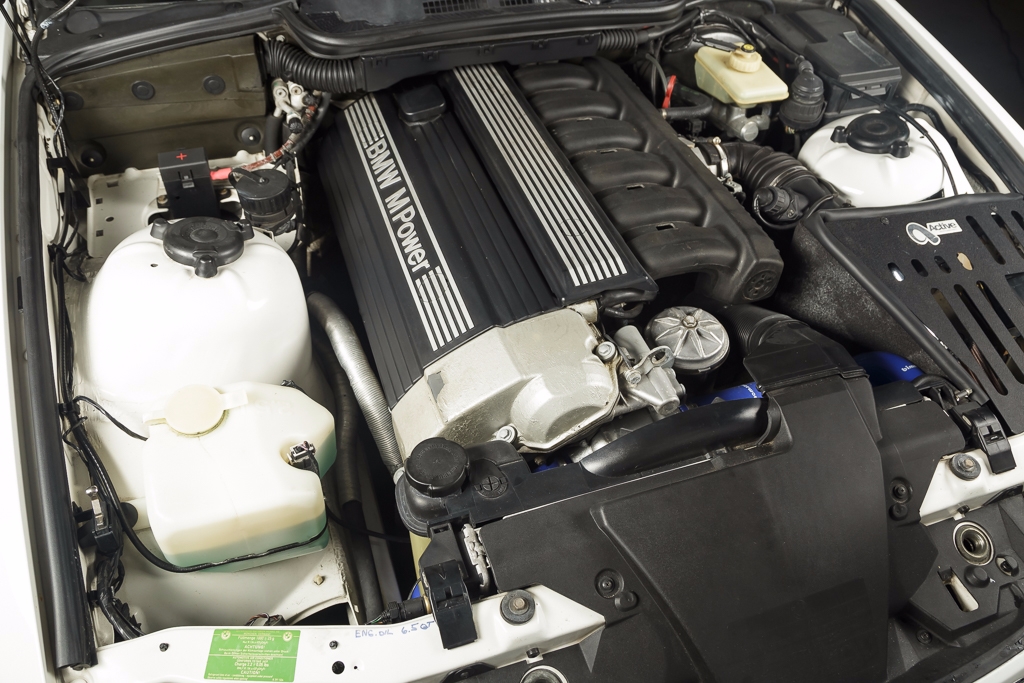 At first glance, this car looks really great and the seller has provided a pretty extensive gallery depicting the photos of the cars. But read between the lines and there's some cause for further consideration before clicking the 'Buy It Now'. The car has pretty clearly been tracked. Beyond the lowered ride height and Active Autowerke modifications to the airbox and exhaust, there's a tub with Hawk brake pads and then if you look really closely at the picture of the records, you'll see that the seller has (probably unintentionally) opened the page to reveal a purchase of Kuhmo Victoracers – R compound track tires. Beyond that, there's then the strange question of why the leather was replaced. The original interior was 641 Light Gray Nappa so it's not a color change. Though it looks pretty good, it doesn't quite look like the new covers fit completely correctly. There are a lot of positives though; you've got what appear to be extensive records and generally speaking enthusiasts do tend to keep their cars in better shape. It's also quite early in the run with a May 1994 production date. However, while track mileage doesn't mean it's a throw-away, I'm not entirely convinced this is the collector-type example being pitched by the current dealer.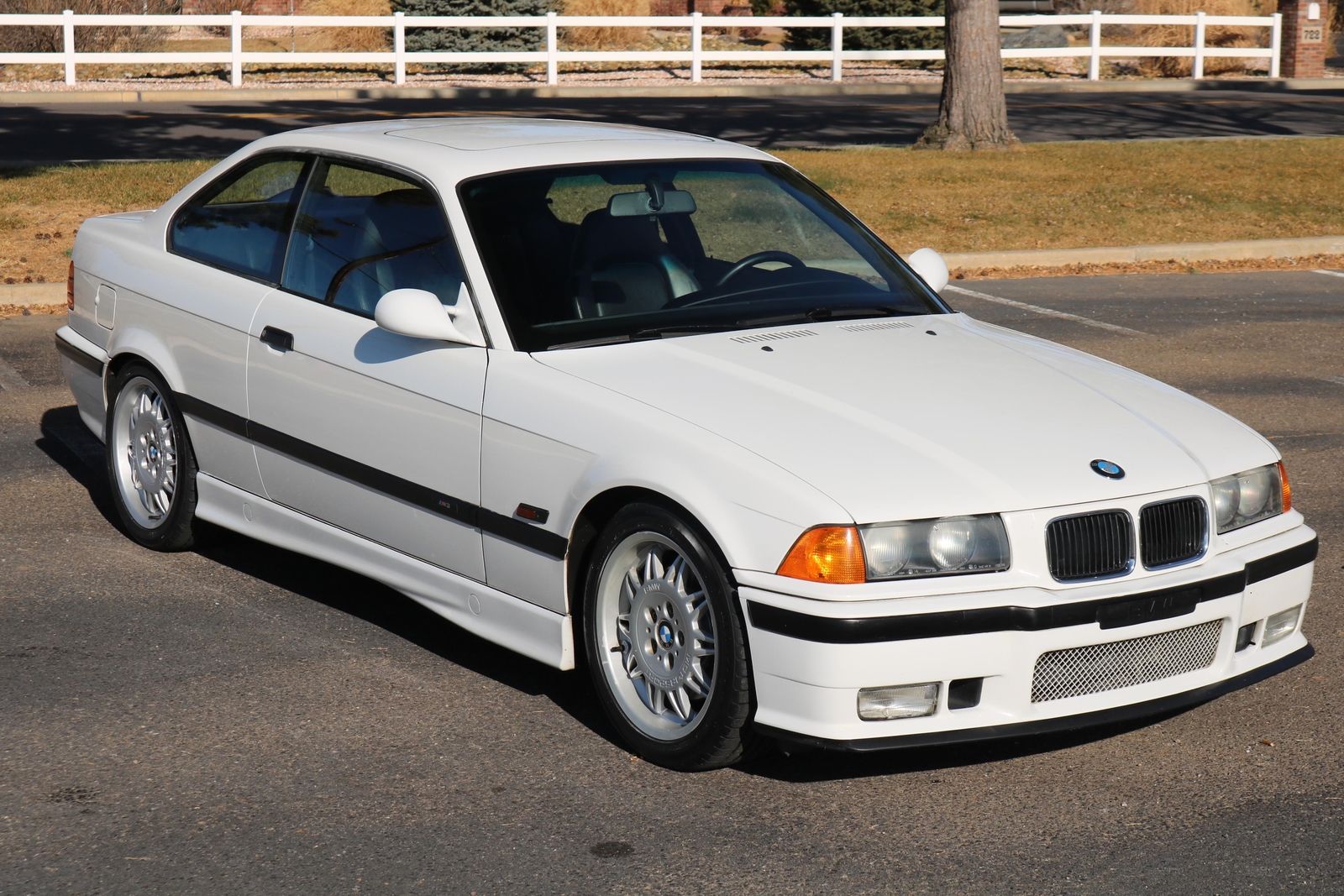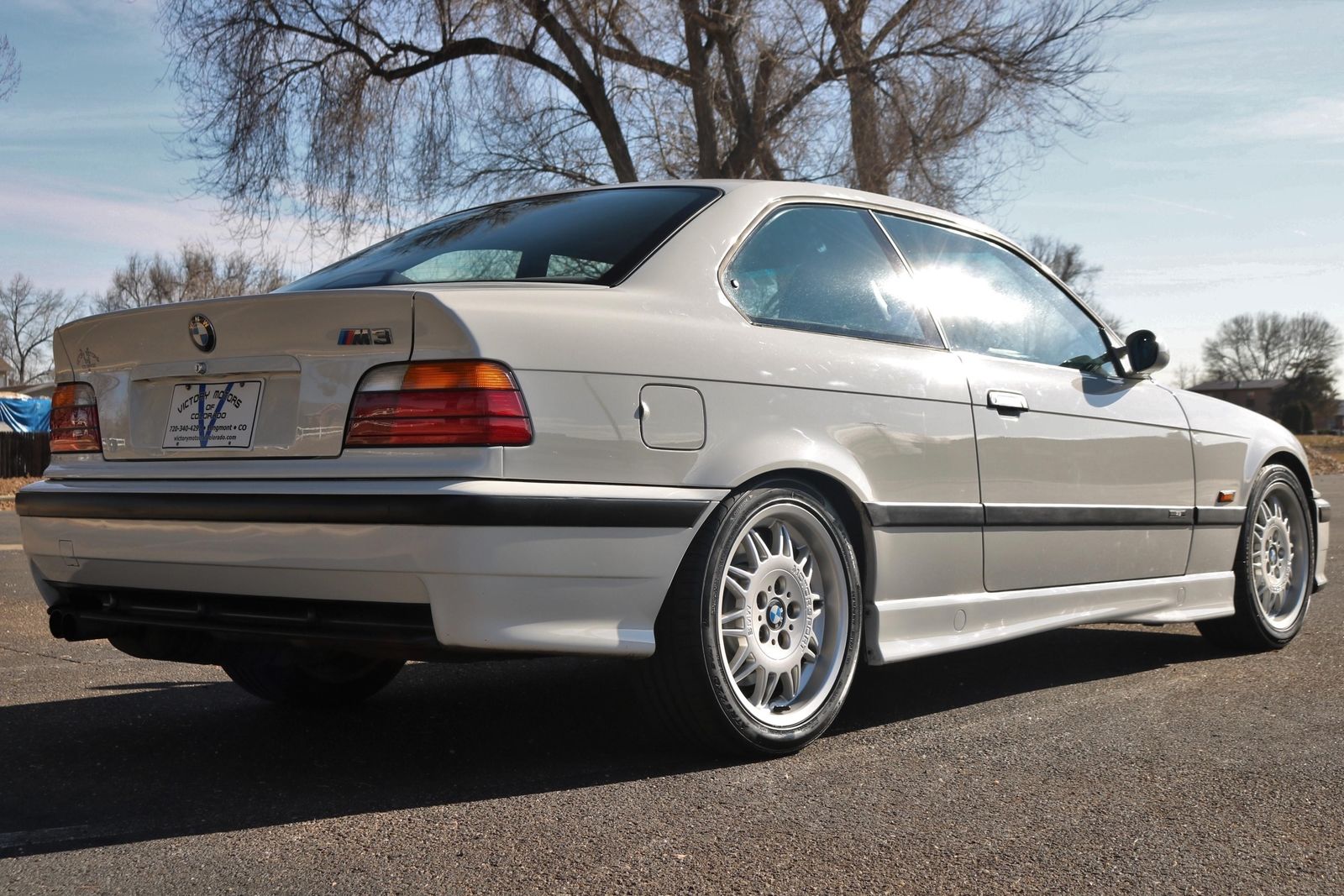 Year: 1995
Model: M3
Engine: 3.0 liter inline-6
Transmission: 5-speed manual
Mileage: 136,432 mi
Price: $19,999 Buy It Now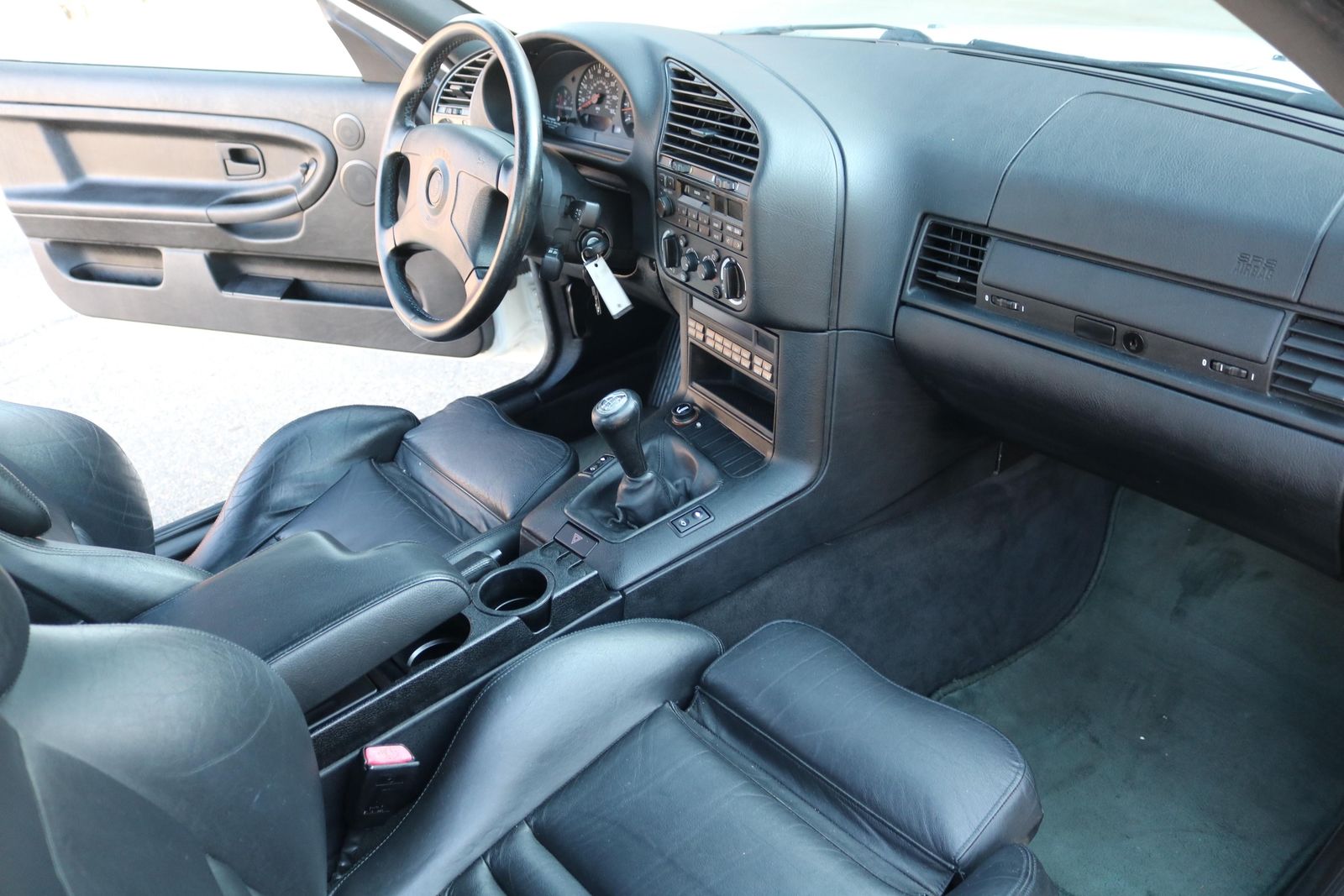 Clean Car Fax w/ zero accidents and extremely well cared for. Features a sound 3.0L Inline 6 with crisp 5 speed manual transmission. The exterior is Alpine White with desirable forged BMW Motorsports wheels, fresh tires and dent free. The interior includes rip free black leather, trunk mounted CD, AC, power windows/locks, trip computer and more. Includes years worth of detailed service records, all keys including valet, complete tool kit, full size matching spare, BMW car cover, H&R springs with originals and Bav Auto ECU chip. Extra clean example of the famous E36 M3.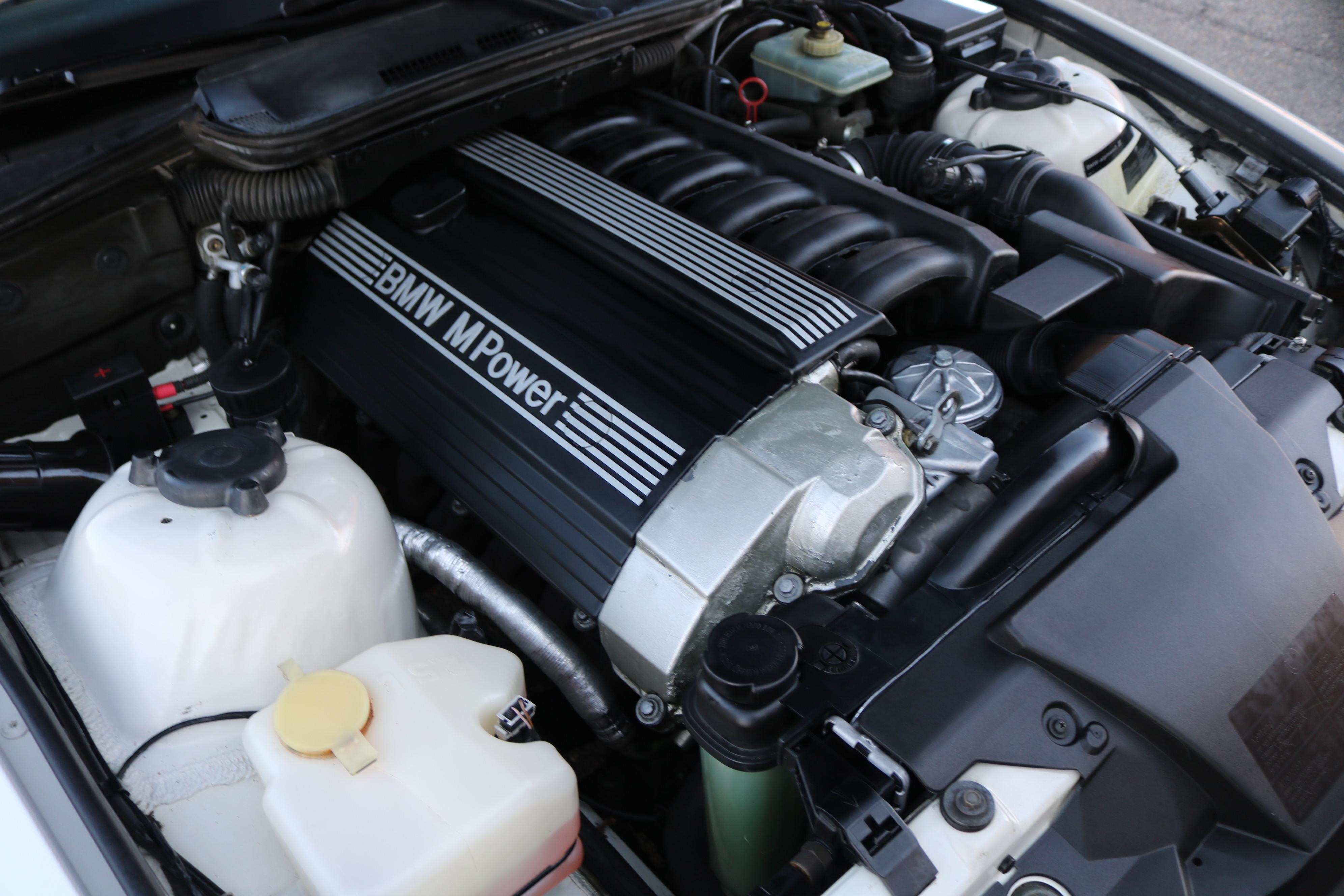 It's strange, but the first thought when I looked at this listing compared to the first one is that it feels more honest. The pictures don't appear to be retouched and you can see paint imperfections. It's not doused in tire dressing. And though the gallery isn't as thorough as the lower mileage example, this car seems to be in much more original condition. It also seems to have been enthusiast owned, with light modification but the original parts included. The seller is incorrect about the wheels being forged – the first example has those desirable forged M units, but the non-staggered M Double Spokes are correct for the '95. Although the leather is older and isn't perfect, this interior visually looks better to me than the light gray replacement leather. Indeed, front to back the only thing that really stands out to me are that a good headlight polish is needed and that the rear 'M3' badge is askew.
So which is the car to get? Neither. Seriously, for $20,000 these cars should be perfect. Neither is. They look great, but there are just much better options out there for the same money or less. For example, I really wanted to get this no reserve 70,000 mile Boston Green '97 M3/4/5 Sedan up but ran out of time. Bidding is currently at $11,000 with a few hours to go. We also have a good comp of a lightly modified Alpine White M3 – one just sold on Bring a Trailer for $10,000. With mileage in between these two, it strongly suggests that the prices here are very over-inflated. While BaT did record a nearly $19,000 sale recently, that car was a more rare-to-see color (Mugello Red), lower mileage, unmodified, and in better shape than either of these cars.
-Carter