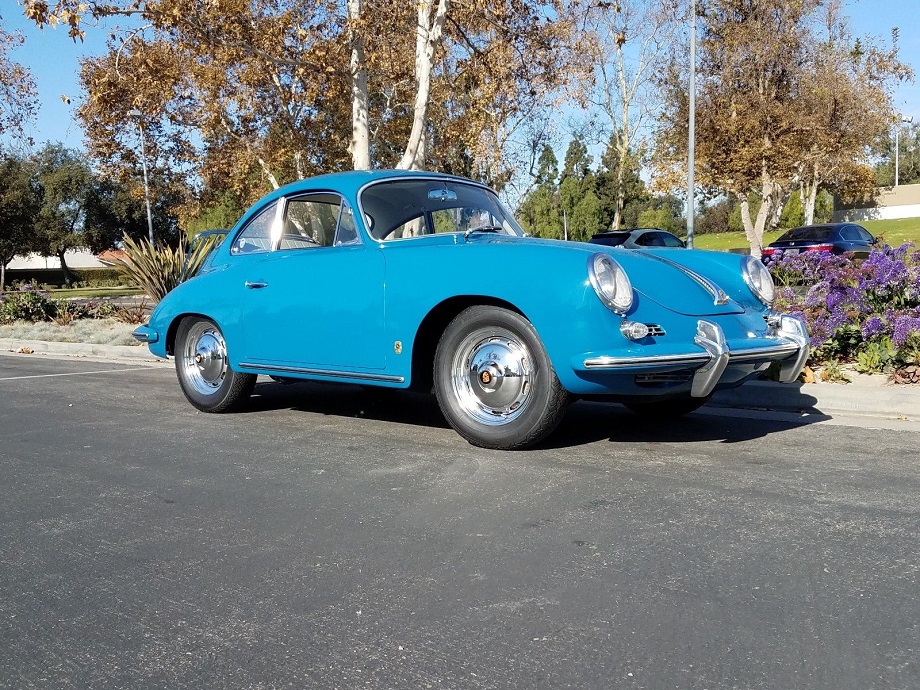 I've been looking at a lot of new blues among Porsches lately. Or sometimes old blues on new cars (and I haven't even posted all of them!). Let's turn the clock back to look at an old blue on an old car. These are always fun to revisit if for no better reason than as a data point for those considering their paint-to-sample options. It's always worthwhile to see what these very rare colors look like on an actual car. We've even had the pleasure of seeing this particular vintage blue on a recent GT3 RS. All the better for understanding our options.
Here it is on its original model: an Oslo Blue 1963 Porsche 356B 1600S Coupe, located in Long Beach, with 120,200 miles on it.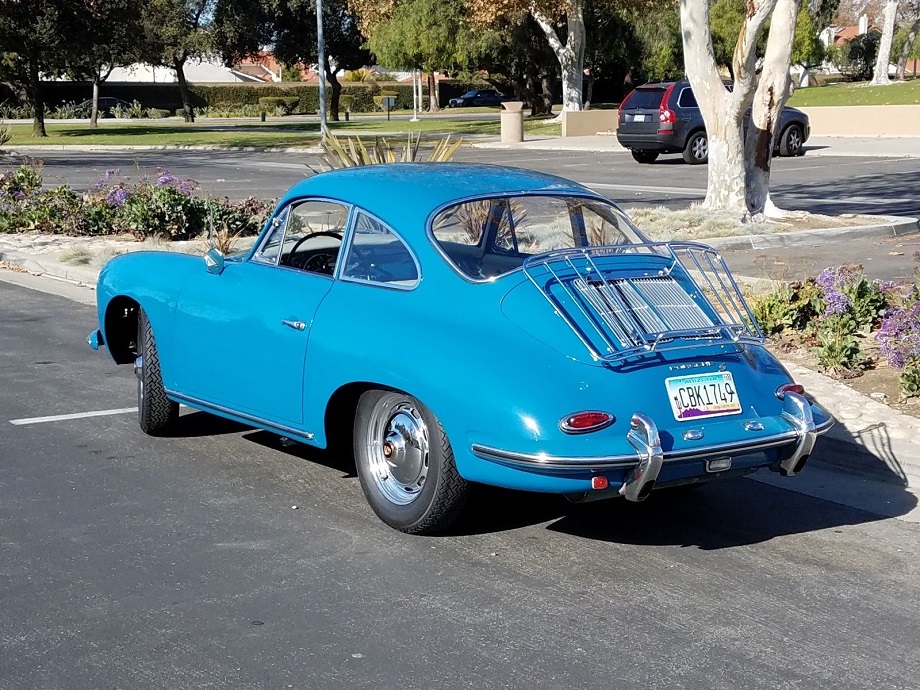 Year: 1963
Model: 356B 1600S
Engine: 1.6 liter flat-6
Transmission: 4-speed manual
Mileage: 120,200 mi
Price: Reserve Auction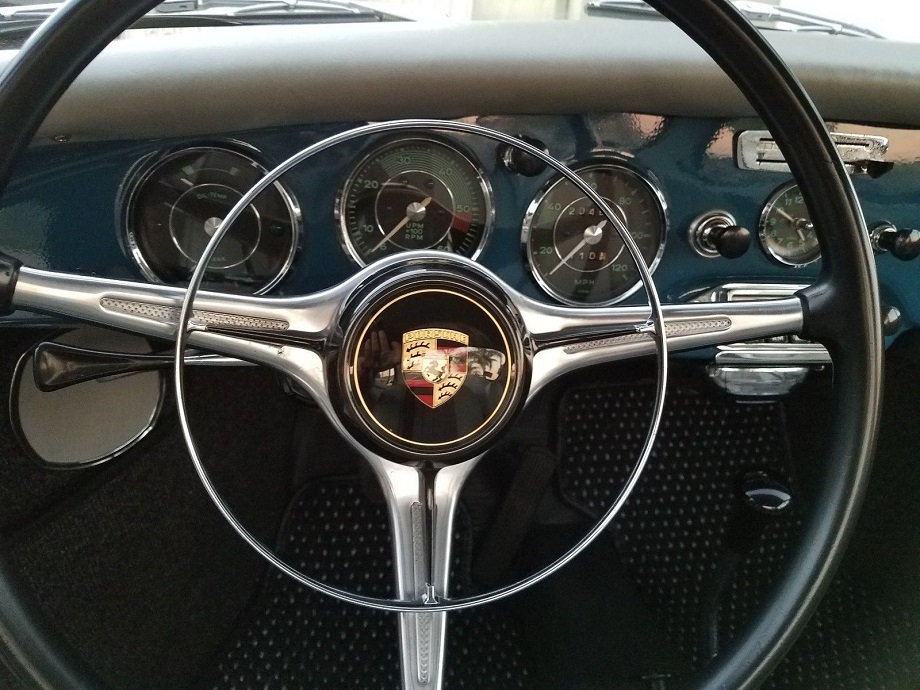 1963 Porsche 356 B 1600S
Euro model ordered and brought back by GI…
Correct # matching engine 706234 616/12
Correct Paint rare color – OSLO Blue
with Grey Leatherette/ corduroy cloth seats

Option Equipment
Sun visor with Makeup Mirror
Outside Mirror
Blue tip Antenna
Two Loudspeakers
Chrome Wheels
Chrome Signal Ring
Two Armrest

with original working Am/FM Blaupunkt radio

Rust FREE California car,, Mostly Original with repaint and interior
redone 28 years ago. Car looks outstanding
has a little patina as it should and runs Great!!!

Has new wheels and Pirelli tires, date correct code wheels
come with car if wanted. lots of documentation and receipts

Again This a great driver car, was correct coded repainted and reupholstered 30 years ago, shows a little patina as it should. #s correct rebuilt motor runs strong, stops, turns; all around fun car to drive and show.

Must see.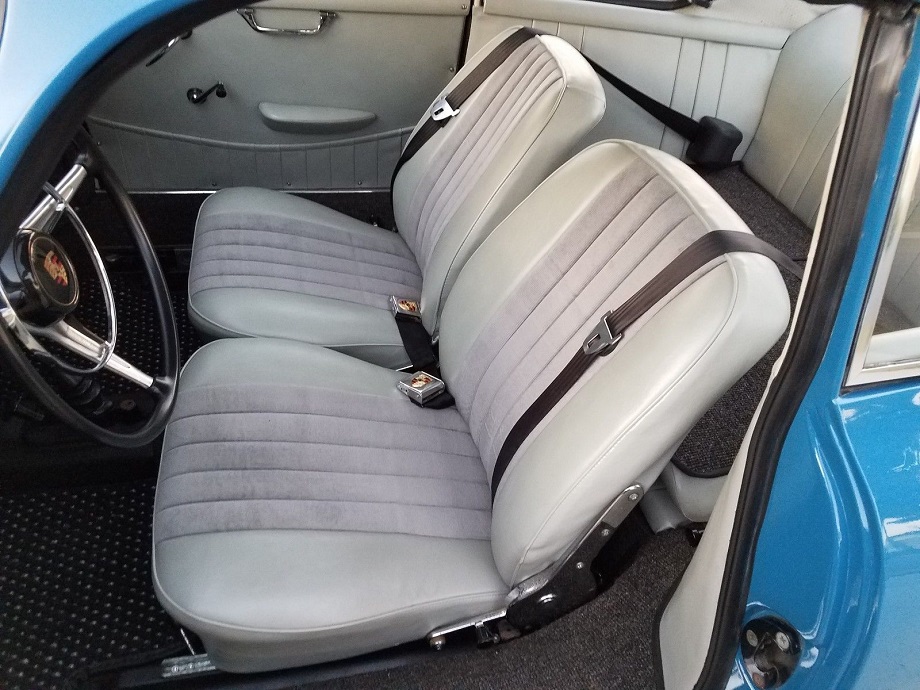 The only way this vintage to modern comparison could be improved would be if this 356 were wearing its actual original paint. Alas, this one has been repainted, though that repaint is stated to be 28 years old so we are at least seeing this beautiful Oslo Blue with a little age on it. The interior provides the typical elegant 356 painted dash to contrast with its Grey interior. However, this interior isn't entirely typical as it has corduroy inserts. Those inserts don't provide a lot of color differentiation as they're pretty much the same color as the leatherette, but they make for an interesting touch nonetheless.
In general, I think the seller positions this 356B correctly as an excellent driver quality example. It's wearing its original colors and interior construction and is numbers matching, but doesn't strike me as necessarily a concours quality car. Oslo Blue does give it that little extra degree of specialness. I am very much of the opinion that any 356, and especially a 356 Coupe, should be in a bright color. Those colors accentuate the car's lines and chrome trim to great effect and make for a much more captivating machine than in less subtle colors. Oslo Blue accomplishes that very well indeed.
Bidding here is pretty early and pretty low at $50,000. I wouldn't expect anything crazy here, but I would expect a sale to stretch a good bit closer to $100K than where it currently sits. There's still time and we'll see if enough interest pushes it past the reserve.
-Rob