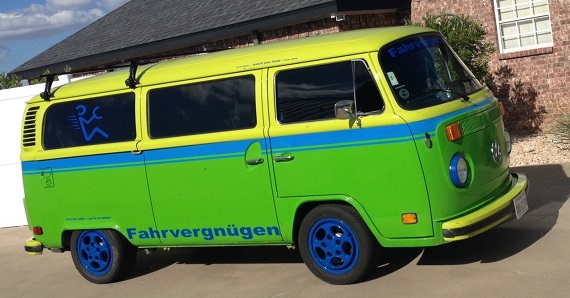 The Volkswagen Van was, and is, a part of our culture. It's like Peter Frampton Comes Alive!, Pet Rocks and Star Wars; not the best of their ilk, but they enjoy near universal popularity. The VW Van appeared everywhere. It was ubiquitous with the Hippie movement. It was counter-culture, yet eminently practical as transportation. It was pretty uncool as a design, and yet massively cool. And, it should come as no surprise that it has created a cult-like following.
Yet, we infrequently look at them. I don't know why. Maybe it's because they're cliche?
I learned how to drive in a VW Microbus. It had no clutch, so you had to start in gear. If you were really clever you could get into second, but most of the time I just felt pretty special crawling around the fields behind my house in first. But I feel no particular attachment to the model, unlike my first car.
Still, they make me smile, and when I came across this lightly modified one, I wanted to take a closer look. I'm not sure if it was the Porsche Phonedial wheels or the color scheme that most attracted me, but I have to admit I was a bit surprised when I looked closer: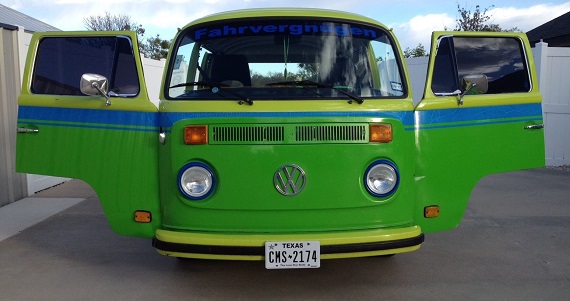 Year: 1973
Model: Bus Wild Westerner
Engine: 1.7 (?) liter flat-4
Transmission: 4-speed manual
Mileage: 72,000 mi
Price: $15,000 Buy It Now
**No Reserve Auction**
1973 VW Kombi
This is an original paint "Wild Westerner" and is one of about 33 registered in the world today on the Samba.
I have owned this bus for close to twenty years and I have kept it maintained along with lowering the bus approx 2.5 inches and properly fitting Porsche 928 phone dial wheels under it.
The type 4 motor pulls strong with dual 40mm Delorto carbs and 4spd manual trans.
This bus is not perfect .. it has several dings and small scratches, but is all original panels and paint with nothing more then very minor surface rust under a couple mats.
The front seats were recovered about 10 years ago and the rear and middle seat coverings are original with a couple seam separations.
The headliner has a tear but nothing I ever worried about as this bus has never been through a restoration and that is how I prefer it .. original.
Please google "Wild Westerner" if you are not familiar with the origin and historical purpose of this paint scheme.
I am a VW enthusiast and I do not see these for sale often and they are very rare even at the big VW shows .. I do know of one that sold for 17500.00 about 5 years ago.

Please call me with questions and thank you for looking.
3two5-2772426

Shipping will be up to the buyer to arrange please and I can assist delivery to the transporter of your choice.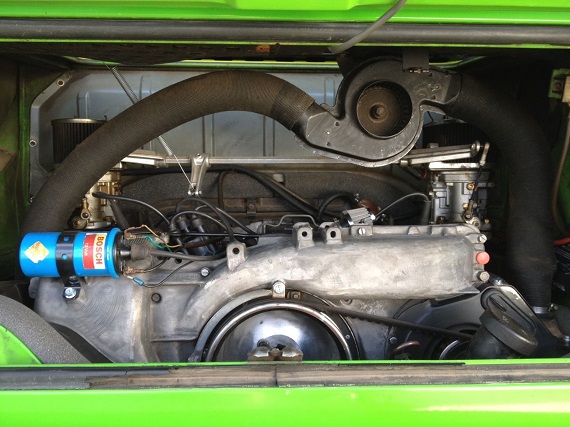 Although I'm sure I've seen the Ravenna Green/Apple Green combination before, it turned out it was rare. Quite, quite rare. It's so rare, in fact, that while there's an enthusiastic bunch that is trying to document the Wild Westerner package, they still can't uncover much about its background or purpose. But for $75 on top of your $3,800 van in 1973, you got the unique two-tone paint scheme with a blue stripe around. It was fetching and pretty, in a way. It looks like the model was always supposed to be this color, but according to the seller only about 33 of them are known to survive today.
This particular example has been visually turned up. The color-contrast Porsche wheels are an interesting addition, and inside the seats have been recovered with yellow striping. The steering wheel, too, adds a splash of unoriginal color. Yet all of these things (minus the seats) look to be pretty easily reversible and the basic package of the Wild Westerner remains. While not for everyone, it's a unique and interesting side note to T2 production. I think given the relative dearth of information in the listing (more info about the lowering and T4 engine, for example?), the asking price is ambitious, but if I'm honest I'm not up to date in the market for these.
-Carter