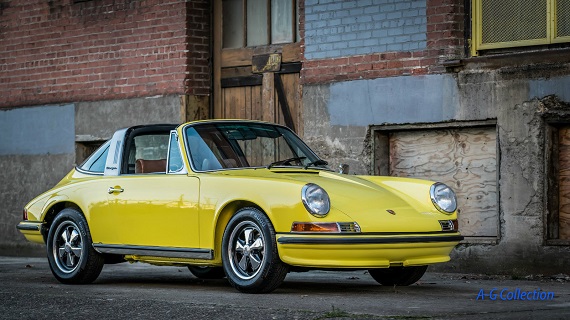 Yesterday's featured 911 was dubbed, by me and the seller, as a very honest 911. In its presentation and overall appearance it conveyed a sense of hiding very little and being shown for exactly what it is. This 911 isn't really that sort of car. That isn't to suggest that it's dishonest, but it is different. For starters it's much better photographed with some touching up that helps the car stand out more so than we saw with Albert. It also has been fully restored so everything looks pretty much blemish free and with little wear. Where I think all of that leads is this: were I a prospective buyer I would feel a stronger inclination to see this 911 in person, to actually get my hands on it, prior to making any kind of bid than I would with yesterday's 911. Both present very well, but for entirely different reasons and that leads to some of our differences in evaluation. Getting all of that out of the way, let's take a look: here we have a Light Yellow 1973 Porsche 911T Targa, located in Oregon, with a contrasting Brown/Charcoal interior and 89,884 miles on it. Per the CoA, the exterior and interior colors are as this 911 left the factory, though not entirely. More on that below.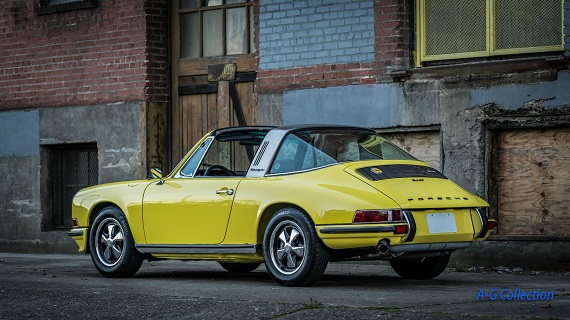 Year: 1973
Model: 911T Targa
Engine: 2.4 liter flat-6
Transmission: 5-speed manual
Mileage: 89,884 mi
Price: Reserve Auction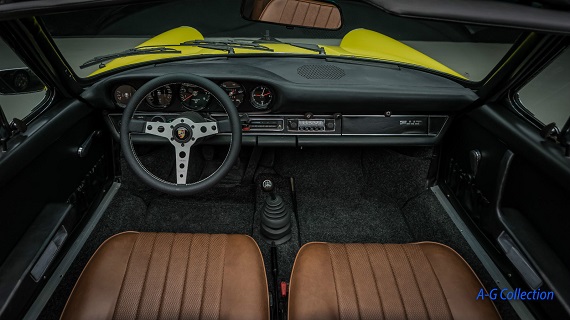 1973.5 Porsche 911T, Targa, CIS, 2.4 Litre

Chassis Number 9113111550

Motor Number 6134304

Full Mechanical and Cosmetic Restoration

Matching Numbers

Original Color of Light Yellow

We've restored about a dozen vintage 911's over the past few years. Although they were all done in a similar fashion, a couple of them drive better than the rest. This is one of those cars, it just feels right. Driving this car immediately puts a smile on your face. The sound, the lightweight steering effort, the smoothness of that lovely flat six behind you…. These cars are very fun to drive, with this being a prime example.

As the very last of this classic body style, these '73.5's are arguably the best of the bunch.

We obtained this car about 2 years ago out of the Seattle area. It was very complete and in surprisingly good condition, with very little rust. Never the less, we did a complete restoration.

The body was properly prepped and completely redone in the original color.

An interior specialist did the front seats and a new, high quality carpet kit was sourced.

The dash is a genuine Porsche reproduction of the original dash; these have only recently become available.

The Targa top was sent out to a specialist who completely rebuilt it.

The car was gone through from top to bottom, all new seals, shocks, braking system, hoses, lens's, hardware, tires, the list goes on and on. Pretty much if it moved, turned, or was an item that you touch, it was rebuilt or replaced.

The motor has been gone through, with a complete rebuild bottom to top. It runs very strong, with no leaks and sounds fantastic.

The CIS fuel injection system has been tuned properly and makes for a very pleasant car to drive.

The transmission shifts wonderfully, all the syncro's are good and it snicks nicely through the gears. These 915 gearboxes are great when set up properly.

The instrumentation and lighting works properly, including the turn signals and the clock.

This car comes with a COA and a stack of receipts going back many years.

These 2.4's make quite a bit more power than the prior cars, and along with the increased torque it makes for a much better driving car.

There is a reason these early 911's are increasing in value at such a rapid pace. They are great fun to drive, are relatively reasonable to maintain and are one of the most iconic designs in automotive history.

We are actively involved in the Porsche community and enjoy these cars very much. Feel free to call or email with any and all questions, we are more than happy to talk shop.

If you have a Porsche you would like to locate a new home for, we specialize in marketing these cars. As you can see from our presentation we do a proper job and have many satisfied clients.

Please remember that if you bid and win the auction, you will be expected to complete the transaction. Recently we have had a few cars sell and then not have the individual follow through. We put a ton of time and effort into the cars and the presentation, please respect that and follow through should you bid.

Inspections are welcome, but must take place prior to the end of auction.

Feel free to call or email with any questions:

503-475-8078 Josh 503-819-9007 Matt

We are happy to help you arrange shipping anywhere in the world.

Good Luck and Happy Bidding!!!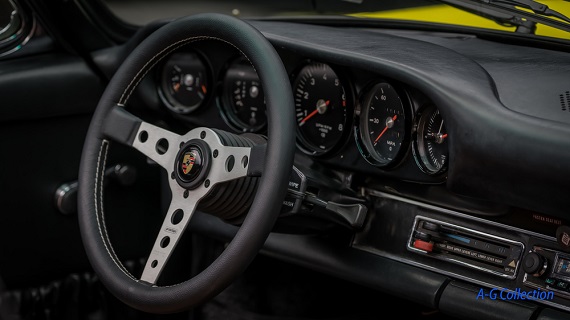 Details of presentation aside, I do really like this 911 (otherwise, why feature it?). It's more to my overall tastes than Albert. I like the brighter pastels a lot on these early cars and the contrast here of the Light Yellow over Brown/Charcoal looks quite good. About that interior: it isn't quite original even beyond that it's been entirely restored. I would be curious if the original carpets were charcoal since I'd have expected, and probably preferred, the carpets to be brown just as the seats are. Also, according to the CoA this T originally had Houndstooth inserts and while I realize those aren't always easy for restorers to source it's too bad they are now absent. That would have made this an even better example! The steering wheel obviously is unoriginal, but I won't get too mad over the presence of what is my favorite MOMO wheel. It looks perfect on the car. Outside of those details it looks great. The paint shows quite well and it should be entirely mechanically sound. It comes with a decent bit of documentation as well. And of course this one comes from near the end of long-hood production making it about as advanced and well performing as these cars came from the factory, at least for a T. Bidding remains on the more reasonable end at $60,100 with reserve unmet. I will be curious to see where this ends, especially as it contrasts with the asking price for Albert. They're presented quite differently, but each certainly has points in its favor and should have plenty of appeal.
-Rob