In recent posts, we've both talked about the expense of maintaining an old German luxo-barge and, at the same time, the joy of getting to experience their technical prowess. I mentioned in the Alpina B12 5.0 post that I was lucky enough to experience an E32 5-speed upstream of most of the major repairs they would need if you held onto them long enough. Seemingly in response, suddenly a wave of neat 5-speed E32s appeared. But is the allure of the 5-speed status worth overcoming some obstacles to ownership?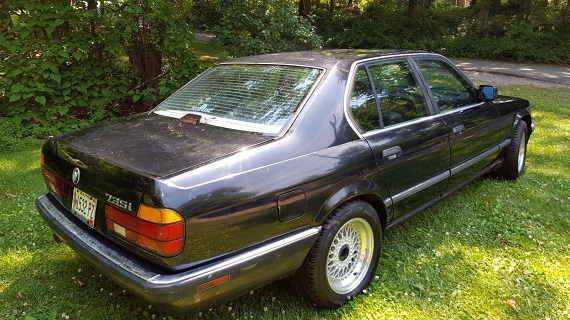 Year: 1988
Model: 735i
Engine: 3.5 liter inline-6
Transmission: 5-speed manual
Mileage: TMU
Price: No Reserve Auction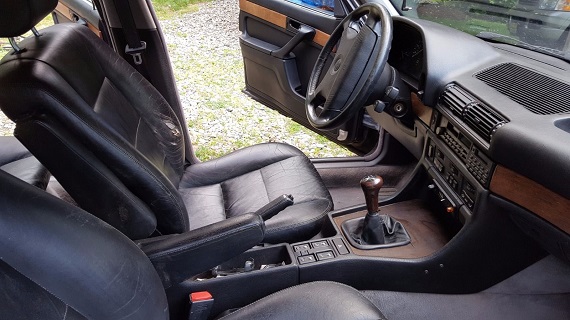 For sale this very rare 735i BMW. I bought this car almost 10 years ago and drove it for some 3 years. Then I chose a transfer job to Europe and the car has been in storage for 7 years.

Here is more history. This is a very rare 7 series BMW. 3.5 stick shift. All original. The problem that I had: as soon as I bought the car the owner died. Unfortunately the title I received was written on and the DMV (back then) would not accept it. So I tried wherever possible to register it. One of the options was to register it in Maine. So I did and drove the car for the initial 3 years.

The car is over 25 years old so the title should not pose problems. You can register the car with some paperwork. If not, I will sell the car with no reserve because as I mentioned before I'm in Europe and sending the car here is not beneficial. There is damage on front left side door which I did myself when I was pulling the car out. The engine turns over and runs, but I am not investing any more money in the car so I didn't buy a new battery. Before it was stored, I replaced the rear full suspension (bilstein), new alternator, and there are spare parts in the trunk (check out the photos)

The car is for sale with a $1 reserve so you get what you see. I'm having a fire sale so check out my other auctions. Please email with questions at a.kurzecki@bagpak.pl

On Jul-11-16 at 06:39:00 PDT, seller added the following information:

Please remember, the car was stored for over 5 years so I do not recommend driving it anywhere.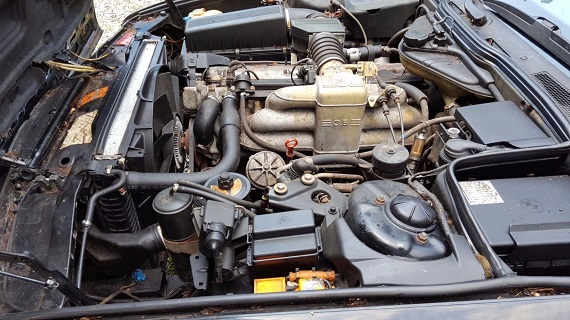 Maine may be "vacationland", but apparently some spend their time by the shores title-washing. It's not the first time I've heard of this occurring in the state, but it certainly doesn't fill one with reassurance. Nor does the current status of the car, having not run for many years. As those who have gone through cars like this will know (myself included), some of those electronics don't love to sit for long periods without working, and while it's not the most tech-heavy model out there, the E32 isn't exactly Fred Flinstone's car. Pictures don't do a great job of selling the car, either, though it looks generally fairly clean there's a serious dent in that driver's door and my guess is that a heavily detailing will still have this car looking fairly used. Perhaps the big draw is the wide 16″ BBS RS wheels, though they're far from perfect too. Still, on their own they're probably worth the current bid.
So, is this car salvageable? I'm certain it could be, if you were willing to jump through quite a few hoops. The problem comes in the money you'll lay out to do so; refreshing the paint, trim, electrical and mechanical aspects of this car will more than likely far outstrip the marketable value. Secondly, you can buy running and easier to register examples such as this nicely modified example our reader John spotted in Seattle, or this more heavily modified but pretty slick looking one that was just listed on Bimmerforums. The entry price on the two gray examples is certainly higher than this one, but maintenance, condition and great looks outweigh the question marks here for me. I'd drop the tint and grab a ticket to San Diego, personally.
-Carter