After reading through an online discussion on Generation Benz, an invite-only market research portal for Mercedes-Benz owners, I was rather unhappy to read over some of the comments from Mike Martin, C-class Product Manager. A participant asked whether or not there were plans in the works to bring the C class estate stateside. This was the response:
"There are currently no plans to import the C-Class wagon or AMG wagon due to low sales history and low US consumer interest in wagons. Also, a GLK really serves the functionality needs of a C-Class sized wagon or utility vehicle."
So there you have it. It's just that simple. You'll have your cute ute and you'll like it. To Mr. Martin, I have but three words: no thank you.
It's sad to think that Mercedes-Benz is going to become just another purveyor of soft roaders chock full of the latest gizmos, but this is the road they seem to be steering towards. While they still offer the E63 AMG Estate here in the US, you know it's just a matter of time before it becomes a victim of the no fun club. In the meantime, it's still possible to find the errant low mileage AMG estate. Normally I steer clear of cars from New York City, but the black on black meanie we featured a a few weeks ago is back up for sale with just a few more miles on the clock.
Year: 2007
Model: E63 AMG Estate
Engine: 6.2 liter V8
Transmission: 7-speed manual
Mileage: 36,900 miles
Price: $41,800 Buy It Now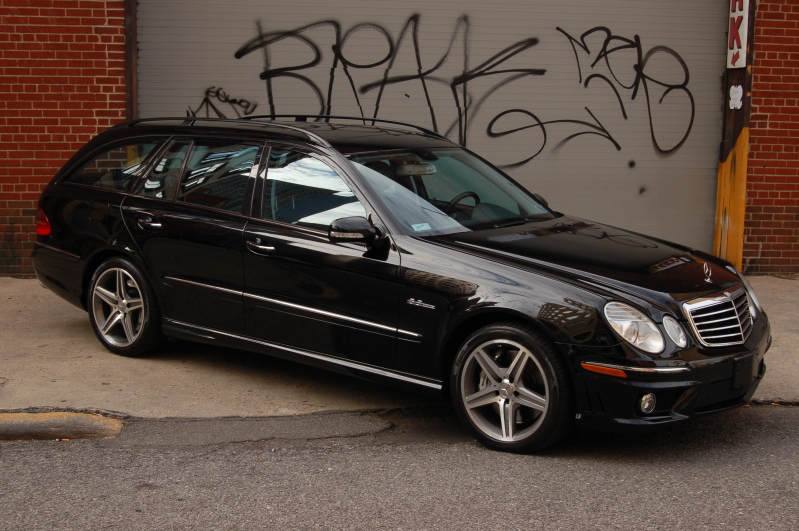 As rare as they come, only 67 E63 AMG Wagons were sold in the US in 2007 and this is the best color combo they made. Black on black, pure stealth bomber status. Amazingly fast wagon, 6.2 liter V8, 507 hp @ 6800 RPM, 465 lb-ft @ 5200 RPM. Entusiast-owned from brand new, this car was a special order direct from Germany. Fully serviced only at Factory MB Dealer, last service was just this week to prepare it for sale. It has Mercedes DVD players in the rear headrests complete with separate headphones, a must if you have kids. The Car is stunning and needs nothing except a new owner. Both keys, manuals, all weather mats etc. Rare opportunity. These cars are highly coveted among the AMG enthusiast crowd. They don't hit the market often and when they do, they always bring a big following. No accidents, clean title/Carfax. Must be seen and driven in person to be appreciated. No scratches/dents/smells/stains or curb rash on the wheels. Has to one of the cleanest E63 Wagons in existence, inspections welcome! These things are very rare, even rarer to find one with this color combo, options and low mileage. They almost have a cult following in the car world, not a lot of car companies make a sporty wagon these days, definitely not many making a 507 Horsepower V8 Monster! This thing will embarrass most Italian Supercars, a real sleeper, keep them guessing!
We've featured plenty of these E63 AMG estates here on GCFSB and they can be polarizing cars. Some people will instantly wonder, why bother hot rodding a boring wagon? But for most of our readers, I'm sure the appeal is apparent. Versus an SUV, the lower center of gravity, rear-wheel drive and relatively modest weight gain over the AMG sedan makes for one hell of a screamer.
The last time this car came up for sale, the buyer didn't follow through (at a selling price of $38,900), and the car was relisted at $42,900. A few weeks later and we're down to $41,800. I'd say the original selling price is just about right. While the car has low mileage and is clean, over $40,000 is a bit much, even considering the fact that we're dealing with New York and you encounter the typical surcharge on goods and services of all kinds.
-Paul