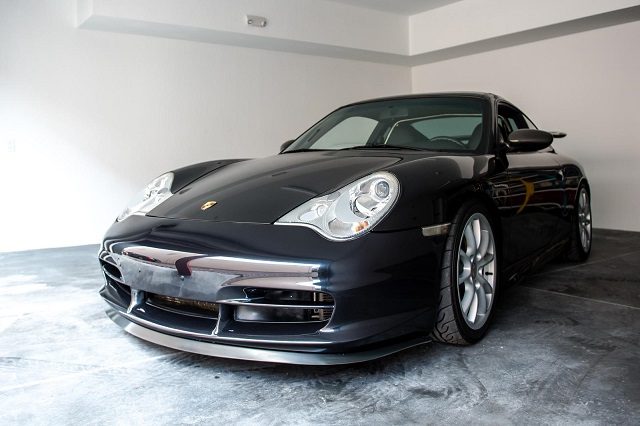 I've been looking at and writing about the 996 GT3 market for a little while now. I've become somewhat captivated by these cars and their place on the current 911 market. The basics are simple: the GT3 is a fantastic driver's car with purity and focus that typifies the love of motoring felt by many of us, but among Porsches the price remains reasonable all things considered. A GT3 is by no means inexpensive, but the craze of the air-cooled market sometimes distracts us from the performance value available when we step outside of that arena. Thus, I was delighted to see this Basalt Black Metallic 2004 Porsche 911 GT3 come our way. Within the GT3 world the mileage on this one is a little higher, but correspondingly the price a little lower. The condition looks excellent: the metallic black paint shows really well and the interior looks crisp and clean. It isn't entirely original, but that's okay. The appeal here is to have one of the best driving cars Porsche has unleashed upon the American market and for that we can let certain things slide.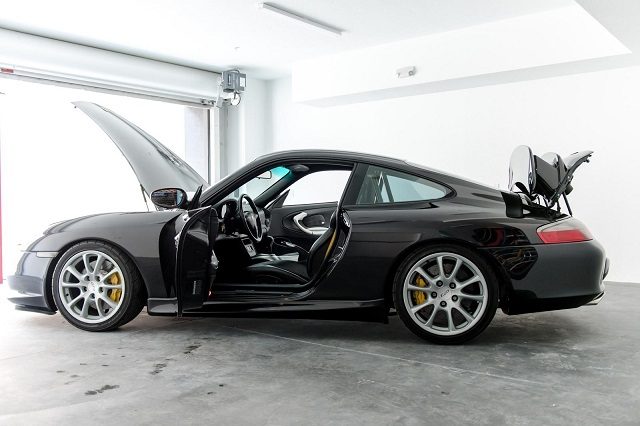 Year: 2004
Model: 911 GT3
Engine: 3.6 liter flat-6
Transmission: 6-speed manual
Mileage: 53,500 mi
Price: $70,000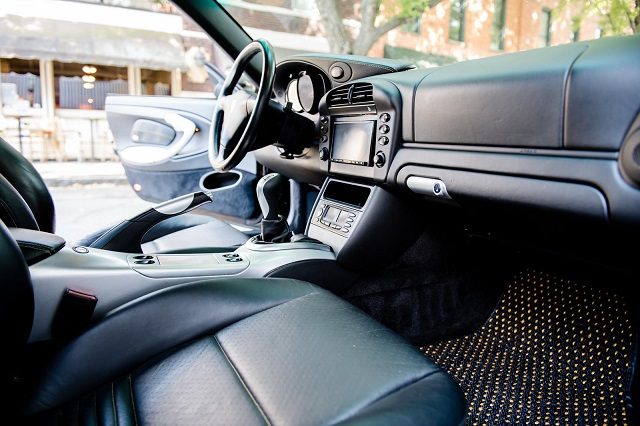 2004 Porsche 911 GT3, +/- 53.5k miles, rare Basalt Black Metallic with black full leather interior. Factory options include PCCB brakes, bi-xenon headlamps, thicker steering wheel, A/C, full leather interior with deviated yellow belts and yellow stitching in seats, dash and door panels. (See attached factory build tag and Porsche Certificate of Authenticity.)

Prior owners installed stainless steel headers, SS Porsche Techquipment rollbar, adjustable rear toe links, carbon fiber side mirror covers, CF GT3 Cup style engine air intake scoop, tinted windows, tinted front corner lights, clear bra (hood, fenders, door handles/surrounds), aluminum pedals and a double-DIN Kenwood touch screen head unit with sat radio and nav, trunk mounted Kenwood CD changer, trunk mounted Zapco amp, front/rear Focal speakers w/ crossovers, and rear-mounted subwoofer.

I have recently recently installed a NOS GT3 Cup shift knob, new Porsche center console storage bin, new Porsche cup chin spoiler, new Porsche GT3 lower control arm brake cooling scoops, new stock air filter, new serpentine belt, new AGM battery and Battery Tender trickle charger.

I also recently had both bumper covers repainted to remedy minor chips/scrapes. All other paint and panels are believed original. (See clean Carfax below.) I also had the windshield replaced with an OE Saint-Gobain/Sekurit inc. new Porsche seals.

Yokohama Advan Neova tires in stock sizes were installed in 2016, now with less than 2,000 miles use.

I have approximately 25 pages of service information from 2009 through an oil change in October 2016. Major service indicates new Clutch assembly, rear main seal, catalytic converters, and oxygen sensors were Porsche dealer replaced at 41k miles.

I have found no evidence (no tire rubber in wheel well liners, brake caliper piston seals intact, brake caliper paint as new) of track use after a thorough inspection. Thanks, Mike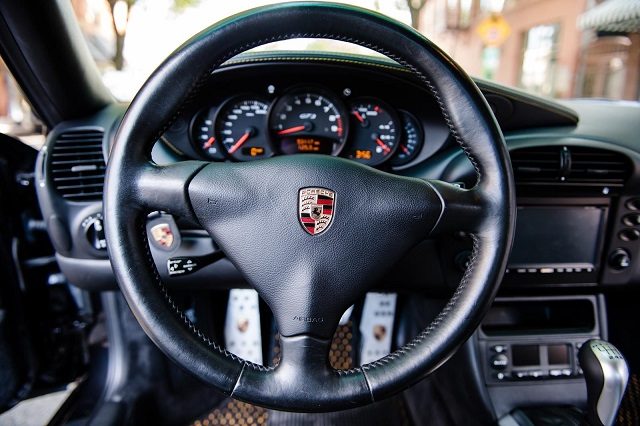 The 996 is frequently derided for its appearance, but I've always found the GT3 to be a small exception to the rule. The revised front, side skirts, along with the rear wing draw the eye and provide for better overall lines to go along with the general hunkered down nature of the car. The unique wheel design also helps to pull the racy nature of the GT3 to the eye with a nod towards the 911 heritage. They aren't a perfect design overall, but dare I say these are an attractive 911. Unlike the outside, the interior does retain much of the 996 nature – but you're not here for the ergonomics, you're here for the driving experience. Yet wearing its slightly more rare shade of metallic black this GT3 looks great and will have passers-by doing double-takes. Most wouldn't expect this black to be a rare shade on the 996, but only 22 GT3s are recorded as being ordered in Basalt Black Metallic in 2004, and just 5 in 2005, making this one of the least frequently specified colors. I'll leave it to others to decide between metallic and non-metallic black as the preference is entirely subjective, but there is little doubt that this one will stand apart slightly from the crowd. Among the options Porsche's ceramic composite brakes are of significant note, especially for those who might want to take this GT3 to the track. There are a few aftermarket items noted in the ad, but none of them are the type that should detract from the overall appearance or nature of the car.
So what about price? While I can't say this definitely is the lowest priced GT3 on the market right now – outside of some stripped out racers – it is the lowest priced that I've seen in a while. Many of our recent GT3 features have had prices not much higher than this, typically around $75K-$80K, but with lower mileage. However, I should note many of those have lacked the PCCB option, which we cannot ignore here. The key will be this GT3's history and a buyer's peace of mind. With any high-strung Porsche the maintenance history could determine just how much value we're truly looking at and a savings of a few thousand could easily be eclipsed by maintenance costs. This GT3 is said to have a good deal of its recent service records available dating back to 2009. The owner sounds knowledgeable so those records along with a phone call could provide the details necessary to decide if the price makes sense to a prospective buyer.
Of the various 996 models the GT3 is one that has collector appeal. Perhaps with slightly higher mileage the first thought when considering purchase may not be to stash this car away in a garage, but with a car that aches to be driven the way the GT3 does perhaps that's all the better!
-Rob