Andy McCulley from flüssig magazine has been lending his expertise on all things Porsche 928 to us here at GCFSB. This is his first post as a guest contributor, so sit back while he walks us through this 928GTS equipped with a 5-speed manual.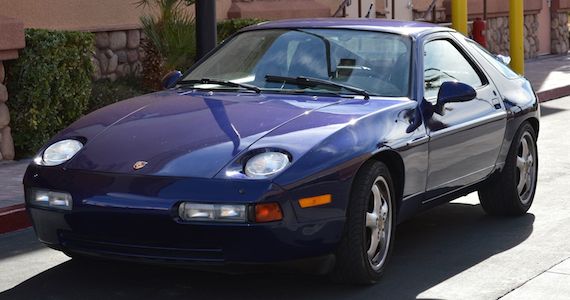 Here we have a lovely 1994 Porsche 928 GTS 5-speed. The crème de la crème of the 928 lineup. Although not the slightly more desirable '95 GTS, '94 models have been known to fetch a pretty penny when in mint condition. After all, there are absolutely no differences between a '94 and '95 GTS other than a slight change in the VIN to indicate the year difference. Furthermore, this example is one of just four known Iris Blue '94 GTS models and is still with the original owner.
Located in Las Vegas, the owner claims that this example has been driven daily since new and there is certainly evidence to support this claim. While the exterior appears nice in the pictures, the owner states that it has been repainted. Anyone interested in this car would certainly want to have a thorough inspection done to validate that the repaint was done properly. One item to note is the apparent "rippling" in the trim surrounding the passenger side rear window. This may be somewhat illusory thanks to a reflection, but I would certainly recommend asking the owner about it.
The interior is the most salient disappointment, as the steering wheel appears to be either a loss or just in need of a serious deep cleaning, and the dashboard has a few major cracks. The carpet appears to be in decent condition with the exception of the piece on the drivers' side door panel and the floor mats, which appear to be faded. There is also a crack in the bezel around the shifter, and the ashtray appears to be in rough condition. Perhaps with a thorough detailing this car would appear more enchanting to potential buyers.