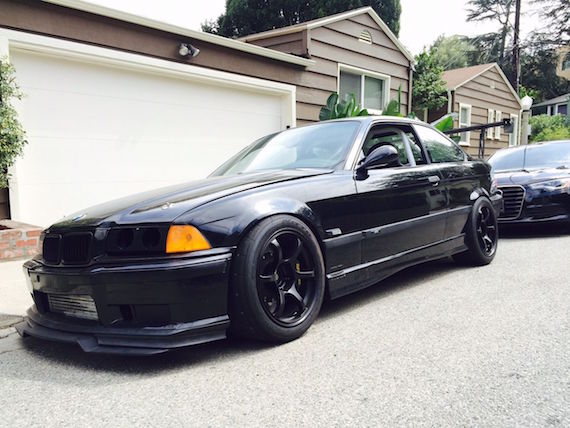 When looking at E36 M3s, there are many different approaches. Do you want the lowest mileage example around in case they go the way of the E30-dodo? Perhaps you're looking for a driver-quality, mid-mileage example. Is it four-doors or nothing? (For my money it would be!) Or maybe you're a bit more adventurous and 240hp just won't do so you're after some performance mods, maybe even a supercharger?
These are all rational approaches to one of the best performance bargains available today and illustrate what a broad spectrum of driving enthusiasm the E36 M3 can fulfill. For today, however, just one item composed my rubric: WHICH ONE HAS THE BIGGEST WING? Well, folks, I'm confident I've found it, and as opposed to the rear-view problems monster wings typically present, this one avoids that problem altogether by just placing the spoiler higher than the roof!
Now, the reason this car has a GT3RS-rivaling spoiler is because it's been fully outfitted for the track. A supercharger and upgraded exhaust/suspension/brakes combine with a rollcage in the bare interior to make this M3 all about the go, not show. Which rationalizes the wing a bit – sure, it looks silly, but with the S52B30 putting out over 400hp at the crank now, some high-speed stability is a prudent priority. Somehow registered for the street, this complete track build clearly demands a closed course so you can exercise this E36's full potential instead of garnering Nelson Muntz-ish "Ha Ha!"s from the general public.