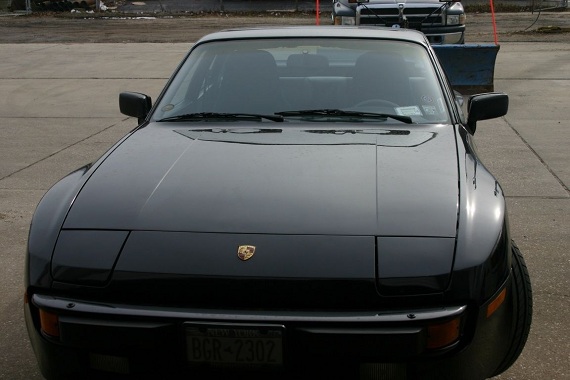 For a bit of a twist on the normal 10K Friday, today we've got 10K Black Friday – and while the deals are good it's more the color I'm speaking of. The last time we have a 633CSi in the "Big Coupe-off" it lost pretty resoundingly to the 560SEC. Will today be the same as it comes up against a Porsche with half the engine of the 928 it faced last time? Time for you to decide who will win this showdown. Let's start with the 1985 944: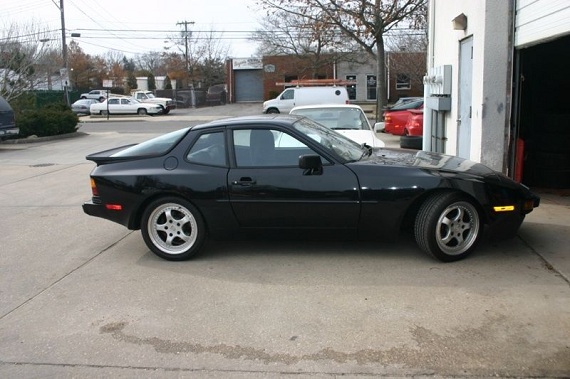 Year: 1985
Model: 944
Engine: 2.5 liter inline-4
Transmission: 5-speed manual
Mileage: 109,000 mi
Price: $ 9,000 Buy It Now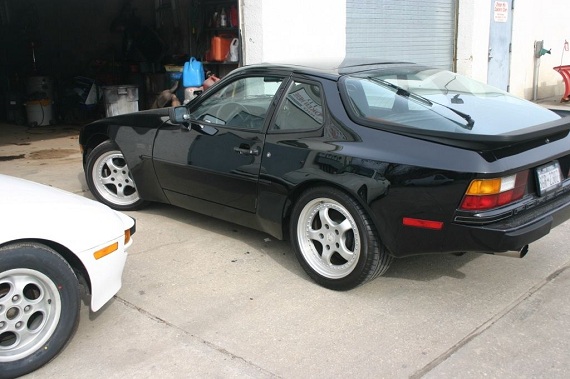 1985 ½ Porsche 944 former show car. Multi-time Porsche Club of America Street Class Concours winner. Beautiful black on black. Outfitted with Porsche 911 C2 three piece chrome wheels, 245 x 18 front and 255 x 18 rear tires. Alpine 175 watt stereo system. Leather sport seats. 109,000 Babied miles. Service history includes water pump, clutch, fly wheel, all seals, all belts, battery, brakes and rotors, restored rear upholstery, upgraded AC (requires charge). This is just a partial list. Service records available (meticulously serviced by PSH Ltd.). Consider the others then bid seriously for this one.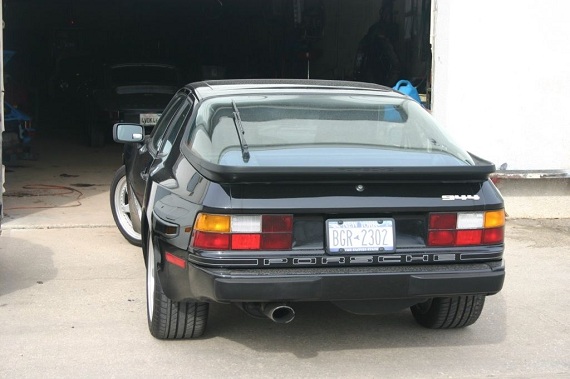 The car appears to look nice from the outside, but little detail is offered for the interior. Despite this, it's clear it's probably not currently a show car – but that's okay with me, I think I'd prefer a driver anyway. With service records available and claimed recent maintenance, this could be a reasonable deal though I think the price is probably high. I'm also not a fan of the wheels, which are claimed to be C2 wheels but look to me to be RH Cup replicas. Outfit the car with some Turbo phone dials or black Fuchs, though, and this could be a nice little car for someone with a dark side. Is it enough to overpower this 633?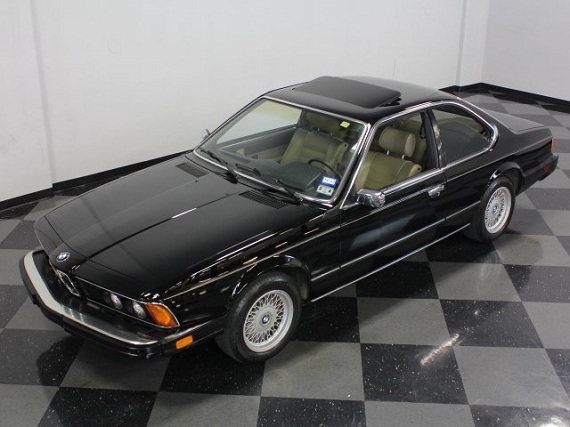 These 6-series coupes are starting to appreciate again from the looks of things, with few decent examples trading hands for under $10,000 these days. This car appears to be mostly original in it's black over tan configuration: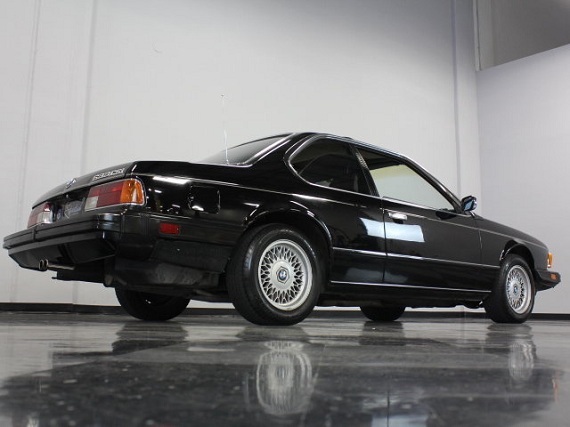 Year: 1983
Model: 633CSi
Engine: 3.2 liter inline-6
Transmission: 5-speed manual
Mileage: 118,695 mi
Price: $9,995 Buy It Now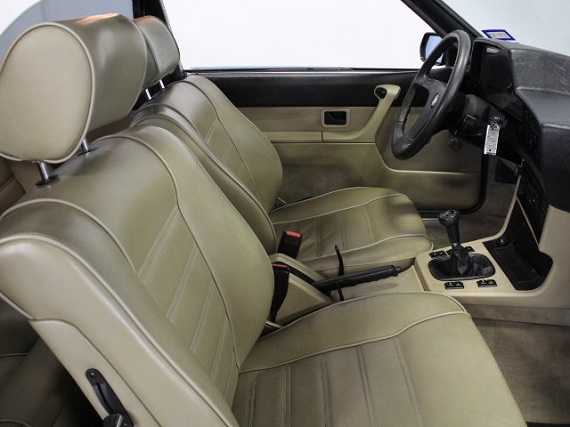 VEHICLE FEATURES & OPTIONS

AM/FM Radio, Air Conditioning, Cassette Player, Cruise Control, Defrost, Four Wheel Disc Brakes, Fuel Injection, Heat, Leather Seats, Numbers Matching, Owner's Manual, Power Brakes, Power Locks, Power Steering, Power Windows, Seatbelts, Sunroof, Telescopic Wheel

SELLER REMARKS

The BMW 6-Series isn't a recent invention, and in the '70s and '80s, cars like this 1983 633CSi were the top-of-the-line in personal luxury transportation with a sporting flavor. Today they're growing in popularity as collector's items, and nicely maintained, unmodified examples like this are sure to be on the short list of European car fans everywhere.

Shockingly, this long, sleek coupe still wears its factory paint. The black finish is still extremely nice and for a collector, that counts as a big bonus. It's also a testament to the quality of the original finish, as it still shines up beautifully and looks fantastic under any conditions. That original paint also means that this car has never been hit or rusty, and even in the '80s, BMW's build quality was impressive. Sleek styling made the 6-Series the envy of the industry, and there weren't many competitors on the far side of the pond, and over here it was competing with totally different machines like the Cadillac Eldorado and Lincoln Mark VI-hardly an apples-to-apples comparison, wouldn't you say? The bumpers are in excellent shape and haven't been cooked into a dusty gray mess by the sun and all the chrome is still good, needing nothing more than an occasional buff to remain shiny.

The tan leather interior boasts some of the era's most comfortable bucket seats, because BMW's reputation as a driver's car was firmly established in 1983. Again, it's all original and while there's minor wear on the seating surfaces themselves, there are no splits or cracks in the leather and the materials underneath are still supportive enough to be all-day comfortable. The black dashboard is rather dramatic, with a pod ahead of the driver hosting a full array of highly legible white-on-black instruments, and an upper tier with the A/C vents. The center stack has the controls for the A/C system (which has a fresh compressor and R134a refrigerant), the original AM/FM/cassette stereo, plus a fully-functional trip computer! The dash pad shows a few minor cracks, which is typical of these cars, but on the plus side the back seat looks almost completely unused. The 6 also offered a spacious trunk that carries its original mats and a complete factory tool kit.

BMW's famous line of inline-six engines were the foundation of their lineup for years and years for good reason. The 3.2-liter six was given Bosch fuel injection and electronic controls in 1980, making for a substantial boost in power and reliability, and for turbine-like smoothness, it's hard to beat. Extensive recent service work includes a full tune-up with cap, rotor, plugs, and freshly cleaned fuel injectors, so it runs superbly. It's backed by the highly-desirable 5-speed manual transmission that makes the car a joy to drive, and the supple yet athletic independent suspension and 4-wheel disc brakes guarantee that it's always entertaining to drive. The front control arms were recently replaced and the rear end was re-sealed and serviced, and the brake calipers have been rebuilt and new cross-drilled rotors help shed additional heat. It currently wears 15-inch BBS wheels from a later 5-Series, but the original 14-inch alloys are included with the sale.

A very impressive car that's gaining traction as a collectable. Buy this one now and be ahead of the curve and have an extremely enjoyable car to boot. Call today!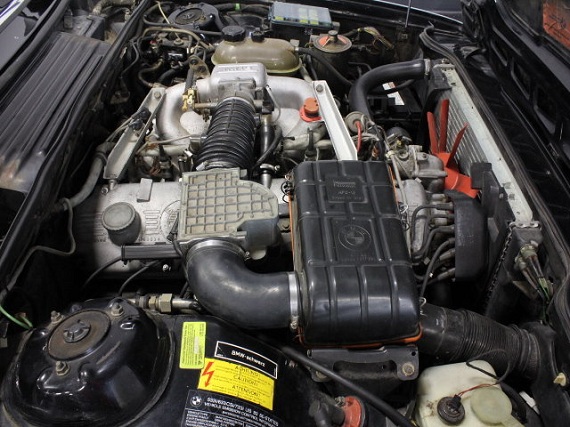 Like the 944, this car appears to be well cared for and shows recent maintenance, as well as functioning air conditioning – a plus on a black car. Personally, I'm not a fan of the busy 540i sport wheels on this design; I'd strongly prefer getting some Alpina replicas if I wanted to stay on budget. Otherwise, the only thing on the U.S. bound 6s that I don't like are the bumpers, and in addition I'm not a fan of this car's tint.
For $10,000, which car would I rather have? I think for me, if I was serious about the 944, I'd probably be more interested in a cleaner and later 924S, such as the one I wrote up the other day. As such, by default the 6 wins my vote, though I do have to admit it's not my favorite 6 series. I'd prefer to hold out for a clean grey-market car or a late 635 with the cleaner bumpers, but overall this one looks pretty nice. Which would you choose?
-Carter