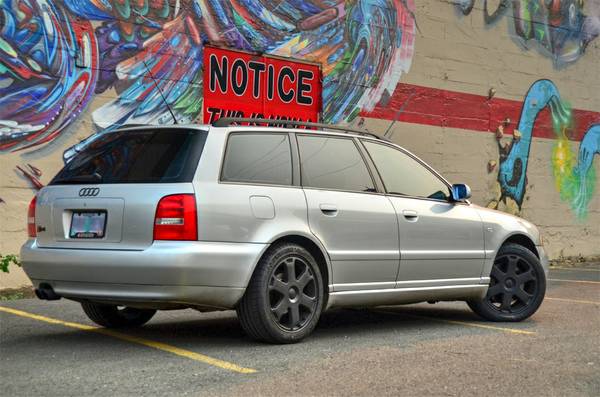 Last week's 10K Friday Colorful Carriers was a bit of a letdown; sure, the colors were great, but the only manual was the B6 V8 S4 Avant, and while it was a cool package there was no denying the trepidation with which I'd approach that particular package. To remedy that issue, this week I'm again focusing on some haulers capable of hauling; we've lost the color pallet but all of these Avants are turbocharged and manual, just the way most like it. So, this time around, which is the pick of the litter?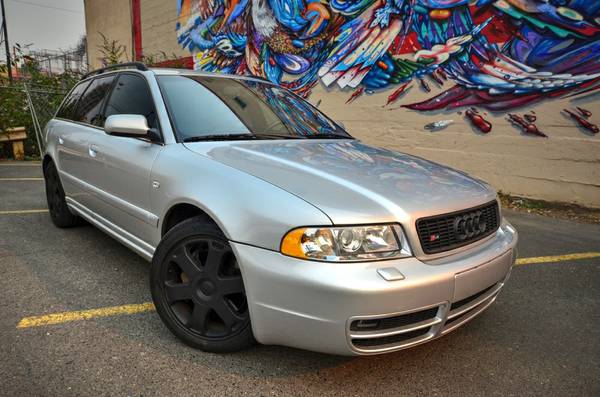 Year: 2001
Model: S4 Avant
Engine: 2.7 liter twin-turbocharged V6
Transmission: 6-speed manual
Mileage: 126,225 mi
Price: $8,500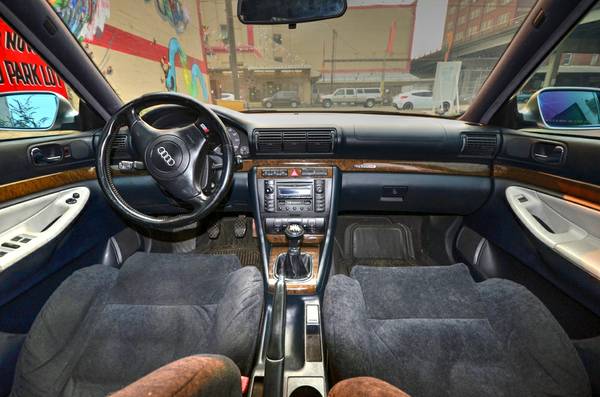 2001 Audi S4 Avant 6MT

This car has been amazing to own. I hate to sell it, but I need to make room for my new motorcycle. Car has been very well maintained. Always full synthetic oil and only premium gasoline. No smoking or dogs. Just had full synthetic oil change done a few days ago along with new coolant hoses and oil level sensor. I have done what I think are a list of non intrusive and tasteful upgrades, here is the list below:
-APR Stage 2 software with all available options including: stock file, 91 octane, race fuel(never used), fault code erase/throttle body alignment, anti theft/encrypted security lockout, and valet mode
-APR bi-pipe
-710n diverter valves
-JHM solid short throw shifter
-JHM Lightweight Flywheel and Clutch Combo w/B7 RS4 Pressure Plate and Stage 4 hybrid Ceramic/Kevlar clutch. This upgrade was $2500 installed and was done less than 4k miles ago. I had planned on keeping car long enough to go with bigger turbos, and this clutch can handle anything you could possibly throw at it.
-Removal of precats on down pipes(almost completely eliminates turbo lag)
-Michelin Pilot Super Sport tires done less than 2k ago
-Window tint done to legal limit by Tommy's window tinting(these guys are good)
-Custom fitted micro suede seat covers(black)
-Custom fitted Evolution 4 car cover

Car drives amazing and I get a kick out of seeing peoples shock when a station wagon is faster than their flashy sports cars. Serious buyers only please. No test rides without cash in hand.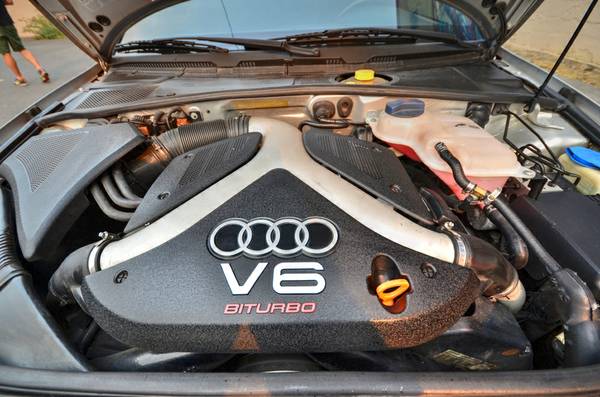 The list of upgrades to this Avant is less than is typically seen, and the miles are lower than standard on most 2001s at this point. It's a 6-speed, and appears overall to be well maintained – right down to the expensive tires, which second or third owners usually cheap out on. Admittedly, all the black details wane my interest. First off, the black painted Avus wheels are pretty horrid looking in my opinion, though that's a relatively easy fix. Even more perplexing is the custom fit microsuede seat covers, which look cheap and atrocious in my opinion – especially since this car appears to have the much prettier silver leather underneath. The tint is too dark, too; but then, these are all reversible and the price is pretty compelling, as asking prices on the 6-speeds is typically north of $10,000 even when not in the shape of this car.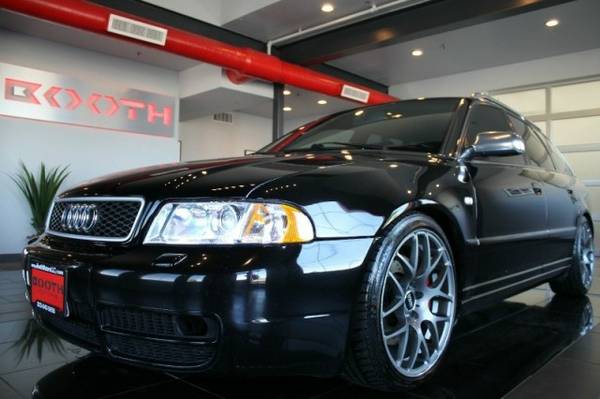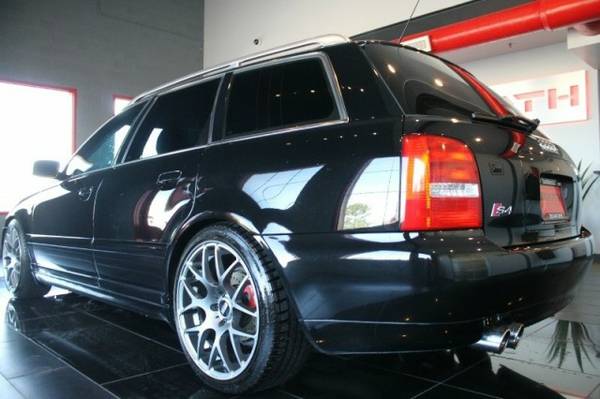 Year: 2001.5
Model: S4 Avant
Engine: 2.7 liter twin-turbocharged V6
Transmission: 6-speed manual
Mileage: 176,427 mi
Price: $13,995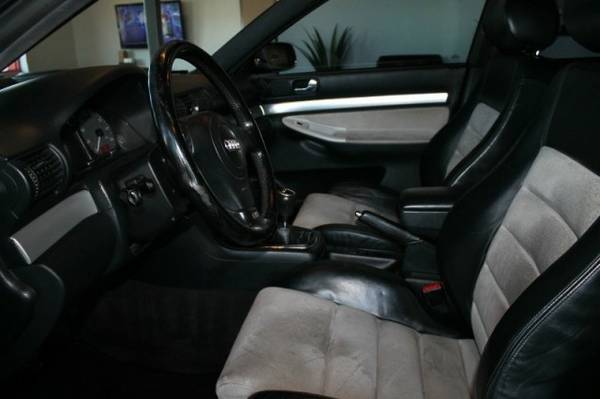 2001.5 Audi S4 Avant 6 Speed Manual Stage 4+!
4 Doors
176,427 Miles
Black
6 Cylinders
Manual Transmission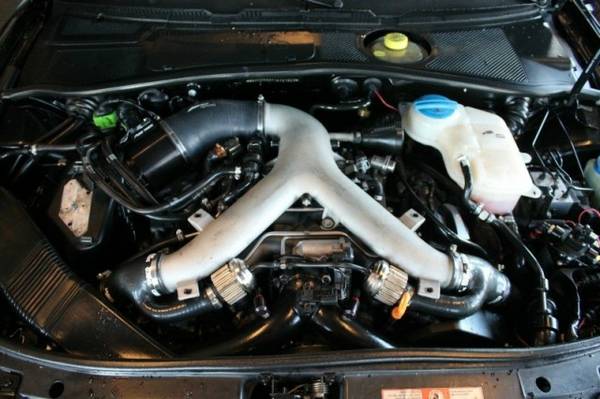 Speaking of, what's here to justify the $14,000 asking price? Well, this black over black/silver Alcantara example certainly looks very shiny, and while the VMR wheels aren't my favorite at least they're not black. Miles are fairly high, and this car is listed as a "Stage 4+". Now, depending on the source, that would mean this car has an engine remap, exhaust, downpipes, exhaust manifolds, fuel augmentation, hybrid turbos and front mount intercooler upgrades. Maybe. And the claim is that in this tune it should be capable of 520 horsepower. Maybe. Of course, it's all speculation since there's effectively no information in the listing. Looks nice, but pass – unless you could get it for around $10,000, or the seller comes up with a full list of expensive and recently replaced wear items and high dollar, top tier mods.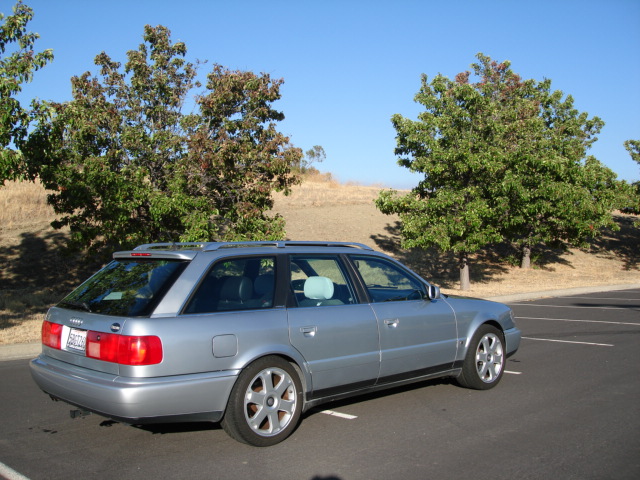 Year: 1995.5
Model: S6 Avant
Engine: 2.2 liter turbocharged inline-5
Transmission: 5-speed manual
Mileage: 192,000 mi
Price: $8,500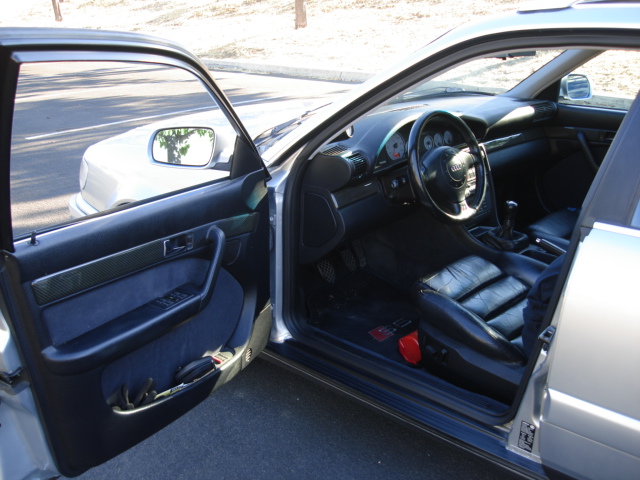 1995.5 Audi S6 Avant

Selling my S6 Wagon.

All services up to date including timing belt/water pump.
Oil Changes done every 4000 miles with Swepco Engine Oil
Reason for sale, too many older Audi's, shrinking it down.
Cars clear coat is a little weak, Tear in drivers bolster seat, Issue with rear wiper.
Otherwise car is solid.
No rust, California car.
192,000 Miles.
$8,500

Stock info:
5 Cylinder Turbo Intercooled 2.2 Liter Engine
2.2 liter, 20 valve, turbo-charged, 5-cylinder, in-line, with electronic turbo boost control
stock hp is 227@5900rpm
stock torque is 258@1950rpm
5 speed manual Quattro all wheel drive transmission

Upgrade Info:
C5 S6 Et35 wheels witch Michelin Pilots
Lowering Springs with Koni Shocks
Modified Upper Shock Mounts
Factory Carbon Fiber Trim from older S4 in great condition
Mihnea Stage 1 Chip
Pillar Mounted Boost Gauge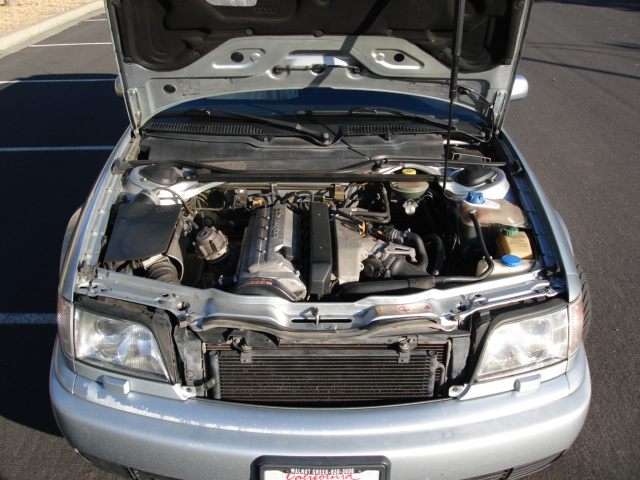 Now we're talking. Upgrades are limited to a boost gauge and chipset, backdated carbon trim, lowered suspension and updated Avus wheels with the correct S6 offset. Well played! I'm usually not a fan of the later Avus wheels on the earlier chassis, but the 8″ ET35 examples are chunkier and it works here. Condition appears overall to be good although admittedly the paint does seem to be failing. It's also a 95.5, meaning no locking differential – but then, this car is legendary enough even without it. It may not be the most adventurous color or the best one we've seen, but the S6 Avant certainly gets my nod in this competition. Down a turbo and a gear to the other cars, it makes up for those deficits by oozing character and having the better soundtrack – plus, it's rare and gets you major street credentials at Euro gatherings. On top of all that, the C4 had arguably superior build quality and more room than the B5, so it's more usable and potentially can produce even more power. You'll pay to keep any of these running, so why not take the connoisseur route?
Thanks to our reader Jason for the S6 Avant spot!
-Carter