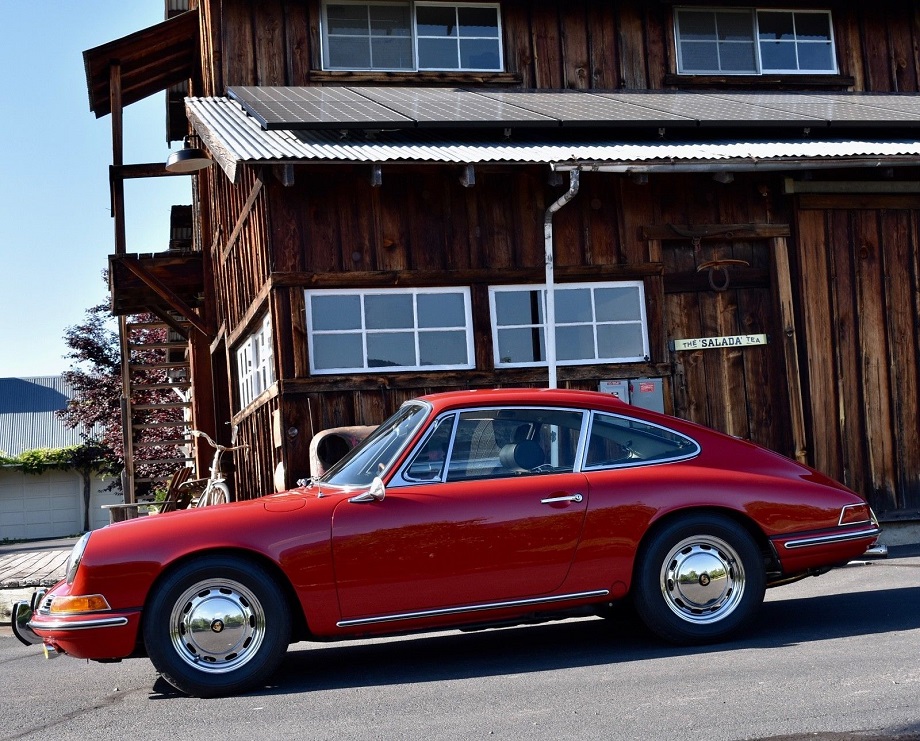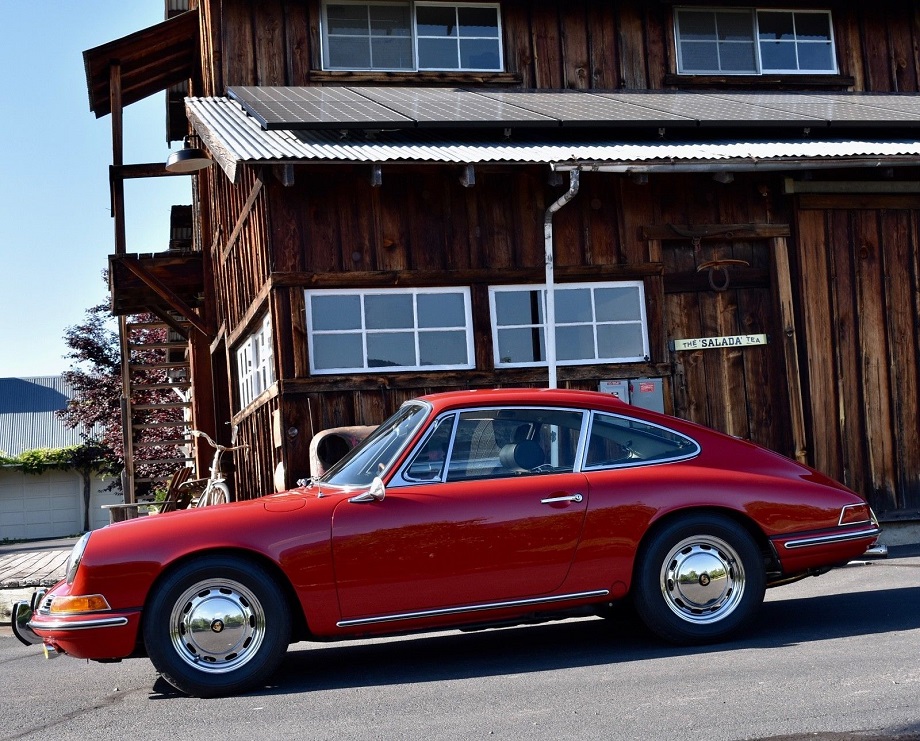 While not necessarily surprising given their age the early short-wheelbase 911s really do not come around that often, even relative to the later long-hood models. This one I think looks particularly good. This is a Polo Red 1967 Porsche 911 Coupe with a set of lovely black, white, and red houndstooth seat inserts in the interior that looks fantastic as a contrast to the Polo Red exterior.
1967 brought with it a couple changes to the 911 lineup. Of perhaps greatest importance is it marked the debut of the 911 Targa, which at this early stage was in the quirky soft-window form. The Targa would be a mainstay of the 911 lineup for nearly 30 years before going on a brief hiatus after a redesign for the 993. This also was the first year for the top-of-the-line 911S. Of course, neither of those things applies to this 911, which is a base model Coupe, but we might as well account for the available options. Another change, which this time does apply to this 911, was the replacement of the wood dash with an aluminum dash. For me that's a little bit to the '67 911's detriment as those wood dashes were so good looking, but the aluminum look perhaps provides a little more of a sporting feel.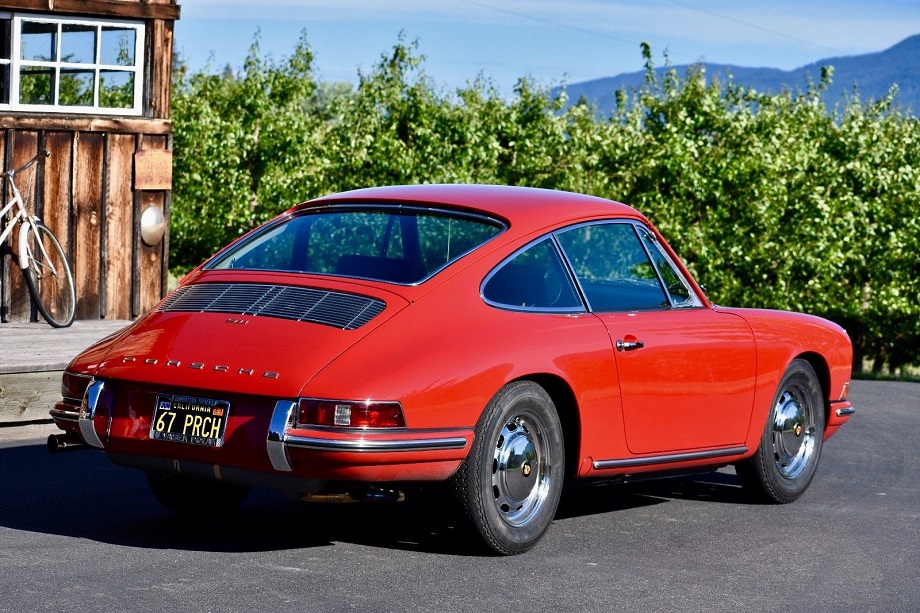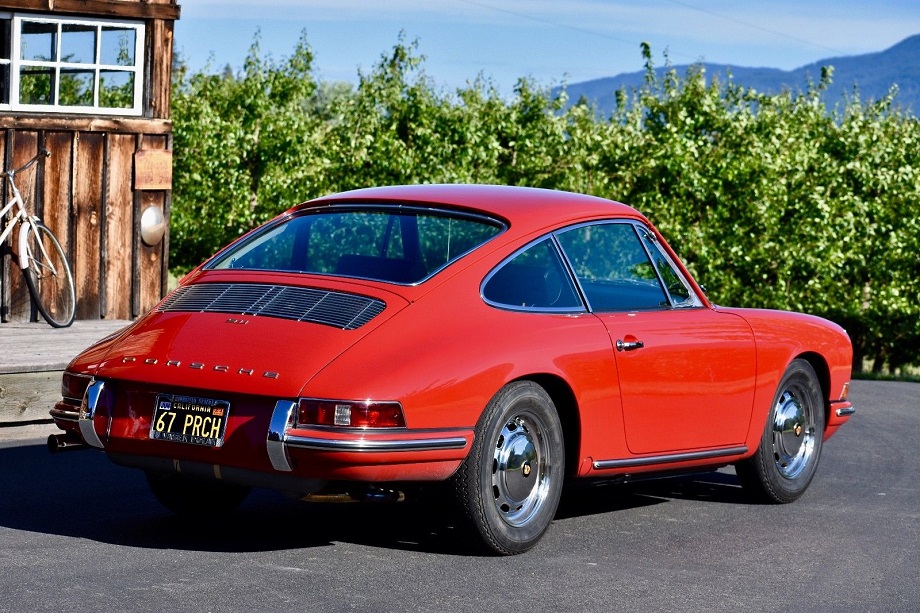 Year: 1967
Model: 911
Engine: 2.0 liter flat-6
Transmission: 4-speed manual
Mileage: 44,394 mi
Price: Reserve Auction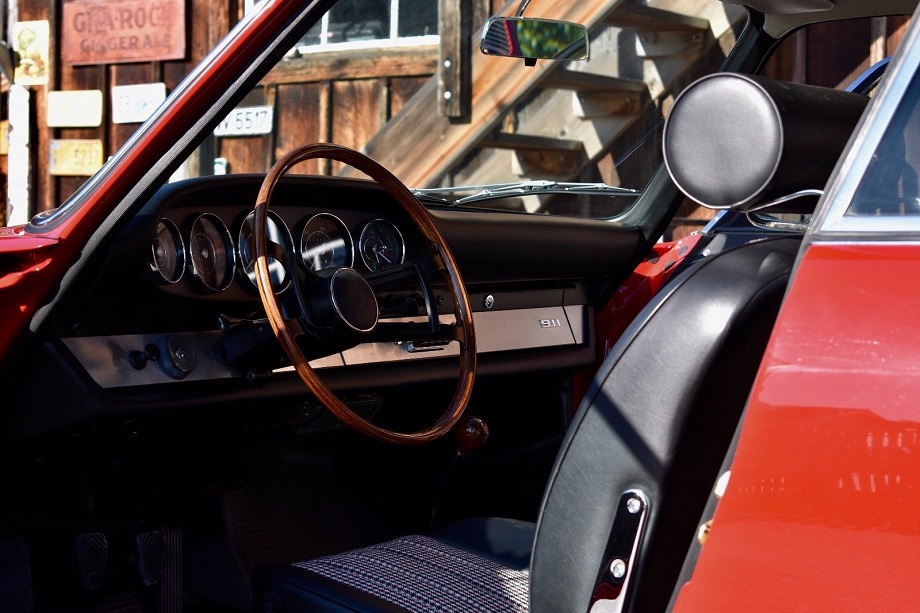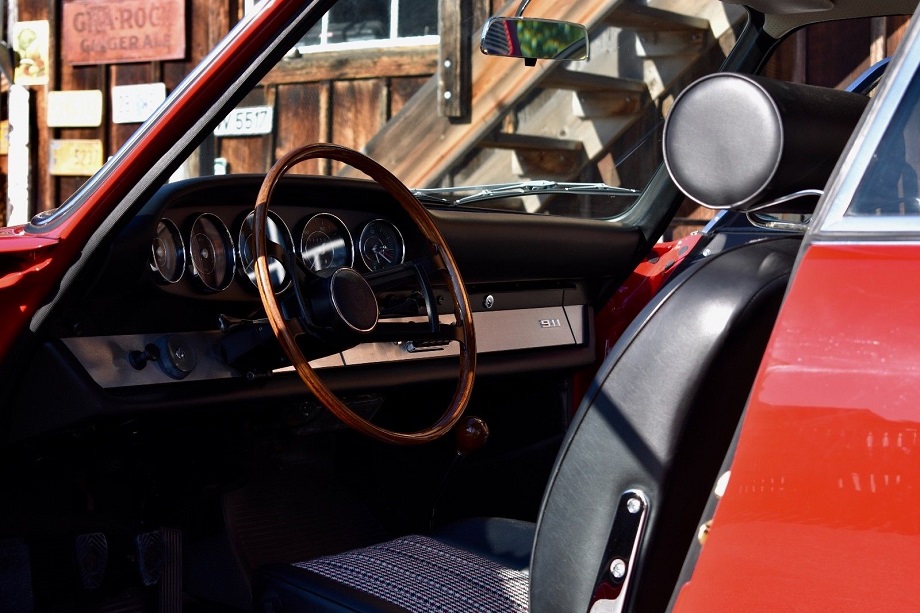 VINTAGE Sportscar Restorations INC presents this beautiful restored 1967 911 in factory Polo Red black interior with Black/Red/White Hounds-tooth inlays. This is a full numbers matching PORSCHE 911 coupe. VIN number #305900 and matching motor 2.0 #909498 with 44,394 original miles. Only 3,421 made. Today, not many can be found in this condition. The car is a perfect example of a true rust free vintage 911. The restoration goal was to preserve as much as the original panels, parts and hardware as possible. Thus, car retains it's original numbers matching fenders, doors, hood, engine lid, wheels, motor, 4 speed transmission, carburetors, seats, gauges, many suspension components like brake calipers, frames, exhaust, steering wheel and even the original hood PORSCHE badge as well as many other accessories. This special and unique 911 was coated with single stage high gloss Glasurit paint and products. Many hours of focused dedication went into making the car an exceptional piece of art. The car is absolutely stunning. All gaps are true to original specification of 3-4mm. Panels are straight with no flaws. With the fully rebuilt Weber Carbs, the motor pulls very strong through all gears. The ride on this car is smooth and tight as a newly restored 911 should. After the restoration the car has been driven along side the West Coast with no issues. The car is a turn-key and ready to be enjoyed for many years to come. The entire restoration has been documented with may hundreds of records, 4,696 pictures and a Certificate of Authenticity. All of these documents will be available to the new owner. Bid with confidence. Here at VSR we stand by work. Please feel free to ask any and all questions.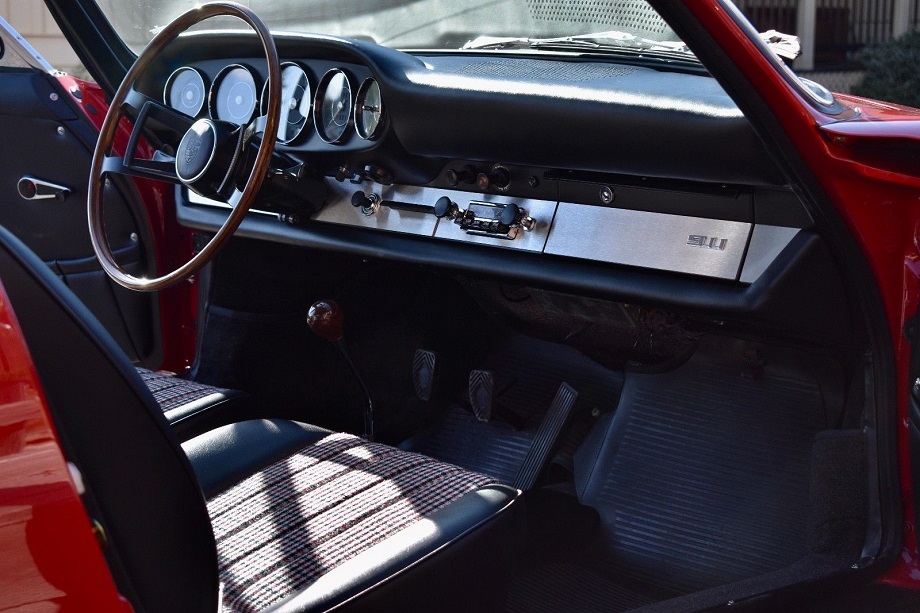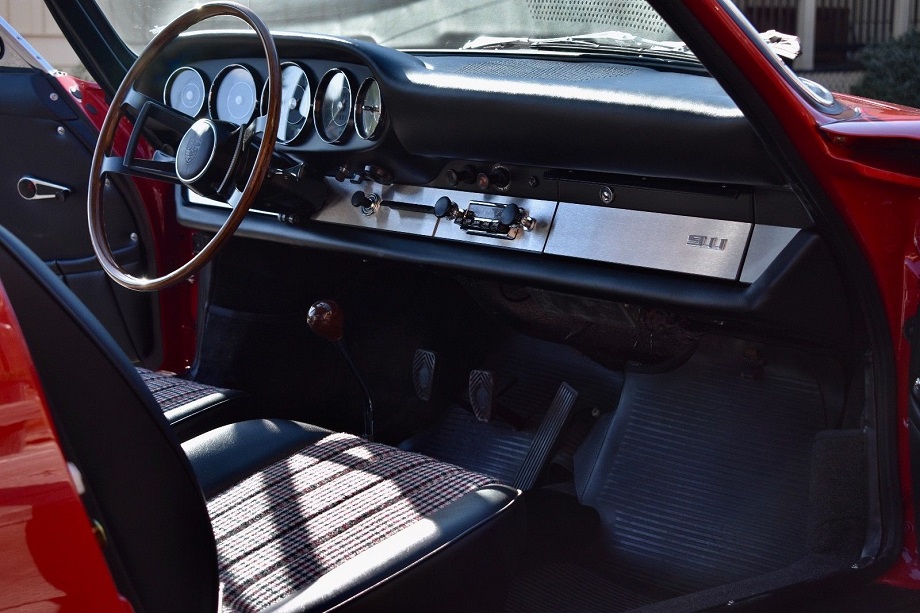 This definitely is a time when I wish we could see more of this interior. I'd love to get a better sense of just how everything works together here, but the bit we see shows a lot of promise. While the CoA isn't provided in the ad (though said to be available) this exterior/interior combination is said to be the original configuration of this 911. It also is said to be numbers matching and retaining a large number of its original body and parts. So even though it has been restored those undertaking the restoration did try to maintain the original materials when possible. The result is a very nice looking 911 and one that comes with a pretty rare interior and exterior color combination. The interior especially should be a rare one.
Of the various 911 models from this period the '67 base model is one of the less expensive on the market. As you can see from where the starting bid of this reserve auction has been placed ($100K) that doesn't mean it'll be inexpensive, but relative to a '65 or '66 model, or to the 911S from this same year, prices are much lower. I'm not sure how much above this starting bid we should suspect bidding to rise, but as with most of these types of auctions much will come down to just how well this all comes together. The restoration itself is said to be well documented and if there's additional history available that's all the better. I do wish we had some more pictures, but overall this looks like an excellent SWB 911.
-Rob