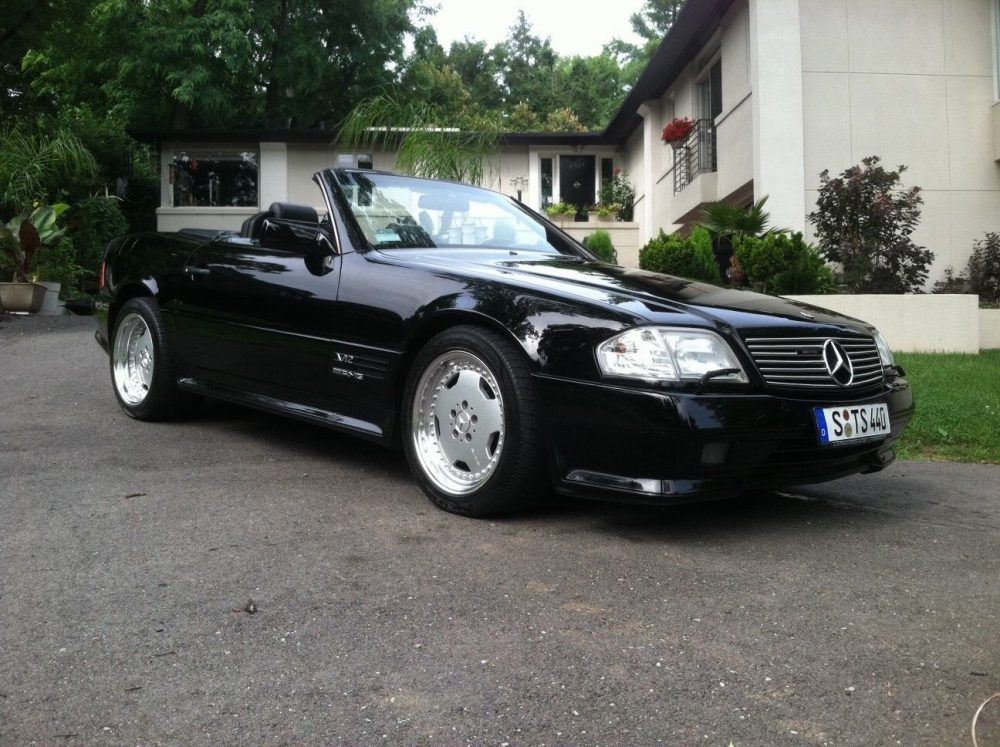 If some is good, more is better. A lot of times that is true, sometimes it is not. Thankfully, that saying applies when talking about V12 Mercedes-Benz. One of the most common modifications to the M120 V12 is taking that 6.0 liter and increasing the displacement to a 7.0, 7.2, 7.3 or even crazier 7.4. AMG was known to do this in small batches as well as other aftermarket tuners. One of those aftermarket tuners was Renntech. They would pump these up to 7.0 liters as well as modify other things like camshafts and surrounding parts. The result was somewhere over 500 horsepower and a price tag to make anyone do a double take. Today, we have a one of those 7.0 liter conversions up for sale in Kentucky in this 1994 SL. Even better, there are some AMG goodies on this car as well.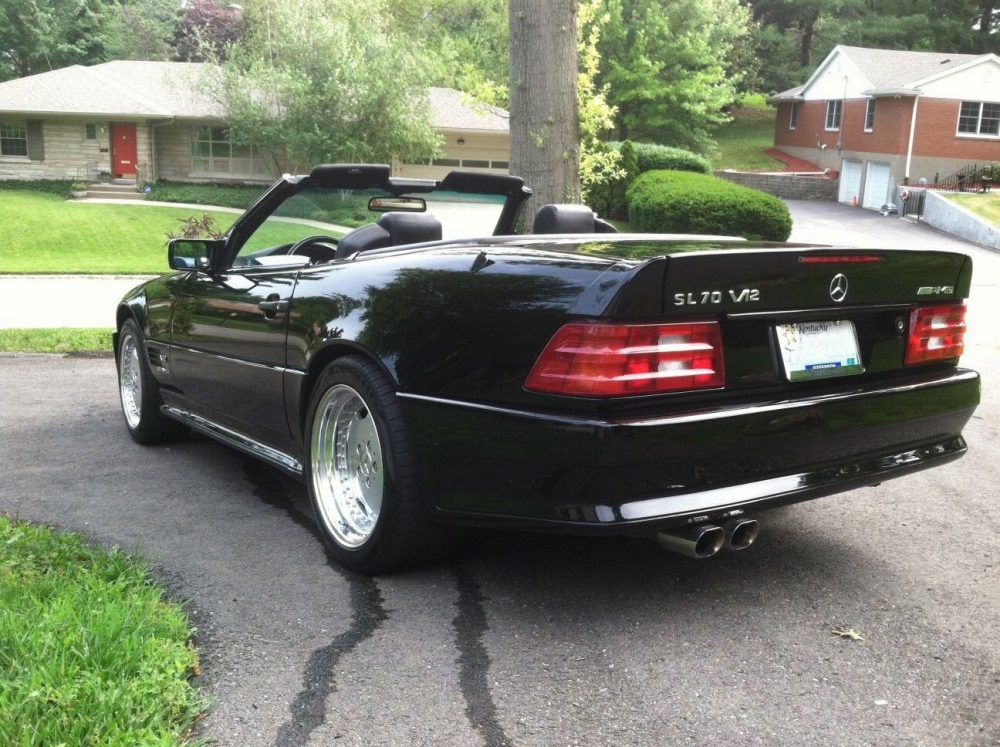 Year: 1994
Model: SL70 Renntech
Engine: 7.0 liter V12
Transmission: 4-speed automatic
Mileage: 72,000 mi
Price: Reserve Auciton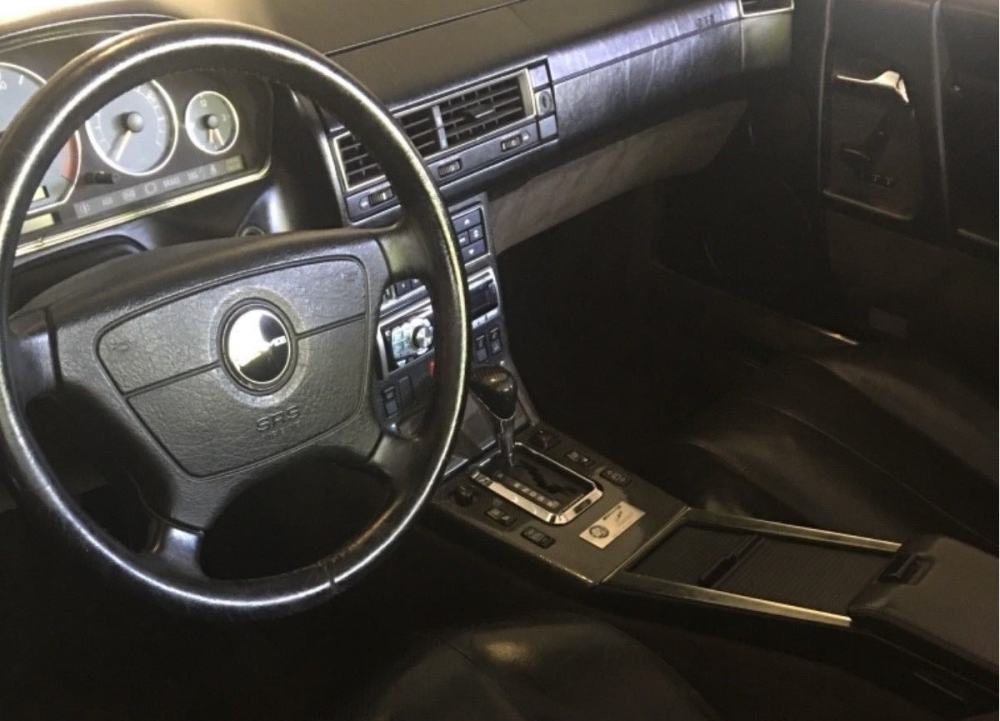 I've decided to part with my baby girl…
1994 SL70 V12 AMG Renntech… 7.0 L
Original sticker was $123,000 before first owner modifications.
Checkout her Renntech build sheet in the pictures.
Over $80,000 in modifications in mid 90s by first owner.
I am the second owner since 2004.
This rare beauty is definitely a head turner.
Garaged and covered. 72,000 miles.
I have only come across 7 of these in existence.
No problems. Runs beautifully. New top
No leaks. 0 – 60 in 2.9. 680 Horsepower
Includes removable hardtop
Correction:  525 Horsepower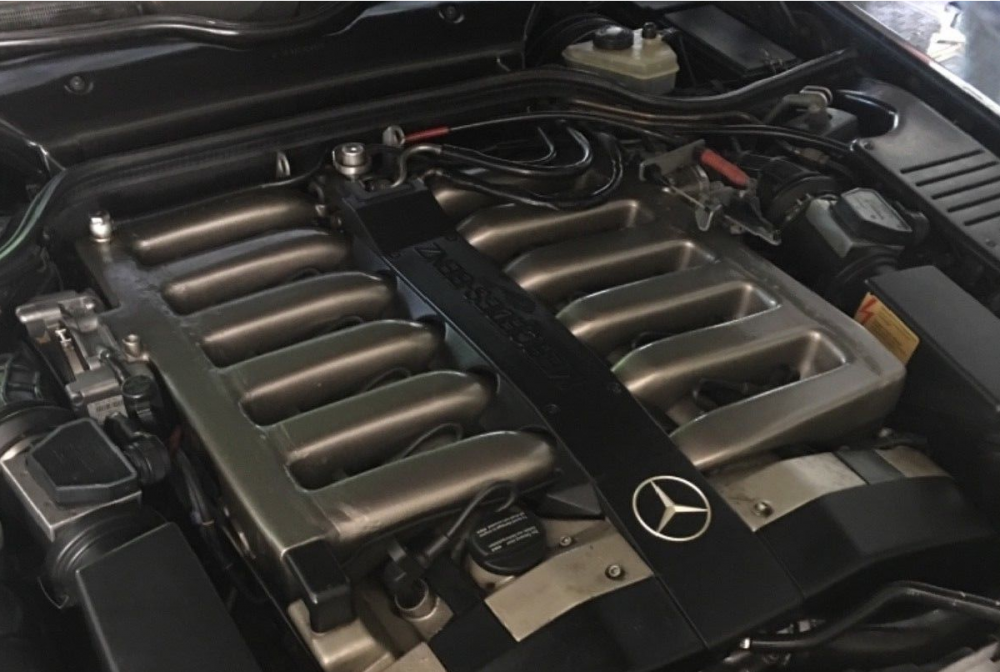 The build sheet from Renntech tells the story of this car. A 7.0 liter conversions with cams, intake manifolds, ASR delete, first gear start, a full exhaust and a limited slip differential. Cosmetically, an AMG kit was ordered from Beverly Hills Motoring Accessories along with some 17-inch 3-piece wheels and a very expensive carbon fiber trim kit. Renntech did modify the gauge cluster to something I've never seen done before. They swapped out speedometer and tachometer so the tachometer is the center gauge. This threw me off at first but I guess it makes sense or maybe it was just to copy Porsche. The really odd thing is that they forgot to take the "x100 1/min" off the bottom of the gauge. I have no idea why they let this go out the door like that. Also, you can see this owner, or prior owner, went really crazy with the AMG badges on this one despite it not really being an "AMG car." AMG didn't touch this car and really had nothing to do with it. Yes, it has some AMG bumpers and wheels, but these were added well after the fact from a mail-order catalog. The little badge under the shift knob is an eBay special and all the other AMG badges are just a peel and stick job. Whatever makes you feel good, I guess. One other little thing to note is that the taillights have updated to 1998 and above versions.
It's really hard to value cars like these. The modifications alone were over $70,000 but it's tough to translate that into 2018 value. The only comparable I have is the SL700 Renntech from a few years ago listed for $45,000. This car sat for sale for a long time and who knows if it ever sold. They did run it at no reserve and I want to say it ended at $29,000, but who knows if that deal was ever really done. This car has the extra AMG stuff, but its not like there are a ton of buyers out there for something like this. I think the $30,000 starting price might is fair, but again, I have no idea because of how rare these are. My guess is that a wealthy European buyer works a deal for it.
– Andrew