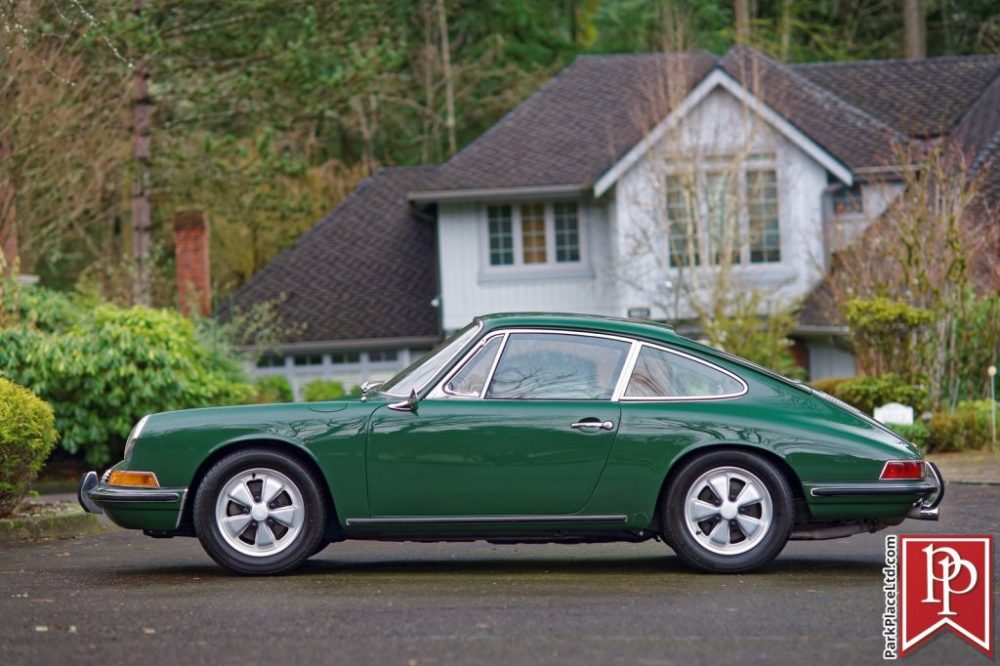 While the number of 911 models Porsche produces has grown considerably over the years, catering to just about every possible combination you can conceive, a consistent moniker has stood out for those seeking higher performance: the S. Whether the 911S, the Carrera S, the Turbo S, or the various RS models (those count right?) that single letter has let buyers know that it would be a model catering more to their spirited side rather than to comfort. While the S was on hiatus during the late-70s and all of the '80s it returned in Turbo S form (and Carrera RS form) for the 964 and then finally found itself reattached to the Carrera itself with the Carrera S and 4S, both of which debuted as part of the 993 line. It hasn't left us since.
But it began here, in 1967, with the 911S. In the '60s, buyers initially only had access to the base 911. That was it, one choice. In 1967 the lineup expanded with the addition of the 911S and the Soft-window Targa, available both in S trim and without. The S brought with it the sort of features we'd expect: More power (up to 160 hp from the base 911's 130), upgraded shocks and brakes, along with a rear anti-roll bar and Fuchs wheels. Leatherette on the dash and wheel provided interior upgrades. The 911 had become sportier. And then it wasn't. For 1968 Porsche gave us the 911L and removed the S from the US lineup. Thankfully, 1969 saw its return, now placed above the entry-level 911T and mid-grade 911E, and all 911s had a longer wheelbase.
That makes the one-year-only short-wheelbase 911S a pretty special car and here we find one for sale: an Irish Green 1967 Porsche 911S Coupe, located in Washington, with a reported 29,177 miles on it.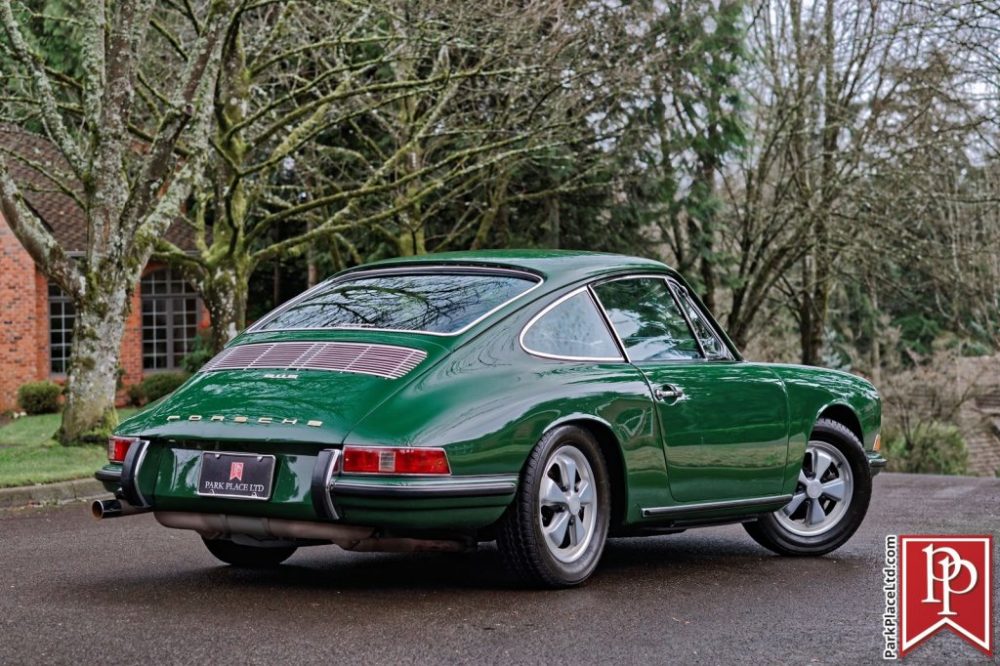 Year: 1967
Model: 911S
Engine: 2.0 liter flat-6
Transmission: 5-speed manual
Mileage: 29,177 mi
Price: $177,950 Buy It Now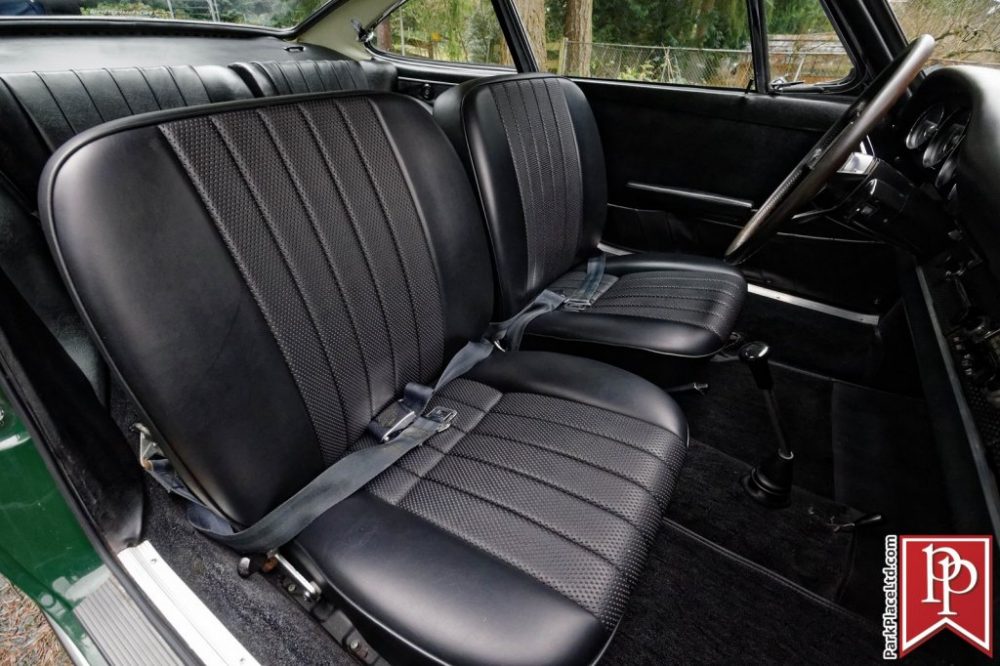 1967 Porsche 911S Coupe beautifully finished in alluring Irish Green with Black Interior.

This fantastic coupe is 1 of Only 1,823 produced in 1967 and is a very special Porsche, one that you may never find again.

Powered by its original a high-strung 2.0L 180hp 6-Cylinder Engine with a 5-Speed Manual Transmission.

This 911 S features;
Tinted Glass All-Around,
15″ Fuchs Wheels with Dunlop Tires,
Webasto Heater,
Antenna,
2 Pair of Back Seat Belts.

A complete restoration was done on this car from 2010-2012. (Classic Auto in Milwaukee WI)
1st owner was from Ann Arbor MI, 2nd owner was Service adviser at Porsche dealer and had in long term storage until 2007, 3rd owner restored.
The Current owner purchased from European Collectibles in CA. Very correct and original example.

Included are the Tools, Jack, Car Cover, Books, Service Invoices, and Restoration Photos, & COA. All documentation from the mid-1970's to present.

The Porsche 911S was an updated version of the regular Porsche 911. The 911 came about because of outgoing models and the need for a bit more performance.

The 'S' model in the 911 lineup stood for Super and that it was. The Porsche 911 S can reach 0-60 right around the 6-second mark and will gladly give you some serious driving pleasure. If you'd rather stare at it, that works too. The styling was to become iconic with the 911 lineup. The smooth curves and overall look of the car was something to gloat about if yours, and something to be jealous of if not. To say the 911 succeeded would be an understatement, as it is still going strong today. With the 911 lineup being that of comfortable and purposeful interiors with the flowing lines of the exterior, the 1967 911 S was no exception. It was meant to combine all the great aspects of the 911 series cars before it and add a bit more power.

For more information about this outstanding value in a Classic Collectible contact: Mr. Bruski 877-855-1030

Click buy it now, and I can help arrange transport for adding this fabulous and highly desired 911S to your collection today.
Don't let this fine example end up in someone else's Garage!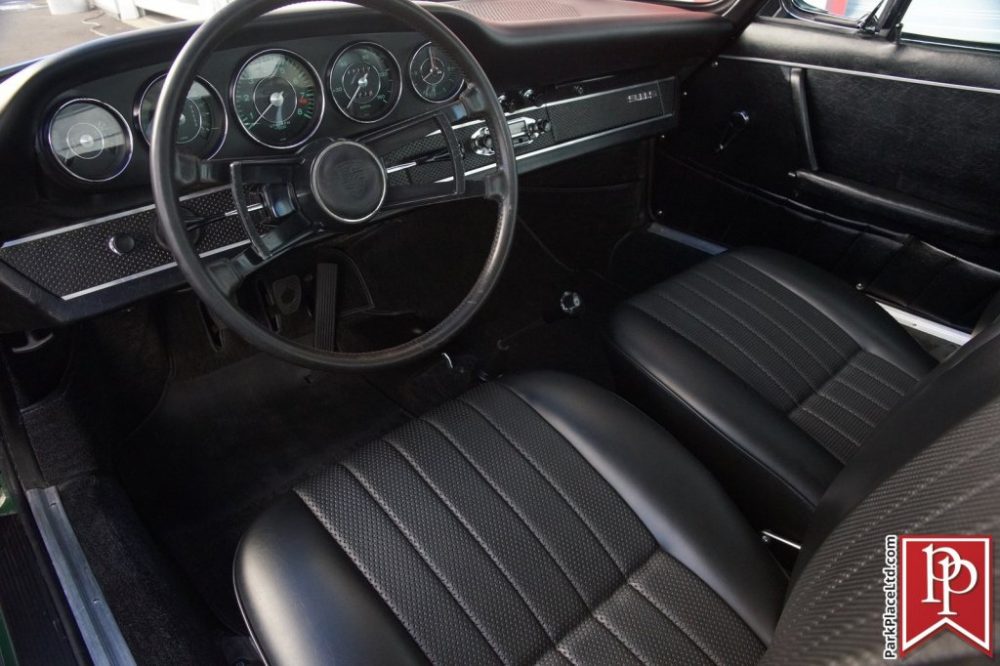 My first question with this 911 is, can we verify the mileage? I usually assume the odometer in these 911s has rolled over, but given that this one sat in long-term storage it is possible the mileage figure is correct. If so, that's quite low for such an old car. We are told that documentation exists dating back to the mid-70s so hopefully we will be able to piece together much of this Porsche's history. The ownership history seems known. We also know that it was fully restored at the beginning of this decade. It certainly doesn't appear to have suffered for wear over the past few years as it sits looking quite good right now. Not too much stands out to me, though it does look to be sitting pretty low in the rear. The Irish Green exterior, as always, looks fantastic.
As the only year the short-wheelbase 911S was available in the US, a '67 makes for a rather valuable and sought-after machine. Outside of the very early '65 models (or the exceedingly rare '64) the '67 S sits as one of the highest values we consistently see for these long-hood 911s (excepting, of course, the RS and 911R). The '73 911S is in a similar vein and I suppose your preference may come down to that difference in wheelbase. All of that is to say: I imagine for the collector this S, painted in the very lovely shade of Irish Green, should command a good deal of attention.
-Rob