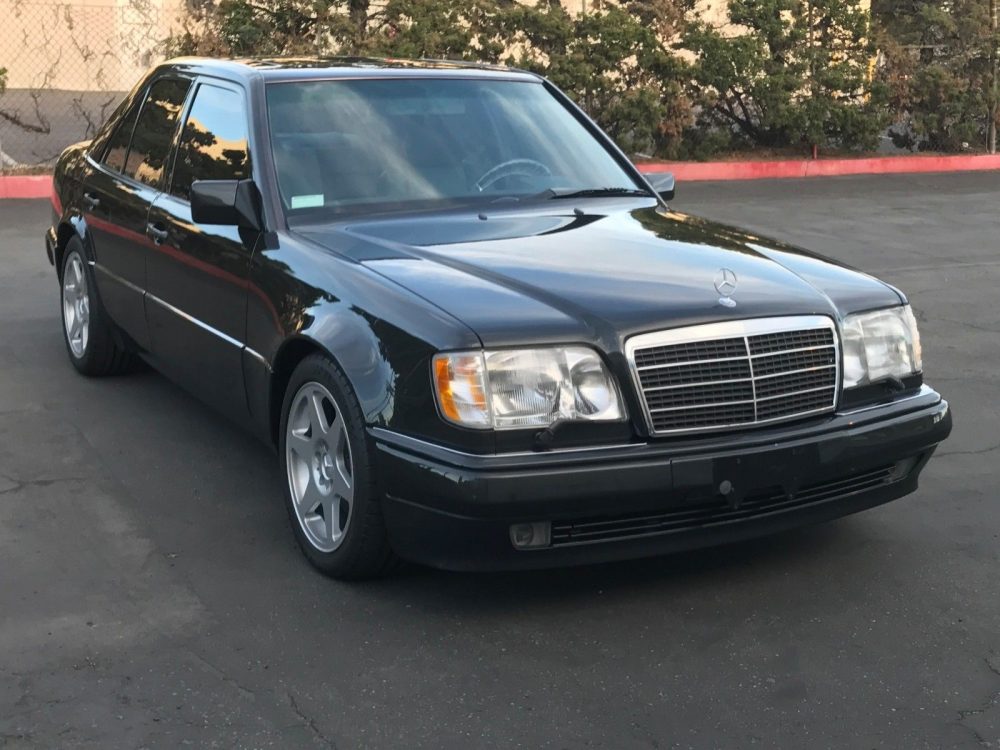 Earlier this week I checked out two of the most unique, which in turn meant most expensive, Mercedes-Benz 500Es I've ever run across. They were everything you could possibly want out of a W124.036. Great colors, interesting interiors and most of all, outstanding condition. Today, we have another one of these Autobahn burners in near-showroom condition, a 1994 up for bid in California with just a little over 22,000 miles. As you might have guessed, the price one this one probably will be just as high as the earlier examples although based on the bidding so far, it might even top it.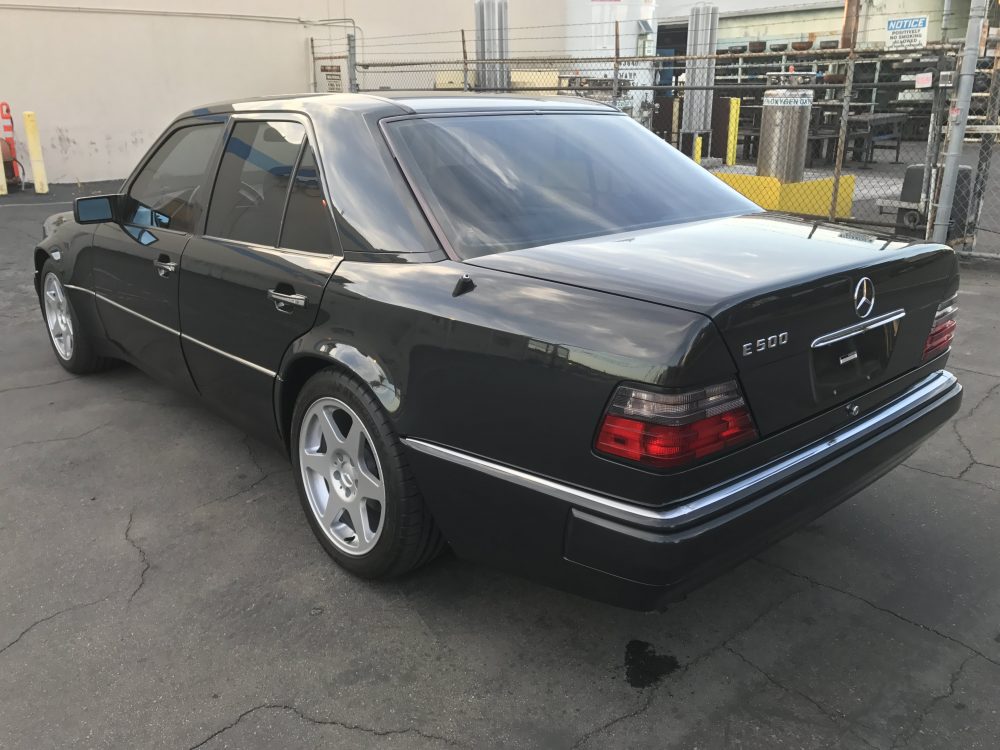 Year: 1994
Model: E500
Engine: 5.0 liter V8
Transmission: 4-speed automatic
Mileage: 22,459 mi
Price: Reserve Auction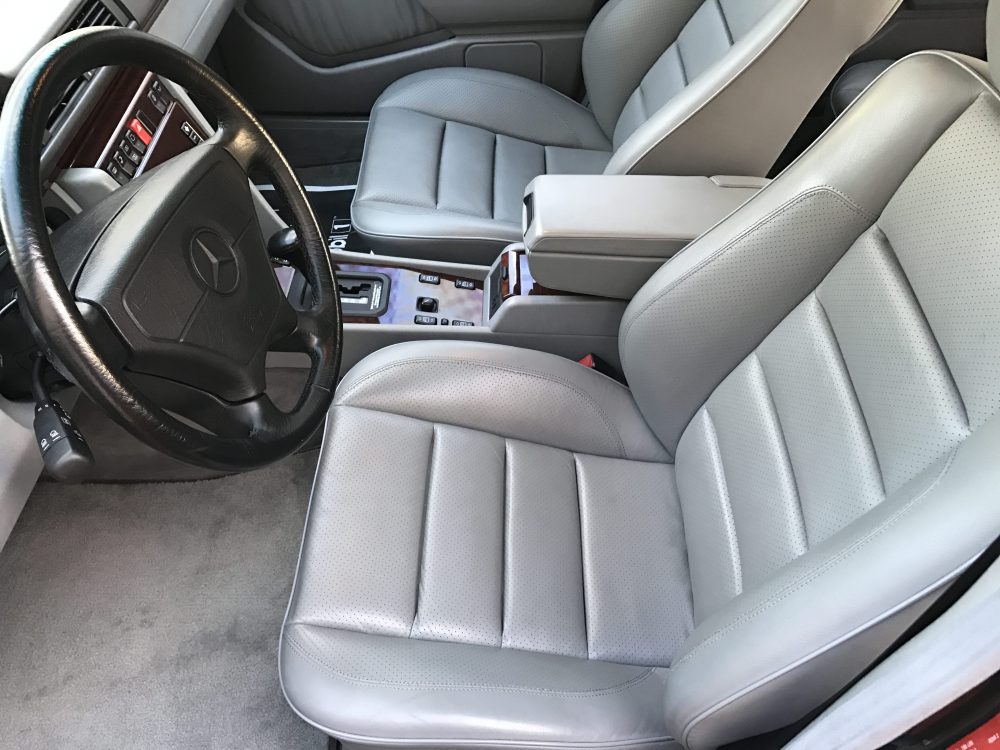 Please see many Hi-Res photos including undercarriage here:

This 1994 Mercedes-Benz E500 is in perfect condition and is arguably one of the finest and original w124 E500's in the country. It looks, runs, and drives like new.

The first owner bought it new from W.I. Simonson Mercedes-Benz in Santa Monica, California and it has never left the state.

He meticulously cared for it, using it as a weekend car and accruing approximately 2,000 miles a year until he later stored it in his private collection. He sold it in 2015 to his former next door neighbor, who is a well-known car collector, Porsche PCNA instructor and moderator on Rennlist forum (whose name and info will be given only to next owner of the vehicle).

Paint is all original with no dents, dings, prior accidents, or paintwork. The original selling dealer painted the lower side trim and bumpers body color at time of original purchase and sale of the vehicle. (See window sticker and dealer add-ons)

The engine is extremely clean and the cadmium plating is perfect. (See detailed pics)

The interior is excellent, with absolutely no re-dyeing of the seats or sagging of the headliner. Carpets and floor mats are flawless. Bolster wear is extremely minimal. (See detailed pics)

The dashboard is in impeccable condition with no cracks, scuffs, warping, or discoloration.

All interior wood, including in the dash, door panels, and front and rear central storage compartments is perfect.

Absolutely everything works properly, including the gauges, lights, sunroof, seats, radio, CD changer, antenna, mirrors, and seat heaters amongst everything else.

Original Mercedes-Benz phone is also included (not in service).

No rust or corrosion at all and the undercarriage is extremely clean. (See detailed pics)

Included is the original window sticker with dealer add-ons, all books, warranty card, Lo-jack booklet, and radio card.

The spare tire and tool roll are both original and unused.

Included are the original 4 keys including an unused valet key still in its plastic and 3 master original keys in OEM leather sheath (only two pictured but have all three original and the valet).

It has been meticulously maintained with many detailed records. For example, some of the oil changes done at the dealer:

Date Miles

2/10/95 767

11/9/95 5842

10/21/96 9967

4/30/97 11055

6/15/98 12834 (major service)

3/16/99 14266 (flush service)

6/14/00 15152

1/8/02 17169

12/3/03 18750

9/16/04 19299

2/1/05 19758

6/21/05 19879

The car was consistently started, warmed, serviced, and driven approximately 3,000 miles over the last 12 years while in his private collection.

Distributor caps and rotors, all air filters, rear hydraulic cells replaced and SLS fluid and system flushed, oil pan gasket replaced, transmission service, and brake and coolant flush all done recently in 2017. No leaks or drips at all and the self-leveling suspension works as it should.

Engine wire harness looks to have be replaced and updated but I couldn't find it in the records so I bought a new OEM upper wiring harness which is included in sale. (See detailed pics)

The original wheels and Michelin tires with a lot of tread remaining (22k miles on them) are included but I replaced them due to age and also because the original wheels sold with the car are the less attractive chrome dealer installed option. (See window sticker and add-on)

Car is wearing brand new Mercedes EVO II wheels 17×8.25 shod with new Michelin SuperSport tires. These were allegedly the last set of these wheels made according to the Mercedes Classic Center in Irvine where they were purchased from, however it seems that claim might have been made more than once, but I would safely assume they are not available new anymore.

I also have a set of Three-Piece AMG OZ-Racing 17in wheels or 18in Two Piece AMG BBS wheels available to buyer at extra cost. (See detailed pics)

Last pic shows smaller than a dime sized flaw in clearcoat on front bumper. (Last pic in link)

Clean Carfax and Autocheck

Inspections welcomed and encouraged

Sold As Is

WDBEA36E6RC154682

Please see many Hi-Res photos here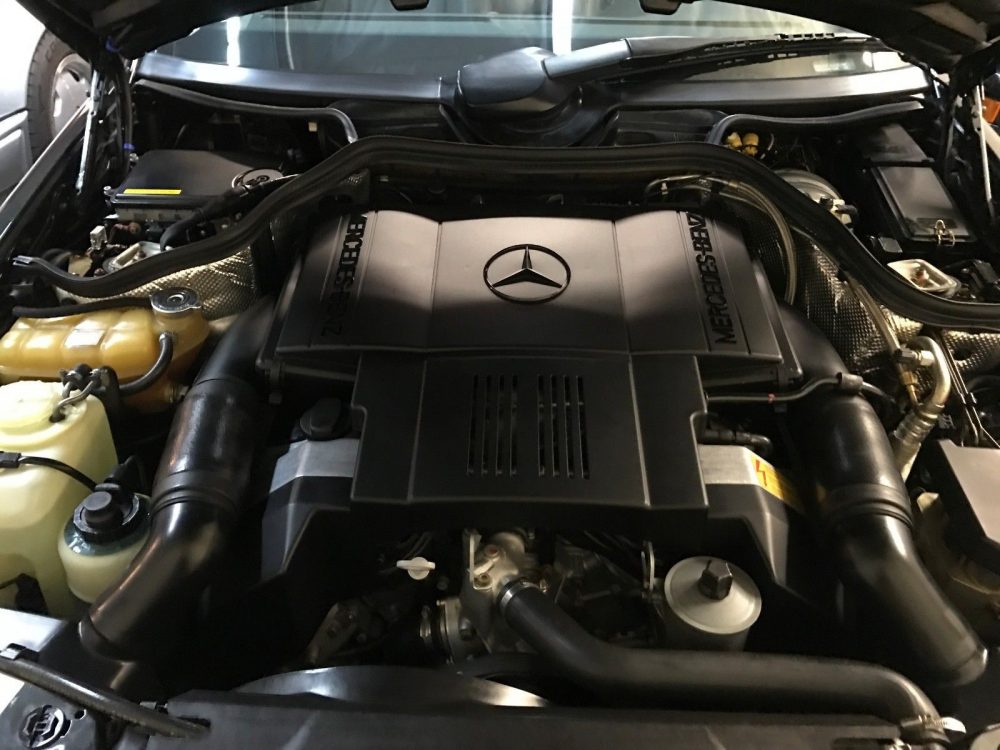 What is there to say about this one? This is one of those cars that hides in a collection for years on end and randomly pops up for sale out of no where. It is one thing for a car to have really low miles. That part is easy, just let it sit. It's another thing to store it properly and spend lots of time and money on it only to drive it a small handful of miles a year. The owner knew he was sitting on a car that was increasing in value and probably took a look at the hot market for these and decided to pull the trigger. I love the EVO 2 wheels on the facelifted 1994 cars as I think it gives the car a little less 1980s style and a lot more 1990s look
How much money? As I write this, the car has over 25 bids topping $55,000 and hasn't hit the reserve yet. I don't need to tell you that once you head past the $25,000 mark in the 500E world, you are spending on something special. The thing I always wonder is that where is the ceiling really at for these cars? Are we heading towards a market with $100,000 examples of these selling? You can still snag an OK condition 500E for $15,000 that probably needs another $10,000 to get fully sorted, but that $15,000 car is still running and driving without much issue. Is it really worth it to drop another $50,000 just to have a perfect one? I think to really be serious about buying one of these cars is that you need to leave the speculation out of the equation. We might be heading towards a point where people just might not pay the inflated prices. Is that $15,000 example today going to be worth $30,000 in 5-8 years? I don't know, but if I can't say I'd bet on it. Look at the demographics buying these cars. Are there loads of 22 year-olds lusting for a 500E? Probably not. 52 year-olds lusting for a 500E? More likely. I'm glad this car is for sale not because of how nice is it, but purely to see where the bidding might stop on this one. My guess? It'd be really surprised if it sees $75,000. Can't wait to find out.
Thanks to Son of Stig for the spot!
– Andrew