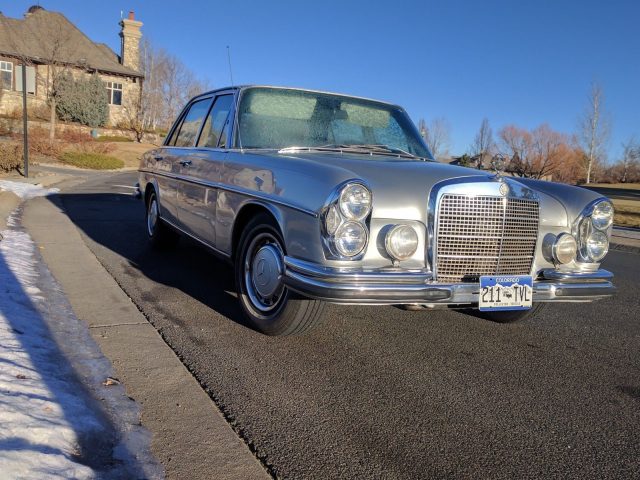 Earlier this week I looked at a 1972 280SE 4.5 for an asking price of around $25,000. I explained that for my money, I'm probably skipping the 4.5 and finding a decent 300SEL 6.3. Well lo and behold, a 1969 6.3 in Colorado just happened to pop up for sale bid on eBay. It's no means as nice as the 280SE 4.5, but this monster W109 is a little more special than the standard 6.3.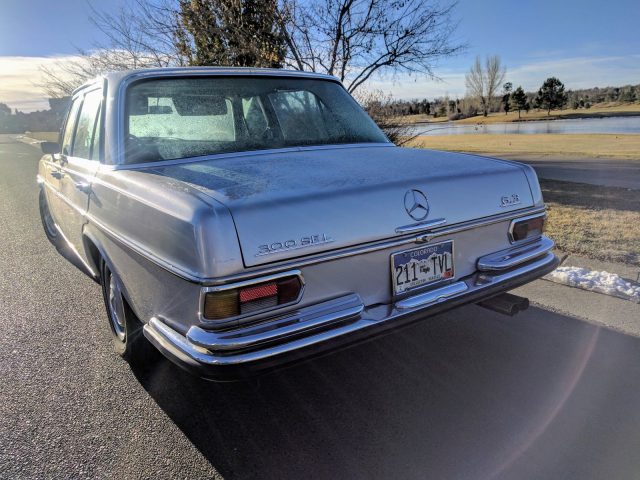 Year: 1969
Model: 300SEL 6.3
Engine: 6.3 liter V8
Transmission: 4-speed automatic
Mileage: 119,135 mi
Price: Reserve Auction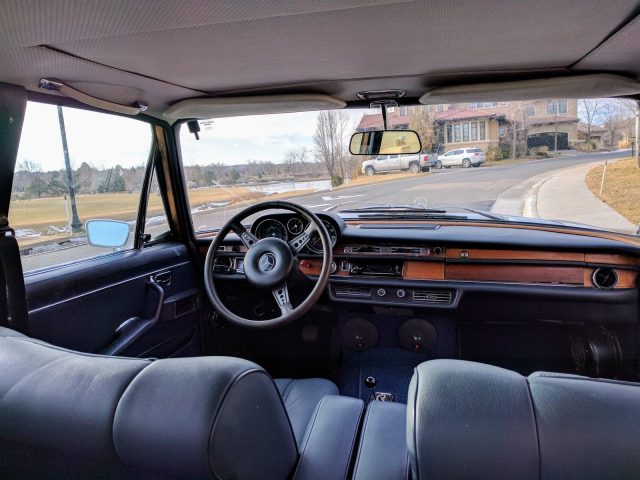 This is a carefully restored car head-to-toe, but it's also a 47 year-old car. Runs great and I kept this car up hoping to keep it for a lifetime—but the mechanics are very specialized on a car like this, so please make sure that you know what you're getting into.

For sale is a 1969 Mercedes that I bought this car in 2008 and restored, hoping to keep it forever. Have moved the family from Denver to San Francisco—my loss is your gain. This is a beautiful car, having had a full strip-down & repaint, all new leather interior, carpet and killer custom installation of a stereo and woofer system—installed in a way that doesn't cut into the door panels or take away from the car's originality.

Mechanically, this car has been almost entirely redone. The engine went out almost immediately after I bought it, so I found another one that was represented as being freshly rebuilt and then stored for some time. It's not a "matching" engine and chassis but it's a legitimate 6.3 motor that's in fantastic shape. We couldn't verify how many miles but it was represented as being basically new, and it has been very strong. To make sure the car would run as well as it could, I put on as many new and rebuilt parts as I could, many sourced from Star Motors in Albany. These rebuilt parts include:

Wholly rebuilt mechanical fuel pump;
Updated electronic ignition system;
New updated A/C compressor;
All new rubber and valves for the air suspension.

Every year I'd do something new. For example, these cars also tend to have a quirk with the rear axle that makes a jitter, and we replaced and repacked all of that as well as new tires, etc. Another example: the back seats did not come stock with shoulder-mounted seatbelts in that year. I wanted shoulder mounts for my children and had those installed. All of the base work (motor, paint, suspension) done in 2008 to 2010 so there's been some wear since then, but the car is in good shape. Keep in mind that this is a 47 year old car so has various things with it—this isn't showroom—but it's very nice. Some warts include scratches on the paint that aren't visible in the pictures, etc.

The car is in Colorado, I'm in California. A friend has the car in Denver and can show it to anyone that's interested.

Mileage: the odometer shows 119,135. It's a 5 digit ODO so my assumption is that it is 119,135 total. When I bought the car in 2008, the odometer was 18,161, so I put less than 1,000 miles on the rebuilt mechanics and paint. I averaged a very little 150 miles per year, usually an occasionally Sunday outing.

All mechanical work was done by Mark Yoakum of German Motors in Lakewood. The repaint was done by Applewood Auto Body in Golden, and the custom stereo installation was done by Car Toys in Denver.

Car is being offered as-is.

Good luck with your bidding, and thank you for your consideration.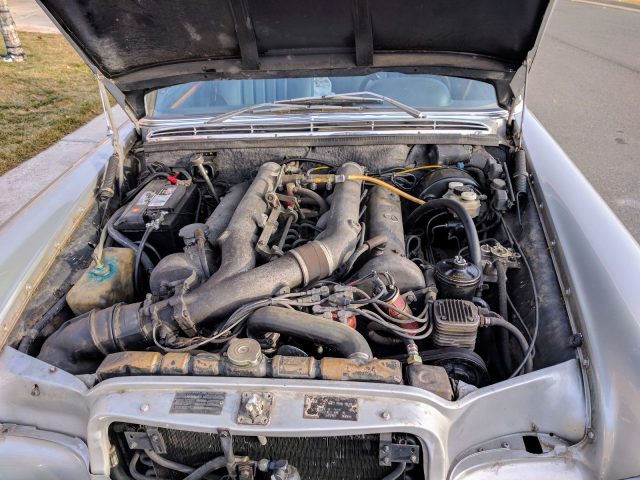 After trying to wrap my head around the seller calling this car "carefully restored", something still seemed off to me. The absence of headrests on the front seats threw up some flags and it wasn't until I noticed the lack of the corner markers as well as the missing two light housings around the license plate that I realized this isn't a North American spec car.  Other than the high risk of whiplash if you are ever in an accident with this thing, it also means you got the 9:1 compression M100 engine instead of the 8:1 that the North American cars got. You also got a different injection pump because the North American pumps had a double solenoid to accommodate the problems caused by US pollution standards. How much extra power does this translate to? I have no idea. Mercedes-Benz said these cars have around 300 horsepower and the torque is a whopping 434 lb.ft which was incredible for a four door sedan in 1969. Ultimately it wasn't important to the company how much power the M100 produced and buyers didn't seem to care about the exact figures either. This car also has what you could call a "sport" steering wheel that may look familiar from the 300SEL AMG 6.8. On a sour note, those hastily mounted center speakers look ridiculous and to add insult to injury I think they are mounted uneven.
I'm curious to see where this car ends up at auctions end. It's not an original unmolested 6.3 and has almost 120,000 miles as well. If I had to guess, the $20,000 mark might happen but the lack of concrete information on the car will probably scare away any casual bidders. Ideally, you'd want to give this seller a call and discuss it in length because he is either unaware of everything going on with this car or just didn't bother to say anything.
– Andrew