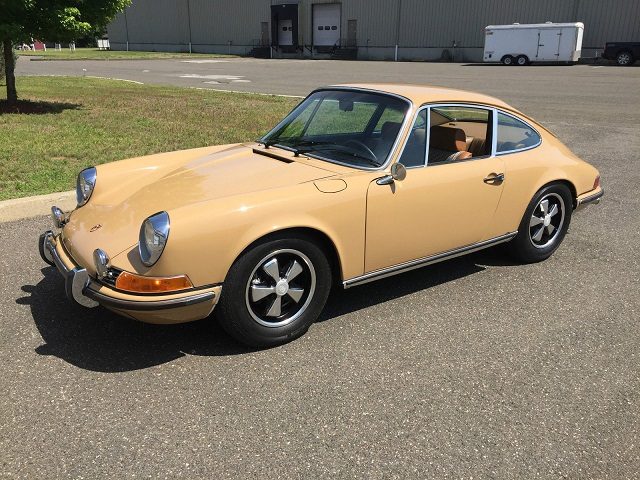 Sand Beige is one of those Porsche colors that I can never really decide how I feel about it. Like quite a few of Porsche's vintage colors I know I don't care much for it on a modern 911, but on the long-hood 911 there is something about it that looks right. The chrome accents presumably play a large role here, but I think the taller shape of the car itself plays a role as well. That said, I wouldn't call it one of my favorites by any stretch, but I can see the appeal. Here, on this 1969 Porsche 911S with 90,115 miles on it, I think it looks pretty good! It's an unusual color, but not garish, and I could totally see where it might fit right into the landscape of the mountains and deserts of the southwest U.S. with their myriad variations of red, orange, and brown scenery.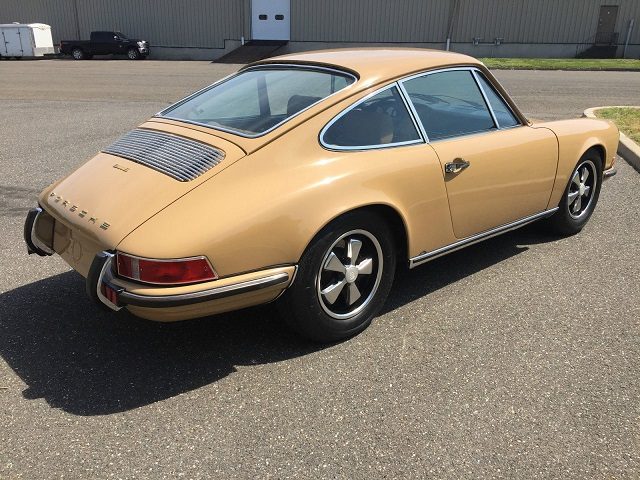 Year: 1969
Model: 911S
Engine: 2.0 liter flat-6
Transmission: 5-speed manual
Mileage: 90,115 mi
Price: Reserve Auction
This is a matching number 1969 Porsche 911S that has undergone a comprehensive mechanical and cosmetic restoration spanning two years. As per the Certificate of authenticity, the car is finished in sand beige, paint code 6807, with tan leatherette. Here are some of the highlights: -Body: Car disassembled, paint stripped, repaired or replaced with factory parts as necessary. Replacement lenses and lights. -Engine: Dismantled, cleaned, machined. Built from the crankshaft up using Porsche factory parts, J&E 9.8:1 pistons. Mechanical fuel injection, stacks, butterflies refurbished. SSI heat exchangers. All surfaces, brackets dry stripped and powder coated, plated, new hardware throughout. Every hose, line, cable has been replaced throughout the car. -Transmission: Replaced all synchros, 1st and 3rd gears. Replaced all shift bushings, removed and repaired/rebuilt pedal box assembly. -Bright work/trim: Chrome components removed and refinished, all "S" trim replaced, window, hood and door seals replaced, front and rear window trim replaced, side window frames and glass original. -Interior: Replacement Porsche dashboard, all switches, bezels, knobs replaced. Upholstery, carpet, sound deadening and door pockets new from Autos International. Extensive parts list for the restoration has been retained and will be included in the sale along with the original purchase order dated 5/14/69 and current COA from PCNA verifying original colors as well as original engine and transmission. Car is located in CT. Contact Scott @ thethirdgarage.com 203-219-0113.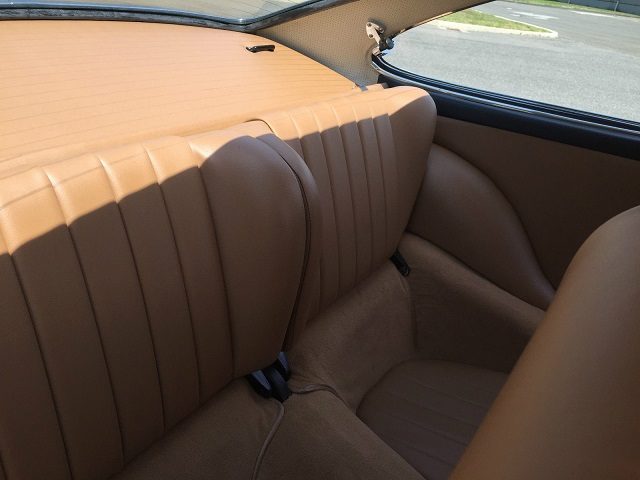 This particular 911S recently has come out of restoration and is reported to have only its test mileage on the rebuilt engine. The general condition looks about as good as we'd expect and everything is said to have been restored to its original specifications. We aren't shown the CoA to verify that claim, but hopefully it is on hand for prospective buyers. We don't get a full picture of them, but it looks like this 911S comes with a set of houndstooth sport seats up front. Those are some of the best seats on a 911 and if it's how the car was originally ordered, then they certainly make for a great addition here, especially because they help break up and provide contrast between the tan interior and Sand Beige exterior. Altogether it's an attractive car and while Sand Beige won't attract the kind of notice one of Porsche's pastels would, it does have its fans. Bidding currently sits on the reasonable end for a restored 911S at $138,100, but the reserve remains unmet so we'll have to see if bidding can rise high enough for this to sell.
-Rob