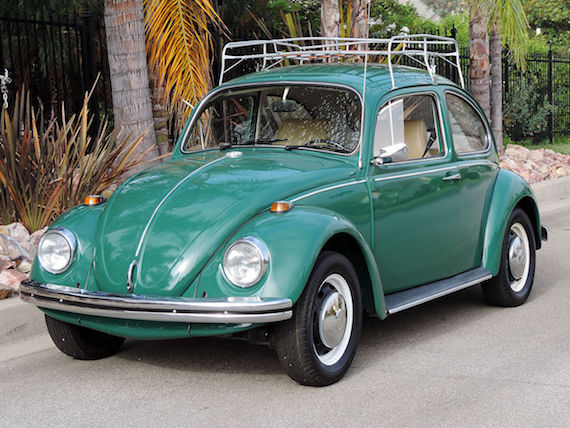 This 1969 Volkswagen Beetle for sale in California is one of those cars from my youth. For the first few years of my life, my father drove a 1967 Beetle in this same shade of Java Green. It wasn't in particularly good shape or all that exciting, but it was certainly more reliable than the Fiat 131 2-door that shared the garage at the time. That was a car which drove my parents into the arms of reliable Hondas for almost two decades. The 1967 Beetle which my father drove was one of the last classic Beetles, albeit upgraded with a 12 volt electrical system and larger 1.5 liter engine along with safety items such as reversing lamps and sealed beam headlights. The following year would transform the Beetle closer to its final form from the 1970s era. For 1968, there were many improvements, such as an electronic fuel gauge, ventilation system and improved shifter, along with new safety features such as larger bumpers and integrated front seat head restraints. This 1968 Beetle for sale in California is coming off a fresh restoration.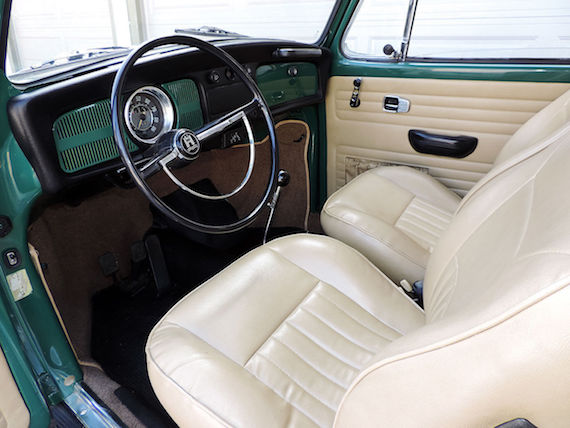 Year: 1969
Model: Beetle
Engine: 1.8 liter flat-4
Transmission: 4-speed manual
Mileage: 45 mi (since restoration)
Price: Reserve auction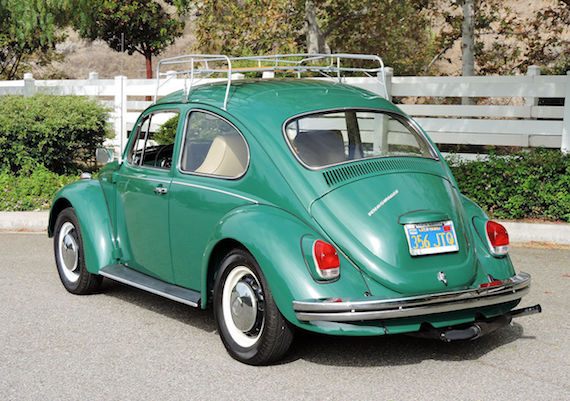 The 1969 Volkswagen Bug presented here is an outstanding example, certainly one the finest we've ever seen. It's the last of 60's Bugs and it's still registered to its original California "Blue and Yellow" license plate. The car comes with the original California "Pink slip" which verifies it's one owner history. This fabulous Bug has undergone an open-checkbook restoration. Starting with a dry and clean California example, its One owner commissioned some of the best-known SoCal craftsmen to turn his Bug into a potential show winner.

-1835 cc fully rebuilt engine
-New dual Kadron carburetors
-Runs and drives "like new"
-Clutch shifts perfectly through all the gears
-Rebuilt front end
-Brakes, steering and suspension are in tip top condition. This car is truly a pleasure to drive
-Gorgeous wooden roof rack
-All new wiring, lenses, lights (interior & exterior), everything!!!!!!!!!!!
-Chrome, trim, rubber, gaskets and weather-stripping are A+++. Expensive window seals with aluminum trim

A California vehicle from new, this VW has most likely never left the Golden State. Thus, it never suffered from corrosion or needed any rust repair. It has never been in an accident, either. The paint finish looks breathtaking. There are no bubbles, dings, dents, or significant imperfections of any kind. All brightwork is in excellent condition, bumpers and end caps are new, and the weatherstripping is still pliant – because it's new, too. All four tires are near new.

Dashboard is new and 100% free of cracks. Everything works perfectly. Tunes are being provided by an updated AM/FM Pioneer stereo unit with CD player inside the glovebox.

Front seats are amazingly comfortable and have been completely redone along with the rest of the interior. Thousands were spent to return the interior to like-new condition, using correct fabrics and materials.

The Bugs undercarriage is that of a proverbial California car. It's healthy and dry, with nothing but factory finishes present. There's not even a hint of corrosion, courtesy of the perennial California sunshine.

Everything functions in a most satisfying manner on this fully restored Bug.

Hard to believe that this Bug has already celebrated its 47th birthday, isnt' it? You can drive it daily to work, use it as a grocery getter or??? and on the weekends explore the great outdoors on a budget or take it to one of the many Volkswagen shows. We're not aware of any other vehicle that could offer you more!

No stone was left unturned during the restoration. You can enjoy this fabulous Bug right away. Looking at the steadily rising prices for vintage Volkswagen's buying a pristine example like this one might be a shrewd investment as well.

California buyers, or if you plan on picking up in California you will be responsible for full price of motor vehicle + tax, title, registration (current or past due), smog *if applicable), transfer, DMV and all other fees associated with the sale in California.

This vehicle is also available for sale locally and is subject to removal from the auction at anytime should it be sold. If you have any questions call Evan at 310-594-4224 or email. Shipping can be arranged worldwide and expedited quickly and inexpensively to your door. Thanks for looking!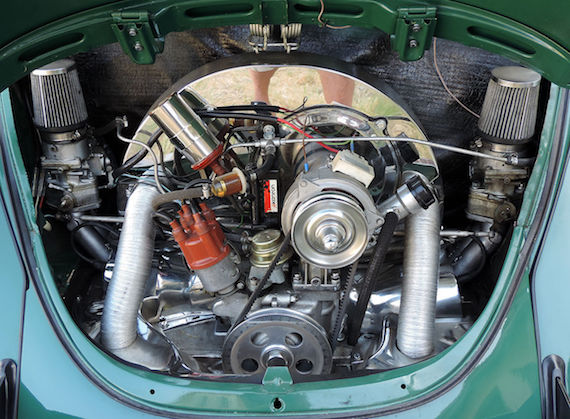 The market for the classic Beetle is a funny one. Unlike some more exclusive cars we feature on this site, Beetles are still rather plentiful and many times, it doesn't pay to buy the best you could find. They are almost infinitely customizable and many times the restorer will want to tailor the end product to suit their tastes. Earlier examples tend to bring more serious money, while post 1967 Beetles are still quite attainable. This Beetle isn't a particularly collectable year, but the color and restoration certainly help it shine. So far, there's a decent amount of bidding activity. While this Beetle has a reserve, I would suspect a wide range of anywhere between $10,000 to $15,000 will probably seal the deal on this one.
-Paul