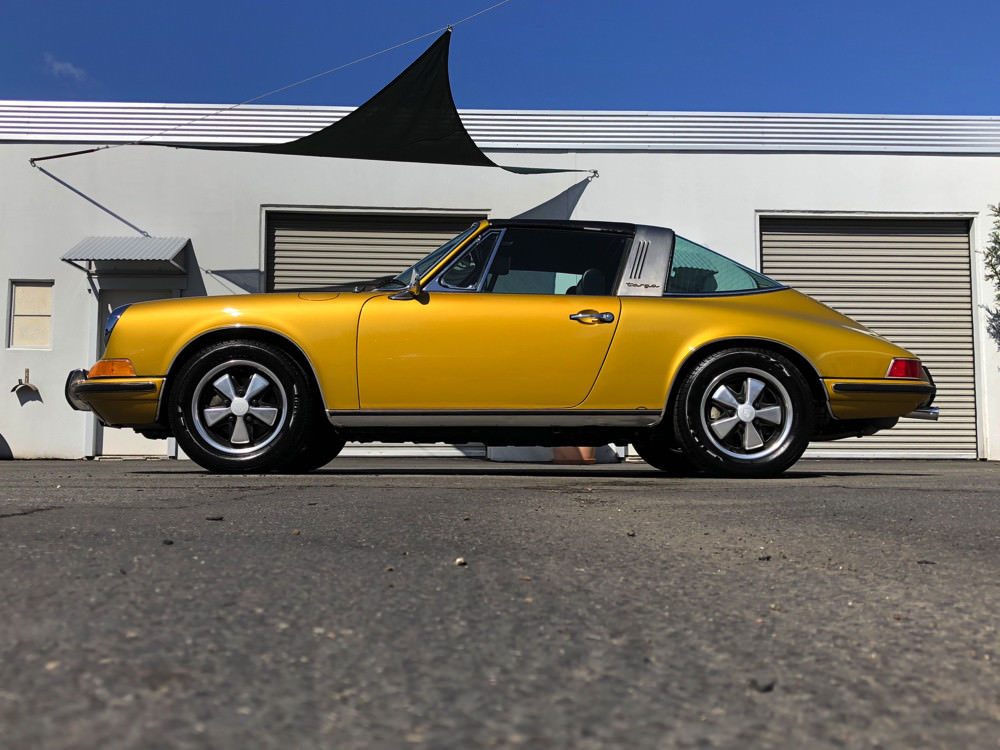 Among 911s that really pop off the page this Gold Metallic 1971 Porsche 911T Targa really stands out. It won't grab you because of what model it is; this is the entry-level 911 of its day and the Targa itself doesn't really draw the eyes as much as the longhood Coupe. But that Gold Metallic paint attracts your eyes and doesn't let go. I've seen this color a few times not looking at its best and the difference in appeal is substantial. So it'll probably require effort to keep it looking this good, but I'm guessing any new owner will have no problem putting in the elbow grease to keep this early 911 looking great.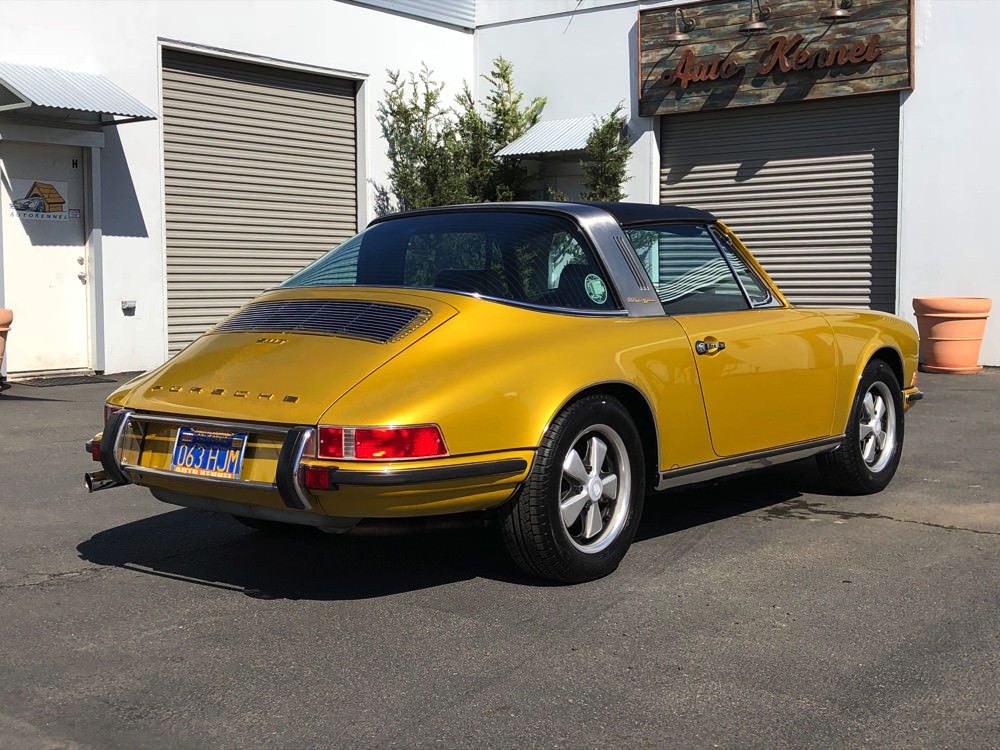 Year: 1971
Model: 911T Targa
Engine: 2.2 liter flat-6
Transmission: 5-speed manual
Mileage: 26,300 mi
Price: $84,990 Buy It Now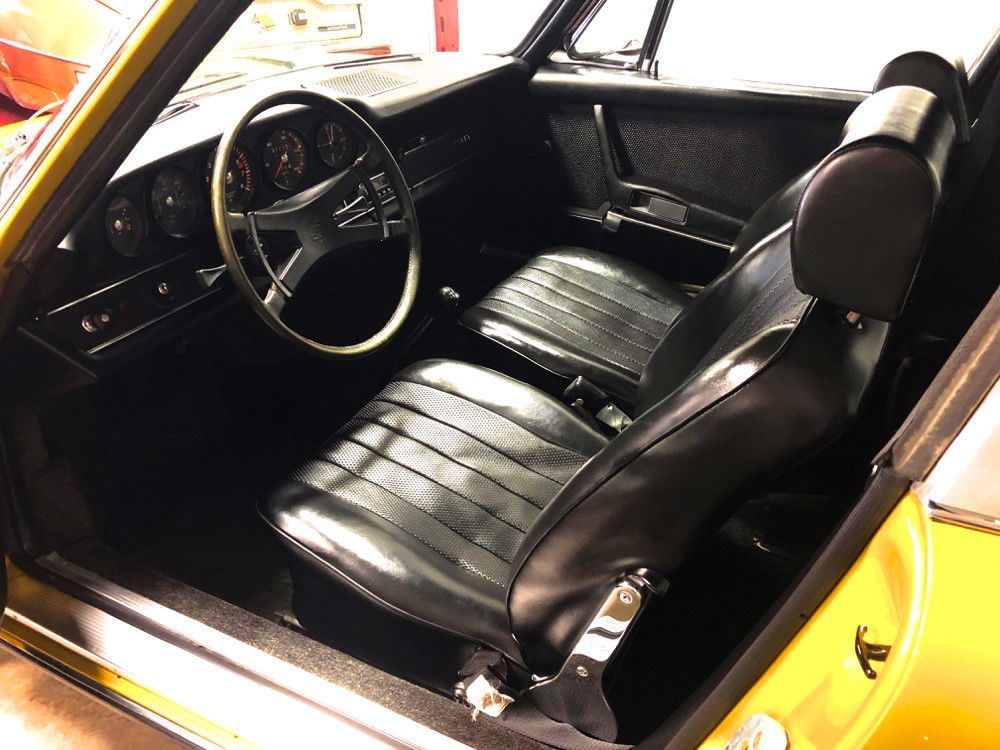 1971 Porsche 911 T Targa

Original SoCal Blue Plate

Numbers Matching

VIN # 911111xxxx

ENG# 611xxxx(911/07)

TRN# 7111xxxx (911/01)

26,300 Miles

Numbers Matching
Gold Metallic (8810) on Black Leatherette

5-Speed (901) Gearbox

Clean and Clear California Title

Southern California from New

Porsche Certificate of Authenticity

After driving hundreds of longhood 911s over the years, the '70/'71 model years with the 2.2L engine are among my favorite. There is something special about this motor and how it revs. Also, the dog-leg gearbox is perfectly matched to the power. Most people who don't care for this gearbox just haven't driven a really good one. They make so much sense. 2nd, 3rd, and 4th gears are the perfect "V" pattern. This is where you spend most of your time anyway. The challenge with these cars is many of them never survived let alone remained mostly original and intact such as this one.

This Porsche was built in September of 1970 and sold new through a local Los Angeles area Porsche dealer. It was ordered from the factory with the following options:

Retractable antenna – left (power)

US equipment

Tinted glass all around

Comfort Equipment:

Velour carpet

Gold model and Porsche letters

Aluminum door sills

S Rubber/deco on bumpers and doors

Chrome rockers

S Instruments

Rubber pads on bumperettes

Leather cover on steering wheel

Don (owner of Aurel & Don's Independent Porsche Service of North Hollywood, CA) has been closest to this car for a most of its life. He met the original owner many years ago through the local car show scene. This owner had a few Porsches and regularly rotated showing them. Don was always impressed with the originality of the car and years later, one of his clients had the opportunity to buy it. The next owner was a producer in the film industry and shortly after purchasing this 911, he began to take it to Don for service. Years later, this owner decided to sell the car and Don kept it for himself. For the next few years, Don lightly used the car and continued to perform regular services. When he got the car, it still was wearing its original Pirelli CN36 tires from new, and they weren't even cracked. Don still has the tires. We are trying to get them from him to go with the car strictly for show purposes (not safe for driving).

I interviewed Don over the phone and he said that out of 52-years of working on these cars as a mechanic, this was one of the best and most original examples he had seen and that's why he kept it for himself. He also noted that all the factory hardware, screws, etc. were all original and correct. The only significant upgrade he did was add updated chain tensioners. He swears by the fact that the miles are original. Finally, a few years ago, he realized that he just wasn't taking the car out as often as he hoped to, so he sold it to another local Los Angeles collector/enthusiast. This owner hasn't driven the car much, but he did perform some recent key services both at Red Line and Callas Rennsport. They included:

Minor service including oil change (80-miles ago)

Fuel sender

Brake hoses/flush system

Hood shocks

Oil line from sump tank to cooler

Adjust jetting on carburetors

Adjust front wheel bearings

Both noted just some possible light oil weeping at either the chain box or rocker shaft and was most likely due to not being driven much recently. We then took the car to our specialist and had him look it over. He confirmed the excellent and original condition.

The exterior of this 911 is extremely straight and dry. Although the paint is having issues with the clear coat (see pics), which was so common with metallic paints back in the day, we believe it wears its original paint (see paint meter reading pics). The glass is all original including the windshield. The targa top is still wearing its original vinyl. It appears that most of the rubber on the car is original as well. The deco trim is also original and in great condition. The original "deep six" Fuchs wheels are in very good condition and wearing their original factory finish/anodizing. They are wrapped in newer Pirelli tires with near full tread. The brakes have near full life as well. The bumperette over-riders and fender trim were dealer installed. The panel fitment is excellent on this example and it appears the car has never been apart.

The interior is original/unrestored and in very good condition. The seats have no tears, but the original horse hair stuffing is a bit collapsed. The carpet looks great with no stains. The door panels are complete with some slight warping on the pocket and around the door release. The targa top headliner looks like it has been replaced and is in very good condition. The dash has no cracks or warping. All the gauges work including the clock. The original Blaupunkt radio also works as does the power antenna.

The underside of the car looks equally as original as the rest of the car. The muffler is original and has the factory stampings. The heat exchangers have been upgraded to stainless steel ones, but that's about it. There are no signs of damage. The gas tank appears to have been replaced sometime ago. The front pan and the rest of the bottom is very dry and straight with no signs of rust either. The engine bay is equally as original. The original engine sound pad is still intact, but the top layer has come apart. The magnesium fan shows some light surface corrosion. Everything looks correct and original.

This 2.2 911 drives fantastic. Everything feels incredibly tight. The car starts easily with the first try and holds an even idle. The power is strong with excellent throttle response. This is one of the better 901 gearboxes I've experienced. It shifts smoothly between gears with no grinding or slipping. The brakes have a nice initial bite with no fading or pulling. Handling is crisp and responsive. This survivor/driver would make a great vintage event touring vehicle or a fun weekend cruiser.

This Porsche 911 comes with the original tool kit, owner's manual, radio manual, Porsche Certificate of Authenticity, original spare wheel/tire, and jack.

**Note: VIN and other numbers withheld to protect against fraud. All numbers including VIN, Engine, and color will be provided to serious buyers.

If you have any questions, please do not hesitate to contact Paul at 714-335-4911 or paul@autokennel.com

For tons of pictures, either cut and paste the following URL into your browser, or click here: http://www.AutoKennel.com

This vehicle is sold "as-is" with no warranty, written or implied. In some cases, the vehicle does have the remaining factory warranty still in place and will be described above if that is the case. All taxes and fees are the responsibility of the buyer and are not included in the listed price. All vehicle sales will require a $65 document fee. The vehicle listed is described to the best of our ability. The information is based on our own research and statements made to us by the previous owner(s). To the best of our knowledge, the above information is accurate. We are not responsible for errors in our description of options or any other details. The above-mentioned vehicle is used and can be expected to show some wear and tear. It is not a brand new vehicle. We do welcome all local pre-purchase inspections on vehicles in order to verify condition.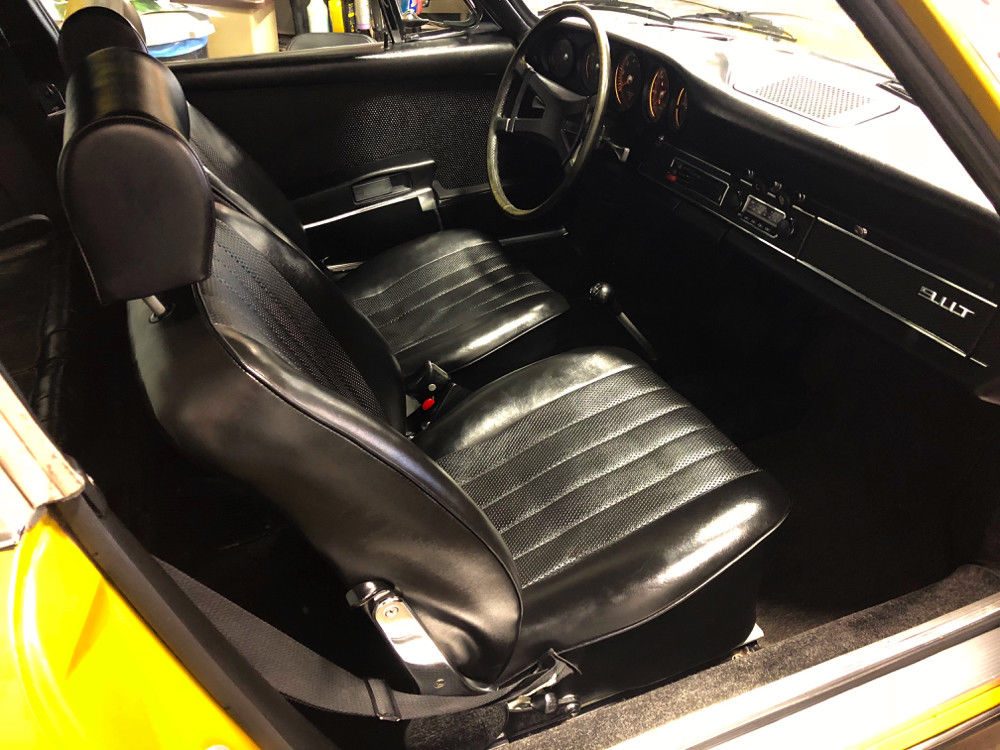 This is a minor quibble given that this 911 is pretty much original, but I really wish it came with a more interesting interior. The exterior has such vibrancy and the black interior just doesn't really live up to that standard. I'd love to see this with pepita inserts. I think that would really liven things up, but without detracting from the exterior. Oh well.
Of course, it is this 911's level of originality that makes it so appealing. We aren't talking "as it left the showroom" original, but it's thought to wear its original paint and possess its original interior. The mileage too – as low as it is – is thought to be accurate and original miles. Pretty much all of the original equipment appears to be with the car. There's even a chance the original tires might be able to be sourced. This strikes me as the best sort of driver-quality 911. Given its mileage, it does need to be driven though!
There are flaws. The seller has noted many of them and detailed some of those in the pictures. This reminds me of our recent early 928 feature where the flaws were noted, but they still seemed of a sort that were less problematic than many other examples we come across. For an unrestored car approaching 50 years of age the condition looks quite good and as I noted above it still looks incredibly striking when you step back and take it all in.
For a 911T the price is on the higher end, but prices go up fast when these early 911s can claim so much originality (if you want to see just how high check here). The color too is a fairly rare one. Even with its high price I think it's priced more reasonably than other examples we've seen and I'm not sure I'd expect it to remain for sale for too long. This, of course, all assumes we can verify the various claims, but from the history provided and from what we can see there's definitely promise here.
-Rob