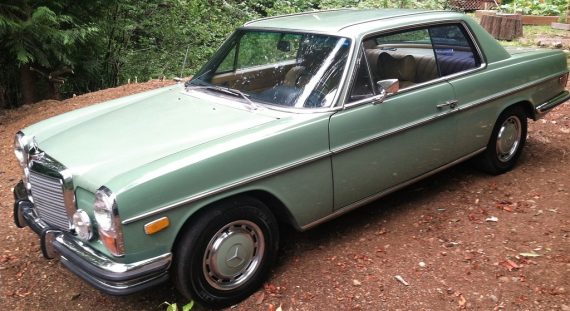 Kick back and relax now that the work week is over because I need some time to unpack everything that this 1972 Mercedes-Benz 250C is bringing today. At first glance I was excited to see a W114 coupe in awesome 860 green and to my surprise it was a four-speed manual as well. Then I started reading the description and looking at the photos to realize this car had much more than what I saw on the surface. So let's dive into this 1972 250C located in Washington.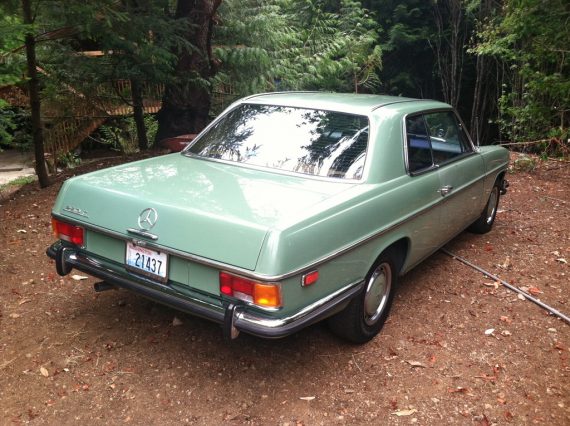 Year:Â 1975
Model: 250C
Engine:Â 2.2 litre inline-four
Transmission: 4-speed maunal
Mileage: 79,000 mi
Price:Â Auction
There are 2 things that make this 1972 Mercedes Benz 250C very special:
-It was owned by American actress and Playboy model Azizi Johari for a long time,
-The incredible care and feeding that went into this car. Overall condition of this vehicle is best described "as new".

There's a stack of receipts and maintenance records from Phil Smart Mercedes Benz of Seattle, totaling over twenty thousand dollars, including complete engine replacement few years back. Rare manual 4-speed transmission makes this car even more special.

Paintwork is mostly original with very minor flaws and presents incredibly well. Perfect dry undercarriage with no rust.
Condition of the interior is "as new". Perfect seats, dashboard and headliner.
Condition of outer trim and chromework is "as new". All glass and seals are good, no blemishes.
Mechanically the car is excellent. Starts and runs very well, with recent new clutch, brakes and exhaust. Electrical system is in good condition, everything works, with the exception of AC.

Overall, a beautiful survivor car with an interesting ownership history, delight to own, and a real conversation piece!

Vehicle is being sold with a clear open WA state title and a bill of sale, ready for ownership transfer or export. Inspections prior to auction end are welcome and encouraged. Will arrange worldwide shipping if necessary at buyer's expense.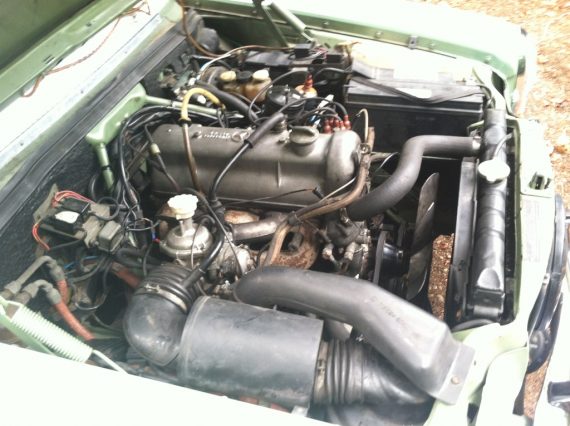 Now you are probably wondering why the featured photo of this eBay auction is a beautiful African-American woman. Chances are you, as well as I, had no idea who this woman was. According to the auction the name of this woman is Azizi Johari – Playboy magazine's Playmate of the Month for its June 1975 issue and the owner of this beautiful W114 coupe. This of course adds exactly $0 to the value of the car unless you are one of those people who has stacks of vintage Playboys in their basement as she doesn't exactly move the needle on the celebrity scale.
As for the car, everything looks pretty stout — at first glance. The 860 Green is one of the more highly desirable colors on any Mercedes let alone a W114 coupe. Now the problem lies with the description the seller puts forth. He clearly says "Overall condition of this vehicle is best described as new". Last time I checked, "as new" doesn't mean paint flaws on the hood, rust on the inner rocker panels, cracked windshield seals, wrinkled door cards and the worst thing of all, an entirely different engine than the car came with. I first looked at the photo and thought something looked a little odd only to realize that the original straight-6 dual carbed engine was replaced by the smaller four-cylinder single carb M115 engine. Of course the seller doesn't mention this, only a passing "complete engine replacement" line. If you aren't up to date on your on late-60s and early-70s Mercedes gas engines then you'd never know because the M115 could pass as the original engine. That, and when you hit the gas you don't exactly move all that fast.
As for the price, I have no idea. Typically a really nice W114 coupe in a desirable color can crack $10,000 but seeing as this car has all kind of strange things and a seller willing to lie to you, who can guess where it will land. Judging by the seller's feedback on eBay, this isn't the first time he has lied about a car before either. So, much like yesterday's B200, caveat emptor!
– Andrew