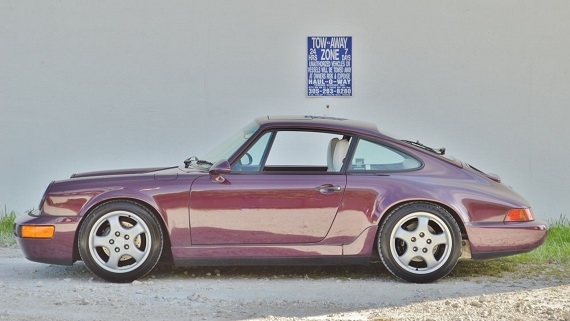 I don't know that this 1992 Porsche 911 Carrera 2 Coupe is a 1 of 1, as the seller hints, but given the rare color combination and a rare option or two we're certainly looking at a 911 whose owner isn't likely to see another one coming the other way. The colors return us to my current fascination with purple 911s and this one, Amethyst Pearl, is one of the better options along that spectrum. It's not as dark as Aubergine, but also not as bright, i.e. flashy, as Amaranth Violet so it walks that fine line that I think a color like purple really needs to walk. It's beautiful and interesting. The white leather interior is sort of like a punch in the face. While I don't normally associate white with brightness when considering the color palette, it definitely comes across that way here. I don't know that it works, at least not for me, but the contrast is interesting and is certain to provide an avenue for discussion. We definitely can't call it monotone!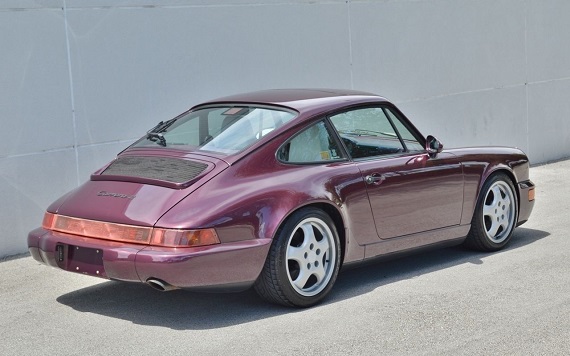 Year: 1992
Model: 911 Carrera 2
Engine: 3.6 liter flat-6
Transmission: 5-speed manual
Mileage: 71,000 mi
Price: $72,500 Buy It Now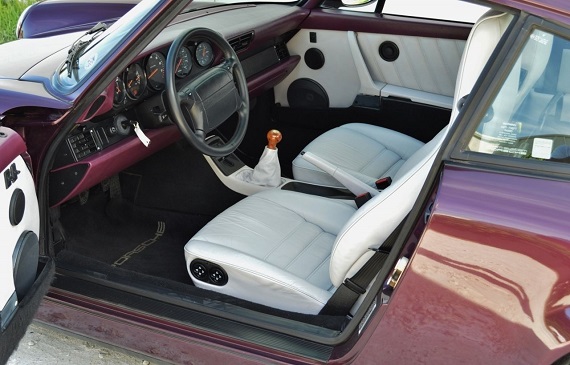 1992 Porsche 911 964 C2 Coupe —- Possibly 1 of 1 ever built!!

We are proud to offer this very unique 964 C2 in very desirable Amethyst Violet with White leather interior/ black carpets.

This car is offered in all original condition and has remained in amazing condition in and out.

This 911 was ordered through the "Porsche Exclusive Program" (code 00991) making this a very rare piece to a collector or enthusiast.

Only 670 – 964 Carrera examples were produced for this year, with this color combo possibly a one of one…

In 1992 the 964's experienced a facelift, 92′ – 94′ are the most desirable years. They featured 4 puck brakes front and rear, aero mirros, headgaskets, and other small other improvements that redefined the already redefined 911.

This rust free C2 has only covered 71k miles since new, all miles are documented along with its Clean CarFax. Never has this car been in any type of accident and retains all of its original paint.

The exterior is near flawless with only two dings in the hood,normal rock chips, and one small 2 inch scratch on the front bumper.

The interior is in mint condition and all original as well, seats show like new. The original wood grain G50 shift knob is a very nice touch and a rare item that were usually tossed In the garbage back then. The rear seat delete gives the interior more of an rs feel and is also a rare option on a coupe.

The engine and transmission are in perfect condition, the 3.6 starts up perfect with no smoke or unusual noises. The G50 shifts perfect, clutch was replaced in 2006 with 46k miles and is perfect. AC is ice cold and everything is working as it should. The car is bone stock except for being lowered to Euro ride height, new Stoptech street pads and cross drilled rotors front and rear, and the Cup 1 wheels with brand new Bridgestone Potenzas. With this color combination and set up this car is one of the best looking 964 i have ever seen and highly collectible.

Codes Option Description:

09991 manufacture from the exclusive-programme

419 Rear luggage compartment instead of rear seats (rear seat delete)

425 Rear wiper
437 Comfort seat left
454 Automatic speed control
494 2 speakers on back shelf
494 Amplifier system
650 Sunroof
691 CD-Player "CD-1" with Radio
980 Seat cover – Raff – leather
C02 Equipped with catalytic converter
XC8 Light Rootwood Gear Shift Knob (standard with Y59)
XD4 Porsche Crest Rim Caps now Cup one wheels

$1500.00 Spent on brand new stereo system with usb hookups.

INQUIRIES PLEASE CALL:

305.988.3092 TONY cell

786.291.3622 DANNY cell

305.255.2274 office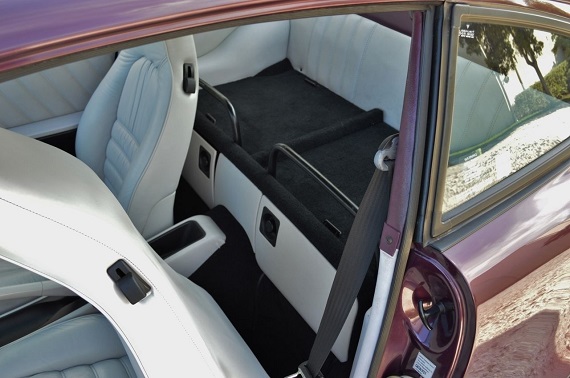 Of the options the most intriguing is the rear seat delete in favor of a luggage compartment. We don't see this often on a Carrera Coupe of any sort, though given the lack of rear seat space in a 911 I'm kind of surprised we don't see it more. The rest of the options are of the cosmetic variety and probably won't attract a lot notice. Still there's enough here to entice collectors and the asking price seems aimed squarely at that crowd. It isn't entirely original though – the original radio is gone as are the original wheels – so I wonder whether it can reach this sort of price even given its rarity. It doesn't sound like we have much historical documentation either so a thorough examination will be in order. Everything does look good though so I imagine this 964 will receive some serious inquiries. It's very pretty, has some interesting options, and the mileage is quite reasonable. We could certainly do a lot worse!
-Rob