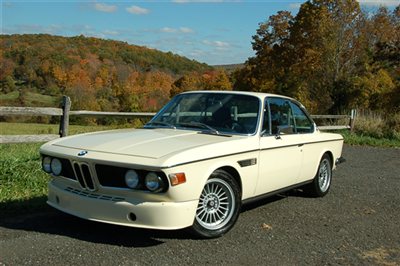 If you've been watching the E30 M3 market, you've been shocked by the seemingly insane appreciation of the entire line. From roughly a year ago's top value of about $28,000, condition 1 M3s are now valued at nearly $70,000 with no slow down in sight. While the trend is undeniable, the question I have is at what point do you recognize that there are some classic options that are more unique and perhaps as collectable as the E30? Certainly, BMW has plenty of options in its own stable, and the E9 3.0CS is one of the best. Currently top examples are trading at about the same rate as the M3, begging the question of which classic BMW you'd rather have. For me, while the E30 is an awesome ride, I think I might sport for something more classic in that price range, such as today's "RS" inspired 3.0CS – pared down and turned up with a 3.7 race motor: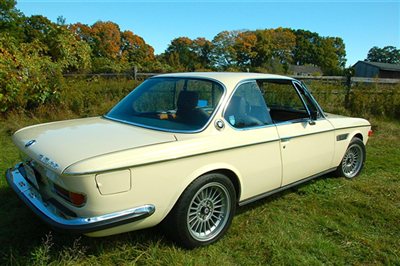 Year: 1973
Model: 3.0CS
Engine: 3.7 liter inline-6
Transmission: 5-speed manual
Mileage: 66,723 mi
Price: No Reserve Auction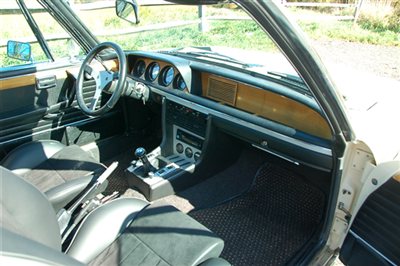 Vehicle Overview
***Due to the recent activity of fraudulent second chance offers on eBay, we strongly urge you call us at 914-217-4817 to verify any second chance offer.***

For more than a quarter of a century, Hunting Ridge Motors and Mark Starr have built a reputation as one of the country's premier new and pre-owned luxury and exotic automobile dealers. It began in 1980 when Mark began importing Mercedes Benz, Porsche, Ferrari and race cars from all over Europe, and has now expanded to include many other makes such as Land Rover, BMW, and Audi.

A proud and well respected member of the Lotus community, Hunting Ridge Motors has become one of the most respected performance car dealerships in the Northeast. The organization's reputation for providing quality vehicles and top- notch service is the reason why Hunting Ridge Motors continues to be at the forefront of the automotive enthusiast and collectors market.

You deserve only the best should not expect anything less. We promise to provide you with the best buying experience available. Feel free to call one of our sales associates with any questions. We are here to make your automotive dreams come true.

1973 BMW 3.0CS injected finished in Ivory with Black Sport seats. Fitted with a 3.7 liter engine built by respected racing engine builder Rebello Racing, this one of a kind E9 coupe has to be one of the fastest and best sorted E9 Coupes available anywhere. Totally exhilarating to drive, this E9 has had the power steering and air conditioning removed to make the driving experience as pure as possible. It will remind you of a 1973 Porsche Carrera RS in it's manners. Recently in from California where it has been in the same owners loving care for over 13 years. Fitted with original Alpina wheels, side marker delete, CSL style front air dam with front bumper delete, fully adjustable coil over suspension, period correct sport steering wheel, sport seats by GTS Classics, full stainless exhaust built by Coupe King, 3.91 75% LSD and much more. For additional information and pricing, please call Mark Starr @ 914 217-4817.

In the spirit of the auction process, we do not disclose our reserve price. We have been selling cars for many years and price our cars fairly. As a result of our low prices, they sell quickly. Therefore, PLEASE DO NOT ASK OUR RESERVE PRICE. Please feel free to contact us to learn more about huntingridgemotors. We will consider all reasonable offers and will end the auction early if we can reach an agreement. We reserve the right to end any auction early for due cause. If you have questions about any of our auctions, please do not hesitate to contact Mark Starr at 914-217-4817. Cars shown by appointment only.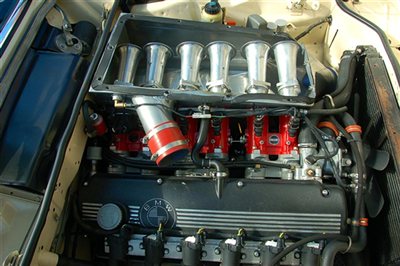 As an alternative to the similarly nutty Porsche 911 RS, this E9 is pretty appealing. The color us understated, but the interior looks aggressive and ready with those updated seats. The Alpina wheels are a perfect fit and addition in my eyes. But the real gem is under the hood; that 3.7 just looks downright awesome and nasty at the same time. It's lovely despite being unoriginal, and if you weren't concerned with finishing first at the local BMWCCA show, this car would be a lot more fun and turn many more heads than your run-of-the-mill CS. Bidding is currently just below $50,000 – what, shockingly, a condition 2 E30 M3 is currently valued at. I know what I'd choose, and it wouldn't be the box flares!
-Carter