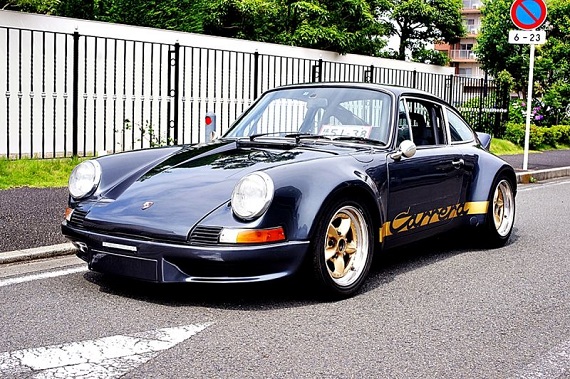 I'll just get this out of the way: properly speaking this 911 isn't really a RSR build, meaning it hasn't tried to replicate the mechanicals of those very special cars. What this build has done is take a 911T and completely alter its personality in a way that the RSR did during its time. The description provides a basic overview of the work, but the biggest item, and what I think differentiates this from a lot of the builds we see, is that this 911T now houses a 3.6 liter flat-six from the 964. This quickly distinguishes it from the 3.2 Carrera based builds that are much more common. The pictures aren't the best for appreciating the metallic grey paint, but the appearance looks quite promising. That this car currently resides in Japan will make things difficult for a lot of buyers, but for those willing to put in the effort this 911 could be a pretty great.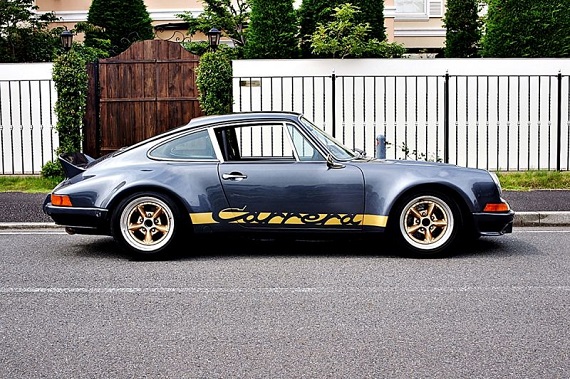 Year: 1973
Model: 911T
Engine: 3.6 liter flat-6
Transmission: 5-speed manual
Mileage: 4,970 mi
Price: Reserve Auction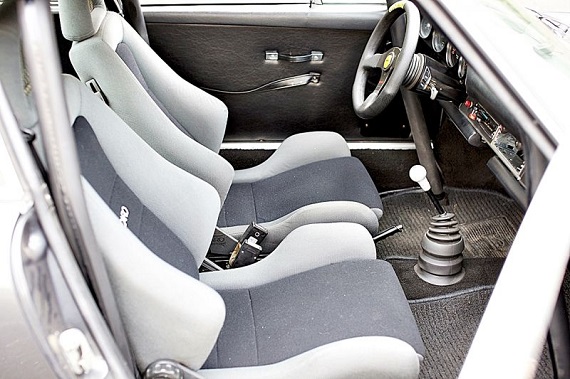 This is 1973 911T base 3.6L RSR version. The car restored 1 year ago Engine just 8000km since overhauled.
perfect setting. Best performance car.
US buyer=> Past 25 years so you can import the car without problem. We charge 2000USD for shipping service and Ocean freight to US available port by RoRo line
Euro buyer=> You can import the car without problem. We charge 2100USD for shipping service and Ocean freight to EURO available port by RoRo line
Other countries => Please ask

Make: Porsche
Model: 911T
Type: RSR
Year: 1973
Body Type: Coupe
Doors: 2
Seats: 4
Steering Position: Left-hand drive
Owners: 3
VIN Number: 00000000000000000
Body Stamp Number: 9113100125
Exterior Color: Grey (Metallic)

Not show car but very clean nice paint job.
RSR Body all around
Very straight no accident car
All working good. each suspension has traction censer with interior monitor. Speeding alert radar

Interior Color: Black

RS look interior. with Recalo seat x 2 (personally I would change those seats to classic bucket type but for driving very good low seat position and easy and comfort to drive)
Special made Roll cage front to rear
Front Kayaba adjustable 4853 Gas shock+ Japan YD made coil springs (Not too hard-best setting for initial corner action and balance)
Rear YZ adjustable gas shock + Japan YD made coil springs
930 Turbo Brakes + drilled rotors, Turbo master cylinder
Engine Size: 3600 cc
Cylinders: 6
Power: 276 Bhp (205 kW)

3.6L 964 Engine had been overhauled 8000km ago. Special fuel system + original made stainless headers+center muffler
No leaks no smokes no strange sound, Very smooth sharp Engine
Mission: Manual (5)

5 speed 915 8.3-1 overhauled 8000km ago Shift perfect with short shifter
1973 US market car. Imported to Japan 1990. 3 owner in japan. Last owner spent big money to built street & truck performance car 3 years ago. then Engine Transmission Overhauled 1 year ago.
Many maintenance history. the car runs perform perfect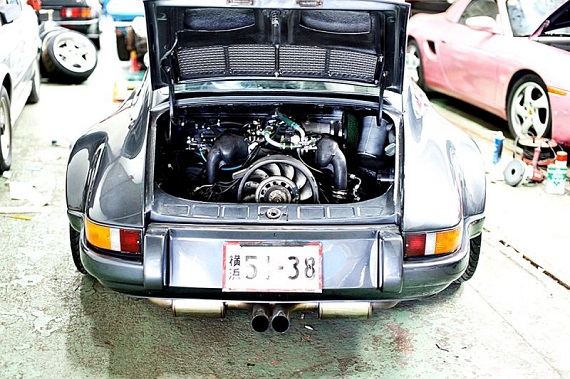 While I love the exterior look of this 911, the interior is kind of a let down. At least from the little we see. The interior of a car like this doesn't need to be special; we aren't necessarily looking for bespoke applications like we see with Singer. But the seats look terrible and that by itself is really throwing things off. Thankfully that's not a terribly difficult fix and it is the body and drivetrain that are most important. About that: this states that it has the 915 5-speed transmission, which would seem odd when mated to a 964 engine. Perhaps something is getting lost in translation from Japanese to English so it's worth investigating. Ultimately it will be those investigations that will be the most difficult, at least unless someone just wants to take a risk based on what they see here. Bidding is quite reasonable at the moment: $46,100. I suspect the reserve will lie well above that given the typical asking prices we see for builds with the 3.2 Carrera engine. But how high I'm not really sure. This is a great looking 911 with a lot of potential, but it's going to take some time.
-Rob