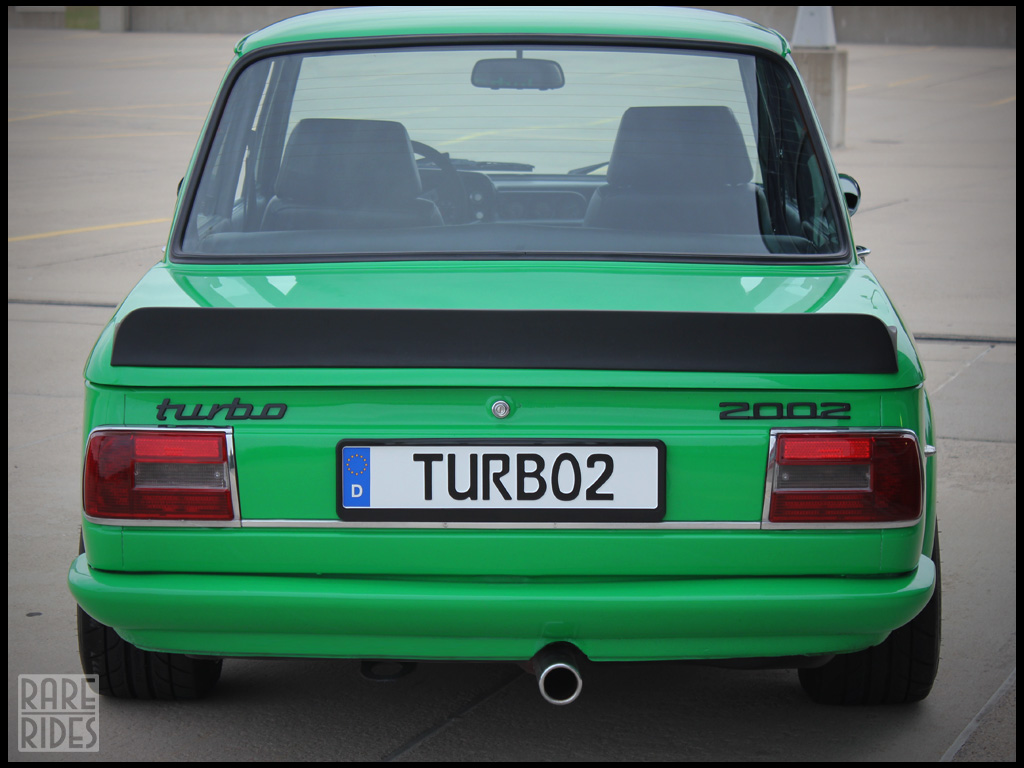 As it goes with art and film, creating a tribute to the original doesn't always go over well in the automotive world. Everyone values originality, but sometimes the budget dictates otherwise. Take the BMW 2002 Turbo. This was a rare piece in its day, but had a profound impact on the brand before the advent of the mainstream BMW M car. To buy one today would require one to pony up a good deal more than what a normal 2002 would cost, provided you could source one. But, what about creating your own?
I've come across a few 2002 Turbo recreations, some better than others, but I think this particular 2002 Turbo clone for sale in Michigan takes the cake. The 2002 Turbo was a wild enough concept to begin with that the arresting shade of Porsche Signal Green seems ideally suited to this car's demeanor.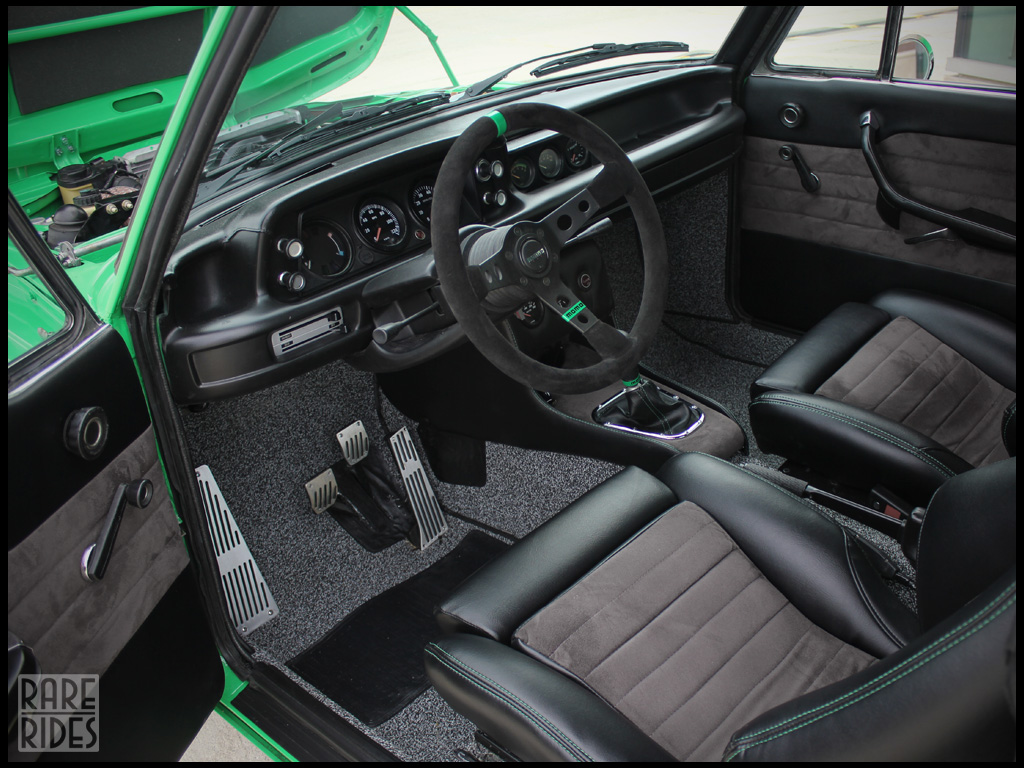 Year: 1976
Model: 2002 Turbo Widebody
Engine: 2.0 liter turbocharged inline-4
Transmission: 5-speed manual
Mileage: 100,0000 mi
Price: Reserve auction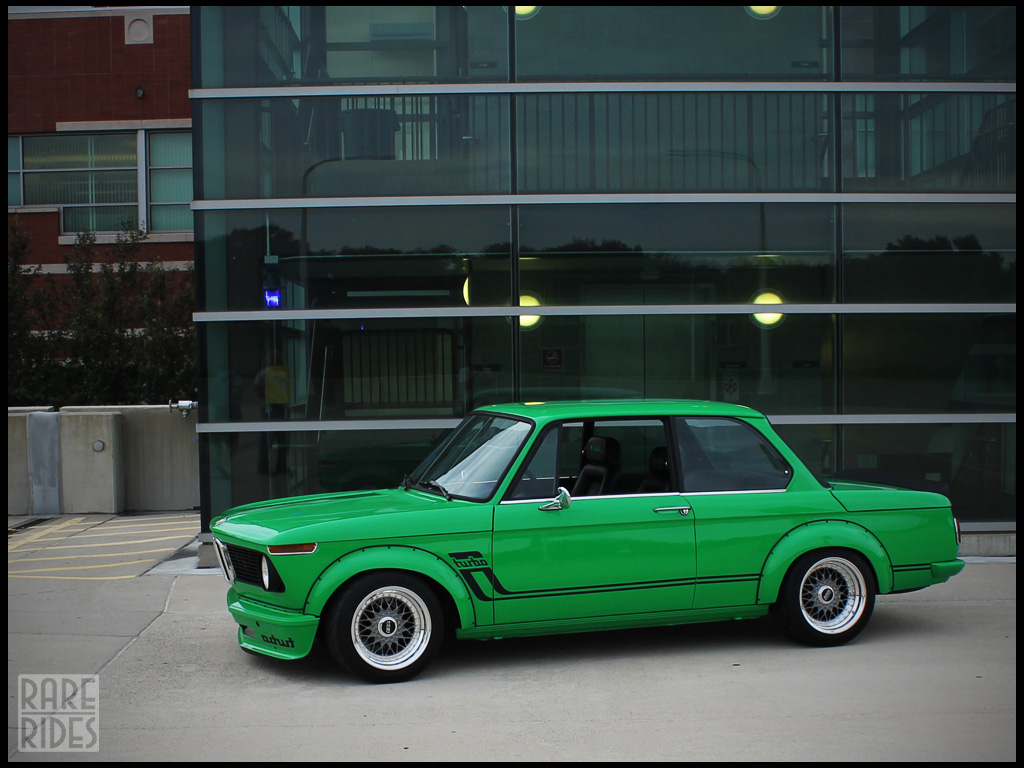 VIN: 2375783
Before I begin I would encourage all serious buyers to contact me directly at: 517-425-0129. Although this is a 7 day auction I reserve the right to end auction early as car is for sale locally.

You are looking at probably one of the more thorough 2002 custom builds out there. This 1976 BMW 2002 combines a beautiful and aggressive appearance, and backs it up with well-done drivetrain/mechanicals front to rear. Definitely an eye catching color in Porsche Signal Green (as seen on GT3 RS), sharp interior combo of black and suede, and of course the turbocharged motor. Recently finished build, just attended its first showing at EuroHangar 2013 and was voted one of the top 15 cars in a field of almost 400. Overall we've been very pleased with the response to the car and it's certainly the only one you'll find in this desirable combination. Description as follows:

Interior:
* Professionally built custom themed interior: Black and suede + green stitching / accents throughout
* Vintage Recaro Sport Seats
* Turbo embroidered headrests
* Custom console with VDO gauges
* VDO electronic tach and speedo
* Aluminum pedals
* Momo steering wheel
* Momo shift knob
* Very nice salt and pepper custom carpet, courtesy of "Esty"
* New headliner
* Interior completely sound deadened with Dynamat

Exterior:
* Base coat/clear coat finish in Porsche 911 GT3 signal green
* All new weather strip throughout
* Factory OEM turbo fascia and flares
* Fiberglass Euro style rear bumper
* Custom graphics inspired by BMW's original 2002 Turbo graphics
* OEM turbo trunk spoiler
* Flush fit Euro side markers
* Rear taillights upgraded to LED

Mechanical:
* BMW M42 engine + turbo/intercooler
* Aluminum radiator with electric fan
* 5 speed trans with short shift linkage
* 3.90 limited slip rear diff
* Wilwood big brake kit (front)
* Rear drums converted to disc-brakes
* Bilstein shocks
* H&R performance lowering springs
* Front and rear strut braces
* Front and rear sway bars
* Battery relocated to trunk
* Factory turbo stub axles
* Custom 2″ exhaust with rear center exit
* BBS RS 15×8.5 15×9.0 wheels, professionally built to our custom specs (polished lips, all new hardware, gloss black PC barrels, gorgeous charcoal gray PC faces/waffles, etc… no expense spared)
* Hancook RS3 high-performance tires, 225/45/15 all the way around

Please take the time to review all the pics. Don't hesitate to call with further questions: 517-425-0129. I also have contact with a reasonable shipping company and would be glad to assist. Vehicle offered by Rare Rides, a licensed MI dealer.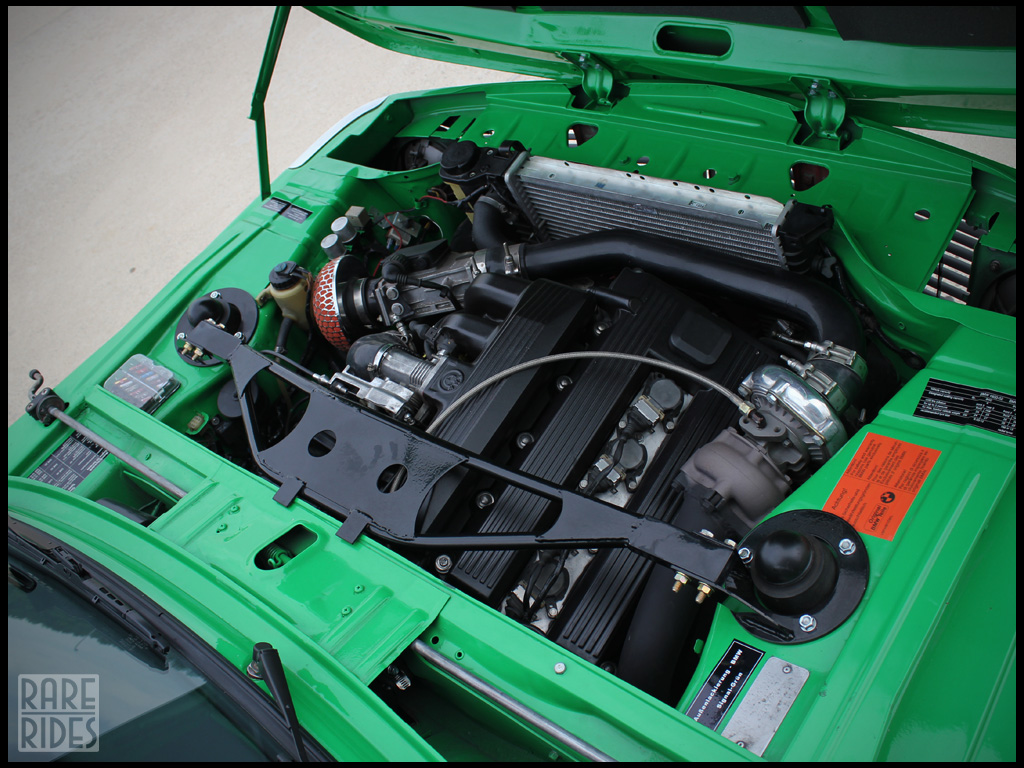 We featured an original 2002 Turbo for sale at $51,000 back in February. Good originals or restored 2002 Turbos today are fetching in the $50,000 to $70,000. Given the build quality of this example, I'd suspect the seller is looking for a figure somewhere around that mark.
It's not an original, but I have to say this is one of my favorite 2002s I've ever come across. Everything from the M42 turbo engine to the BBS wheels set this car apart. This car almost looks like Magnus Walker of restomod Porsche 911 fame could have laid his hands on it. Having an original 2002 Turbo would be awesome, but you might always have that fear of devaluing it in the back of your mind. A modern take on a classic vehicle may be the way to go, as you can enjoy the looks and performance without the preservation issues.
-Paul