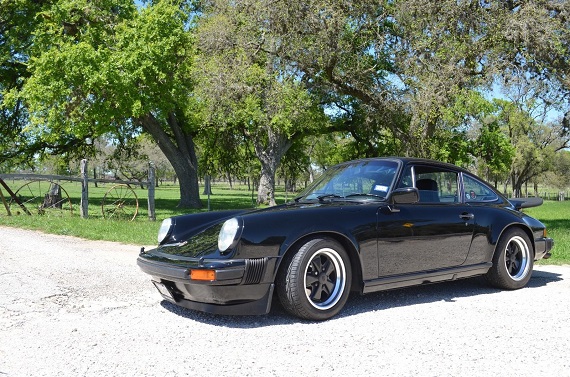 One of the things I enjoy most about Porsches – beyond their brilliant mechanical abilities – is the possibilities available to buyers. Porsche is happy to provide its customers with just about any color combination or pattern, along with a host of options, through Porsche Exclusive. Granted, there typically is significant cost to those options, but as someone principally eyeing the second-hand market all of that variability keeps things interesting. One of my favorite options has been seat inserts. In some cases these are fairly standard solid colors that provide contrast with the rest of the interior. But Porsche has also offered other choices. My favorite is houndstooth, which we mostly see on early 911s, though it was revived most recently on the 50th Anniversary 911. That interior is spectacular. For those who desire something even more eye-catching, Porsche has also offered a variety of tartan seat inserts. If memory serves, I've only seen these on Porsches from the '70s. They certainly won't appeal to everyone and I'll admit some of them don't work, but in a few cases they look great and provide for an interior that has a lot more going on than the standard monochrome we typically see. The example we see here came with just such an interior: a Black 1976 Porsche 911 Carrera 3.0, located in Texas, with around 94,000 miles on it.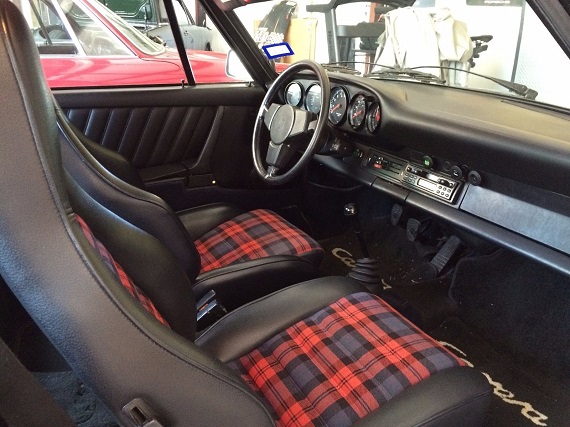 Year: 1976
Model: 911 Carrera 3.0
Engine: 3.0 liter flat-6
Transmission: 5-speed manual
Mileage: 94,000 mi
Price: Auction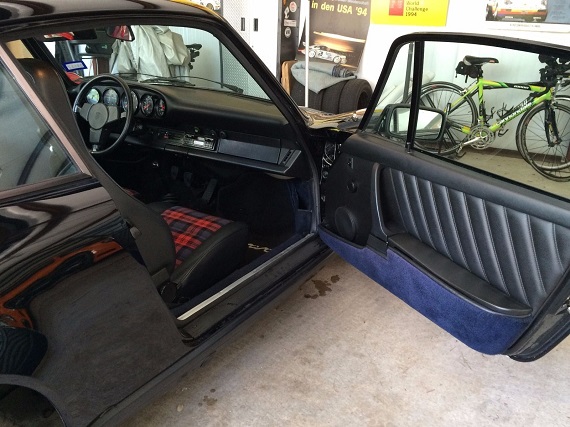 I'm a 20-year PCA member, 911 collector and I've been on eBay 16 years with 100% Positive Feedback so the following is an honest description about a very original, honest 911. I have owned the car 4 years and put less than 2K miles on it. I apologize that the pictures aren't "perfect" and there's water on rear deck lid shot of the "Carrera 3.0" logo (I actually drive the car).

You are viewing one of 606 LHD Carrera 3.0 coupes built in 1976. This car is even more rare as it is a sunroof-delete version with rare factory alarm and factory sport seat.

I have a Porsche Certificate of Authenticity verifying this is a number's matching car and I've included photo's of the engine number and chassis/VIN number in this auction. I will provide a copy of the COA to interested buyers.

WHAT IS A CARRERA 3.0 AND WHAT'S IT WORTH?

For Porsche newcomers or speculators, the Carrera 3.0 is a little-known rare performance variant 911 that was part of the lineage from the 1973RS. In 1974 and 1975, Porsche offered a (real) Carrera with the 2.7 liter RS engine found in the 1973 model. However, Porsche began their trends of shipping crap disguised as rare performance models to the US when they shipped the 165hp 1974-1975 US Carrera models (although people are paying $100K for them now, just like they are paying $125K for Porsche's other RS deception: the 1993-1994 RS America).

In 1975, Porsche introduced the first turbo 911 and had built a smoking 3.0 liter engine for that car. While the US got the Turbo, Porsche managed to build a limited number of 3.0 liter equipped (non-turbo) versions to succeed the 1974-1975 Carrera (Euro models). The Carrera 3.0 is a ROW (rest of world) model that was the final installment in the RS/Carrera lineage until Porsche would unveil the 1992 911 Carrera RS (I've owned one of these too). Porsche would not release a 3.0 liter (200hp+) version into the US until the mid-1980's, and it was still heavier than the 1976 Carrera 3.0.

Determining value:

* 1973 Carrera RS: $650K – $750K

* 1974-1974 Carrera (2.7 Euro): $300K – $375K

* 1976-1977 911 Turbo (US): $150K – $175K

These cars have been trading between $175K-$210K given their being the successor to the 1974 Carrera 2.7 (Euro) and their rarity compared to the Turbo models and I expect them to go up as more US Porsche enthusiasts discover this rare car in Porsche's RS/performance lineup.

OWNERSHIP HISTORY

From the information I have gathered, the original European owner purchased this car in late 1976 and drove it in Germany until the 1980's when he sold it to a Porsche enthusiast in Connecticut. I talked to the first US owner and he told me that when he bought it the car did not have the Carrera stripes on the doors, as they were an option (however, white Carrera stripes would look cool if the future owner wanted to add them). The car subsequently changed hands a few times and then the first US owner bought the car back and I purchased the car from him in 2012. The first US owner verified that the interior is original and exactly the way he bought the car from the original owner (the first time) in the 1980's.

ENGINE & GEARBOX REBUILD
During the late 2000's, the original engine had been rebuilt with JE pistons matched to the cylinders and the heads were rebuilt with mild porting. The cams were reground to 964 spec. Crank was crack tested and polished. All engine tin was powder coated. The car also received updated cam chain tensioners, SSI heater boxes and sport exhaust, new engine sound pad. The car has a lightened flywheel, new clutch, rebuilt gearbox, (original box), precision shift coupler, all new oil lines, etc.

When I bought the car in February 2012, the car was showing a small oil leak so I sent it to Moorespeed (Austin) and we decided to pull the engine to check the quality of the prior rebuild. Everything checked out, but while we had the engine apart I decided to upgrade the JE pistons and ordered new pistons from Rothsport made to spec for this Carrera 3.0 by Jeff Gamroth. All seals were replaced on the engine and an upgraded Porsche oil pump was installed. The engine went through a proper 500-mile break in and then oil was drained to look for any particles suggesting issues (none found). The engine is rock solid and high revving thanks to the lightened flywheel. I've owned a real 964 RS Clubsport and a 993RS and believe me – this Carrera 3.0 feels as quick as either of them.

RESTORATION
I had originally intended to keep the car for retirement, so I took a "money no object" approach and had everything gone through to make sure the car was done right. The paint was faded so I had the car stripped down and inspected for any sign of rust (none found in the body) and replaced the few rusted/corroded nuts & bolts with OEM parts. Every seal on the car was replaced and hundreds of hours were spent checking all plastic parts, trim, etc. The restoration invoice documentation will detail every line item.

We left the original interior intact as I didn't want to lose the patina of an original car. The paint was faded so the car was resprayed by a Porsche body shop to its original black.

ORIGINALITY
Unlike the prior Carrera 3.0's on eBay that were over-restored (their interiors replaced, etc.) — this car is "as delivered by the factory" in its original color, original interior, original engine/gearbox, original (unpolished) wheels, etc. It also includes rare options: sunroof delete, A/C delete, driver (left) sport seat, & Porsche dealer-installed alarm (with separate key).

This is an honest Carrera 3.0 to drive and appreciate. It includes its factory owner's manual, tools, jack, air pump, and a complete receipt file (including $40K that I spent in 2012/2013).

I would consider taking a 1987-1987 911 Couple (in equal condition) as partial payment.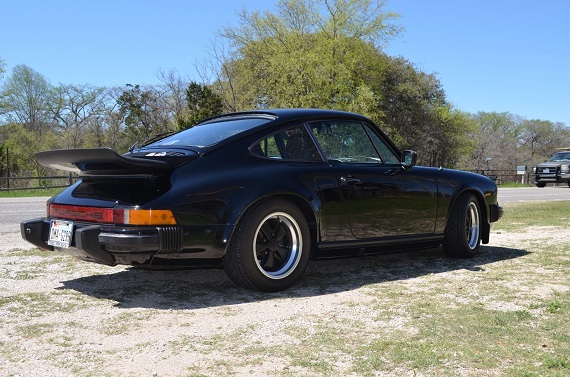 Curiously, the seller makes no real mention of this interesting interior other than to confirm that it is original (though admittedly that's not a minor point). I find this strange since it's the most interesting aspect of this 911, but here we are. That this interior happens to be part of a Carrera 3.0 should make this a pretty highly sought-after example and the seller has priced it accordingly. While it is on auction without reserve, the starting bid effectively serves to stand in as the reserve and I imagine we're unlikely to see much, if any, bidding action. Interested buyers likely will just make an offer. As I've mentioned in previous posts on the Carrera 3.0, the model stands as a relative bargain compared to its predecessors (though they're hardly inexpensive) and thus could make for good long-term value. But there is risk in that. The higher values we see for the Carrera 2.7 stem from it sharing an engine with the '73 Carrera RS and since the Carrera 3.0 lacks that pedigree it is tough to know whether values will ever reach similar levels. These remain fantastic machines though, with their own privileged pedigree, and I imagine original, and interesting, examples like this one should move to the top of the pack.
-Rob