Warning!
This post is in our archives. Links in this post may have been updated to point to similar cars available to bid on eBay.

There are some (quite a large number, in fact) who claim you can't have fun on a race track in a front wheel drive car. I know quite a few of them. And in the wrong front driver, they're likely right. Take a 1976 Cadillac Eldorado with its 8.2 liter V8 channeled through one front tire at any time and enough body roll to mimic a rowboat during Katrina and the recipe might be humorous, but doubtfully fun. However, 1976 also saw the introduction of a revolution in front drive platforms – the very first Golf GTi. Consider, for a moment, that GM's replacement in 1977 for the thirsty 8.2 V8 was a every-so-slightly less thirsty 7.0 liter V8 (it was, after all, fuel crisis time….). That cast iron monster produced a heady 180 horsepower. Volkswagen engineers took a inline-4 with only 1.6 liters and twisted 110 horsepower out of it in a car that weighed about the same as the motor in the Cadillac. That was the magic of the GTi and it's why it started the trend of hot front wheel drive cars that still is running arguably stronger than ever today. With clever transmissions, electronics and differentials, perceived weaknesses in the design have been nearly eliminated and most of the really trick nose FWD cars are as quick – if not quicker in some cases – than their rear-drive counterparts around a track. Therefore racing FWD cars is still a popular past time as today's quite successful GTi is a testament to: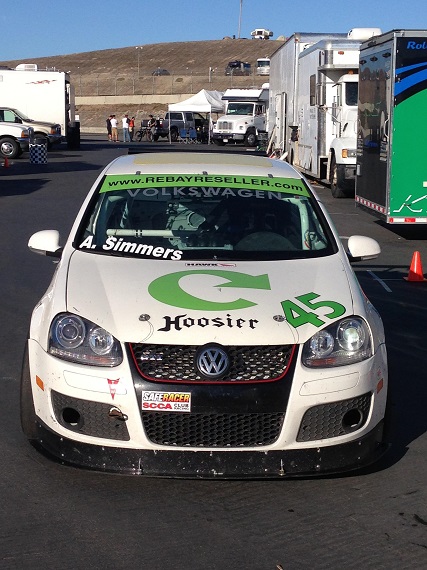 Year: 2007
Model: GTi
Engine: 2.0 liter turbocharged inline-4
Transmission: 6-speed manual
Mileage: 25,490 mi
Price: $29,500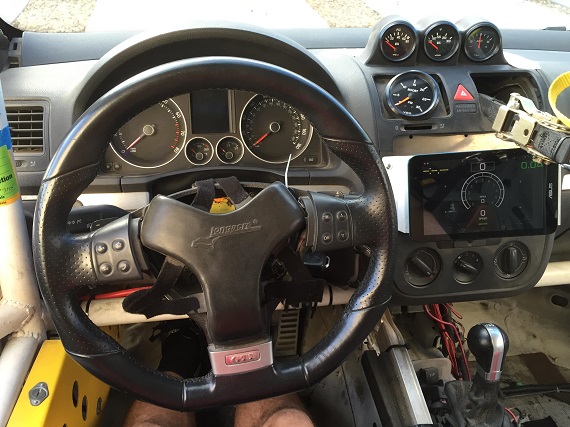 For Sale: 2007 VW GTI DSG

2015 SCCA National Points Champion
2015 SCCA US Majors Tour Conference Champion
2015 SCCA Runoffs 2nd
2014 SCCA National Points Championship 2nd
2014 US Majors Tour Conference Champion
2014 SCCA Runoffs 3rd
13 Wins
15 Podiums
STU lap records: Pikes Peak International Raceway, Pueblo Motorsports Park, Kansas Speedway

This is a turn-key race car with both SCCA and NASA logbooks. Without question it is one of the fastest STU cars in the country. The right driver will be able to win on any given day. The car was built from a body in white by Istook Motorsports for the Pirelli World Challenge series. It has since been prepared to SCCA STU class rules and further developed for reliability. Paddle shift DSG dual clutch transmission.

The car is very reliable and easy to work on. The motor is still stock and is capable of producing 400 WHP if built.

350+ WHP
Approximate weight: 2750 pounds without driver.

– 3 sets of Enkei RFP1 17"
– Borg Warner K04 turbo
– APR high pressure fuel pump
– APR Audi S3 Injectors
– Volant Intake
– Audi TTRS Intercooler
– Mishimoto aluminum radiator
– AST 3-way adjustable dampers with remote reservoir
– Momo FIA seat
– Schroth belts – Compliant through 2018
– Schroth right side driver net
– Analog Guages – boost, oil pressure, oil temperature, volt
– Racecapture Pro 2 data acquisition with GPS and live – cellular telemetry
– ASUS tablet for use with Racecapture Pro 2 and digital dash/lap timer
– Cool Shirt suit and helmet fan control
– Cool Shirt compatible driver cooling system (no shirt included)
– Cool Shirt helmet blower fan for forced air compatible helmets
– StopTech ST40 front calipers with titanium nosed pistons and 326 MM rotors
– Custom fabricated external Setrab DSG fluid cooler
– Setrab external engine oil cooler
– Remote oil filter mount with large filter normally used on a V8 engine
– United Motorsport engine and DSG software
– Spare control arm left – new
– Spare control arm right – new
– Spare drive axle left – new
– Spare drive axle right – new
– Robert Bentley factory repair manual
– Numerous other spares such as turbo diverter valves, sensors, belts, etc.
– Custom splitter/close out panel and airdam
– Spare unused splitter/close out panel
– Fully adjustable rear spoiler

The three sets of wheels are mounted with one set each of Hoosier A7, R7, and H2O wets. They have one heat cycle, two heat cycles, and one heat cycle respectively. I would definitely run at least an additional race on each set before replacing so buyer is ready to start the season without additional expense there.

The splitter/close out panel and airdam are made of inexpensive materials and are easy to duplicate.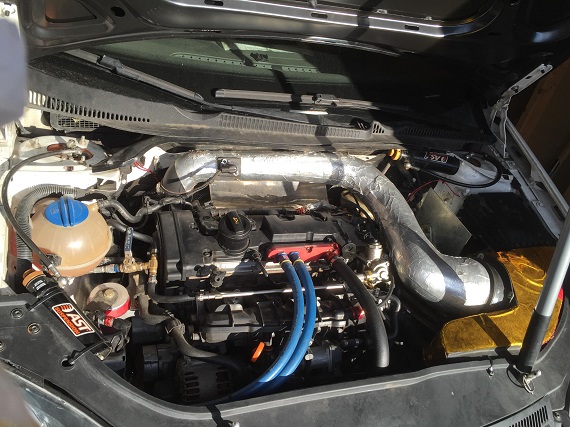 This car has been a race car its entire life, but developed throughout from the World Challenge which was mostly safety additions to its current turned-up configuration. I've driven a Mk.6 GTi 2.0T that was pushing about the same amount of power as this one and it was shocking when the boost came on. The price looks steep at first glance, but how many contemporary race cars can you get in to, turn a key and be on the podium that afternoon for under $30,000? This GTi should be able to scare track-prepared E46 M3s and Porsche 911s, yet doesn't come with the expensive to run costs of their more exotic motors. Sure, 350 wheel horsepower with an open diff is probably a bit point and shoot rather than smooth negotiation of the track, but my guess is it's still very entertaining and you're not likely to be able to get much that's faster or better prepared for less.
-Carter