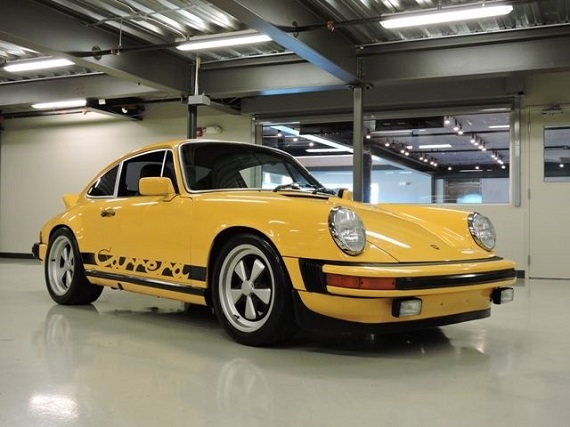 Modified Porsches, especially those which take aim at the look of an iconic model like the Carrera RS, are all about that first impression. While the details ultimately are what is important, we come across enough of these builds that it becomes easy to pass by many of them before those details even become apparent. Since you're seeing it here, it should be clear that this one attracted enough attention to warrant a closer look. The details here are somewhat straightforward: this was originally a 1976 911S now fitted with the engine from a 3.2 Carrera mated to the 915 5-speed transmission. In typical fashion the exterior is completed with flares, a ducktail spoiler, and a set of Fuchs-style wheels all draped in Talbot Yellow with Black accents. The interior takes its cues from the Carrera RS with most amenities deleted and a set of Recaro seats that while not period-correct still look mighty good inside this 911. Mechanically it'd have been great if this were taken up a few notches, though that does tend to raise the asking price significantly. Perhaps this one may best serve as a canvas for additional performance upgrades should a new owner desire them. Strictly on appearance this one looks quite good.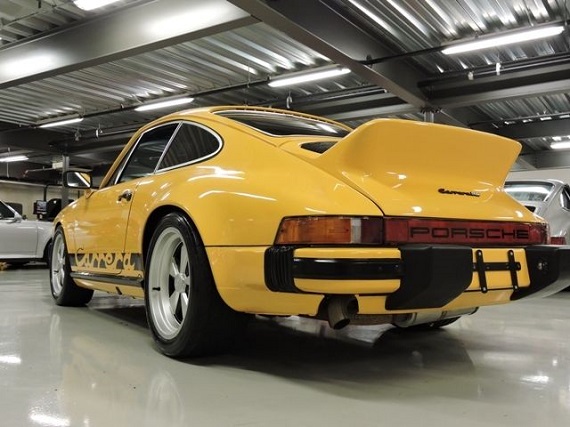 Year: 1976
Model: 911S
Engine: 3.2 liter flat-6
Transmission: 5-speed manual
Mileage: Not Listed
Price: $55,000 Buy It Now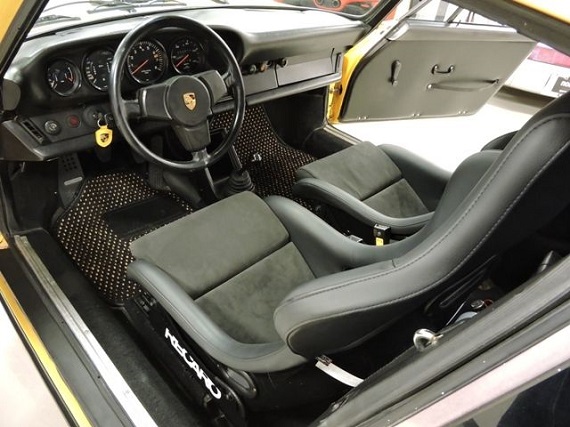 1976 PORSCHE 911S

CARRERA RS TRIBUTE

VIN: 911620126

TALBOT YELLOW

BLACK RS LIGHTWEIGHT STYLE INTERIOR

3.2 LITER CARRERA ENGINE WITH MOTRONIC INJECTION

915 TRANSMISSION

LIMITED SLIP DIFFERENTIAL

RSR TYPE COILOVER SUSPENSION FRONT AND REAR

FRONT OIL COOLER

CROSS DRILLED BRAKE ROTORS

FRONT STRUT BRACE

RSR FINISH 17″ WHEELS

EXCELLENT ORIGINAL DASHBOARD

RS LIGHTWEIGHT CLOCK DELETE PLUG

RS LIGHTWEIGHT RADIO DELETE PANEL

RS LIGHTWEIGHT DOOR PANELS

RECARO POLE POSITION SEATS (LEATHER / ALCANTARA)

COCO MATS

RENNLINE DEAD PEDAL FOR LEFT FOOT

EURO H4 HEADLIGHTS

EURO AMBER TAILLIGHTS

FRONT LIP SPOILER

STEEL 8″ FLARES

DUCKTAIL REAR SPOILER

Excellent overall condition. Drives great, strong engine. No Smoke. Transmission shifts perfectly, no syncro concerns. No rust. Solid front pan and floors. Original paint in door jambs. Original VIN sticker in place in door jamb. Original early non AC vent dash with no cracks. Original Black leather stock seats in great condition, and included with sale. Excellent ride quality with coil over conversion, very smooth. Super reliable late model stock 3.2 engine with modern fuel injection. Vintage looks with modern power and reliability.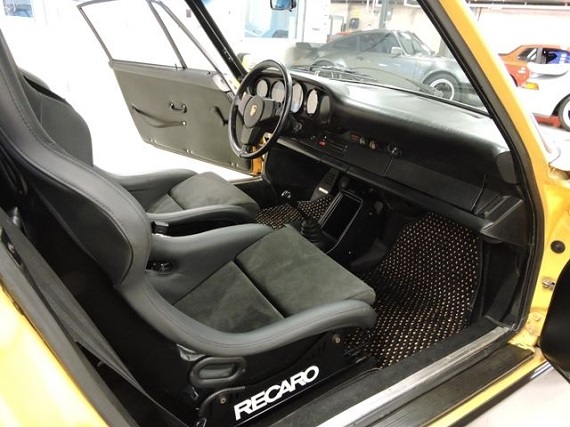 Generally speaking, I like this build. They haven't gone over the top with it, everything that has been fitted looks of good quality and it all comes together nicely as a total package. There are two aspects I would prefer had been changed: first this is one of the few RS tributes I have seen that retained the impact bumper aesthetic and it'd have been really nice to see that addressed. The other issue is the wheels. They're too big on this body. While I realize that even a 17″ wheel is small by today's standards I'm not sure it looks right on classic cars and to my eye here the look is off. I'm sure some will have no problem with it, so it is perhaps a minor detail. Otherwise, we're familiar with the basic idea here of a more modern 911 engine in an older chassis and for the right price this one could make a new owner very happy. With an asking price of $55K it isn't priced as insanely as other builds we've seen, though it still strikes me as definitely on the high end. But builds like this would always be difficult to replicate for equal money, especially as 911 prices continue to rise, so we may see someone grab this one, though perhaps with some negotiation on that price.
-Rob