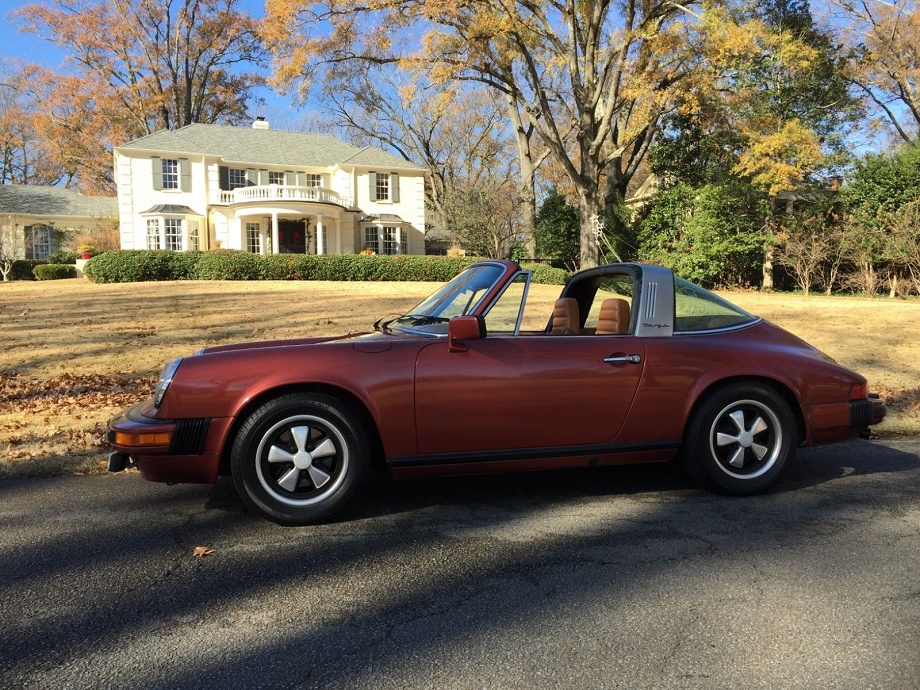 A couple days ago I featured a 911 that had undergone a bit of a transformation into what we might best describe as an off-roader. I thought it seemed like a potentially interesting project, but in its present condition seemed somewhat incomplete. The pricing also didn't seem great all things considered.
Here we can look at something similar though nearly the opposite. This is a Burgundy Metallic 1977 Porsche 911S Targa and unlike the 911S Safari, as it was dubbed, this one appears in nearly original condition, was under long-term ownership, has very low mileage, and looks pristine. At its best, this is what a mid-year 911 can look like. As I noted in the Safari post, the general lack of desirability of these models makes them good candidates for unique projects. With this one maybe we'll see just where the market presently lies for an original example.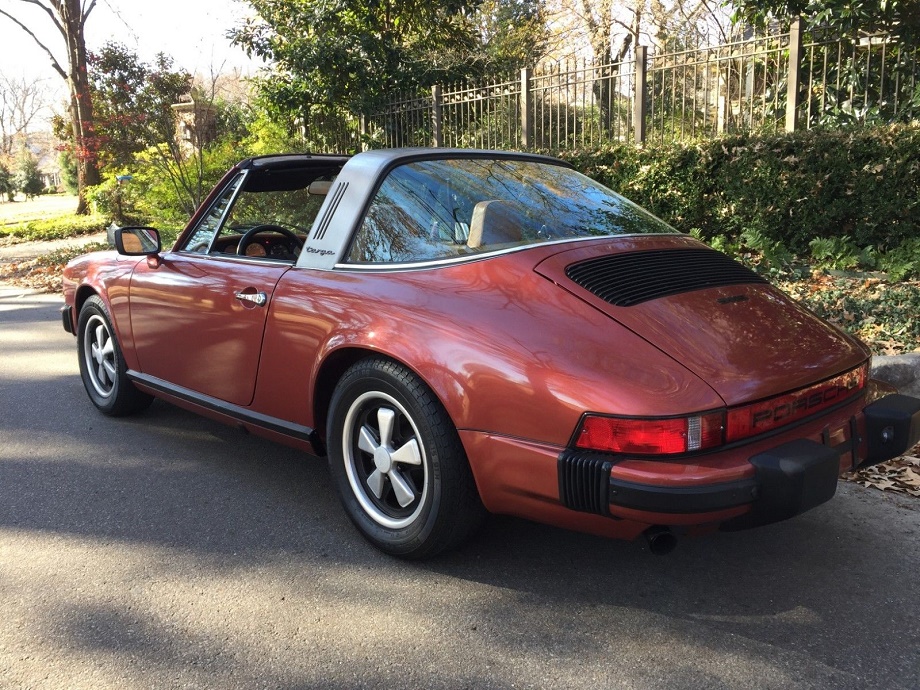 Year: 1977
Model: 911S Targa
Engine: 2.7 liter flat-6
Transmission: 5-speed manual
Mileage: 31,000 mi
Price: Reserve Auction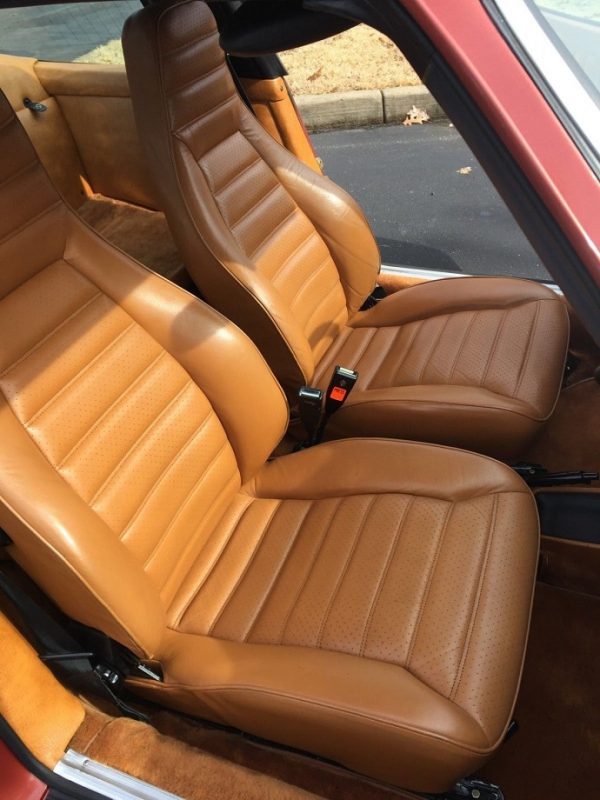 *** One owner for 40 years! 1977-2017 and true mileage is 31,000 ***

Ordered and purchased new in 1977, this targa has been constantly garaged and never driven in foul weather….this car is a true "time capsule". Everything is there from the original title dated 1977, dealer order forms with desired options, factory window invoice, unused tool roll in original plastic with drop cloth, tire bag, plastic gloves, front tag bracket, factory keys, all books including owner's manual and maintenance booklet with factory key ID number card, etc.
The owner put approximately 14,500 miles on the car in the first two years of ownership, with the remaining 15,000 miles coming over the next 38 years. The car is truly stunning. It is a 1977 911S targa in sienna metallic, or what is known here as burgundy metallic on the invoice. The top has never been folded and is in as new condition.
All updates of importance have been addressed and are documented such as chain tensioners, replacement of the dreaded thermal reactors early on, (this and all work done by the dealer) as well as eliminating the smog pump which is also carefully preserved and well packed away but included. European lens were also added early on by the dealer with the original sealed beams and chrome surrounds included with their boxes as well as factory air pump in its original box.
Cork leather interior is perfect and includes a complete Blaupunkt Bamburg radio with all books with Hirschmann paperwork – with factory microphone and black box.

This Porsche will not disappoint and should be seen in person to truly be appreciated.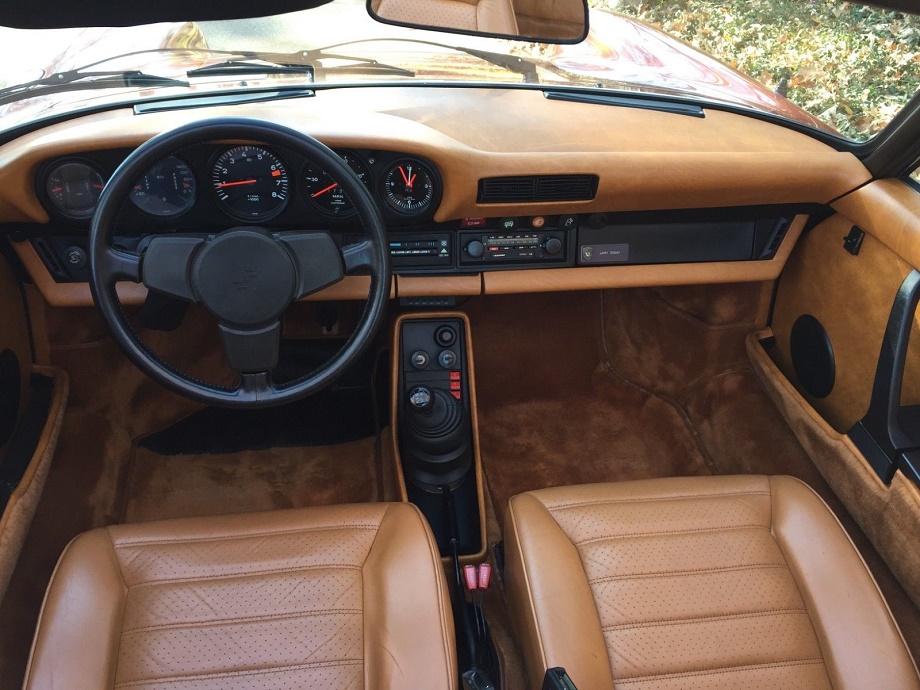 Porsche offered a wide array of bright colors in the late-70s with everything from Lime Green to Magenta to Continental Orange. There wasn't really a part of the spectrum unaccounted for in these vibrant hues. Burgundy Metallic, in that regard, can be a little bit of a let down given how understated it is, but it's an attractive color and one that for many probably is a good bit easier to live with on a daily basis. Here the paint looks in excellent condition and the color shows about as good as we could expect.
The original owner of this 911S owned it up until 2017 and it's pretty clear that during the 40 years of his stewardship it was well taken care of. Nearly half of its 31K miles came in the first two years of its life so it hasn't exactly been well exercised over the other 39 years. It's said to have spent all of that time in a garage and it does look it. This is just about the freshest looking interior I've seen on one of these 911s and it is said to be entirely original. Wear is limited to a few minor creases in the leather. It comes with all of its original books, the original invoice, order form, tools…basically everything. It also includes the various components that have been swapped out over the years.
All told I'd guess this is about as good as one of these 911s gets and I'm curious where bidding will take it. We currently sit at $30,100, an amount that obviously is fairly low within the world of air-cooled 911s. Even as nice as this one appears to be I still would not expect it to really be bid too much higher, but we shall see. If the wildness of the Safari 911 wasn't really your thing, then perhaps this much more original example will do the trick.
-Rob