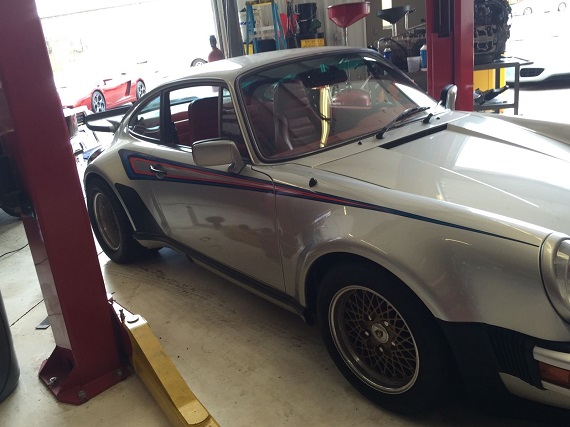 Pairing some racing graphics with the highest performing variant available seems like a winning combination, right? Well, that's more or less what we see here with this Silver 1977 Porsche 930 Turbo Carrera that has been complemented by a set of Martini graphics. In the world of available Martini decals this is actually one of the more subdued options Porsche made available in the late-70s and early-80s. They provide a nice talking point, but without making it appear as if you're trying to pass your car off as a racer. There are few more recognizable graphics in racing than Martini and Porsche's long history of running their livery has made them a popular choice for those who desire to help their Porsche stand apart just that little bit more. Oh, and it also has a Lobster Red interior. For those who are fans of these red interiors, and I count myself in that group, it's a fantastic color.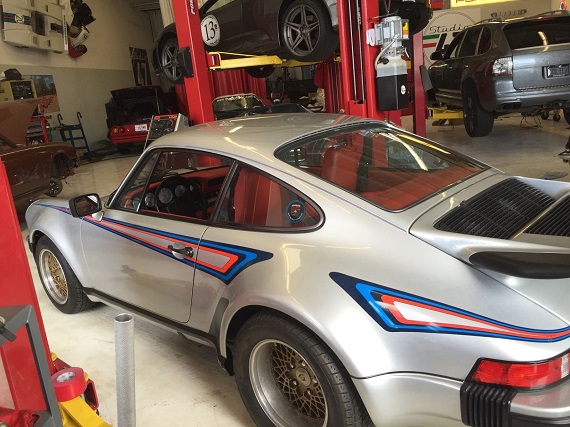 Year: 1977
Model: 911 Turbo
Engine: 3.0 liter turbocharged flat-6
Transmission: 4-speed manual
Mileage: 26,200 mi
Price: Auction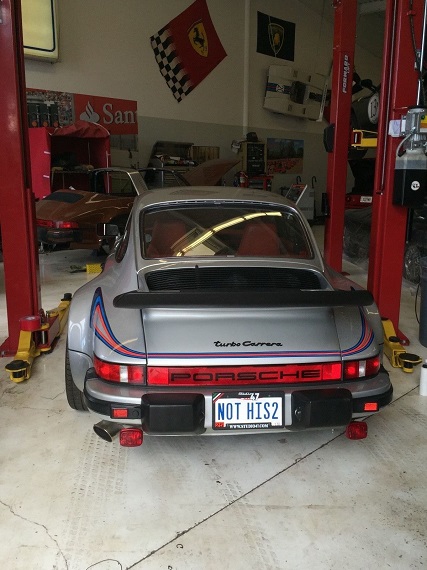 This is an unmolested 1977 930 turbo. Original paint, all keys including red one with the pouch from Porsche. It has all the owners manuals and I am the 3rd owner. The mileage is 26,200 now. The interior is perfect in Lobster. It comes with all service records. It runs and drives like new. The car sat for 11 years and started up once all fluids were changed. It does have spider cracking in the paint due to the way cars were painted in 1977. It does have the Euro Lights on it, however I do have the original lights in the original boxes should you want them. It also comes with the gold/Silver BBS rims which the prior owner had placed on the car. I do have a connection which can sell you the original Fuchs wheels if you desire but the wider rims and tires make the car looks as mean as it is when the turbos kick in. I have to say that this carThis is a complete car with all accessories. The radio in the photo as you can see was updated in the 80s. That is the only change made. I do have the COA from Porsche North America on this vehicle. Current values on this vehicle are in the high 200K on Hagerty website. Please ask all questions prior to bidding. Serious bidders only as I have an auction house that would love to get this car. Buyer to pay all shipping cost.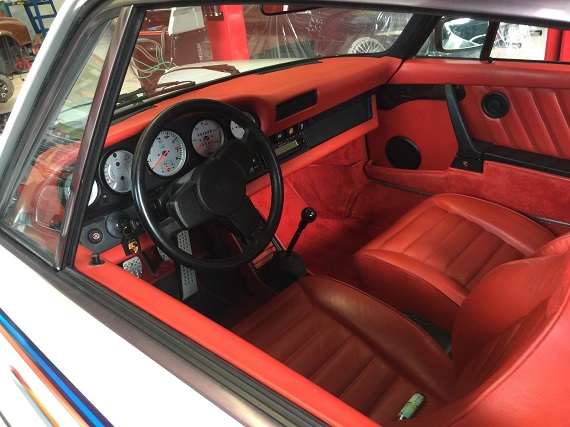 We're presented with a somewhat haphazard collection of photos here, something that's always baffling with cars with this sort of asking price. In the one outdoor shot we get the car actually looks a little rough, while all of the pictures from inside the shop make it appear much better. I'm not sure whether that is a function of lighting and photography or whether it was in the shop specifically to be cleaned and those pictures represent the result. Either way, each tells their own story. The one interior shot we see does show a really nice looking interior. The Martini graphics provide a departure from the basic Silver paint and contrast really well with the Lobster interior. While graphics are not typically to everyone's liking I think here they work particularly well and it does add an element of historic accent to this 930. With a starting bid of $180K it's a high price, but we've seen these early turbos sell above that number and with this sort of mileage it should garner a lot of interest. The seller's statement about Hagerty values is correct, but that's for a condition 1 car. As it is presented, this 930 is not to that level. That said, if we could come across a better collection of photos I think we might see this one move pretty quickly.
-Rob