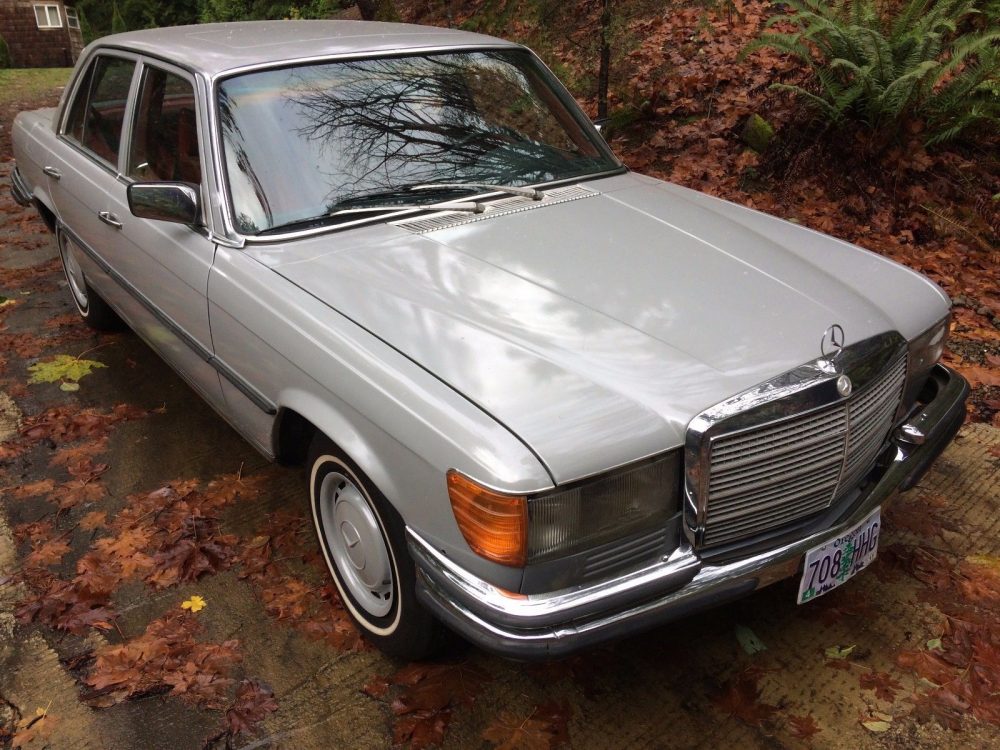 I love a really well-kept Mercedes-Benz W116. Maybe because I own one, but I can't be alone in feeling this way. These cars feel as solid as anything when everything is sorted and won't cost you a ton of money to buy and maintain one. All the gas-powered W116s are fine cars and the first ever production turbo diesel car to go on sale in the United States in 1978, the 300SD, was a gem as well. I have a hard time justifying ever selling my 300SD because for the money, nothing can replace it equally and frankly, there is nothing wrong it. So when I see these W116 300SDs come up for sale now and then I always take a closer look to see how other owners treat theirs. Today's 1979 model for sale in Oregon has me envious and jealous thanks to a few OEM upgrades.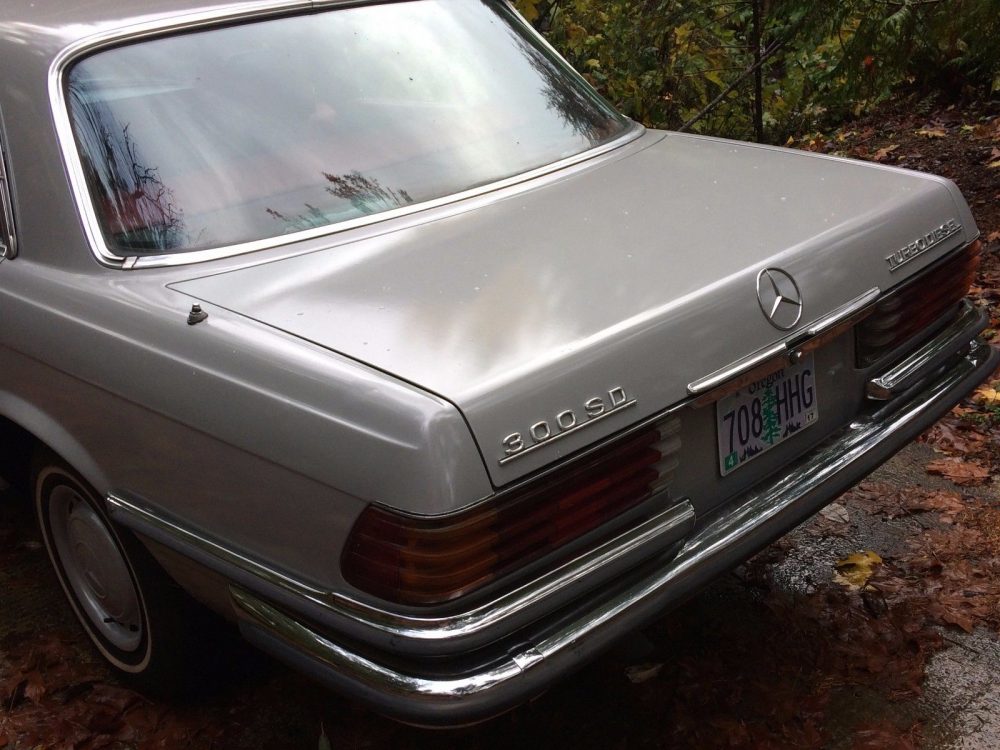 Year: 1979
Model: 300SD
Engine: 3.0 liter turbocharged inline-5 cylinder
Transmission: 4-speed automatic
Mileage: 230,381 mi
Price: Reserve Auction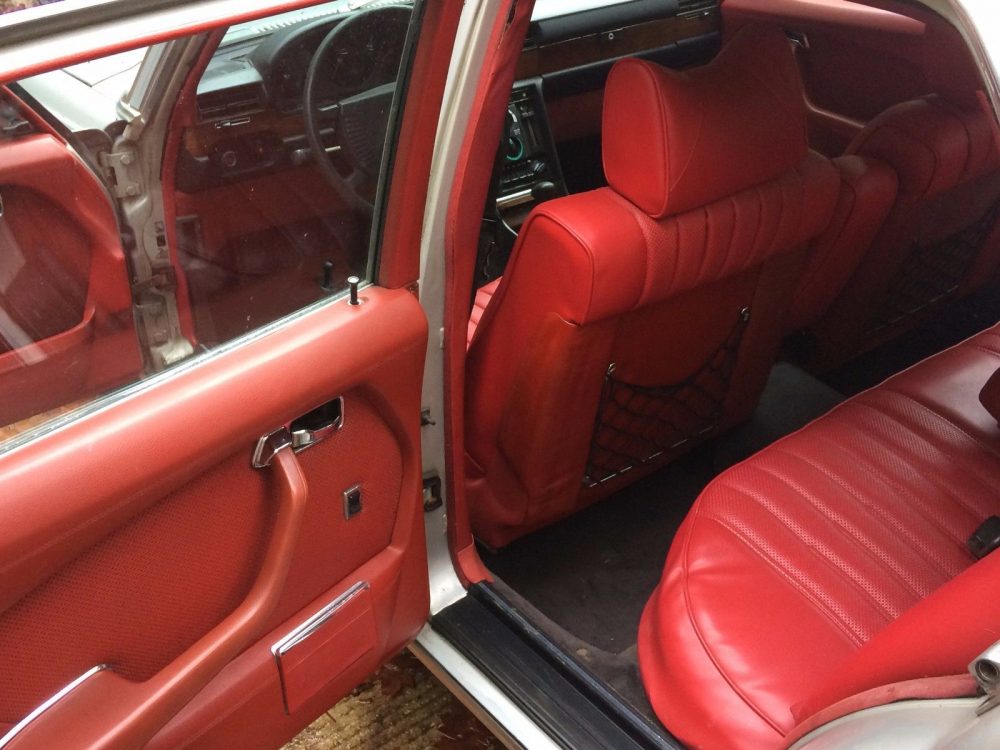 I've always wanted one of these cars in Euro trim, and it had to be a diesel. Problem is no diesels were available in US in 1973 when this model was first introduced, and the next year all cars were fitted with the ugly big bumpers and they never looked the same after that. I think the diesels only came in 1979 for a year or two, so a good one is not easy to find. It took me several years to find what I wanted!

What sold me on this car was the fact that it was an enthusiast owned well taken care of example in a perfect color combination: grey silver with red interior. It must be one of the rarest and nicest color combinations for a classic Benz.
In addition, it was superb mechanically, and was completely rust and bondo free.
It was a well optioned car with automatic transmission, AC, power sunroof, Becker cassette player, Cruise control, etc.
Previous owner had also fitted it with slim European bumpers to get rid of the ugly US mandated heavy bumpers.
I have since added Euro headlights to complete the look.

Cosmetically the car needed some help, as the paint had faded and seats were worn. So it was repainted in the original color, good quality materials (PPG base + clear), and got new seat upholstery from Gahh. The car has no rust and no bondo!

I have uploaded a video to Youtube to show how this engine starts and stops. You can see it here: youtube.com/watch?v=N-2aPn3p5QU

Basically the car starts with a flick of a key, cold or hot. Very well taken care of motor, no smoke, no blowby, no funny noises of any kind.
These OM617 engines are known for being extremely dependable, and this one is no exception, ready for another quarter of a million miles. Turbo is in great shape, and the car has excellent power and acceleration. Transmission is great as well, shifts well up and down as it should.

Stock wheels on the car were Bundt alloys, but I replaced them with early style steel wheels with original hubcaps, as they complement the car much better. I still have the alloys, so the buyer can choose them instead, if they prefer. Tires are great, tread at 95%.
No rust and no bondo on this car!

Original Becker radio + cassette player works great. I've uploaded a Youtube video of it here: youtube.com/watch?v=XZGrj46-93w

Dashboard and headliner are very nice. All the gauges work well, even the clock. Power sunroof works as well. Heater is great, but AC blows warm. Only one of the power windows is working at the moment, the rest need to be looked at. Windshield and gasket have been replaced, no leaks. All the chrome and anodized aluminium trim is in great condition. Good weatherstripping throughout the car. Trunk matting and rubber are excellent, full size spare + original tool kit. Original books manuals included.

I have uploaded many more pictures to an online album here: s1062.photobucket.com/user/59Benz/slideshow/sd3

Didn't think I'd sell this car, but the time has come, and I need to move on to other things. How do you put a price on a beautiful Benz that you can drive forever?! I don't know, so am listing it with no reserve. And did I mention the car has no rust and no bondo?

Please bid only if genuinely interested and are able to complete the transaction according to the auction terms.
Zero or negative feedback bidders must contact me prior to bidding, otherwise your bids will be cancelled.
Inspections prior to auction end are welcome and encouraged. Deposit is due at auction close, balance in 3 days via certified funds.
Clear open OR title, ready for ownership transfer or export. I can assist with shipping logistics if needed.
Any questions or concerns, please contact me prior to bidding. Thank you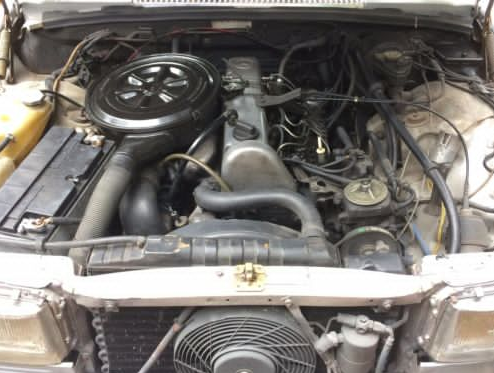 If you haven't noticed, this car has some desirable bits from the European-spec W116s. The bumpers and headlights are, to most people, the more attractive versions that are slim and tucked away nicely compared to the bulging and heavy bumpers from the North American-spec cars. Just those two simple modifications improve the car so much in my eyes. One odd thing about this car is the original Bundt wheels have been replaced with hubcaps. While that isn't odd in itself, it is what they did to the hubcaps. Instead of color matching the gray paint to the painted part of the hubcaps, whoever painted these just blasted the entire thing. Really lazy and it looks very strange to me. Inside, this 300SD also borrowed the climate control system from the European versions to replaced the terrible automatic system that Chrysler gave to Mercedes at the time. The red seats were replaced with aftermarket versions and while they shine bright, I don't think the fitment is as fine as the factory job was. Another thing I noticed is that while the seller says that Becker radio is original, but it isn't original to the W116. It is probably out of another Mercedes from this era and was swapped in.
As for price, the European upgrades do add some value here but I am worried about the powerplant. At over 230,000 miles, you should really check the timing chain for stretch and take a look at all the guides too. The turbocharger should also be examined because these are prone to coking inside the compressor wheel which will shorten its lifespan to an extent. The seller doesn't mention anything else about engine health other than some general statements. Do I think this will stop people from bidding? Probably not. It's really easy just to take the seller's word for it and hope for the best. My guess? Probably around $7,500. Really W116 300SD cars don't come up for sale too often and those that really want one usually pay for them.
– Andrew