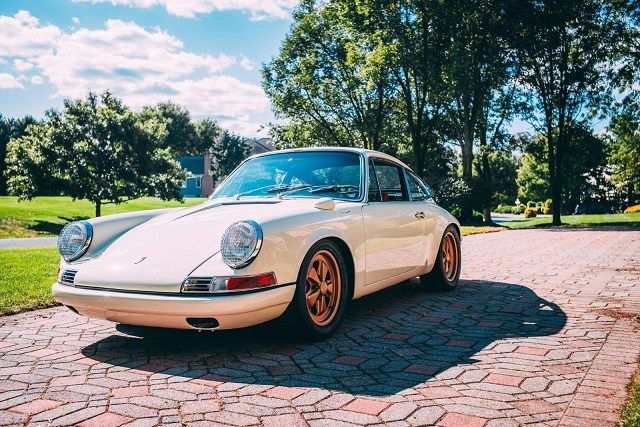 I didn't know exactly what to call this 911. I've sort of gone with how the seller has termed it as a 911SC Hot Rod, which I guess is accurate, but it's also a backdated build since it now sports a long hood in place of the standard SC impact bumpers. Though unlike a lot of backdated SCs the goal here wasn't to replicate the RS or RSR. So this one sort of stands separated from many of the rest and I actually appreciate that diverence.
With all of that out of the way, it looks phenomenal! There's a great mix of subtlety and flash here that comes together really well. It also appears to be very well done in all regards. We come across a lot of these builds and they come in a variety of levels of execution. From what we can see here, this is one of the better ones.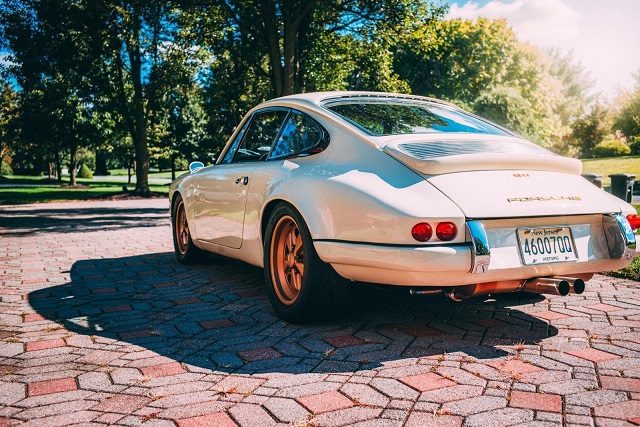 Year: 1979
Model: 911SC
Engine: 3.0 liter flat-6
Transmission: 5-speed manual
Mileage: 47,500 mi
Price: Reserve Auction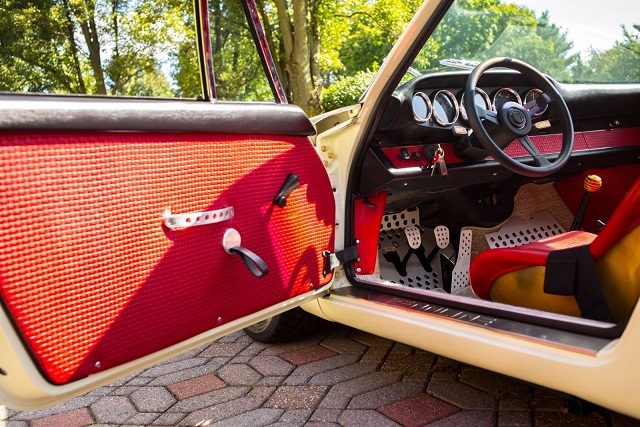 1979 911sc coupe hot rod build details

Exterior:

NOS Front latch panel to backdate
Getty Hood
Getty Front fenders
Getty Front bumper
Getty Quarter Panels
OEM Front horn grilles
Reproduction turn signal housings
Euro H4 headlights
Factory hood latch (upper and lower)
Helion Full Carbon Fiber Roof
Getty rear decklid
Mini duck tail spoiler
New Polished aluminum decklid grille
New Porsche "911" gold emblem
New "Porsche" script gold emblem
Getty Rear Bumper, heavily modified to accept factory chrome bumpers
New Chrome rear bumpers (modified and chopped)
Helion Composite 911r taillight housings molded in body
Factory door handles drilled and rechromed
New Factory keys and locks installed
all new factory rubber seals installed
Factory Pop Out rear windows installed
all hardward has been professionally Zinc Plated by Tru6
Rennline front ventilation kit delete
Helion Composite Steering cover
Helion Composite Smugglers lid
Rennline Battery relocation kit
Odysessy 925 battery
Glass out bare metal Glasurit Pepper white Paint job

Suspension
New Factory front RSR Coilovers
New Factory rear RSR Coilovers
New Eibach 250# front springs
New Eibach 300# rear srings
Tarret Engineering 935 front suspension
Tarret Engineering thru body front 20mm sway bar
Tarret Engineering Rear 22mm sway bar
Tarret Engineering 935 rear spring plates
Rennline front Mono Ball Strut Mount
RSR Rear bracing welded shock towers
RSR Rear spring plate bacing welded in
996T front brake kit with stainless lines
996T rear brake kit with stainless lines
New Turbo 23mm Master Cylinder installed
Rennline rear Mono Ball swing arm bushings
Rennline 3pt front strut brace
Wheels
Factory fuchs custom gold
Toyo Ra1 tires 215/50 and 225/45
Factory Lugs professionally plated by Tru6

Engine
Numbers Matching 79 Big Port 3.0 rebuilt
Custom Jenvey Individual Throttle Body kit installed
AEM Standalone Engine Management
Custom built wiring harness
Bosch Ignition Coils
Clewett crank trigger wheel
Clewett Aluminum Crank Pulley
Clewett Hall Effect sensor and bracket
Custom made throttle body air horns and filters
New Bosch 044 fuel pump
Earls Fuel lines and fittings
Earls Fuel Filter
Aeromotive Fuel pressure regulator
EB Motorsports RSR Engine Shroud
EB Motorsports RSR Engine Tin set
Fan, shroud, cross bar, engine mounts all powdercoated
Wevo Blue Engine mounts
Update Valeo 3 wire alternator
Becker RSR Stainless Headers
M&K GT3 muffler
Oil Tank professionally cleaned and painted with new sender installed
Rennline Stainless Alternator strap
Engine Compartment has been completely welded shut, body worked, and painted body color
New Factory engine compartment seals installed
Custom Leather sound pad

Trans
Patrick motorsports RSR Aluminum Flywheel
RSR Aluminum Pressure Plate
New Sachs clutch disc
New pilot bearing
New Throw Out Bearing
915 trans was completely rebuilt by Jerrys Auto
Hardware all Zinc Plated
Wevo Blue Trans mounts installed
Wevo 915 shift assembly installed
Wevo Percision Shift Coupler

Interior
Brey Krause Stainless Harness Bar
custom REPA 3′ harnesses
GTS Kevlar Front Seats covered in Red Leather outers and Leather Basket weave centers
GTS custom made rear parcel shelf with red leather / basket weave
GTS rear seat bottoms in red leather / basket weave
Custom Made door panels in Red Leather Basket Weave
Custom made Kick panels covered in red leather
black leather door straps
GT Racing aluminum door handles
GT Racing aluminum door pull surround
Rennline Aluminum Carpet thresholds
Rennline Aluminum door sills
German Oatmeal square weave carpet custom kit
Rennline Aluminum Passenger Floor Board
Rennline Aluminum Drivers Floor Board
Rennline Aluminum Pedal set
Rennline Aluminum Trans coupler cover
Rennline Aluminum Dash Delete
Factory Backdated glove box door
Rennline Aluminum one piece lower dash wrapped in black leather
New German Headliner
Nardi Steering wheels with leather Porsche horn button
Pedal Box has been fully rebuilt and powdercoated
Rennline Gauge Rings

TOTAL WEIGHT WITH ¾ TANK OF FUEL IS 2088 POUNDS!!!!
There is a pretty long shopping list of modifications to this 911. I'm not going to pretend to be an expert on every detail utilized because there's a lot here, but this isn't a build that focused on upgrading a single area with only made minor changes to the rest. The entire car appears to have been fully gone over, upgraded and lightened. Most of the body panels – especially front and rear – have been replaced, there's new lighting all around, and the interior has been redone in a custom red leather basket weave along with a heavy dose of aluminum. It looks great! The combination of white, gold, and red works strangely well. Meaning, I wouldn't really have expected these colors to pair well. I think the touched-up lighting in the photos actually is counter productive and working to the detriment of the car. It's too bad we don't really see the full effect, but the car still looks good.
The engine and transmission sound like they're the original units from this 911SC. Each has been fully rebuilt and upgraded. Strictly visually speaking, I love seeing a set of ITBs on an engine. I'm sure they sound even better! We don't get a statement about its current power, but with a stated weight of under 2,100 lbs it should go quite well even if power levels are close to stock. The suspension and braking also have been revised, borrowing heavily from the RSR and 911 Turbo. This is one that buyers really will want to drive to get a sense of how well everything has come together. This 911 certainly has the right look, the question is whether it also will have the right feel.
Bidding has been fairly strong too. Right now it sits at $90,100 with a few days remaining and with the reserve met. I'm curious where this auction will end because we see a lot of these cars and pricing them is always difficult, especially with the air-cooled market generally not doing as well as in the past. As one of the more thoroughly executed examples this should at least give us some insight into the higher end for these builds utilizing the drivetrain of the 911SC or 3.2 Carrera.
-Rob