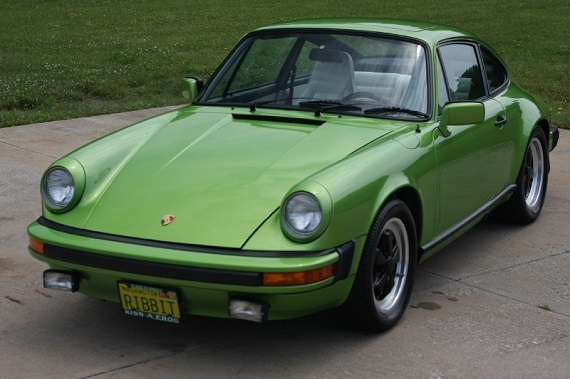 This ad starts off in a pretty nontraditional manner by stating that the car is not currently for sale. And maybe it isn't and only is listed so as to attract people to this dealer; perhaps it's only for sale in the way in which we might say everything is for sale – for the right price. Either way here we have one of the more unique color combinations we're likely to come across on a 911: a 1979 Porsche 911SC Coupe, located in Ohio, with a paint-to-sample exterior in VW Scirocco Viper Green along with a contrasting White interior. Oh, and it only has 12,121 miles on it. I think we can see why it might not actually be for sale.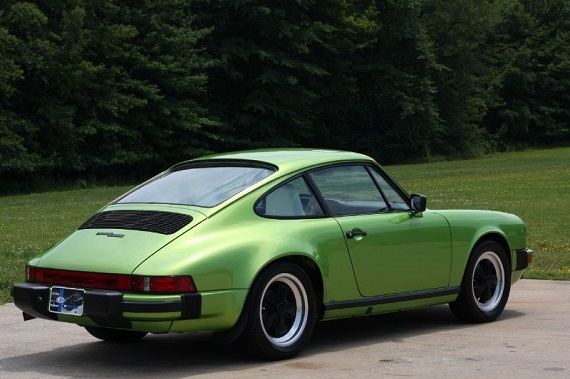 Year: 1979
Model: 911SC
Engine: 3.0 liter flat-6
Transmission: 5-speed manual
Mileage: 12,121 mi
Price: Inquire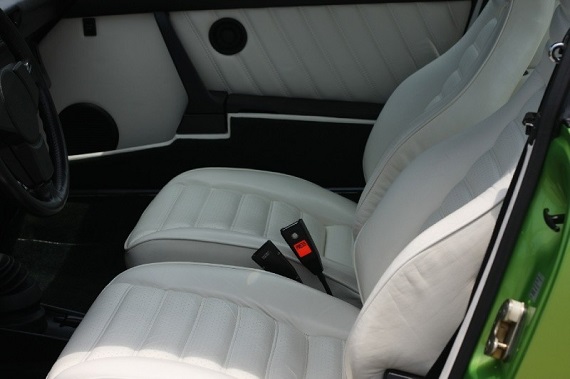 Call 440-914-0000 or email [Email Dealer] 1979 Porsche 911SC Kermit is back, but not currently for sale Description Multiple Porsche Parade preservation awards THE nicest SC available at any price White glove-clean everywhere Full history and records Color to sample Viper Green Immaculate, soft white leather interior Truly a flawless 32-year-old car! Ready for the nicest 911SC on the planet? It's going to take a small ransom to pry it away from Boss Larry, as this is his favorite Porsche color of all time. This one's also a four-time Porsche Parade preservation award winner, a ONE OWNER CAR, is as perfect as you'll find inside, out, top and bottom, and the color truly is amazing. Take a look at the pictures and be blown away–there's no way you won't like the car! For a car with extremely low mileage (we're talking a little more than 36 miles a month since new) we have a LOT of paperwork. We have the big stuff, like the original bill of sale, the original title, the original odometer statement, the original check receipts, the original window sticker, the original manuals, the original deposit agreement and the Porsche Certificate of Authenticity. We also have receipts for every other part put on the car from the oil filters through hex head screws. The car received thorough care from day one: There are three receipts for alignments in the first 8,000 miles! Parts were purchased exclusively through the dealer or Porsche/VW parts houses. The front bumper, front valence panel and rockers were resprayed to fix stone chips…in 1988 at 8,000 miles! The owner even supplied the paint…he didn't trust the body shop to get it right! Bolts were replaced or replated as early as 1982, and the exhaust pipe tip has been replaced due to discoloration or flaking of the anodization…twice, and there's a brand-new one that comes with the car. This car never, ever wanted for maintenance. It never asked for better storage, either. The paint shines like it did at delivery day, and you've never felt Porsche leather seats this soft. Factory floor mats went down on the unusual Forest Green carpeting almost immediately, and there's no fading anywhere. The dash is straight and smooth, the gaskets around the doors are day-one fresh, the lights, the lenses…all like new. Check out the original gold cad plated parts everywhere–there's no corrosion to be found. Look at the clean paint in the wheel wells, the clean paint in the engine compartment, the spotless cast aluminum pieces…that's the kind of stuff that can't be faked when it comes to preservation. One of the invoices, from a specialty shop in 1993, has the words NICE CAR in a circle–that's how impressed the writer was! This car is as clean as it gets! Per the window sticker, the car has a nice grouping of options. First is the color, which was paint-to-sample '78 Volkswagen Sirocco GT Viper Green. It's an amazing color, with a bright green base and gold metal flake. It's difficult to photograph, but the best picture we could come up with is the door jamb and hinge area…you can see just how pretty it is in the sun. The leather interior is done in bright white and black, with Forest Green carpeting. There's a Porsche cassette deck in the dash and optional speakers in the rear deck. Bilstein shocks are at all four corners, there's a sunroof and a black headliner on top and the bright window trim was finished in black. That trim is still perfectly anodized–higher mileage or tweaked cars have been painted black per the factory fix. The car also has option group A72 which appears to be 16 Fuchs wheels, power windows, a heated passenger side mirror, fog lights, a leather wrapped steering wheel and a center console. The option groups changed so frequently and have so many variations per region that the only way to figure out what's in them is to compare the window sticker to the COA! This car has a sense of humor, too–that RIBBIT plate has been on since the car was new, and many of the service records reflect it. It's so much fun just sitting in the car, with the bright white seats and upholstery around you and the truly brilliant green exterior on the other side of the glass. How could you possibly be angry driving this car around? It's an instant stress reliever. With constant maintenance comes unparallelled manners. The engine fires immediately to a high idle as the original WUR and AAV do their thing. There are no negative noises from the engine, which had a valve adjustment only 3000 miles ago. Nothing is out of place or removed, from the original spark plug wires to the AIR pump. Look at the time spent keeping the engine clean, too–it's spotless! The shifter, the clutch, the steering…all as you'd expect on a 13,000 mile car. At the Motor Car Group, we're enthusiasts first. We want you to enjoy your new car from the minute it's delivered and the trailer door drops. Before a car leaves our shop, it's gone through comprehensively, both visually and mechanically. We do more than just kick the tires, though: We change every fluid from the oil to the differential to the brake fluid to the convertible top hydraulic oil. We do this after you buy the car so that your maintenance clock starts when you get it, and not months prior! We fill your tires with nitrogen, road test (if the weather permits us here in Cleveland!) and clean it inside and out. We buff the paint using a three-step process immediately before it's taken away so that it gleams when it arrives. Every car we sell, from Sunday drivers through the rarest exotics, is meant to be driven–get out there! If you have any questions before, during or after the sale, do not hesitate to contact us. It's what we're here for! Call us at (440) 914-0000, write us at [Email Dealer] or stop by and see the new shop at 6441 Davis Industrial Parkway, Solon OH 44139. We're 26 miles from Cleveland Hopkins Airport and we can pick you up when you come to inspect or purchase your car. We welcome any prospective buyers, their buyer's agents or inspectors from Monday through Friday during business hours, as well as evenings and weekends by appointment. We're car people who love what we do, and you'll feel it from the first time you contact us. Give the R&H crew the opportunity to serve you: Our passion and attention to detail set us apart! Call 440-914-0000 or email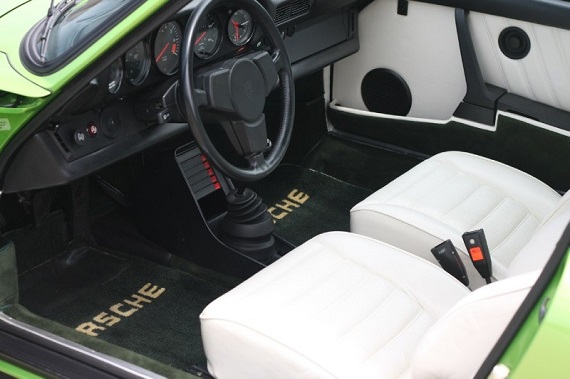 I've been featuring a few reasonably priced classic 911s over the past weeks as the market has settled, but this 911SC will not fall into that sort of category. It's an extremely rare color combination, very low mileage, appears in exceptional condition, and is said to be very well documented. It's exactly the sort of 911 you'd want to plunk down a good bit of money for while remaining confident that it will maintain its value. The downside, as with most any 911 of this sort, is that it mostly will spend its time comfortably nestled in the garage to be used sparingly on pristine clear days. But as a garage piece it certainly should attract notice with its green and white color combination. Most of all, as the ad states, it's a color combination that just makes you smile. It's bright and vibrant and interesting with somewhat of a natural feel communicated by that vivid green paint. On the rare occasions this 911 does get driven I imagine its driver is very happy to be driving it! So, maybe make an offer and see whether it's for sale…it couldn't hurt.
-Rob