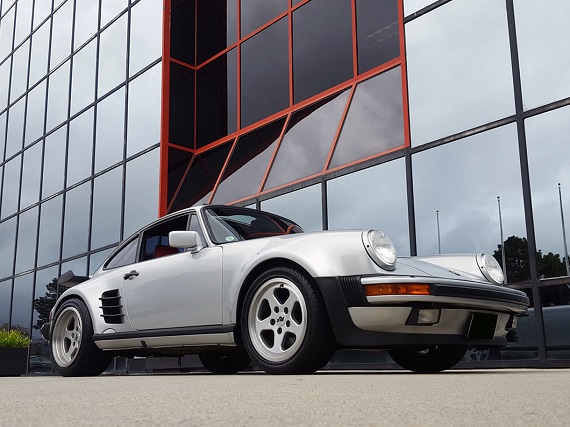 Modified cars from the 1980s enjoy are and interesting exercise in dichotomy. Take AMG, for example – add the flares, wide wheels, hunkered down suspension and turned up engine to a W126 and the asking price increases from a standard model by a factor of ten. What is strange about the AMG model, though, is that enthusiasts of the Affalterbach company accept licensed installers as proper original builds. Such is not the case when it comes to tuners like Alpina, Hartge and Ruf; generally speaking, in those cases the only "true" original examples came from the manufacturer's facilities in Germany. In these cases, examples that are properly sorted and original can be worth double, triple or even quadruple what an identically modified car from a licensed installer in the U.S. would be worth. On top of that, AMG continues to be a bit of an aberration in the tuner realm since most other period modified examples of Porsches, BMWs, and Audis are worth less than a pristine stock example. It's a bit of a head scratcher, since generally speaking, companies such as Alpina and Ruf put out equally good looking products when compared to AMG, and properly modified were just as luxurious and just as fast. Nevertheless, a tastefully modified example like this period Ruf-modified 1987 Porsche 930 just doesn't seem to draw the same attention as a AMG 560SEC Widebody 6.0 would, for example. Let's take a look at what a reported $75,000 in mods got you in the late 1980s: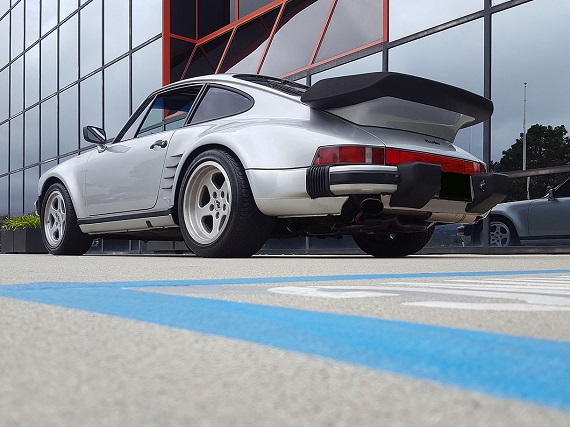 Year: 1987
Model: 930
Engine: 3.3 liter turbocharged flat-6
Transmission: 4-speed manual
Mileage: 69,625 mi
Price: Reserve Auction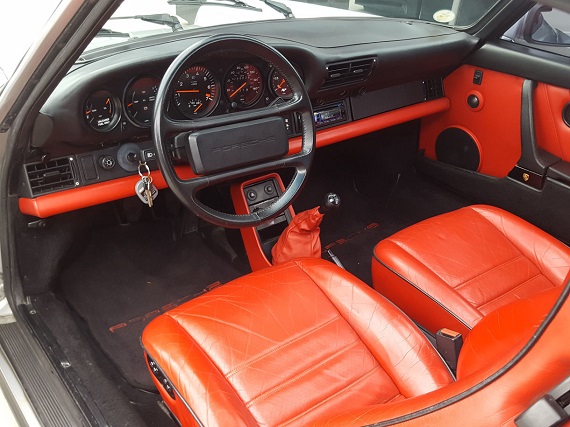 THE OVERVIEW
Offered for an appreciating new owner is this exquisite classic 1987 Porsche 930 Ruf turbo coupe!
Finished in original color "L980 Silber" Metallic over lobster red leather this stunning, highly modified RUF 930 turbo has been driven just over 69,600 actual miles since new, this three-owner Porsche sports a superb running approximately 450 horsepower 3.4 liter flat six cylinder engine mated to the factory 4 speed manual transmission with stopping power provided by four wheel disc brakes. It features factory air conditioning, electric windows and sunroof, updated CD stereo system with frunk-mounted CD changer, RUF staggered wheels, whale-tail rear spoiler,grated quarter panel side brake ducts normally found on the Slantnose 935-inspired Turbo. It is being sold with comprehensive maintenance and performance documentation, clean and clear California title. original spare tire, complete factory tool kit, owner's manual and booklets, Porsche and RUF Certificates of Authenticity. This gorgeous 30 year-old class 930is a fabulous alternative to a new and quickly-depreciating 911 turbo!

MORE DETAILS ABOUT RUF AND THIS CAR'S MODIFICATIONS AND UPGRADES
Exclusive Motorcars of Montclair, New Jersey, the original licensed RUF specialist in North America. performed approximately $50,000 to bring the car up to RUF specifications. The 3.3-liter engine was bored out to 3.4 receiving an updated twin-plug setup, Carrillo connecting rods, RUF pistons, RUF cams, larger intercooler and turbocharger, custom exhaust manifolds, and tuning.935-style ducts were cut into the rear quarter panels for added brake cooling and lighter, more aggressive RUF wheels. A few years later the car was shipped to DeMan Motorsports in New York for an additional $25,000 of upgrades. This beauty retains the original matching numbers engine and transmission.Check out the RUF site here:http://ruf-automobile.de/en/

THE BODY AND TRIM
The exterior of this car is in VERY GOOD TO EXCELLENT 99.99% RUST-FREE DRY AND CLEAN CONDITION THROUGHOUT! The paint finish sports a very good overall shine with some fading and curb rash on one or more of the wheels and just a few very minor rock nicks, scratches and cosmetic blemishes. While not quite "concourse show-quality", this is still one VERY handsome classic 911 with a purposeful presence!

THE INTERIOR
As I hope is articulated in the photos here, the interior of this classic Porsche is in VERY GOOD TO EXCELLENT CONDITION overall! All of the gauges and controls work as they should with minor imperfections that include some expected wear on the original leather, most notably the left side bolster of the drivers seat. There is some slight warping of the dash top

THE DRIVING EXPERIENCE
This 1987 Porsche starts perfectly and runs VERY well and EXTREMELY fast with sublimely beautiful exhaust note and explosive thrust when the boost kicks in. Under deceleration you there is a satisfying flat six burble, the unassisted steering in naturally pure and responsive, the brake is confidently stiff and unassisted, the suspension is tight, firm and rattle-free with a still supple feel. Overall this is a supremely satisfying driving machine that garners attention from fellow motorists whether parked or in motion!

THE DETAILS AND $$$$$
1. This 1987 Porsche is being sold with clear and clear title. It technically cannot be sold to a California buyer due to catalytic converter delete and high performance tuning and modifications. IF sold to a California buyer, it would be for "track use only". IT WILL BE SOLD AS IS WHERE IS. I invite and very much welcome prospective new owners to come see, feel, drive and inspect this car in person.
NOTE: There will be no post-sale inspections to determine whether you actually want to purchase this car. So, PLEASE bid thoughtfully
2. Zero feedback bidders please contact me prior to bidding or bids will be cancelled immediately. This car is also being advertised in other venues and I reserve the right to end auction at any time at my discretion.
3. I will assist with shipping arrangements [buyer pays costs]. I recommend Chris at Kelly's Auto Transport at 951-845-6224
4. Winning bidder please call 650-350-8828 and/or email me thru ebay within 24 hours of auction close.
5. A $500 non-refundable down payment via Paypal w/in 2 days of auction close.
6. Balance of purchase due via CASH in person, bank wire transfer or certified funds within 5 days of auction close thank you.

AND…..,,,,.PLEASE DO NOT HESITATE TO PHONE ME, EVAN AT 650-350-8828 TO REQUEST ADDITIONAL PHOTOS, TEST DRIVE VIDEO OR TO SCHEDULE IN-PERSON VIEWINGS AND/OR MECHANICAL INSPECTIONS.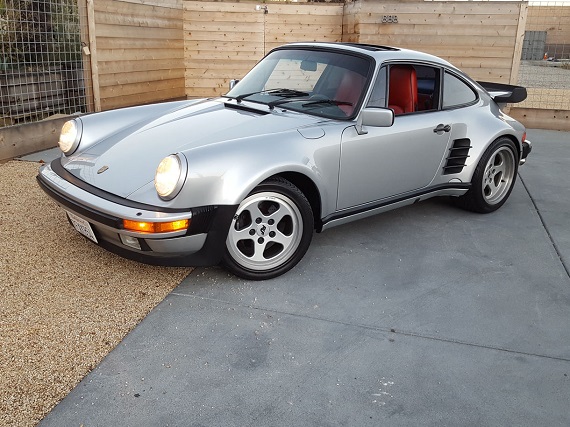 Condition of the car overall looks to be at a minimum very good and certainly what you'd expect from an expensive 930. The color combination is pretty fetching, too – Silver isn't the most exciting exterior color but it's more infrequently seen on the late Turbo models, but inside the lipstick red interior is very splashy. Off the bat we can confirm this isn't a full Ruf build as the VIN remains a Porsche, as opposed to a Ruf (W09) VIN. But, then the car is not represented as an original German build, but rather a build by Exclusive Motorcars who was the original Ruf U.S. licensed dealer. It would seem that the build was mild as Ruf cars go; the buyer selected the upgraded 3.4 liter motor and intercooler, and Speedline 17″ x 9/10″ wheels but left off the suspension and body kit. In the place of the typical Ruf adornments outside, 935-style slats were cut into the rear quarters. Documentation of these period modifications and Ruf approved accessories are certainly necessary for prime valuation, but still I'd wager most in the collector market would prefer a more stock example as an investment. It's also notable that the car no longer wears the Ruf intercooler or exhaust system (were it originally in place). There has been some cooling of the 911 market over the past year but 911 Turbos are still market royalty. Hagerty values even a Condition 4 1987 930 Coupe at over $100,000 – nearly double what this auction has achieved so far. With prime examples priced closer to $200-300,000, accepting some period modifications could give you a substantial discount over a museum piece while simultaneously offering you an even more distilled air-cooled experience.
-Carter