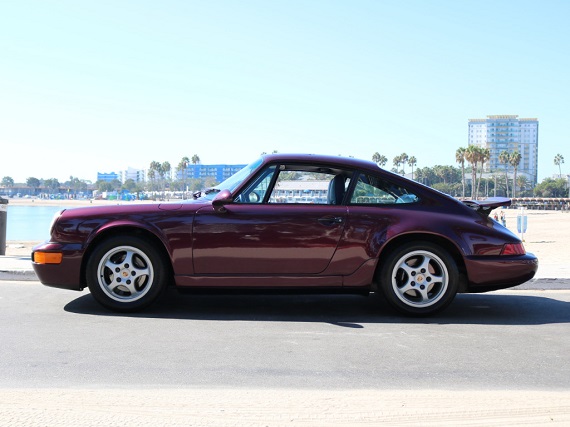 This one definitely seemed worth checking back in on since it's one of the most eye-catching color combinations I've come across on a 964, a model known for some wild colors. Back in May we featured this Amethyst Metallic 1992 Porsche 911 Carrera 4 Coupe with Cobalt leather interior and it's still up for sale. The price has been lowered a little bit (down to $75K) but it's more or less still priced in the same ballpark it was before. That price is by no means low, but I can't imagine there are many other 911s out there wearing these two colors. Also, it looks like there are some new pictures in better light and it really helps us appreciate the interaction between the colors. I wasn't sold on it the first time I featured this one; I've come around quite a bit now.
The below post originally appeared on our site May 10, 2016: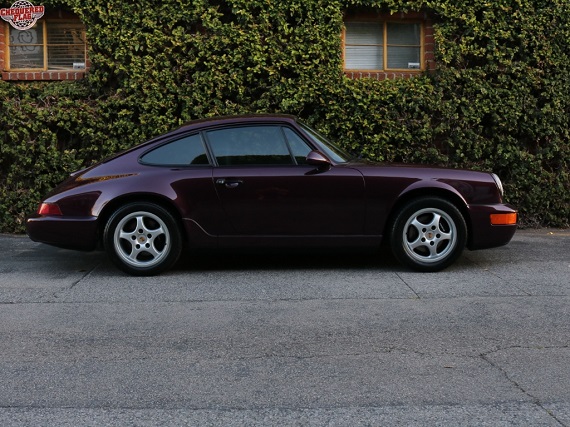 The second of my 964s takes thing in a much more interesting, though also in a more likely divisive direction. Unlike yesterday's Cabriolet, which likely would make for an excellent open-top driver 911, the Coupe we see here aims straight for collectors. That is in part due to its low mileage, but largely due to its eye-catching color combination. With an Amethyst Metallic exterior over a Cobalt Blue interior I can honestly say I've seen nothing else like it. There's likely a reason we haven't come across such a combination previously. The juxtaposition probably will be hard for some to get their head around. One of our commenters remarked that the Amaranth Violet 993 we featured last week would have been very much Prince's style. I think this Carrera 4 takes us even further in that direction.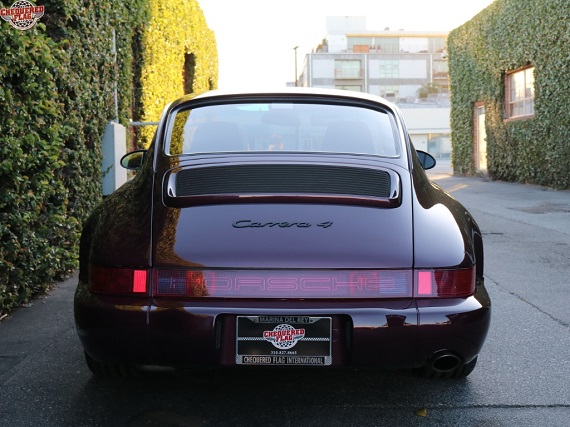 Year: 1992
Model: 911 Carrera 4
Engine: 3.6 liter flat-6
Transmission: 5-speed manual
Mileage: 35,982 mi
Price: $79,500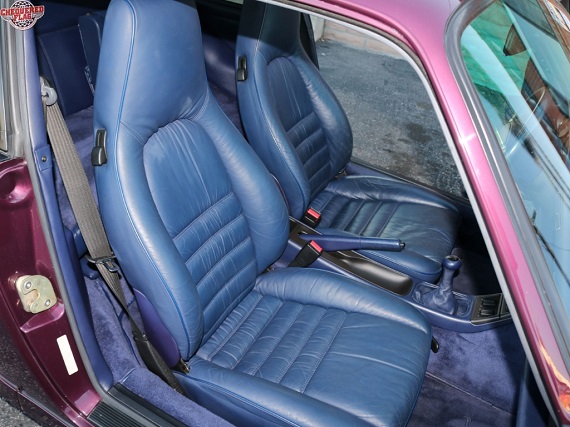 Chequered Flag International is pleased to offer this 1992 Porsche 964 C4 Coupe in Amethyst with Cobalt interior. 35,982 miles with one CARFAX Certified owner. Certificate of Authenticity included – see below. Perfect undamaged body with excellent, mostly original paint – left side painted for scratches, perfect color match and of a very high quality. Incredible original interior, that Cobalt Blue is stunning! the only deviation from original is the stereo. Mechanically superb, just had a major service and check over with around $4000 spent, including valve adjustment, drivers seat switch, control arm bushings, front and rear bump stops, shock boots, R134 upgrade and A/C service, brake fluid flush, and of course all new fluids, filters, belts, spark plugs, hood and deck lid shocks, etc. Drives superbly, no smoke on start up, lots of power, great gearbox with good syncros. Nice smooth clutch, superb brakes and steering. This is a very good low mileage C4, both the exterior and interior colors are unusual and in combination has to be almost unique! We have tools, jack and spare. So far no books – sorry. Inspections encouraged. All sales AS-IS. Sales tax and license fees due if delivered in California.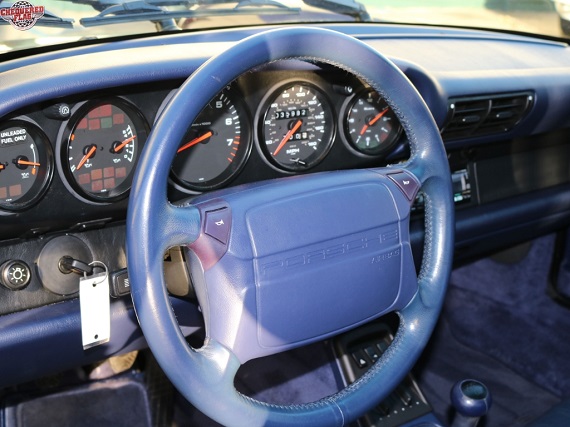 I am a huge fan of a bright red interior. It works with a surprisingly wide range of exterior combinations, though certainly not with all of them. With a bright blue interior, I'm not quite so taken by it. Perhaps there's an exterior color that would complement this well, maybe even one of the dark blues that I see paired with a blue interior so often. Amethyst seems like one that doesn't really work, though I'd want to see it in person before totally ignoring it. In fairness, it's bold – very bold – and there is always a place for bold within a world of black, white, and silver. The combination just isn't for me. That's ok though since we don't all have to love every option out there. The asking price is very high, but given the combination of fairly low mileage and the rare color combination that probably shouldn't be surprising. While I don't think the 964 market has risen to the point where this one will fetch this kind of price it is one of the more interesting examples surrounded by a sea of similarity. By simple fact of standing apart it should garner some elevated interest.
-Rob