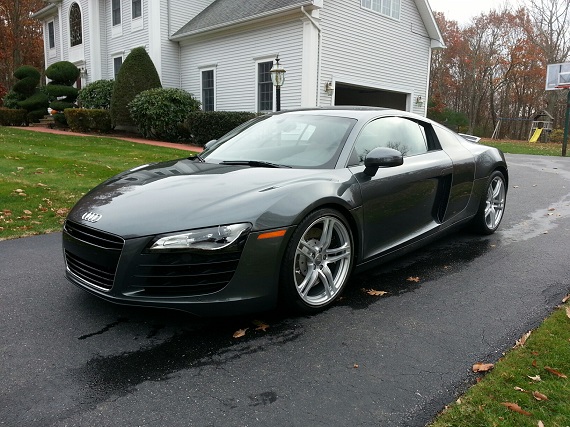 Is there such a thing as a practical supercar? If there is, I'd have to suggest that the Audi R8 is perhaps the best representation of such a thing. First, let's define if it's a supercar. Even the base R8 has the sonorous and high-revving 4.2 FSi motor that has powered the B chassis RS products for the last few models. Rated at 420 horsepower and 317 ft.lb of torque, it's enough to launch the somewhat heavy R8 from 0-60 in 4.4 seconds and a top speed just shy of 190 m.p.h.. As super sedans blur the lines between supercars and normal production cars, these numbers aren't outrageous – but the R8 4.2 can run step in step in a Lamborghini Diablo, for example. Couple that with near perfect weight distribution and massive tires, and the R8 will easily out turn many marques of more mystique with its ability to generate the full gravity of the earth through turns – on street rubber. Yet this performance comes without the price that many used to have to pay for the luxury of speed; the R8 is happy to lounge around town at pedestrian speeds, bathing its occupants in comfort. And with all-wheel drive, it's even usable year-round. Practical? Maybe it's not the best choice for a family, but it's certainly a driver's car for those that love to drive in every condition. But perhaps best of all, it's relatively affordable – only costing about the same as many Porsche 911 models: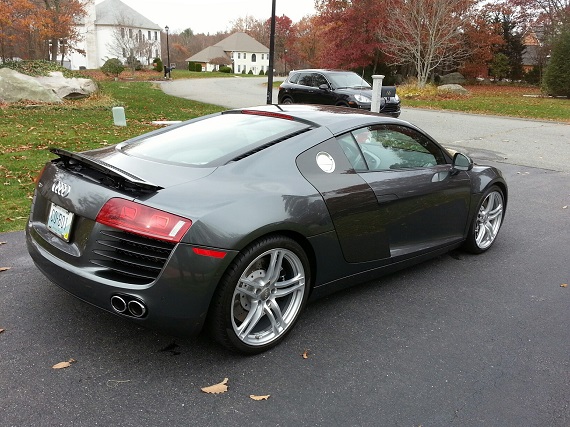 Year: 2009
Model: R8 4.2 Coupe
Engine: 4.2 liter V8
Transmission: 6-speed semi-automatic
Mileage: 6,100 mi
Price: $85,000 Buy It Now
2009 Audi R8 Coupe 4.2 with only 6100 miles. Daytona Gray Pearl Effect with Tuscan Brown leather.Original list price was $144,750. Car is in as new condition. Options are: R tronic transmission,
Carbon interior trim, Carbon side blades, alcantara headliner, Bang&Olufsen sound system, DVD Navigation, enhanced Nappa leather, Premium package. Priced at $89,000
Call 508-326-6359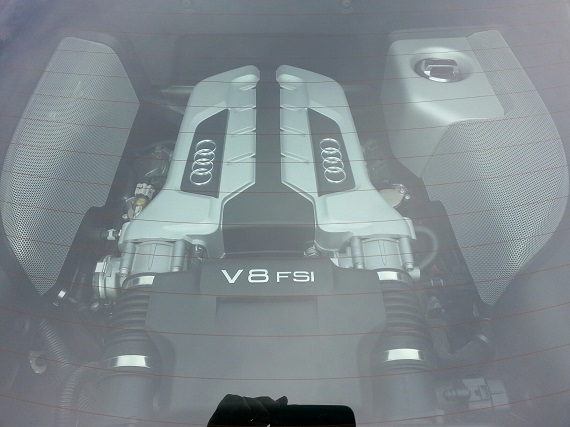 While gray might not be the most outrageous color these R8s were available in, it looks quite purposeful and the carbon blades integrate better into the design. Inside the Tuscan interior helps to really stand out. I got to spend some time in the right seat of an R8 on track; long and low, it's a lovely and comfortable place to be. The R Tronic functions much like BMW's SMG transmission – an automated manual, you can select automatic mode to cruise along, or paddle shift yourself. Though not as quick as the DCT transmission's changes, they'll still match the fastest gearshifts you can muster. You're reminded that you're in a mid-engined car looking backwards at the wide flanks, and out the side windows you're glancing at the tops of other car's tires – but otherwise, you wouldn't know what you were sitting in. Personally, I prefer the look inside of these Audis to Porsche's designs. This package has gone away from the Audi lineup; right now, you can only buy a V10 automatic if you'd like a second generation R8, and the coming lineup will include a V6 and perhaps an inline-5 – but no screaming V8. Not many Audis are considered collectable, but these first generation R8s are sure to tick the right boxes for enthusiasts down the road who want practical performance without the drawbacks of expensive supercar maintenance. Though the market seems ripe with budget used Aston Martins, Lamborghini Gallardos and the like, the appeal of the R8 is that as it was when new, it's a car that you could actually use all the time, yet still extract all the performance from. In that regard, the R8 might just be in a class of its own.
Interested buyers should contact Richard Valente at 508-326-6359.
-Carter