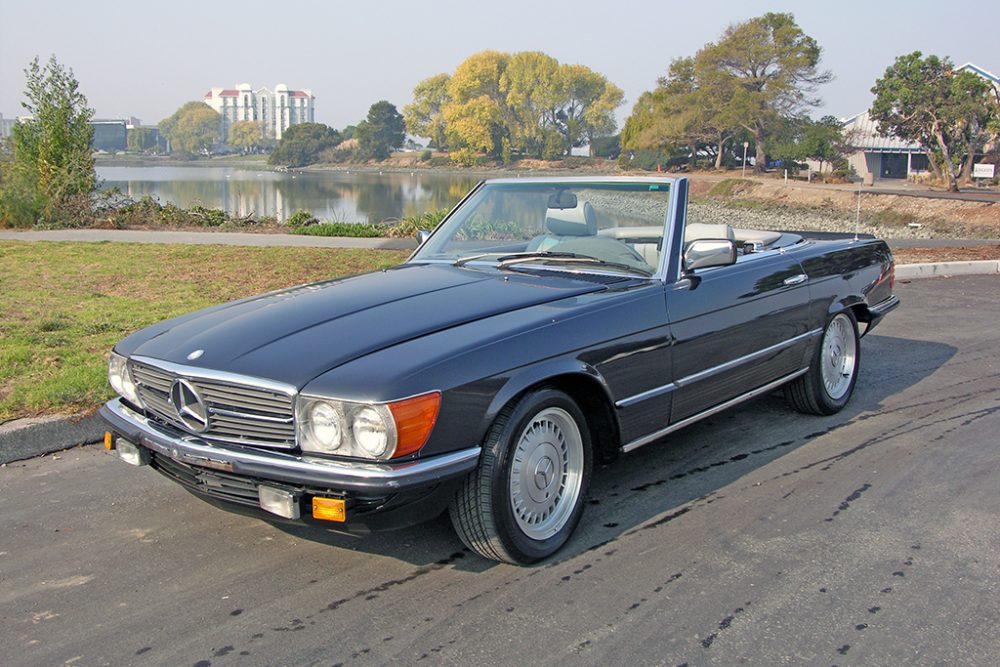 Most of the time the cars I feature are really nice examples. Mostly because no one wants to look at junk, outside of a few exceptions, and the majority of the cars that are offered for sale to the masses are actually cars people want to buy. For every nice W124 Mercedes-Benz on eBay, there are a dozen of them sitting behind barbed-wire fences at Buy-Here, Pay-Here lots with one flat tire. Today's car, a 1982 500SL, is in an interesting position. The model itself is always considered desirable and people generally like them, but this specific example needs a lot of love to get it back to its former glory. Given the price, compared to really nice ones, is it worth taking on as a project?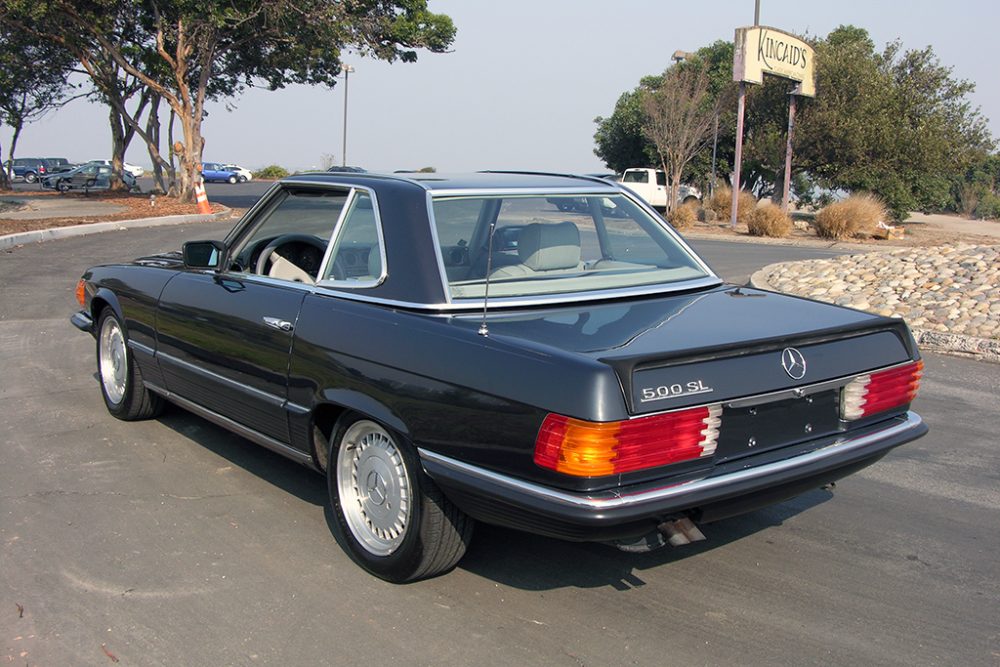 Year: 1982
Model: 500SL
VIN: WDB10704612001658
Engine: 5.0 liter V8
Transmission: 4-speed automatic
Mileage: 127,000 mi
Price: $12,900 Buy It Now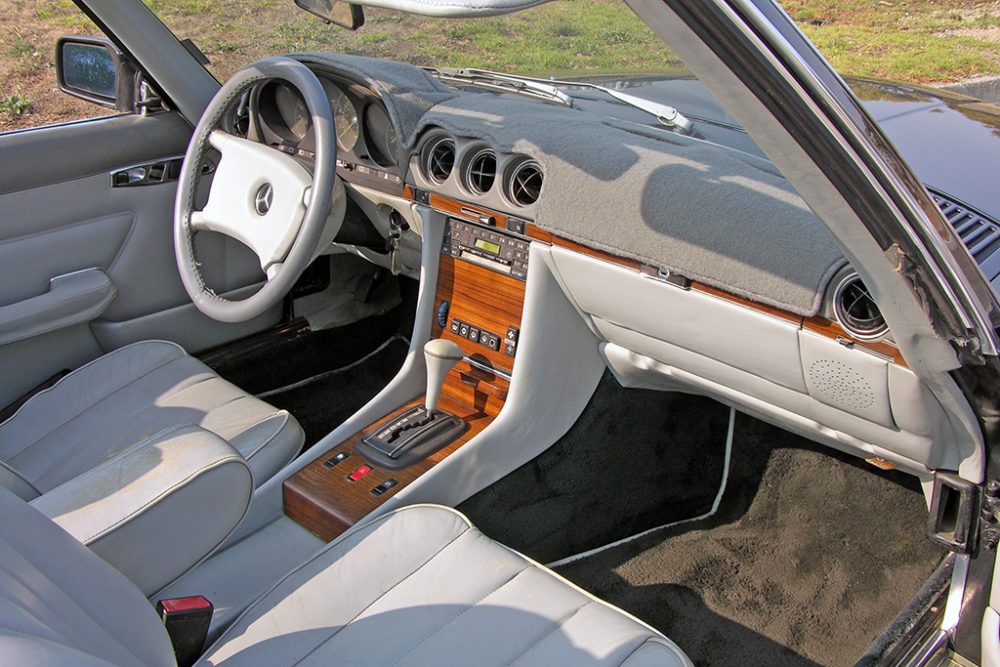 1982 500SL – ID# W10704612001658 – Originally 040 black now 199 pearl black – 127k miles

Garage find Euro model – Recommissioned after years or storage.

Kinder seat – Both tops – Centra wheels – Re-trimmed in full leather – Plush carpets.

Original spare – ABS – Tinted glass – Roof garnish moldings – Becker Mexico Cassette.

Automatic climate control – Extensive service and importation file on the car.

Sold new to Dubai where the car likely received a two-tone full leather interior and dark grey carpets.

Imported from Dubai to the US in July 1988 – Same owner from 1988 to October 2018.

Dual exhaust – No converters – No AIR – Not for sale in California.

Very solid structure – no evidence of accident damage – Untouched deck lid bolts – Untouched door hinge bolts.

Untouched front fender bolts – Clean undercarriage – No rust – Good panel gaps and shutlines.

Attractive paint with misc small blemishes – Nice tail light lenses – Nice headlight surrounds and side markers.

Well above average exterior bright work – Runs and drives reasonably well – ABS light on – CC inop – AC inop.

Climate control vents function correctly – Original radio functions – Antenna inop – Heater functions.

Weathered, dry interior – Dash covered in leather and now dry and covered with a felt dash cover.

Weathered console wood – Leather covered steering wheel – Distressed soft top.

Trunk trimmed in ribbed plush carpet – Misc. loose ends.

A solid moderate project or an inexpensive driver.

Roy Spencer @ 650-343-7980 – Pre-purchase inspections available locally – Global shipping gladly arranged.

The 500SL can be inspected at my facility in Burlingame, CA – 5 minutes south of SFO.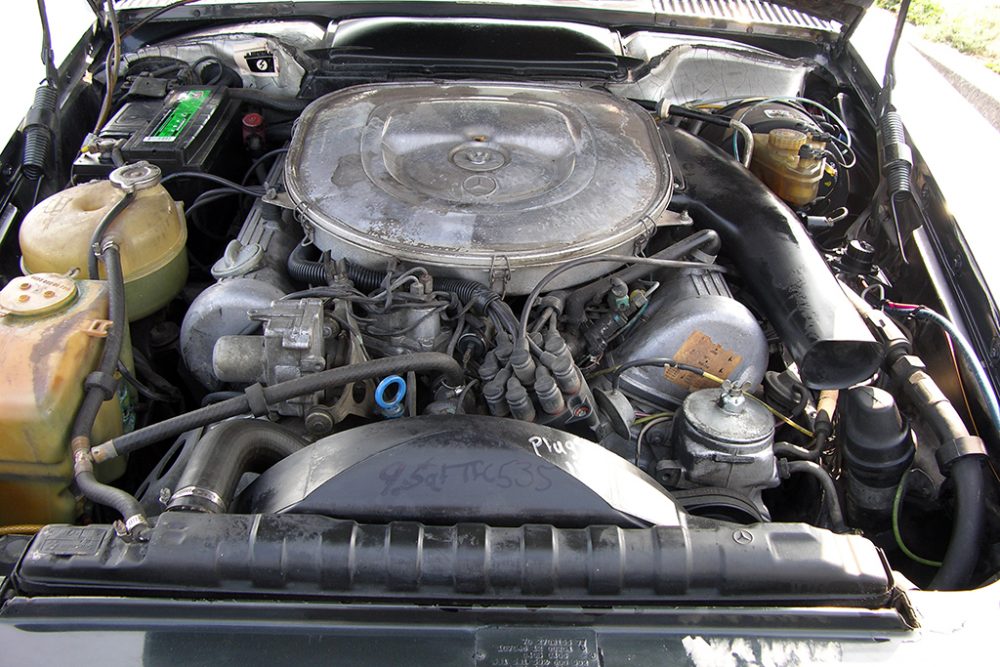 Normally R107s, especially European-spec cars, are in above average shape. This car from Dubai, now in California, is not. The cosmetics are pretty rough with a torn up seat, ripped top, cracked dash and a general state of looking worn all over the car. Outside isn't much better with some cracked paint and scuffs on the bumpers in various places. The seller says mechanically there are some issues but nothing that would stop you from driving this car as-is. That is of course unless you live in California because this car has no cats, so it can't be registered there. This is a very good example of a "10 foot car" that looks fine driving down the street or sitting across the parking lot, but when you get up close enough to touch it, there are lots of little things that you will notice. The Euro bumpers are nice, but it has those terrible Centra wheels from the bad part of the 1980s. There just seems a lot of loose ends with this one that will keep you busy for a while if you so chose.
How much for all these problems? A little under $13,000. That is a lot of money to sign up for work and this work isn't going to come cheap. Take it from someone who owns a Mercedes that needed just a bunch of little things that I'm still working on over two years later, it is never as easy or as cheap as you think it is. Is $13,000 a good deal for this car? In my opinion, not exactly. If you just wanted to hop in and drive it as it sits, you could do that, but I don't think you would be happy with it. My advice would be to save a few extra thousand and buy an example that is already sorted out, even if it is a US-spec car. Believe me, there are plenty of those out there.
– Andrew