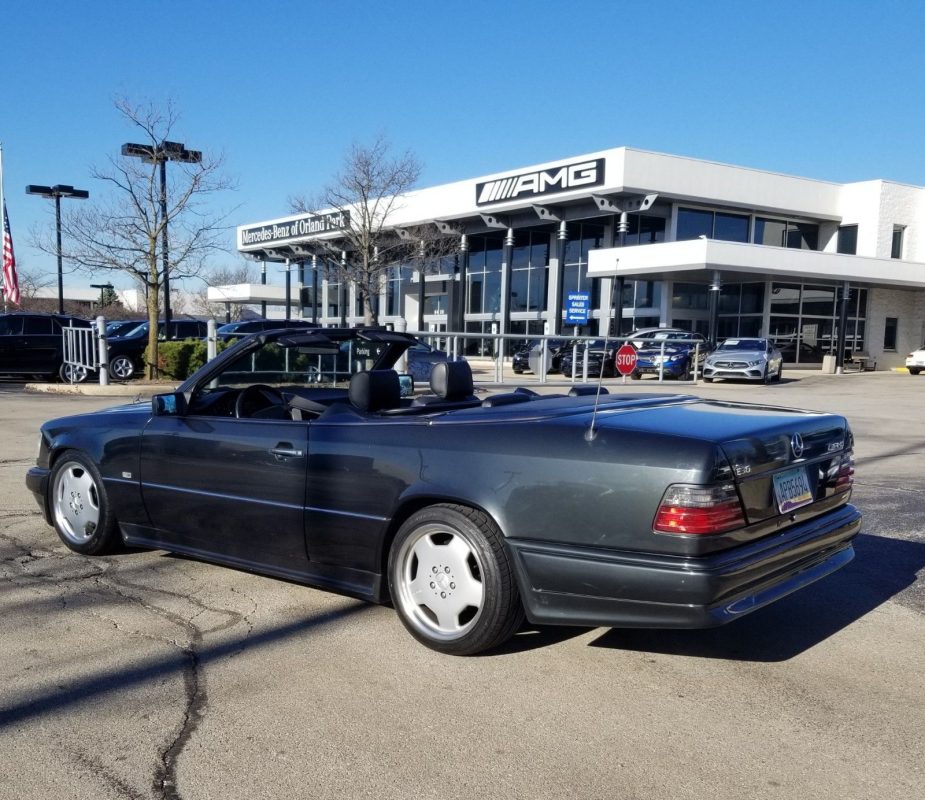 Here is something I don't see all that often. This is a 1993 Mercedes-Benz E36 AMG Cabriolet. If you are asking yourself why you never see these cars, it is because they are incredibly rare. The W124 E36 is exactly what it sounds like, a W124 with a 3.6 liter M104 from AMG with some cool bumpers and wheels. For as German as Mercedes-Benz is, they are dreadful for publishing production records on cars that aren't worth a million dollars. Although maybe they just aren't very open with sharing their information either. From what I understand, under 200 W124 E36 AMG cars were produced during the last few years of the W124 production run in the sedan, coupe, cabriolet and estate bodies. Of the less than 200, 57 officially went to the UK as right hand drive models and the rest were scattered around the rest of the world. Much to no ones surprise, none made it to the North America. Today, we have an E36 AMG Cabriolet up for bid in Illinois. Except this car isn't one of those 200 cars. Please stay with me here.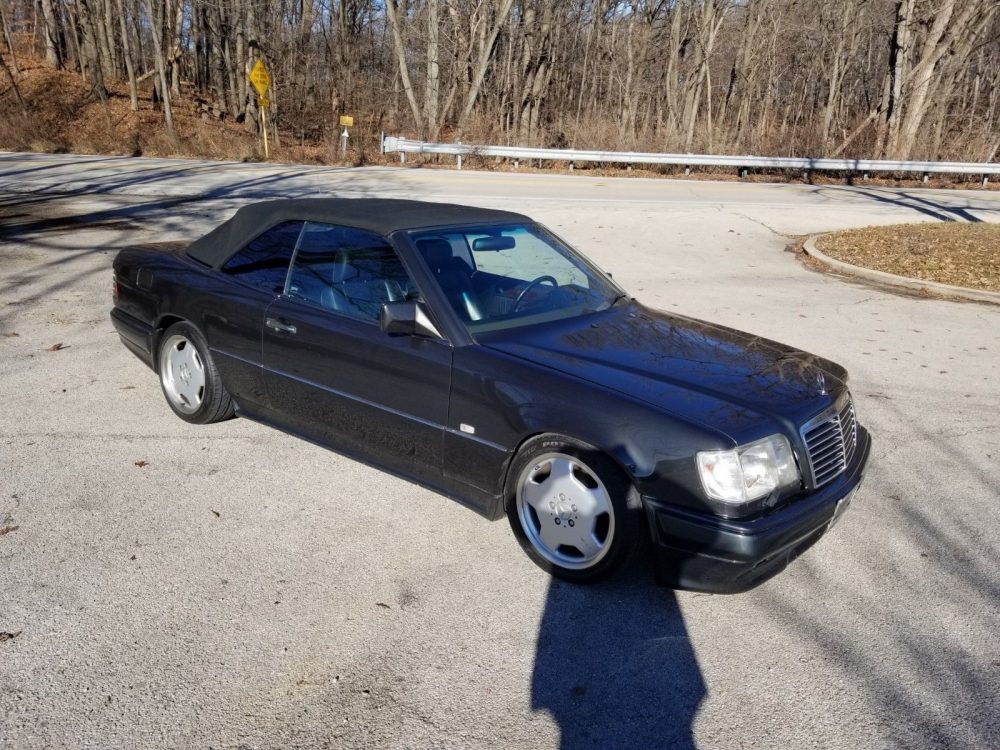 Year: 1993
Model: E36 AMG Cabriolet
VIN: WDB1240661B944193
Engine: 3.6 liter inline-6
Transmission: 5-speed automatic
Mileage: 95,235 km (59,176 mi)
Price: Reserve Auction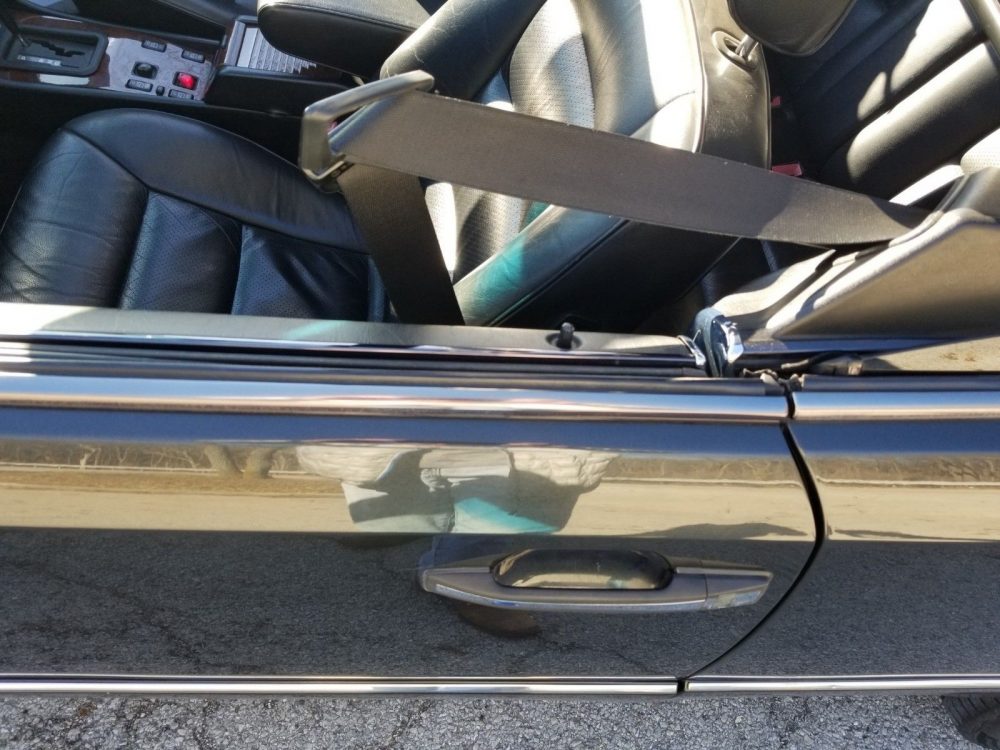 For sale fabulous 1993 Mercedes Benz E36 AMG Convertible.
This is very special and rare car from pre merger period.These cars were produced from 1993-1997.I was told by an expert that only 200 AMG cars were made in those years and 68 were convertibles.
It has got 272 hp(200 kw)385 Nm(284 lb ft) 3.6 litre straight six M104 36/1049936 HFM mated to automatic transmission.
It is good for 0-62 mph in 7.2 seconds and it will keep going till 155 mph.AMG Technology Package (957)
This ultra cool car is totally different then your normal 124 Cabrio.Body has AMG Signature look and it rides on stiffer shocks and springs.Rear differential is different then regular 124 too.Brakes are 320×30/278×20 mm AMG's.280 kmh speedometer.This beauty is wearing AMG 7 1/2 Jx17 H rims with 225/45 ZR 17 Bridgestones.
This car is and was always garage kept and greatly taking care of.Synthetic oil only.
No rust
Seats and interior are in great shape for its age.No cracks on dashboard.
Brake pads and rotors were recently changed.I also have AMG exhaust tip but took it off for cleaner look.
Soft top is in great shape and works flawlessly.Paint and body looks great.
I will replace amg logo on the engine and 3.6 logo(air tube between intake and throttle body) because thet are peeling off.I will replace battery too.
Clean title
Clean Autocheck report
Open to offers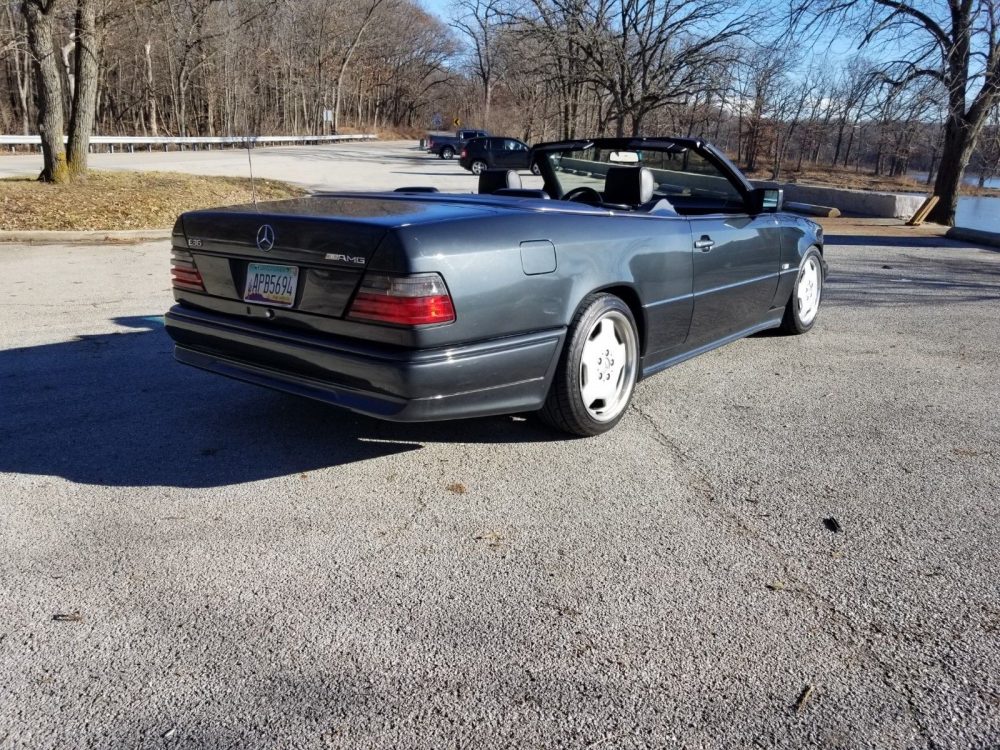 This car left the Mercedes-Benz factory as the Japanese-spec 320CE and then was converted to an E36 AMG Cabriolet at AMG Japan. The data card confirms this and even comparing it to the data card from a factory E36, they are quite a few differences. Is this a "real" AMG? Technically, yes. I've written about this subject before as AMG Japan was an official subsidiary that built AMG cars. Does that make them any less special or rare? Depends on how you look at it. Engines are engines and body parts are body parts no matter who screwed them together, so you can make the call whether it matters if that occurred in Affalterbach or Japan.
In addition to the 3.6 liter upgrade, the car has the typical body kit and AMG Monoblocks. The seller says it has a different rear end as well as suspension from AMG, although I can't really confirm that because these photos are absolutely terrible. We are in 2019 and still can't figure out how to take a decent photo. The front end is suspiciously low even for the AMG suspension and those rear badges are totally wrong as well. The "E36" spacing is off by a mile and the E36 cars had a different style AMG badge that was all one piece. Although this car does have a pleasant surprise that the factory E36 cars don't. This car has the 722.5 5-speed automatic transmission in place of the standard 722.3 4-speed. That is quite a big deal in the W124 cars and I was really surprised to see that in this car.
Where will the bidding for this one end? I have no idea. The auction was already over $26,000 before it was ended and relisted and I can say I was a little surprised by that. Like mentioned, most of the photos are downright useless so whoever is bidding on this car probably has an idea of what this is. I can't say the same thing for the seller because while he knows what the E36 is, I don't think he realizes that this is an AMG Japan car. If you forced me to guess, I would say over $30,000 wouldn't surprise me. However I think the buyer of this car will need some extra funds to sort out some issues that are found to be discovered during a further inspection.
– Andrew