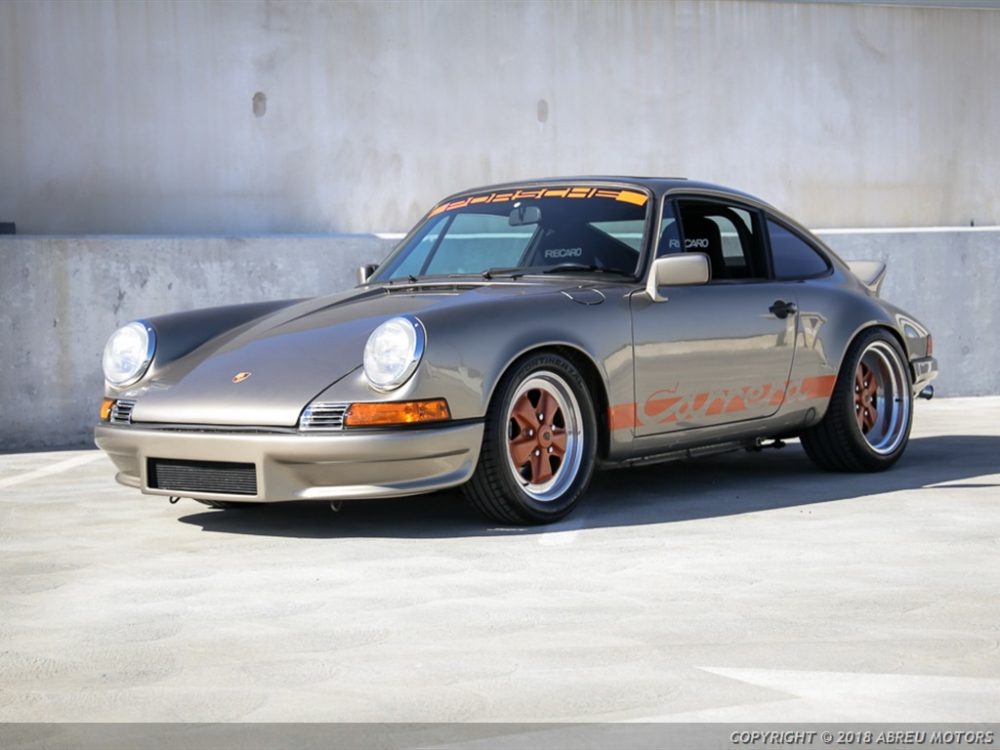 I've featured a decent number of these backdated 911s and they always come in a wide range of quality and design. Mostly they're good-looking 911s and I think we can understand the desire to produce such a build. They combine the beautiful and highly desirable aesthetics of the early long-hood 911 with a more modern and higher performance drivetrain of a Carrera or later 911. They also tend to be a good bit lighter than the original donor.
The consistent problem with these builds is price. Or, to put it more specifically, price relative to the performance gains. Many of these builds retain the engine and transmission of the donor – usually either a 911SC or 3.2 Carrera. In itself that's fine; those are good engines and with the reduced weight of the build the performance gains and aesthetic improvements are worthwhile. However, this all might cost a decent bit of money, especially if the donor car itself needs some work, and as a buyer you're only going to pay so much for what ultimately are aesthetic changes.
The way to solve the price problem is with a better engine. The 964 and 993 are both there waiting, it just isn't as easy to get a hold of what you need. At that point we're really getting the performance improvements and the higher price begins to make sense. Singer, of course, has made its name using bespoke 964s and can sell them for half-a-million dollars. That's not at all what this car is. It has, however, chosen to eschew the usual 911SC engine and moved up the chain: a 1997 3.6 liter from the 993. Now we're talking!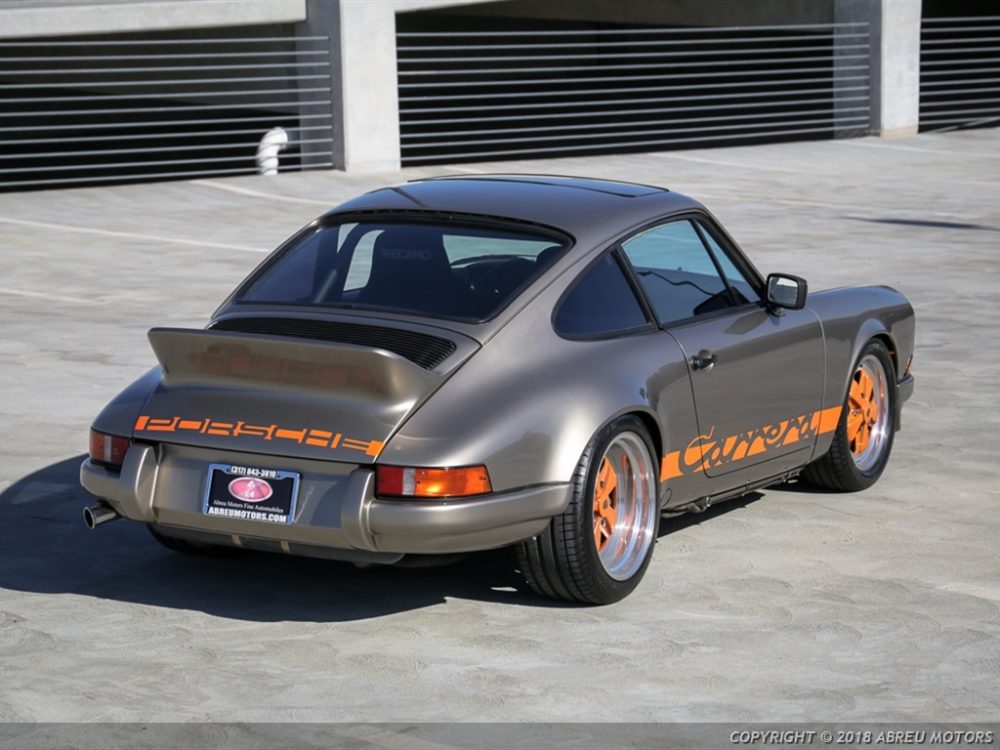 Year: 1982
Model: 911SC
Engine: 3.6 liter flat-6
Transmission: 5-speed manual
Mileage: 98,965 mi
Price: $76,500 Buy It Now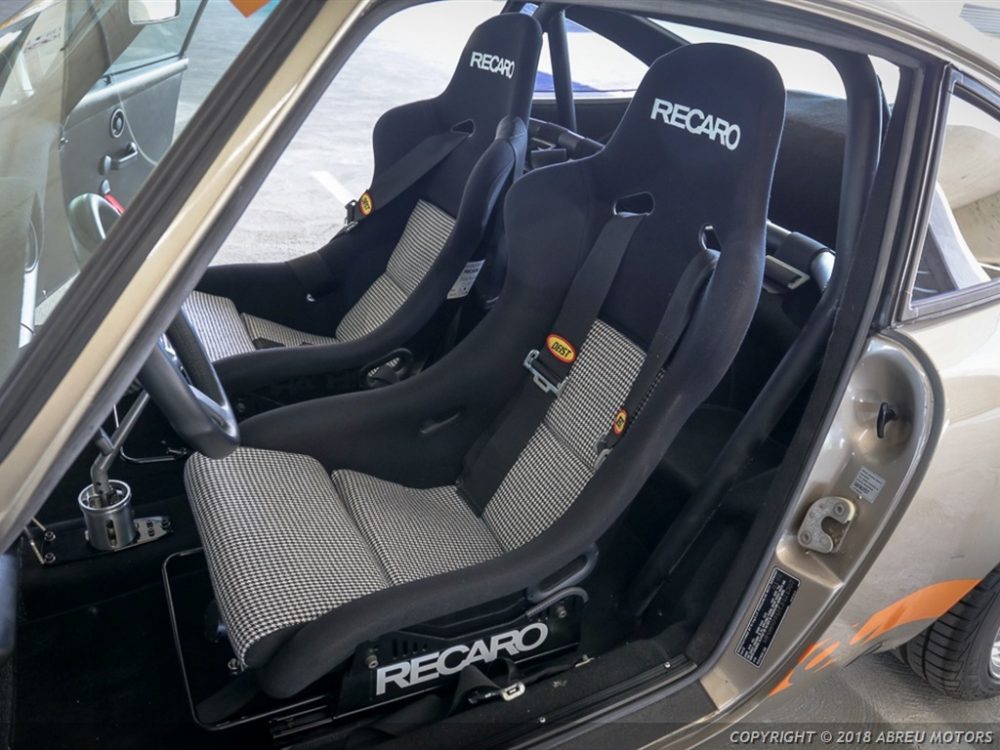 Engine: Low mileage 1997 3.6L 993 Varioram Engine using a Porsche motorsports Non-OBD11 ECU. Only 45500 on the motor currently. Reseal completed 1500 miles ago. Front mounted oil cooler. Recent compression test showed results:

1: 219#

2: 217#

3: 221#

4: 222#

5: 220#

6: 220#

Transmission: 915 5 Speed Transmission is original to the car. Rebuilt and strengthened using Guard Bearing Plate. 1500 miles on the transmission.

Suspension: Bilstein Sports, Large Front Sway Bar, Larger Rear Torsion Bars. Aligned and corner balanced for performance.

Brakes: Upgraded brakes similar in spec to a 930 Turbo. Matched bias front and rear.

Wheels: 16" Fuchs in Front. 17X9.5" Custom Fuchs in Rear. Continental Tires with 1500 miles. All Fuchs are painted burnt orange to match side decals and overall color scheme.

Body and Paint: Pristine 1982 Coupe with zero rust and no accidents. Getty Fiberglass Hood, Tail, Front Fenders & Bumper. Lightweight car at ~ 2250 lbs. High quality fit and finish, repainted in Original Platinum Metallic/U1 Color in 2010. Fiberglass Duck Tail. Burnt orange decal accents.

Interior: Recaro Pole Position Large Seats with Houndstooth Inserts. Black plush lightweight carpet kit, Bolt-In Rollbar. Rennshift High Lever Shift Console, Rennline Floor Boards, and Tunnel Cover.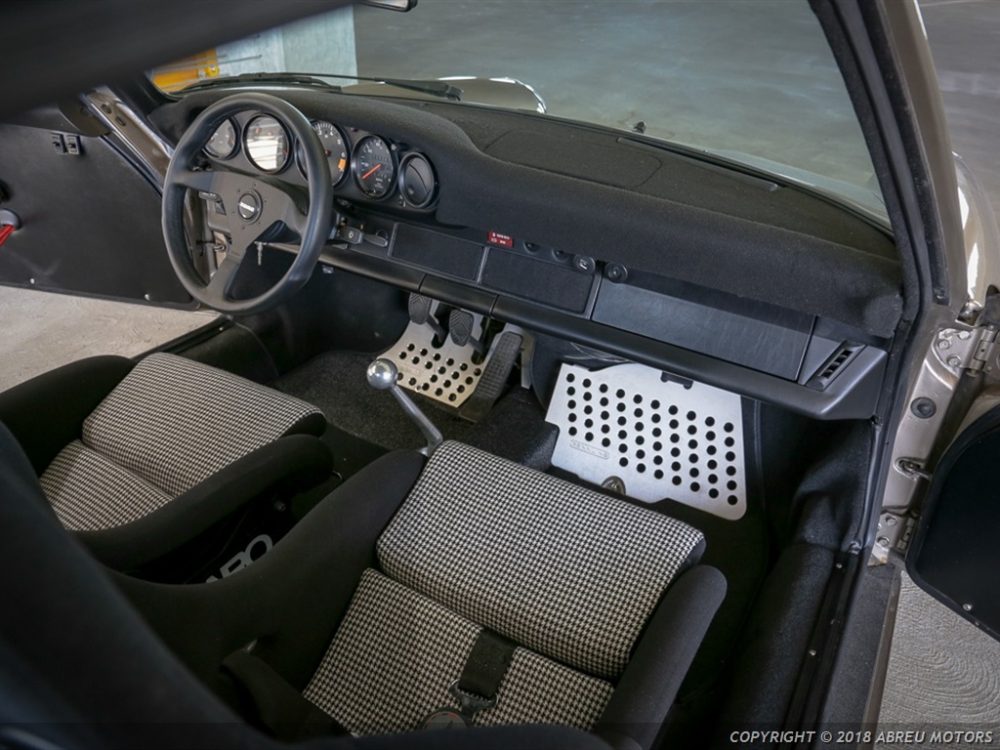 There are still some peculiarities to this build, but let's look at what we've got first. This 911 began as a 1982 Porsche 911SC Coupe. It's said to have been in very good condition prior to its transformation. It's current exterior color, Platinum Metallic, even is said to be its original color. Great! It isn't necessary to have that originality, but it's a nice thing anyway. Burnt orange accents were added in the way of decals and painted Fuchs. Obviously, a ducktail and long-hood conversion also were carried out along with wider fenders. The overall look is pretty good. It's even a little understated though you're not going to disappear in a crowd. There appear to be some fitment issues around the hood and there's a fairly prominent scratch on one rear fender, but otherwise it all looks in nice shape.
The interior is fairly straightforward. Recaro seats with houndstooth inserts up front and a bolt-in rollbar replaces the rear seats. A few other touches provide accent, but overall it's a small transformation.
The engine and transmission: here's where things get interesting. As noted it now sports a 3.6 liter from the 993. Mileage is stated to be 45,500 and it's recently been resealed. Curiously, the transmission is the original 915 5-speed that came with the car. They say it's been beefed up, but I'd still wonder why the transmission originally mated to this engine couldn't be used? Are there fitment issues with using the 993 transmission in a 911SC (or other general problems with fitting it up)? I'm not sure. Or perhaps it is as simple as the 993 transmission not being available. Regardless, that would have been a nice upgrade. Still the engine itself provides a nice performance gain.
It also helps this build stand apart from the rest. It obviously will need to be fully checked out, but hopefully there are no surprises. At $78,500 the price hardly could be considered low. You could just buy a 993 and save some dollars. But that'd be boring. This probably isn't boring. And while the price is high it's actually lower than plenty of these builds we've seen possessing the standard 3.2 Carrera or 911SC engine. That's what I like about this one and I think it makes a lot more sense.
-Rob