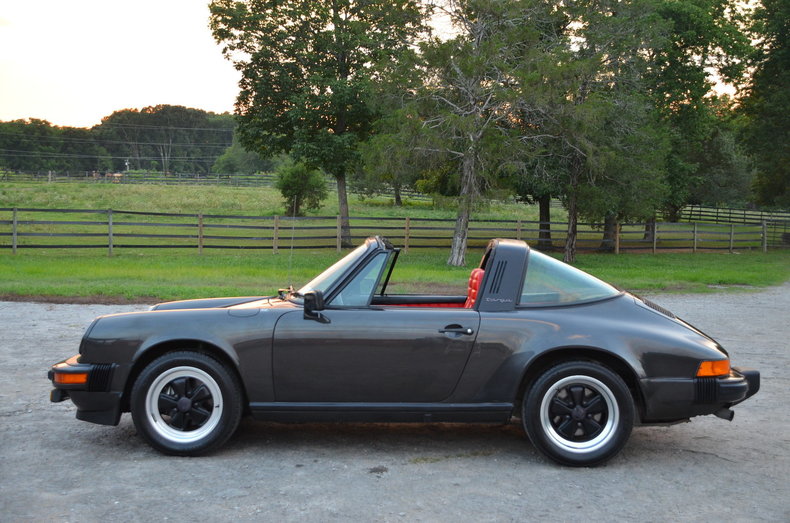 Speaking of a bright red interior…. Yesterday I featured a 930 Cabriolet that we might almost confuse for the younger cousin of this 1982 Porsche 911SC Targa. The color combination is pretty similar in its general aesthetic, though the colors themselves technically are different. The 930 showed Slate Grey Metallic over a Lobster Red interior. Here we have Black Metallic over a Lipstick Red interior. Both obviously possess the mixture of darkness and bright color that we see quite a bit in the '80s. We see it still today though in many cases the brightness of the red has been toned down. That's probably fine, but there is something about a really bright interior that I find particularly alluring.
Lipstick Red is perhaps a little deeper of a red than Lobster Red and of course Black Metallic definitely is a darker shade than Slate Grey. So here we have the deeper, darker, version of that 930, but I think both would appeal to similar buyers – at least regarding appearance as the cars themselves are quite different. They're unique looks and won't have wide appeal, but for those searching for one of the more rare 911s this one might suit you well.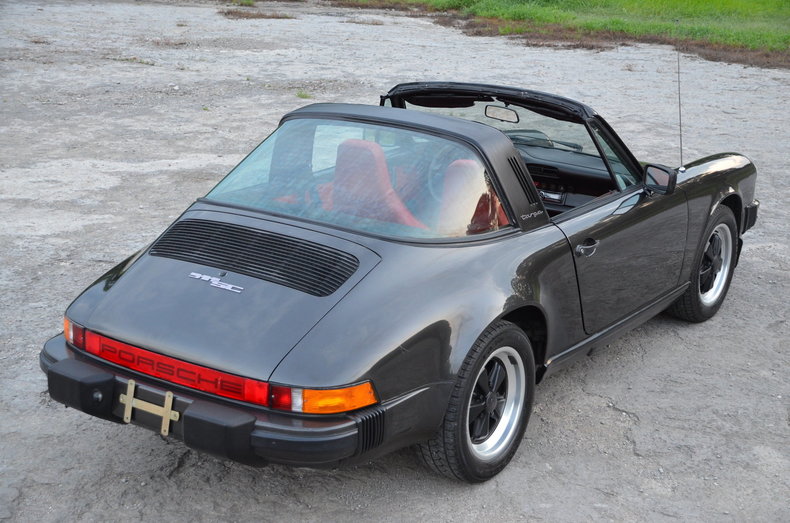 Year: 1982
Model: 911SC Targa
Engine: 3.0 liter flat-6
Transmission: 5-speed manual
Mileage: 45,425 mi
Price: Reserve Auction ($42,500 Buy It Now)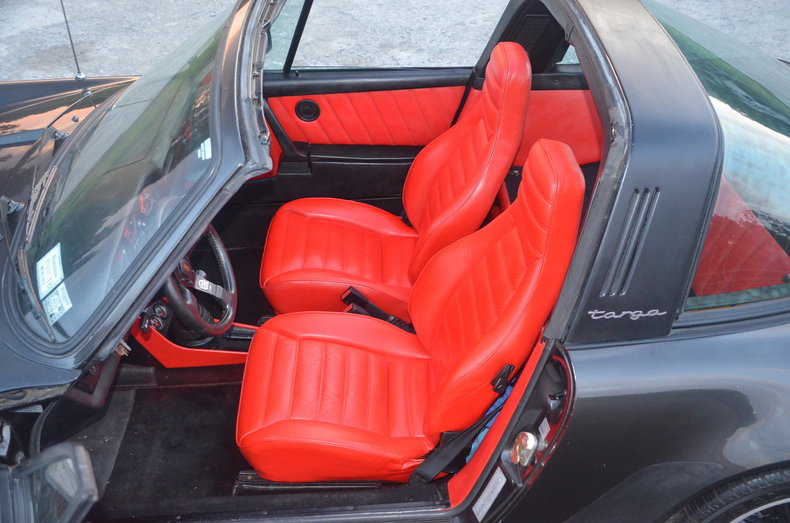 This stunning classic 80's configuration SC Targa has been owned,serviced,and loved by one owner since new.Truly a classic and unique color combination out of the 80's era.The car has never been involved in an accident and still sports its original paint from Porsche.The car drives as a well serviced 45400 mile SC car will drive.The car is tight and strong.The car has had regular services on a timely basis and a clutch at 25000 miles.All systems work as designed.The targa top is in good condition both on the interior and exterior components.The engine is dry,the transmission is tight.The glass is in good condition.The body panels are razor straight.
The car is black metallic with lipstick red leather interior and a black leather dash.The stereo is an upgrade with a great ,solid sound.The carpets still look as if it is 1982,very clean,crisp,without wear or fading.
Review the 59 pictures posted.If the car has interest you may contact me at 615-971-4409.
The car is located at our indoor facility 25 miles east of downtown Nashville Tn.
Independent inspections are welcomed and encouraged.
There will be an additional $299 dealer doc fee assessed to final agreed transaction amount
This and other European collectibles may be reviewed at JPFRAZIER.com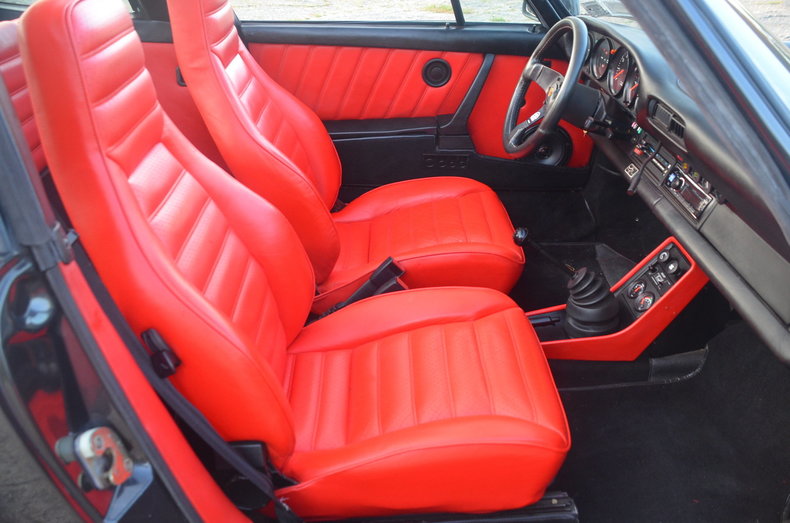 Beyond the colors this 911SC has a few other points in its favor as well. It is said to have had only one owner since new and that it still wears its original paint. The interior is not stated to be original and given both its condition showing almost no wear and that the seller makes no mention of its originality it is probably safe to assume it has been refreshed at some point in this 911's life. I'm incluned to assume the interior color is how it was ordered from the factory, though we don't have verification of that. As with any 911 like this verification will be an important factor, at least with regard to the appropriate selling price, so you'll want to get a paint meter on the body panels and hopefully a CoA or build sheet to verify the interior and any other options. The steering wheel and radio obviously are non-original items, but neither is too big of a deal all things considered.
Various aspects of verification aside, this is a pretty nice looking 911SC and shows very well for its age. The mileage is very low and it's said to run well. You'll obviously want to see where its current servicing lies to have a sense of where it stands mechanically, but this looks like a well cared for 911 so I think you can approach those issues with some confidence that it's been serviced as it should be.
I love seeing a 911SC like this though I will admit it wouldn't bother me if there were a few more miles on it. It's certainly been babied, but knowing that its single owner has spent a few more miles deriving some joy from such a great car wouldn't hurt either. I guess we'll have to leave that to the next owner.
-Rob