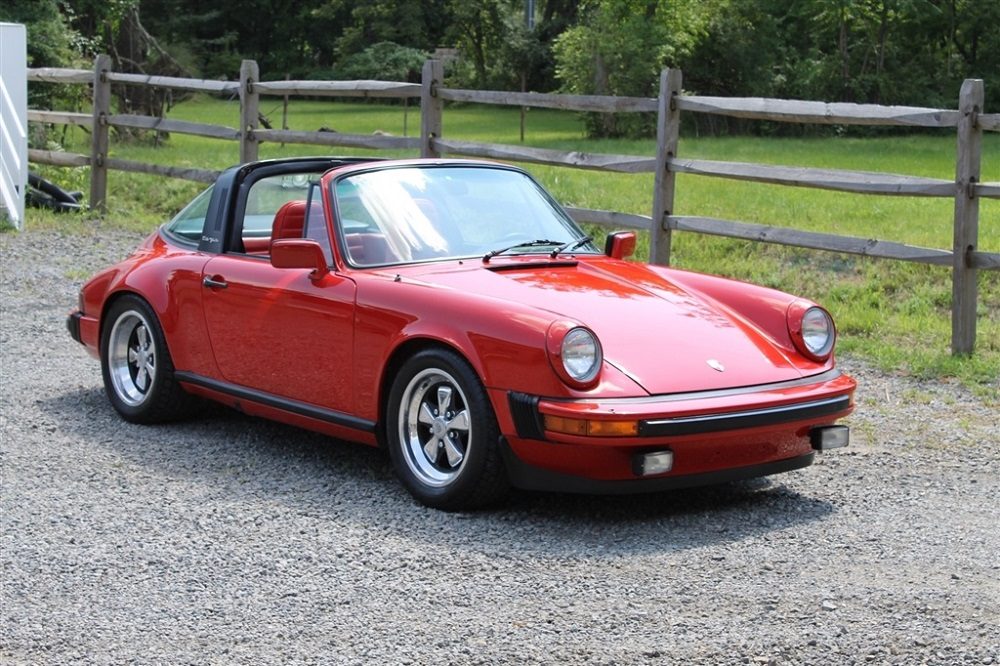 You're really going to have to be a fan of red to like this 911. And not a subtle red; not a burgundy. Not only does this 1982 Porsche 911SC Targa sit with Porsche's well known, and bright, Guards Red for the exterior, it also has the brightest of the reds in the interior: Can Can Red. There's some black to break up that interior, and of course the SC Targa itself has plenty of exterior elements to set off the paint, but overall you won't miss this one and the red definitely dominates.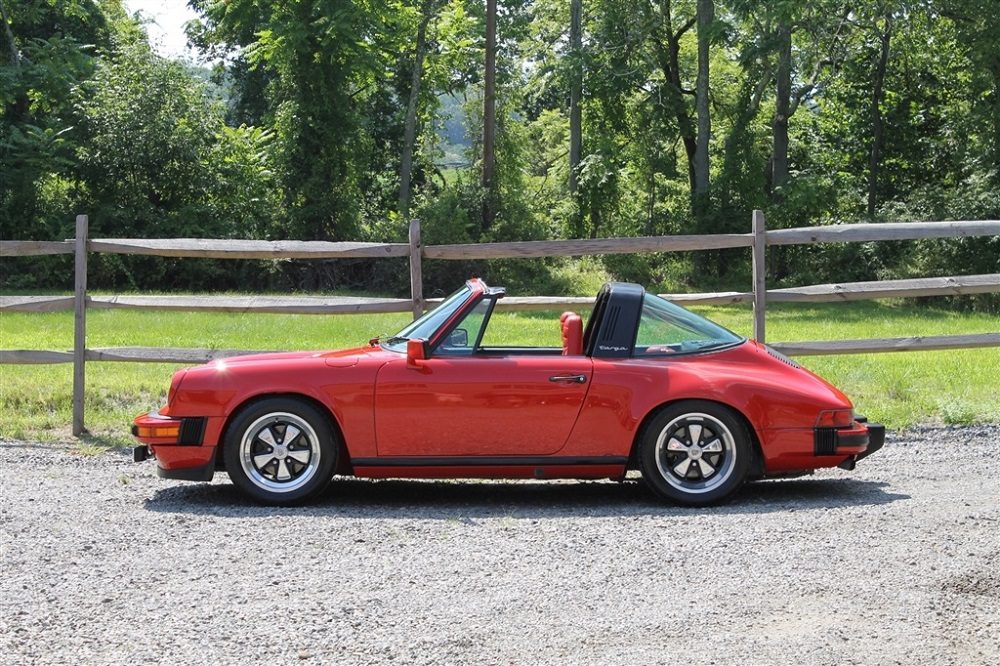 Year: 1982
Model: 911SC Targa
Engine: 3.0 liter flat-6
Transmission: 5-speed manual
Mileage: 87,443 mi
Price: $34,500 Buy It Now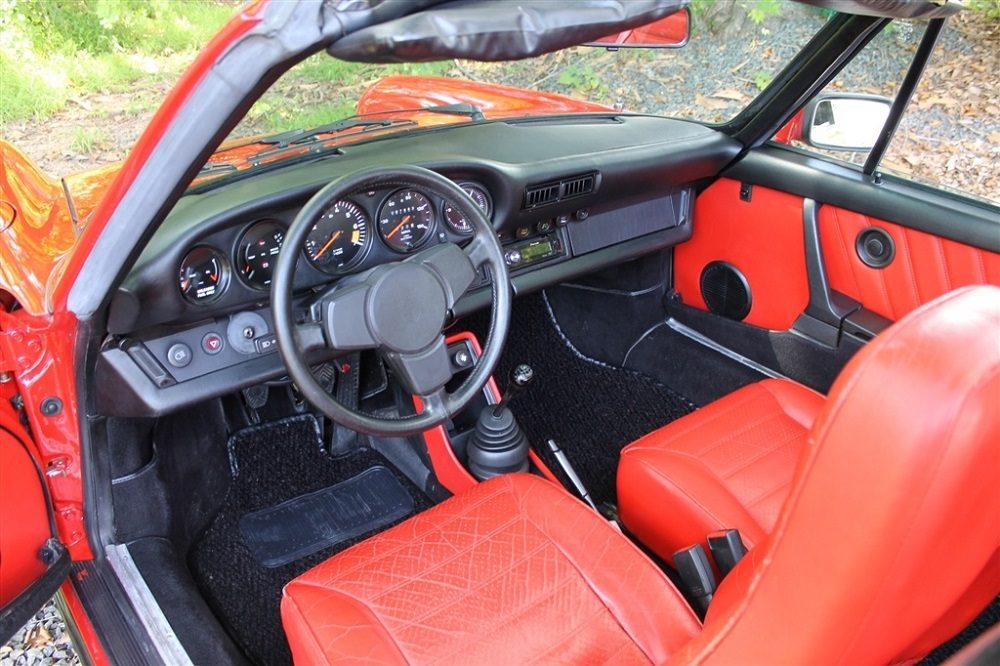 1982 Porsche 911SC Targa Guards Red with Can Can Red leather interior 87,443 miles 5-Speed manual transmission The car was owned in Nevada until early 2015, when it was purchased by the previous owner and moved to Arizona and eventually Illinois. He was an active PCA member and sold the car earlier this year. The selling dealer reports that it was recently serviced with new fluids/filters and an A/C belt. The sale includes the original owners manuals & a Porsche Certificate of Authenticity. Optional equipment included sport shocks, fog lights in the front, and forged Fuchs alloys with polished centers. The wheels wear Dunlop tires that show significant thread left. The front seats show some cracking and normal wear, and the carpets have been preserved under black coco mats.A Pioneer head unit was installed by a previous owner, and the car came from the factory with cruise control and an alarm system. The air conditioning, power accessories, and VDO gauges are functioning properly, and the 87,443 miles indicated on the odometer are considered accurate by the seller.The 3.0-liter flat-six engine utilizes Bosch K-Jetronic fuel injection and is paired to a 915 5-speed manual gearbox. A fluid and filter service was performed and the A/C belt was replaced on August 30, 2017.A Porsche Certificate of Authenticity confirms the serial numbers and options. The original owners manual and keys come with the car, though no service records were passed down from previous owners. 2.29% financing for 36 months is available with qualified credit! We can arrange transport anywhere in the US. Please contact Steven Sasson(212) 804-8070 orSteven@LegendCarCo.com We will be happy to accommodate a Pre-Purchase Inspection at our location or at a local shop. Worldwide delivery & Pre-Purchase inspections are welcome at our location:Legend Car Company 165 Main Street Peapack, NJ 07977Buy with Confidence from Legend Car Company!Legend Car Company has been selling cars in NY & NJ for over 19 years. We have are the recipient of the coveted 2016 Dealer of the Year Award byDealerRater.comThis award is only given to the highest rated dealers in the country based on customer reviews.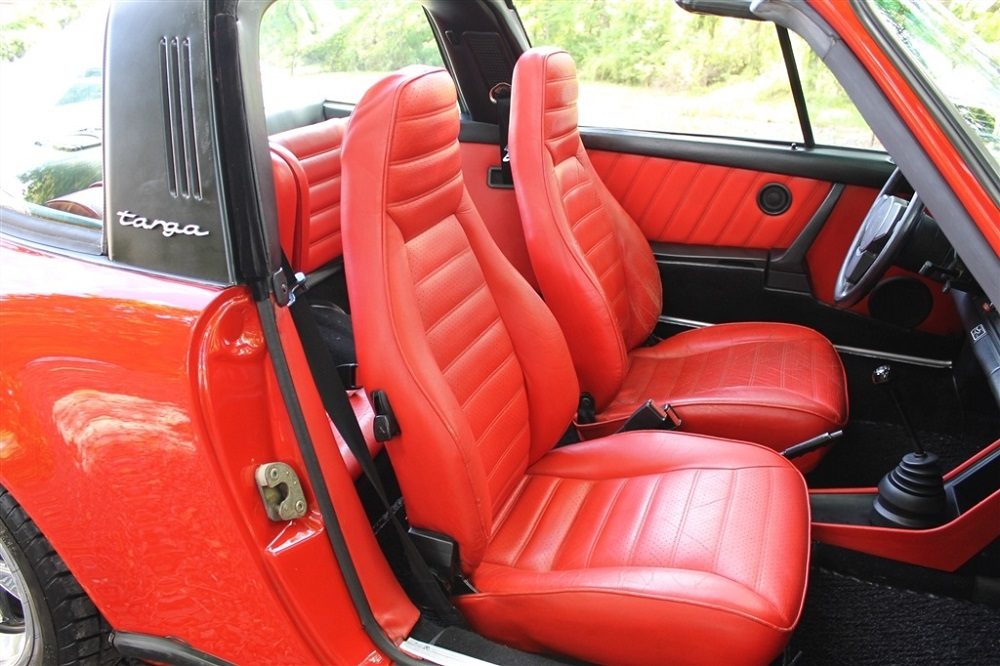 I like bright red for the exterior and love red for the interior. So at least in pictures, I'm a big fan of this SC. I'd definitely want to get a sense of the colors in person though. It's definitely a bit monochrome, but usually when I think of monochrome it's in a more subdued color. There's nothing subdued here.
The colors are the draw here – or at least for some of us they will be. The rest brings with it a good deal of uncertainty. We can see that the general condition of this 911 is pretty good, but a couple things stand out. First, the passenger seat looks like it's been recovered and not necessarily to the highest standard. There's certainly much less wear showing on the passenger seat and while that's not uncommon in a 911 I'm guessing it's not simply due to fewer butts in the seat. This leads us to the biggest issue: there are no records that come with the car. So we don't know what work it's had performed, whether we're talking about basic maintenance or refurbishing of various aged parts. It also looks pretty low. That's not necessarily a problem and can be easily accounted for, but again it's more stuff that's unclear.
With any 911 a PPI is a great idea. With this SC it's a must. As I said, I think it looks really good and seemingly well cared for, but we just don't know. For some the lack of records in itself will be a deal breaker. For those who might want to proceed, this 911 certainly will bring some brightness into your drives. The lack of documentation does mean the asking price is on the generally more reasonable side. Of course, it will only remain reasonable if significant servicing isn't in its near future, so we just need to verify what sort of shape it's in.
-Rob