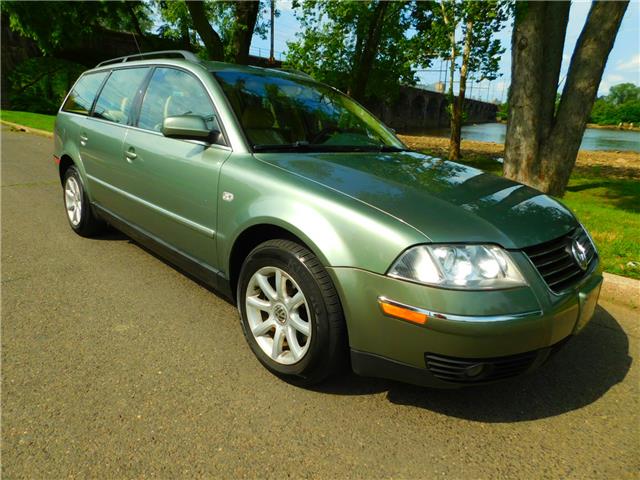 The Volkswagen Passat isn't a particularly exciting car to drive. It's also not particularly exciting to look at. While most people would categorize those as negative attributes for vehicle ownership, there's a third thing that the Passat isn't particularly exciting at which I'd wager most would consider a very good thing.
It's not an exciting car to own.
"But isn't that a bad thing?!?! you're thinking to yourself? Sure, when I go out into the garage and see the M3 sitting there, my pulse rate quickens. Scratch that, I don't even have to go into the garage – endorphins flow at the mere thought of it. And turning the key? All sorts of goodness happens. I'll spare you the details, but sufficed to say it's an exciting car to own, look at and drive. The Passat is not a M3.
But it is a vehicle thoroughly devoid of drama, and to me, that's what makes the Passat a not exciting car to own. Take the contemporary Audi Allroad from the same period for example. The Passat mimics the look and the function of the A6 in nearly every way. It's not even much slower on a continuum. But Less exciting to own? For sure, and when you're talking breaking and repairs, that's a very good thing.
Because let's be honest for a second; these cars that we love, that we fawn over, that we pontificate about – they're pieces of metal with a lot of plastic and complicated electrical and pneumatic systems. And they're not getting any younger. Take my 2002 Passat as a case study; it's on the verge of being 17 years old and has now covered over 140,000 miles. Yet it's caused no sleepless nights, no emptying of wallets, not even left me stranded once. It's just been completely reliable transportation in all weather, with my family, all our goods and a ridiculous amount of various cargo. I've had full-sized sofas on the roof, entire Ikea kitchens inside. It's been a garden gnome full of trees, flowers and vegetables to plant. It's transported rocks, gravel, dirt, bicycles, strollers, and everything in between. It's cool on the hottest day, warm on the coldest, the starts everytime and all the electrics work still. Is it without flaw? No, along the way items have broken. But my point is that it offers 99% of the experience of it's more expensive brethren with 90% less drama. And don't think my singular experience is unique, because I've had two, and the last one – which I sold now 6 years ago with over 200,000 miles on the clock, did the same thing – and still is, with it's new owner. I saw it just the other day, and it's a tick under 240,000 without major issue too. And when I look around, what's the most common older German vehicle I see cruising around me? B5.5 Passats, pretty much everywhere in RI, MA and CT. They're all still running strong despite the newest now being 12 years old.
And I'd argue that while most will dismiss the lack of ownership drama as not reason enough to be interested, the B5.5 Passat is also a pretty good looking car. Beyond that, it's also reasonably fun to drive in GLS 1.8T manual form – kind of a bigger GTI in many ways. But as I said, they're getting older, so if you really like the idea of jumping on the bandwagon a bit after everyone else has, finding a clean example is key – and this 2004 sure looks clean:
Year: 2004
Model: Passat GLS 1.8T Variant
Engine: 1.8 liter turbocharged inline-4
Transmission: 5-speed automatic
Mileage: 91,783 mi
Price: $5,290 Buy It Now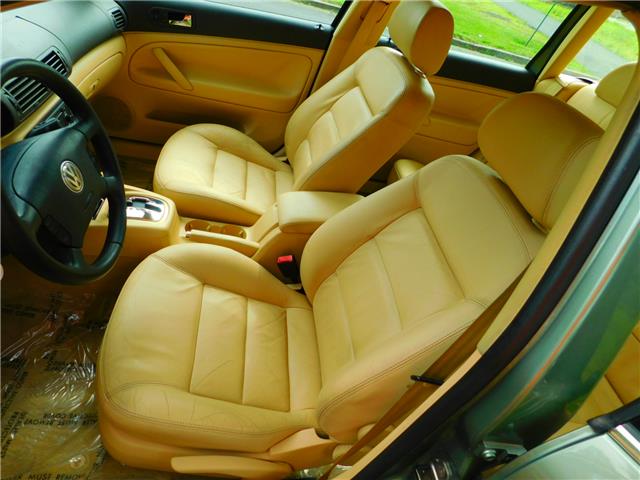 This is a great previously owned LUXURY STATION WAGON 2004 VW PASSAT GLS 1.8 LITER 4 CYLINDERS TURBO …… JUST SERVICED ! READY TO GO ! THIS BEAUTIFUL STATION WAGON LOADED WITH PREMIUM GLS PACKAGE : 4 Cylinder 1.8 LITER Turbo ENGINE Automatic Transmission Anti-lock Brakes 4X2 50 State Emissions A/C Auxiliary Pwr Outlet Bucket Seats Cargo Shade Child Safety Locks Cruise Control Daytime Running Lights Driver Air Bag Driver Illuminated Vanity Mirr Driver Vanity Mirror Dual Air Bags Engine Immobilizer Fog Lamps Front Floor Mats Front Head Air Bag Front Reading Lamps Front Side Air Bag Intermittent Wipers Keyless Entry Leather Steering Wheel Pass-Through Rear Seat Passenger Illuminated Vanity M Passenger Vanity Mirror Power Locks Power Mirrors Power Tilt/Sliding Sunroof Power Windows Pwr Steering Rear Bench Seat Rear Defrost Rear Reading Lamps Remote Trunk Release Security System Side Air Bags Tape/CD Tilt Steering Tilt Steering Wheel Traction Control Transmission w/Dual Shift Mode Trip Computer Turbocharged Turn Signal Mirrors Two-Wheel Drive US EPA Label Universal Garage Door Opener Variable Speed Intermittent Wi Wheel Locks VALUE ADDED OPTIONS : ——————————- Heated Mirrors Leather Seats Premium Stereo The engine on this vehicle is running properly..The mileage represented on this vehicle is accurate. This vehicle has a smooth shifting transmission. All power equipment is functioning properly. The interior is clean and in good condition. There is approximately 85% of the tire tread remaining. If you have any questions about this or any of my other auctions please feel free to contact me via e-mail or you can call me at two six seven two 3 seven 30 two eight . Thank you for your interest and I look forward to hearing from you…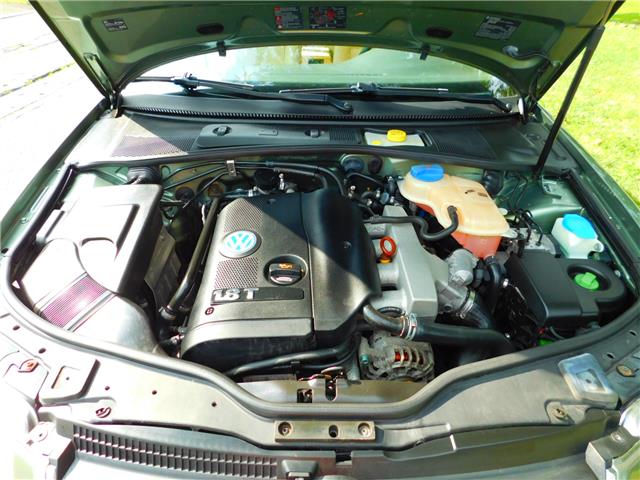 Anytime the B5s roll out on these pages, I love to pull out the production numbers, so here goes! About 461,100 B5/5.5 Passats were imported to the U.S.. A little under a quarter – 101,700 – were the Variant wagon models. If you really want a Passat from this generation, the wagons are preferable and carry a premium. They were also all made in Germany, and while it may be anecdotal, the wagons' build quality seems better than the sedans. 61,411 were GLS trim, which generally got you more alloy wheels across all years. 54,610 of those were front drivers, like this one. 42,365 had the 1.8T motor in some guise. This one should have the 170 hp AWM variant which has excellent low end torque. 7,955 were sold in 2004, and 6,755 of those were Tiptronic. 3,606 had leather interior, 422 of which were ordered in Beige. And of those, 94 were specified in this exterior color – Fresco Green Metallic. It's always been a favorite of mine and I think still looks great on the car. The Beige is a nice interior match and generally looks to be in good shape overall. There were few changes to the model post-2001, but some badging differences (very late featured 1.8T badges), HomeLink and wheels (changed from early 15″ x 7″ Ronal-made 'Wellington' designs to the BBS-made 'Michigan' shown here of the same size) are a few notable ones. The 17″ BiStar (Phoenix) wheels from this generation look neater, but on a commute and come tire time you'll appreciate the 65-series rubber on the smaller stock. This car shows far lower than normal mileage at under 92,000, but you'll want to check that the timing belt was performed recently as it should have been done close to this odometer reading. The Tiptronic does sap some excitement and performance, but for a commuter, it's not necessarily a bad thing. I've spent many days commuting through Providence traffic in my 5-speed, and the now-weary original clutch becomes less entertaining as the delays increase. In typical B5 issues, the car has fading of the computer display and some wear showing on the soft-touch plastics.
The asking price is higher than you'll see most Passats on your local Craigslist at $5,200. That's close to what I paid a few years ago for mine, which had 108,000 miles at the time. But I was willing to pay a premium for a single-owner, all-records example because I had such a great experience with my '99. If this one goes through a solid PPI and shows no major faults, it's a great commuter and practical option which is an attractive alternative to the often needy and expensive Audis of the period.
-Carter