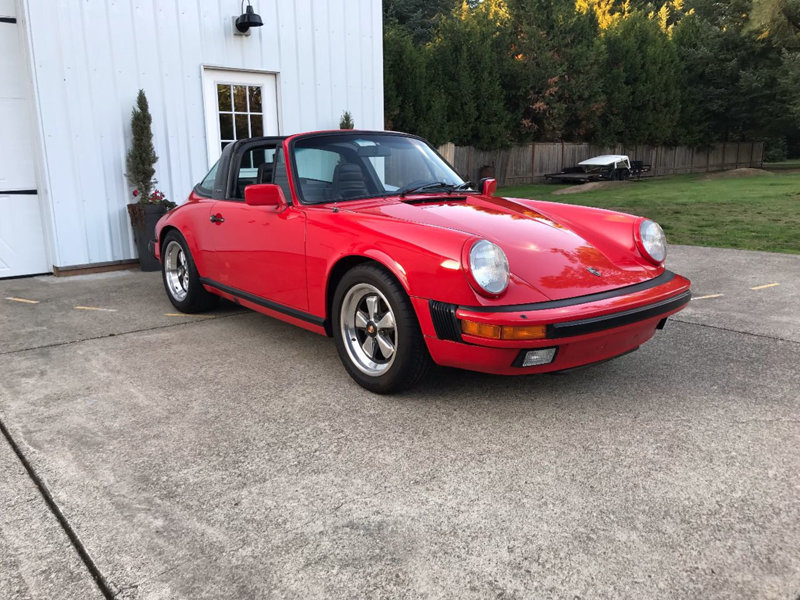 Alright, let's move away from green, but we'll still keep things vibrant. This one also will be much more reasonably priced. Here we have a Guards Red 1982 Porsche 911SC Targa, located in Oregon, with 133,700 miles on it. If we want to see the relationship between the 911SC and yesterday's 930, they both utilize a variant of Porsche's 3.0 liter flat-six. Porsche took some of the lessons learned from development of the Turbo and applied it to this naturally aspirated 3.0 liter and through that was able to excavate itself from the issues that plagued the 2.7-liter engine that preceded it. The 3.0 liter is a stout and reliable engine when shown proper care and we've seen plenty with mileage exceeding 200K. Granted, some of those have been rebuilt, but it's still a fine engine and a sound base for a sports coupe. Those looking at a 911SC now should feel secure knowing that these are very good engines.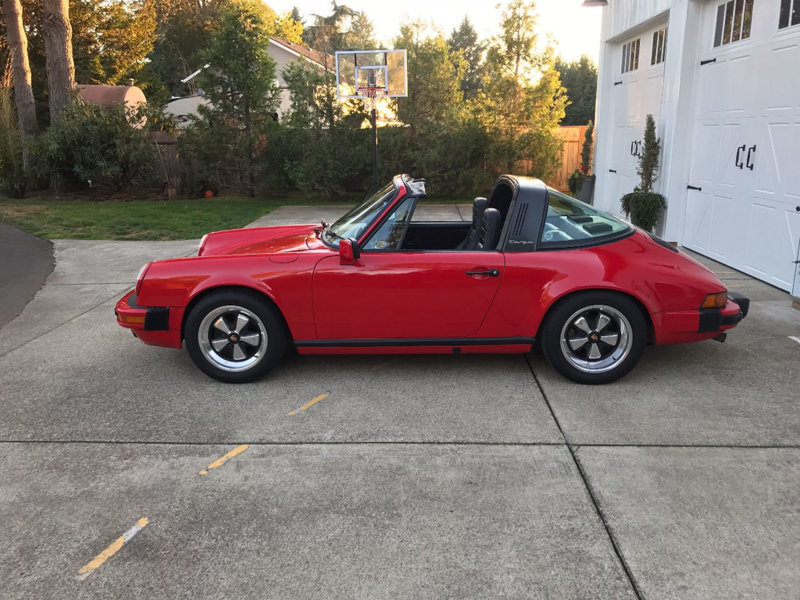 Year: 1982
Model: 911SC Targa
Engine: 3.0 liter flat-6
Transmission: 5-speed manual
Mileage: 133,700 mi
Price: Reserve Auction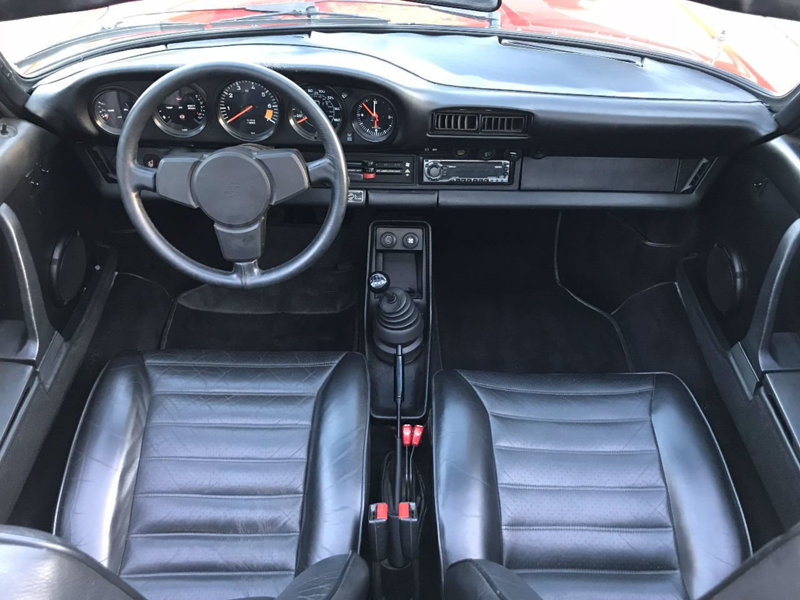 2 Owner, Clean CarFax, Clean Title 1982 Porsche 911 SC Targa finished in Guards Red with Black Leather!
Very CLEAN and nice 911 Targa, in the most desirable color combo made…

(See video walk around and engine startup in photo gallery!)

With only 133k original miles (less than 4k miles per year), this Porsche comes with a slew of meticulous service records from the previous owner. The prior owner was an avid Porsche Club member and kept up on all service items, and kept the car in excellent condition.

Chain tensioners have been upgraded to hydraulic, the rubber clutch has been updated, and a pop off valve has been installed in the air box (all common items that need addressed with these cars)

BFG tires are 90%, and the Fuch wheels are in perfect condition.

Inside, the leather seats are in great shape, as is the rest of the interior, minus some slight wear on the dash right behind the steering wheel. ( I think this was due to the previous owners wedding ring rubbing on the dash) Could be lightly sanded and hit with black polish but I left as is so you can see it in the pics. It's not noticeable while sitting in the drivers seat, as it's directly behind the steering wheel.

The drivers side seat belt tensioner works fine as a restraint, but the mechanism that recoils the seat belt seems to have lost it's spring action. So you have to manually feed the belt back in if you want it coiled all the way. Also, the passenger rear jump seat hold down strap is broken (cheap leather strap and button that holds it up) Both small items, but wanted to disclose them.

The paint is in great shape, and shows no dents or dings. There is one small scrape on the passenger rear underside, below the bumper (see pics)

The car was recently serviced at Stugartt Autotech in Oregon, and received a fresh oil change, O2 sensor and light tuneup. I also had the shift linkage rebuilt, and it now shifts perfectly…

The targa top fits well and doesn't leak, but has a few small blemishes as seen in the pics.
The original spare tire is the front trunk, as is the owners manual.

No appearance of rust anywhere, as this is a clean Oregon car (we don't salt our roads)
All lights and gauges work as they should, including the heater.

The value on these SC's are really starting to climb, and they are becoming quite the investment vehicle!

Please text or call for more details… (503) 358-0668
Willing to ship anywhere worldwide!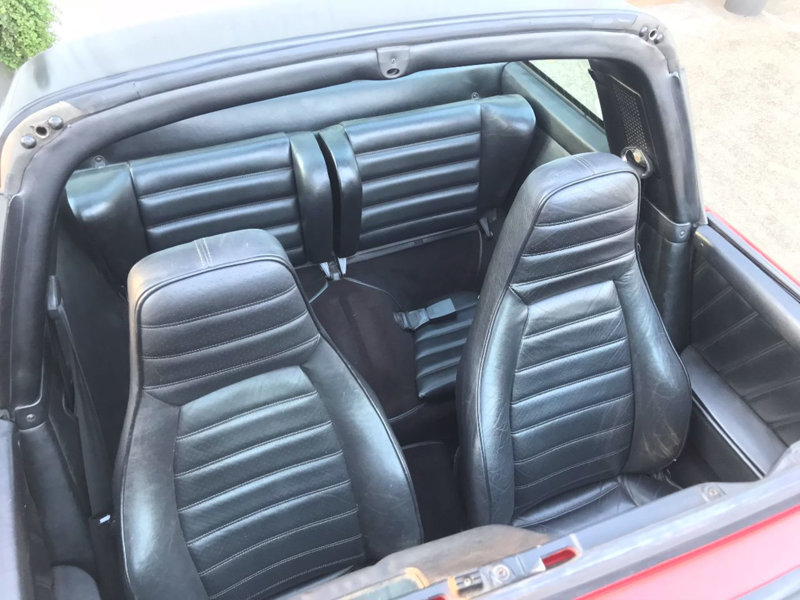 As far as a 911SC goes I really like this one. Guards Red isn't the most unique color, but it's certainly quite popular and a great color to boot. Here the paint looks in very nice shape. No word on whether it's been repainted, but a 133K mile 911SC isn't really something the collectors will clamor over so a respray wouldn't overly worry me unless it looked poorly done. (I'm assuming clean Carfax means no accidents) The interior looks good as well with the only real defect being the abrasions on the dash behind the steering wheel. I'm not sure it's from a wedding ring – my wedding ring tends to scrape the steering wheel itself rather than behind the wheel – but the cause doesn't really matter and it's probably something you'd want to touch up. The seller mentions a couple other issues with the belts as well.
It's said to be well documented from the previous owner, though left unsaid is how long that owner had the car. There have only been two owners so someone has to have owned it for a good number of years and we can hope that is the owner that kept the good records. We're told the chain tensioners have been updated and a pop-off valve installed in the air box. Both are worthwhile updates that improve the few weak points in these cars.
All together this makes for a nice 911SC to consider, especially if you're looking for a Targa. The condition looks good, it sounds like it's got good documentation, and the updates have been addressed. It's wearing the front end from a 3.2 Carrera since the fog lights are recessed, but that's an aesthetic change that most probably would be fine with. Bidding sits at $32,011. Given the mileage, the minor issues, and non originality I don't think you'd want to go too much higher, but a cared for 911SC could save money over time. I wouldn't concern myself with its collector potential, but as a fun weekend driver this one looks good.
-Rob