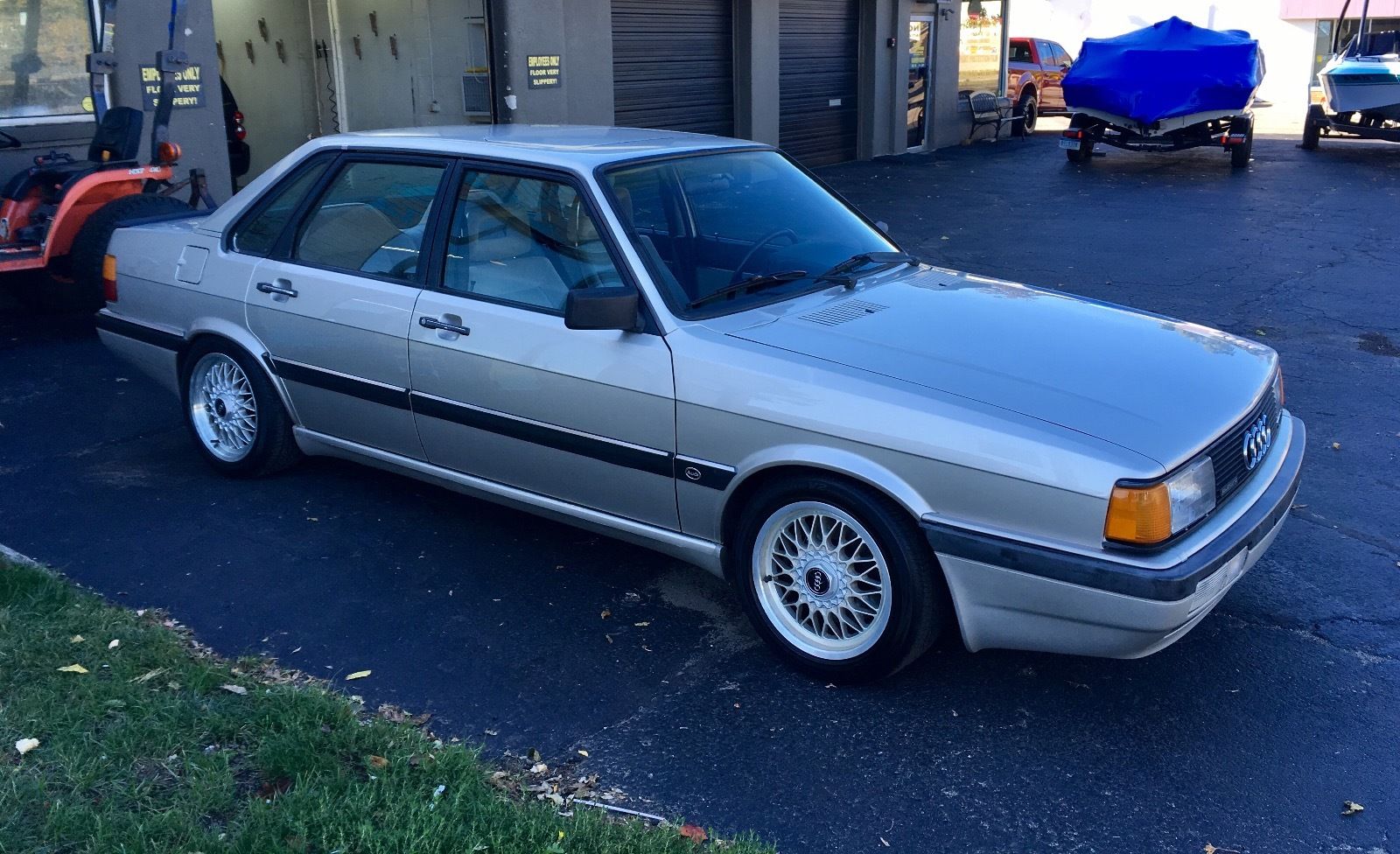 Edit: After selling last year on Bring A Trailer for $5,050 after we featured it in April, the current owner of the 1985 Audi 4000S quattro with some nice modifications has decided it's too nice for a winter beater. It's back up on eBay with a $5,000 opening bid and reserve auction format with few changes since we saw it last year, but it's still one of the better ones out there for sale.
If you like yesterday's Audi 4000S quattro, finding a later example is likely to be more fruitful for you. About of the roughly 16,500 4000 quattros imported into the United States, roughly three quarters of them – about 12,000 – were the updated 1985-1987 model years. Changes to the package were mostly visual. Outside refreshed bumper covers with integrated turn signals and reflectors smoothed out the look far before BMW caught on to the idea in the 3-series. Aerodynamic headlights replaced the sealed-beam quad-headlight arrangement and a sloped grill eased the transition. In the rear the trunklid dove down to the trim line and held an entirely revised set of lights. Rocker panel covers made the 4000 appear a bit lower than the '84 model had, though the ride height was unchanged. And a rolling change to flush fitting covers on the Ronal R8 wheels subtly changed the look to more aerodynamic. Inside, electric rear windows replaced the manual roll-up variety, and new door cards with pulls now matched the revamped dashboard. The gauges also changed, as did the locking differential panel. But mechanically under it all, few changes were seen to the workhorse. While numerically speaking you're more likely to find a later car than the '84 only style, if one car we cover better epitomizes the axiom "ridden hard and put away wet", I'm not sure what it could be. Finding any reasonably clean 4000 quattro is a cause for celebration among B2 Audi enthusiasts, and this one sure looks great: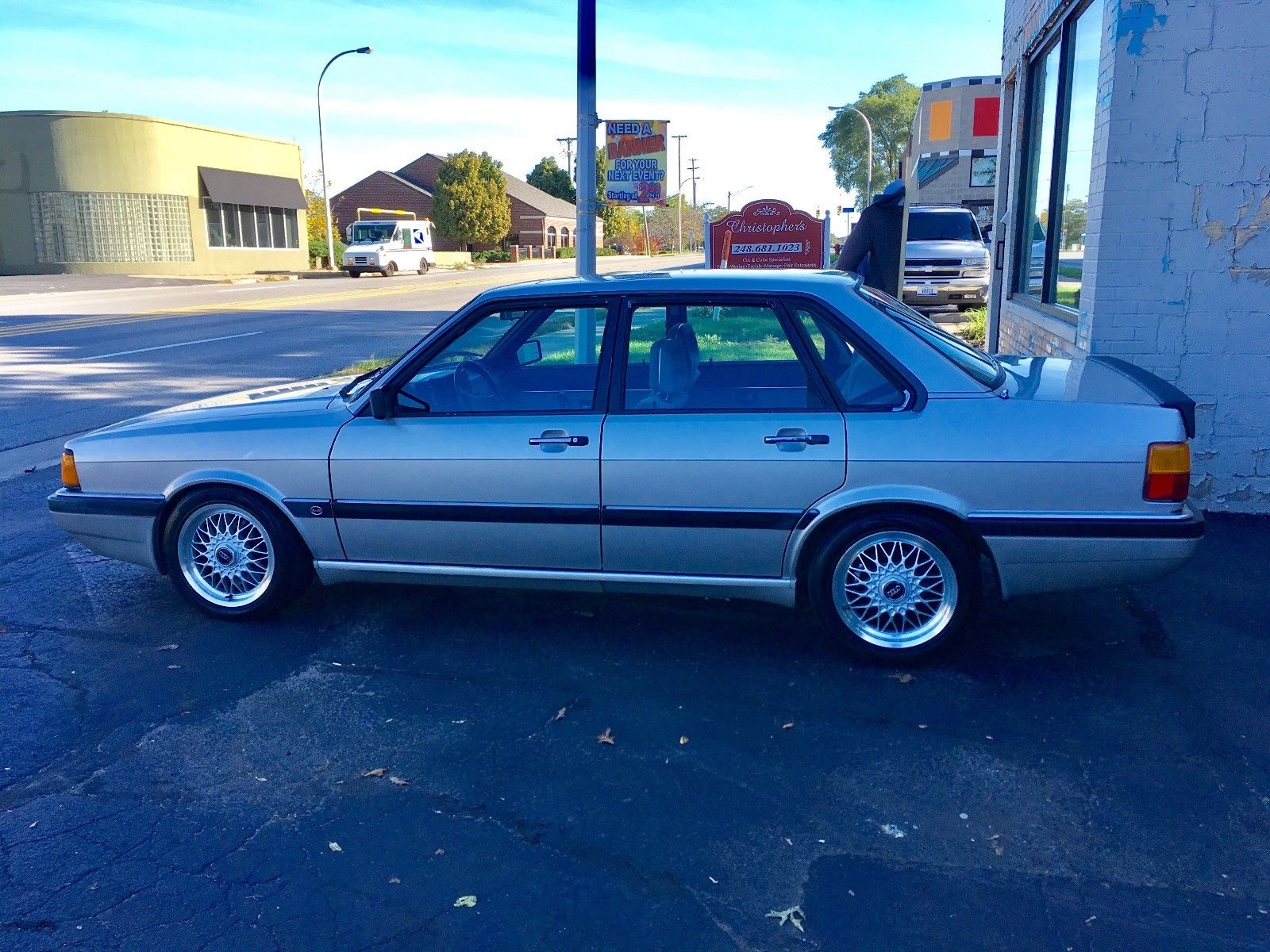 Year: 1985
Model: 4000S
Engine: 2.2 liter inline-5
Transmission: 5-speed manual
Mileage: ~147,000 (TMU)
Price: $6,900 Buy It Now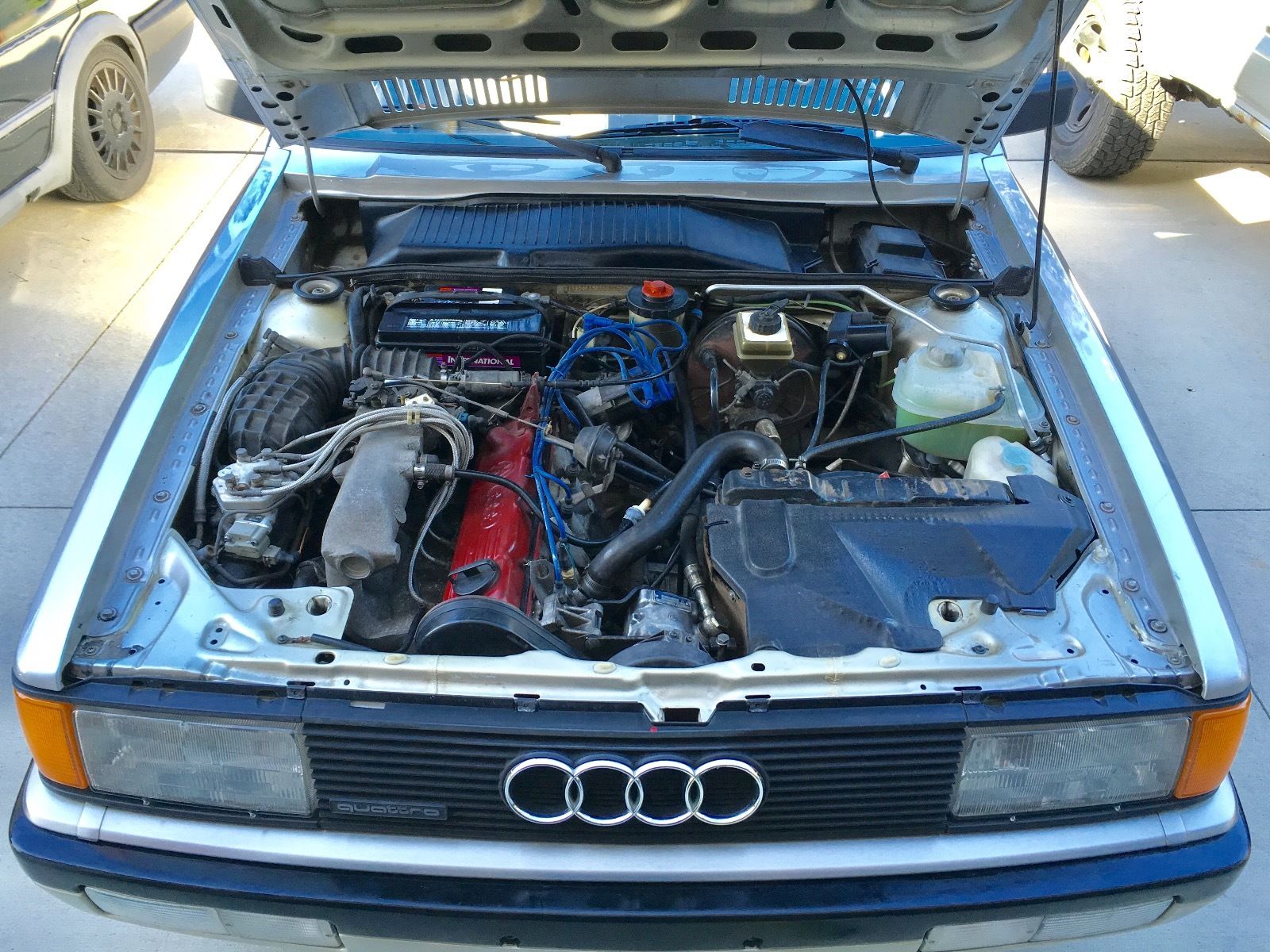 New Description
This is a real deal 4000S Quattro. I have not owned it long and decided it's way too nice for Michigan winters. Here are the details:

– Super clean – 99% rust free. I can't say 100% because there is some surface rust on the rear subframe and brake booster

– The interior is mint with the only a slight blemish on the passenger rear seat and the driver upper bolster piping coming out

– The odometer reads 137,603 but you have to add 10K per the prior owner (he said one of the prior owners did not get the odometer fixed immediately when it broke back then)

– Clutch grabs perfectly

– Tires have plenty of tread

– Brakes work great and zero vibrations

– Parking brake works great – 3 clicks

– Looks like the original windshield with zero cracks

– AC blows cold and was just professionally serviced

– Cruise control works

– Power mirrors work

– Sunroof works

– Computer works perfectly

– New power antenna

– New water pump, tensioner, and all belts

– Good used PS pump recently installed

– Original 32yr old paint so it's not perfect by any means. The hood has rock chips and a dent near the driver side from the prior owner closing it with a tool underneath.

The car handles incredibly based on the suspension upgrades it has (from a prior owner)

– 034 Density Engine Mounts

– 034 Density Trans Mounts

– 034 Snub Mount

– Aluminum subframe bushings front and rear

– New control arm bushings and balljoints

– Cast front control arms

– CQ front swaybar

– CQ rear subframe

– 25mm rear swaybar

– 034 density diff mounts

– Audi 90 rear diff w/ bolt-on mounts (super slight whine but assume it's due to the solid mounts)

– 2-Piece strut conversion on all 4

– Coilover conversion with Bilstein Sports

– 034 density strut mounts

– 5-lug conversion with B5 A4 brakes on all 4

– Lug stud conversion

– BBS RG063 15×7.5 ET35 (200 20v wheels) – would need to be refinished to be perfect

I would drive it anywhere. I am totally open to helping with shipping and could even deliver it within a reasonable distance. Please feel free to ask any questions.

Thanks for looking
Old Description
1985 Audi 4000S Quattro

I bought this car 3 years ago in Roanoke, VA. I flew down and drove it home to Minneapolis, MN. It's been a great summer car. I recently picked up a new toy and just need the space. When I bought this car it was 100% stock and meticulously maintained. It currently has 125,000mi. Only 7,000 of which I put on. The only time it has ever seen snow was today, when I pulled it out of my storage unit to snap a couple pictures, then put right back in.

Link to Project Thread – LINK

Upgrades I've done:
034 Density Engine Mounts
034 Density Trans Mounts
034 Snub Mount
Aluminum subframe bushings front and rear
New control arm bushings and balljoints
Cast front control arms
CQ front swaybar
CQ rear subframe
25mm rear swaybar
034 density diff mounts
Audi 90 rear diff w/ bolt-on mounts
2-Piece strut conversion on all 4
Coilover conversion
Bilstein Sports
034 density strut mounts
5-lug conversion
B5 A4 brakes on all 4
Lug stud conversion
BBS RG063 15×7.5 ET35 (200 20v wheels)
I feel like there's more, but I can't remember.

There is no rust on this car. You can see some surface rust on the brake booster in the engine bay picture, but I will include a new booster if that concerns you. Original paint. There are a couple of dings on the doors. I had Dent Kraft take a look at it and they said they could all be pulled out without paint work. The black part of the front and rear bumpers is a bit faded. I heard that shoe polish works. Of course I learned this after I had put it in storage for the year.
I wheels could stand to be refinished, but they're all straight. I believe one has a small bit of curb rash. Tires are pretty new. They probably have 8000 miles on them. I can't recall the brand off the top of my head.

The interior is pretty mint. The only thing that isn't like new is the bolsters on the driver's seat. They're a a bit flatter than they were off the assembly line. All the gauges work. All the windows work, albeit slow. They all are until you relay them. I just hadn't gotten that far. Speaking of which, the headlights should also be relayed. OEM head unit and speakers still in place and function. Sunroof works.

I've driven this car a couple of longer road trips and it never so much as hiccuped. It is rock solid and I would drive it anywhere today, if the roads weren't covered in salt. I will probably regret selling it, but I just can't justify two fun cars.
If you have any questions or comments please let me know. I'm pretty firm on the price, as you would be hard pressed to find another as clean anywhere, let alone in the midwest.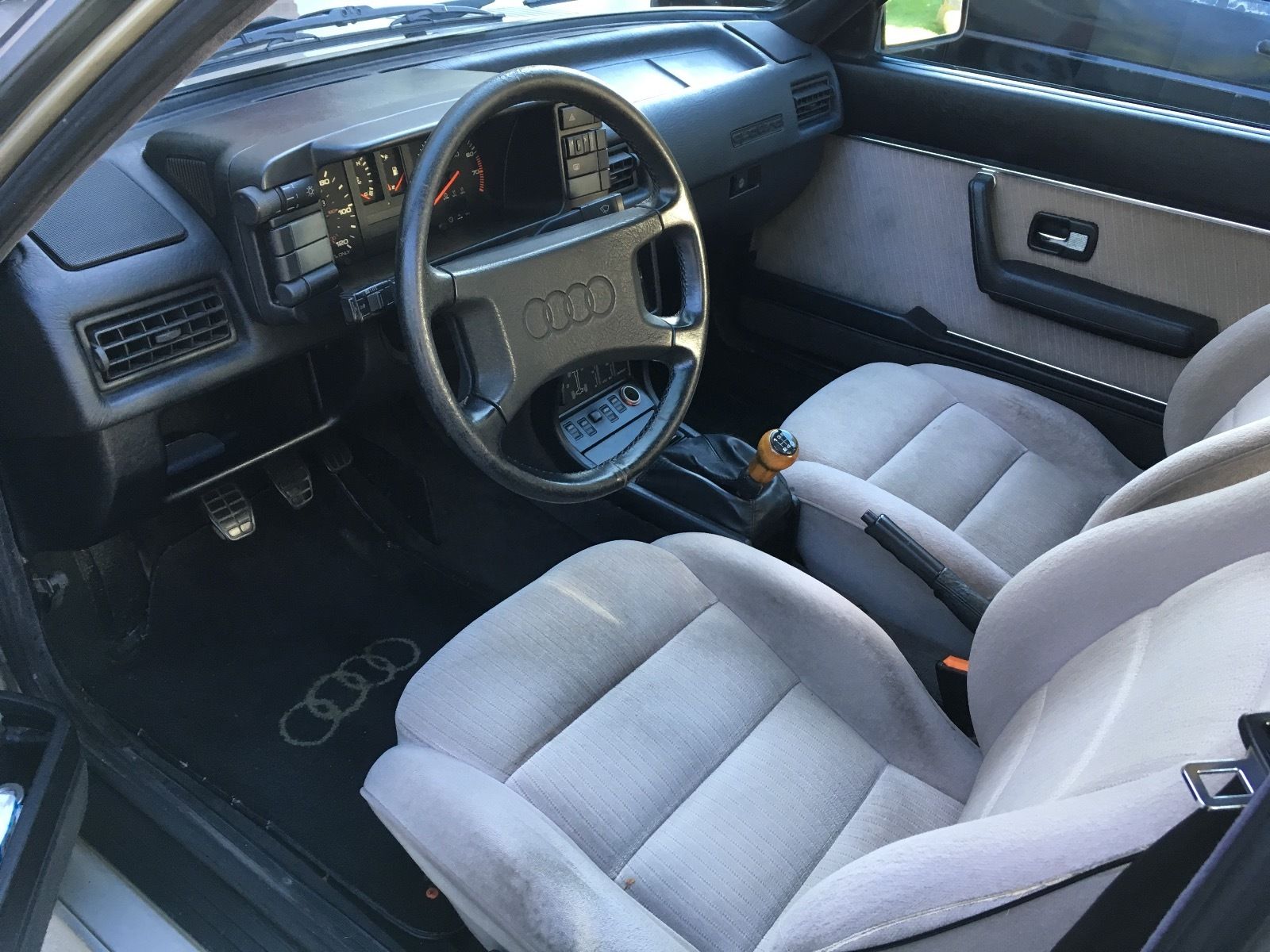 While Zermatt Silver Metallic over gray Kensington velour isn't a particularly inspired combination, this is one nice looking example overall. A lot of heavy lifting has been done, including major suspension and brake overhauls that would leave you most if not all of the asking price poorer should you attempt to pay a shop to do them. The combination of the lowered ride height with the 200/V8 quattro spec BBS RG forged wheels is simply awesome, and the seller has done this car the right way by giving it the suspension and brake upgrades it would need to later add in power. As far as I'm aware, there simply isn't a better condition 4000 quattro on the market today for less money than this. You could buy this car and bring it to the next level with some power upgrades and some further detail work and be left a very happy driver of a unique and infrequently seen car today.
Thanks to our reader Eric for the great spot!
-Carter