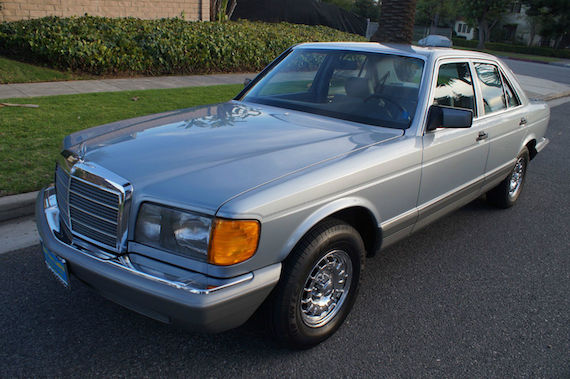 Sometimes it's hard for me to think of the W126 Mercedes-Benz S class as a classic vehicle. When introduced at the dawn of the 1980s, this new model moved the luxury car target in true S class fashion, bringing features such as integrated bumpers, air bags and anti-lock brakes into the mainstream mix. With a new S Class in dealers for 2014, we once again see this big Mercedes charting the course for another generation of luxury sedans. You still see plenty of these W126s still on the road today, a testament to their durability. Many of these you see are diesel models such as this low mileage 300SD for sale in California.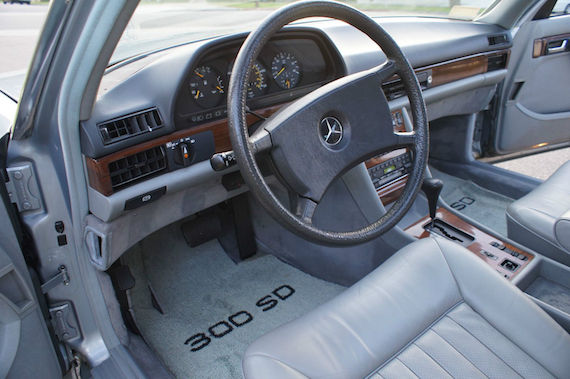 Year: 1983
Model: 300SD
Engine: 3.0 liter inline-5 diesel
Transmission: 4-speed automatic
Mileage: 69,800 mi
Price: $19,500 Buy It Now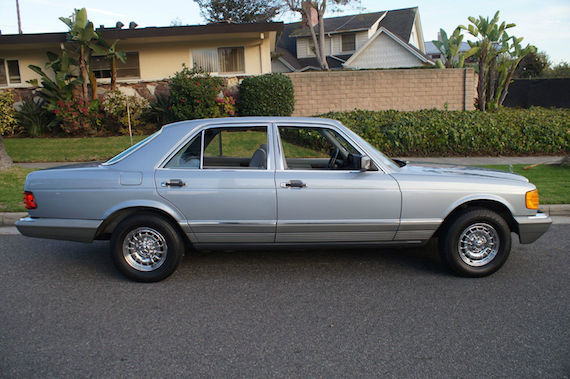 West Coast Classics are proud to present an absolutely exceptional example of this original southern California 1983 Mercedes-Benz 300SD Turbo Diesel Sedan in its original factory 'Silver Blue Metallic' color paint with a striking and virtually flawless 'Light Gray' color leather interior, chrome Mercedes-Benz alloy wheels, original 'Becker' radio/cassette and only 69K undocumented but believed to be original miles!

Purchased and originally serviced by original and only owner at 'Jim Slemons Mercedes-Benz', the Mercedes-Benz dealership of Newport Beach, California. The car will be sold with all its original owners manuals, dealer stamped service booklet and tools.

The Mercedes-Benz W126 is a now legendary series of flagship vehicles manufactured by Mercedes-Benz until 1991 and was a successor to the earlier W116 series and was offered in a straight six, V8 and the now renown turbo diesel models. The 1981-85 300SD model boasted the OM617.951 3.0L 5 Cylinder Turbo Diesel engine which is now considered to be one of the most reliable engines ever produced and one of the key reasons for Mercedes popularity around the world today as the ultimate long distance and durable touring car with many models still being used around the globe as taxi cabs boasting many hundreds of thousands of miles on the clock. It is an economical and relatively quick with the turbocharger fitted car and a legendary trouble-free engine. The Mercedes W126 300SD was a US & Canada only import and offered a unique combination of luxury, exclusivity, economy and reliability that could not possibly be matched by any other brand making it the vehicle of choice by countless diplomats, executives and other such entities who recognized the attraction of the worlds first production turbo diesel sedan. These luxurious cars still command a strong demand internationally, especially low mileage and well maintained and unabused examples.

This particular model was obviously always garaged by its owners with no accidents and a clean CARFAX report and with all original parts and paint and absolutely no rust whatsoever! The original and very striking factory 'Silver Blue Metallic' color paint is in absolutely beautiful condition and the original 'Light Gray' leather seats are also in absolutely beautiful condition with virtually no signs of any wear and the original leather dashboard and the walnut wood veneer interior are also in great shape with no cracks or blemishes (obviously always garaged from the sun!)

The car drives exactly like such a well maintained and serviced Mercedes-Benz Turbo Diesel with only 69K original miles (ultra low mileage and extraordinarily rare for these notoriously hard driven vehicles and virtually just broken in for this legendary engine) should and must be seen and driven to be truly appreciated! The engine is extremely strong with no noticeable oil leaks and the temperature always remains cool. All the power options are working as they should including the A/C.

Without a doubt, this is one of the finest cars ever built by Mercedes-Benz or for that matter any other car manufacturer and they are now becoming increasingly more desirable and hard to find, especially with such low original miles and in such all original and unabused condition, than ever before – certainly you will look long and hard to find a finer head-turning example with such low original miles and in its original factory paint available anywhere else!

For further information contact West Coast Classics through Ebay or on 310-399-3990 during regular California business hours.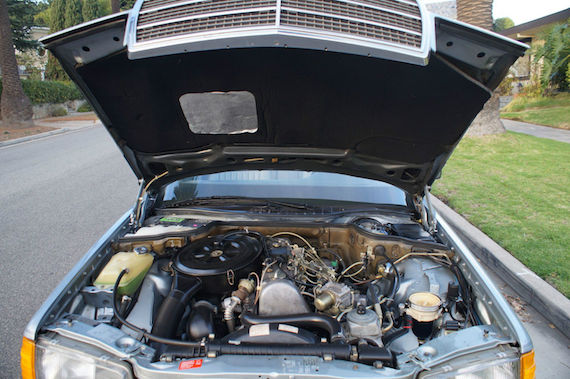 This is certainly one of the better W126 S classes I've seen as of late, but closing in on $20,000 is a big ask for a car that you can normally pick up around the $9,000 to $12,000 mark in good condition, depending on which model and year it is. True, the later W126s can be a tad more desirable due to their updated styling, but the inline-5 diesel under the hood of this particular 300SD didn't suffer some of the teething issues of later inline-6 diesels that appeared later on in the range. This car probably won't move too fast at the current Buy It Now price. Drop at least $7,000 off the ask, though, and we may start getting warmer.
-Paul