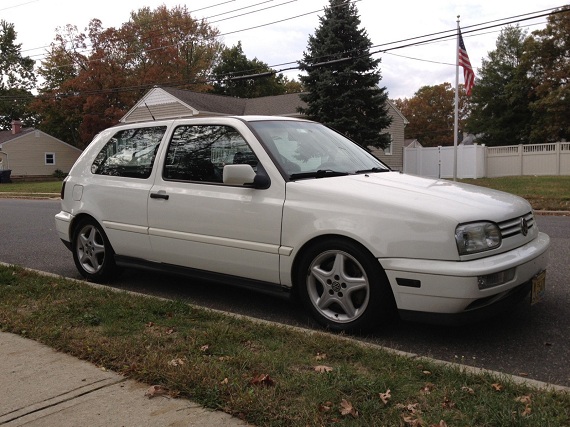 Last week Paul wrote up a nice example of a Ginster Yellow GTi VR6 Driver's Edition; one of what we're coming to believe may be a dying breed. Like the 16 valve GTis that preceded the VR6, the third generation GTis were used, often quite aggressively, by their owners. Couple that with a tendency to have rust develop in the third generation Golfs and the number that have given their guts for VR swaps into earlier cars and you have a rapidly developing shortage of unmolested, cleaner examples of the GTi. Today's example may be the rarest color on the GTi of this vintage; few that I've ever seen were specified in "Cool White" that is model is: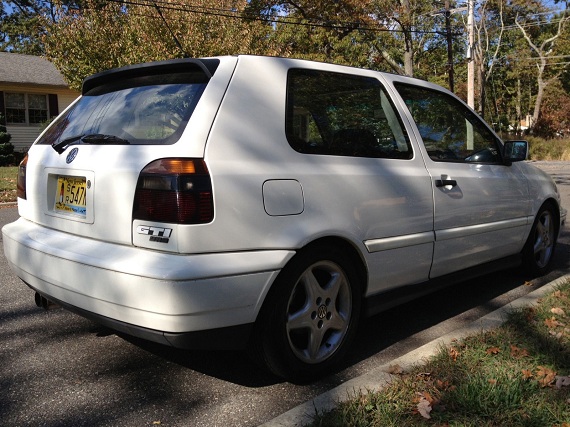 Year: 1998
Model: GTi VR6
Engine: 2.8 liter VR6
Transmission: 5-speed manual
Mileage: 144,252 mi
Price: $4,400 Buy It Now
1998 VW Golf GTI VR6

– Cool White Exterior w/Black Leather Interior

– 144K miles

– 5spd manual transmission with short shifter, new bushings, recently replaced clutch

– Passed NJ Inspection in October – good through 10/2015

– No CEL(check engine light), Airbag light or any other warning lights currently lit on dash (all bulbs are still in the cluster!)

– Timing chain/water pump were replaced (127k miles), Battery (130k miles), Neuspeed Plug Wires and coil pack (132k miles), Mass Airflow sensor (144k miles), PCV Valve (144k miles), Air Filter (144k miles), VW Spec Single Tip Copper Spark Plugs (144k miles), Miscellaneous vaccuum lines (144k miles), Catalytic Converter (144k miles), RainX wipers (144k miles)

– Modifications include: MK3.5 Cabrio 3 spoke steering wheel w/airbag, Bosal Exhaust (downpipe back, including bosal catalytic converter), slotted front rotors, Pioneer radio/cd player, Polk Audio component speakers, smoked side markers, clear long turn signals and fog lights, Koni Lowering Springs (front struts, strut mounts and tie rod ends need to be replaced)

The car is in very good condition for the year. If you are familiar with Volkswagen's you know that a white MK3 GTI VR6 is hard to come by in nice condition. I drive the car regularly and it has been very reliable. It pulls strong, as to be expected for a VR6. However, as with any car from 1998 there are some imperfections including some minor dings, scratches, ect. VW's from 1994-1999 are prone to rust issues on the floors, hatch, strut towers and gas cap area. I can say that there is no rust in any of these areas. However, there is a minor spot that has bubbled on the passenger side quarter panel and some on the very bottom of the rocker panels (covered by the side skirts). Please see pictures. In trying to be as honest and upfront as possible, I will describe all flaws with car. Minor separation on one seam of the driver seat (approx 2-3″), cracked end cap on passenger side skirt ($5 used), very small chip in windshield (approx 1/2″ and has not spread over the past 6 months), needs front suspension work (new front struts – $95, new VR6 strut mounts – $40 and new tie rod ends – $30).

Unfortunately, a change in needs (bathroom remodel at my house) is forcing the sale of this car. If you have any questions or would like any additional pictures, please contact me prior to bidding.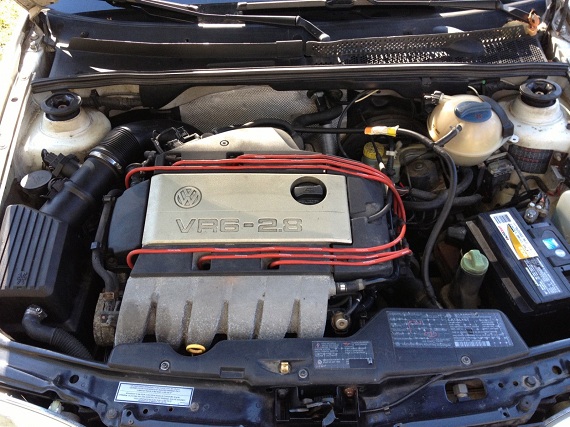 There are a few issues present with this car; rust is creeping through in a few spots which seems typical for the Mk. 3 chassis. Additionally, there is a reported need for some attention to the suspension. However, the owner has recently undertaken a fair amount of vehicle maintenance which is certainly nice to have checked off. The modifications aren't extensive and could be easily reversed if desired. Overall, the car presents very well, though I think it's interesting that it seems to wear early VR6 wheels instead of the 1998-spec Speedline wheels; the same wheels on the Ginster Yellow GTi Paul wrote up. Sourcing those wheels isn't impossible but they're not very common, so you may need to do a refinish once all is said and done. The asking price is $4,400; that's nearly a $1,000 more than the Ginster model sold for recently, and that car looked a bit cleaner and had less miles. We seem to agree here that the sweet spot for these GTis still is in the $3,000 to $4,000 range, but if you're interested, get one while you can – we're pretty sure they're going the way of the dodo and will be appreciating soon.
-Carter