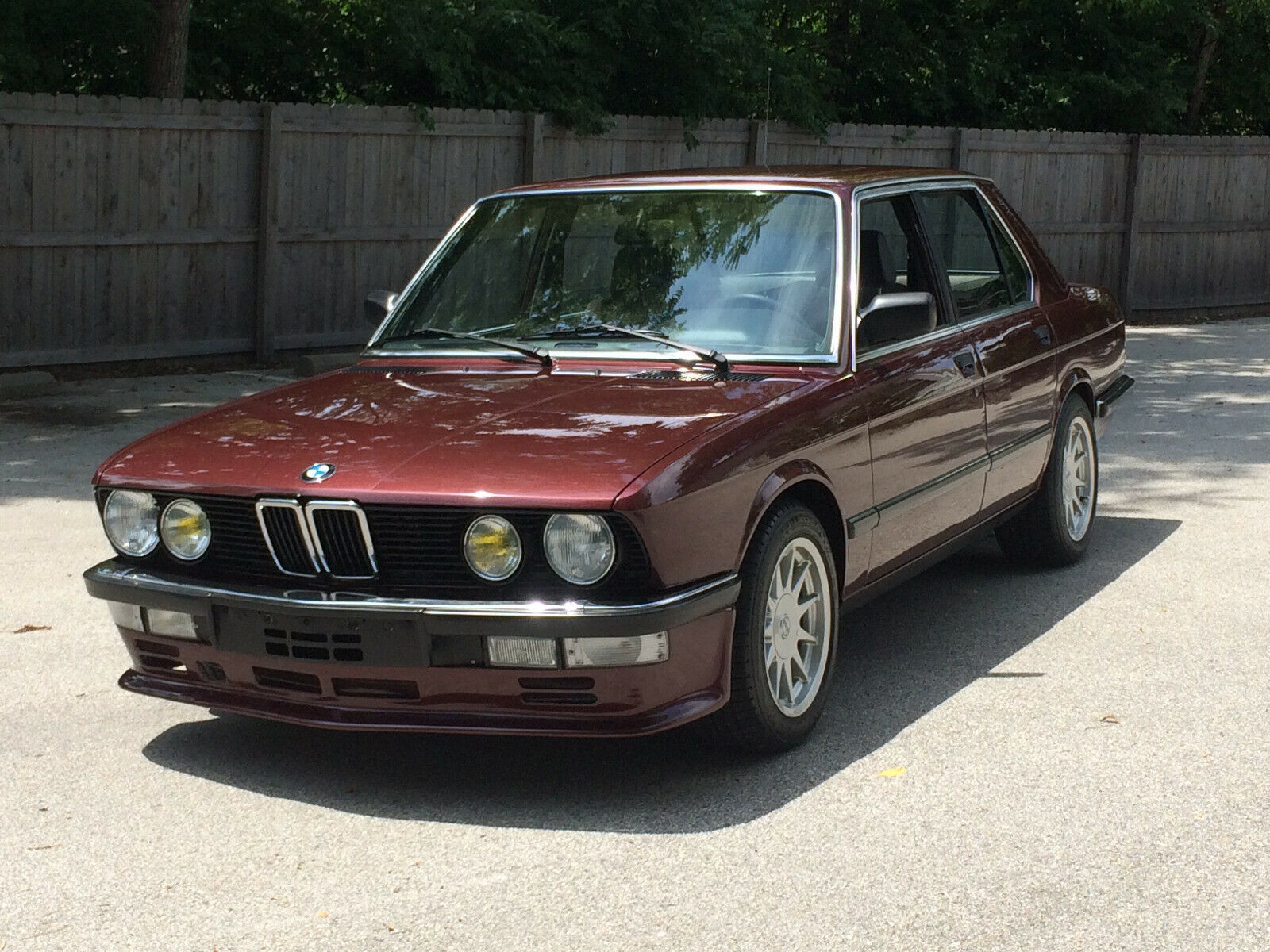 Update 11/17/19: This beautiful Euro-spec E28 528i that I wrote up over the summer is still for sale. The seller contacted us and let us know it is still available and you can email them directly by clicking HERE. He's willing to entertain reasonable offers and answer any questions about the car and work performed. GLWS, Gary – we wish we had room in the garage to grab this one!
The E28 will undoubtedly go down in automotive history as one of the most-loved chassis from BMW. Like its even more versatile little brother the E30, the E28 was a huge step forward in performance, driving dynamics and build quality from the E12. Classic looks defined the brand, while multiple different engines allowed a variety of budgets to experience the Teutonic design. And, like the E30, the E28 introduced the world to the first full M branding, raising the bar and defining the luxury sports sedan full-stop.
Some 31 years on from the last E28s rolling out of showrooms, prime examples still are stealing the stage in the classic BMW market. Pristine M5s still lead the charge but even very clean custom E28s can bid to high numbers. Today we have just that – a very clean, Euro-spec '84 528i with some period modifications in a color combination that really helps it stand out: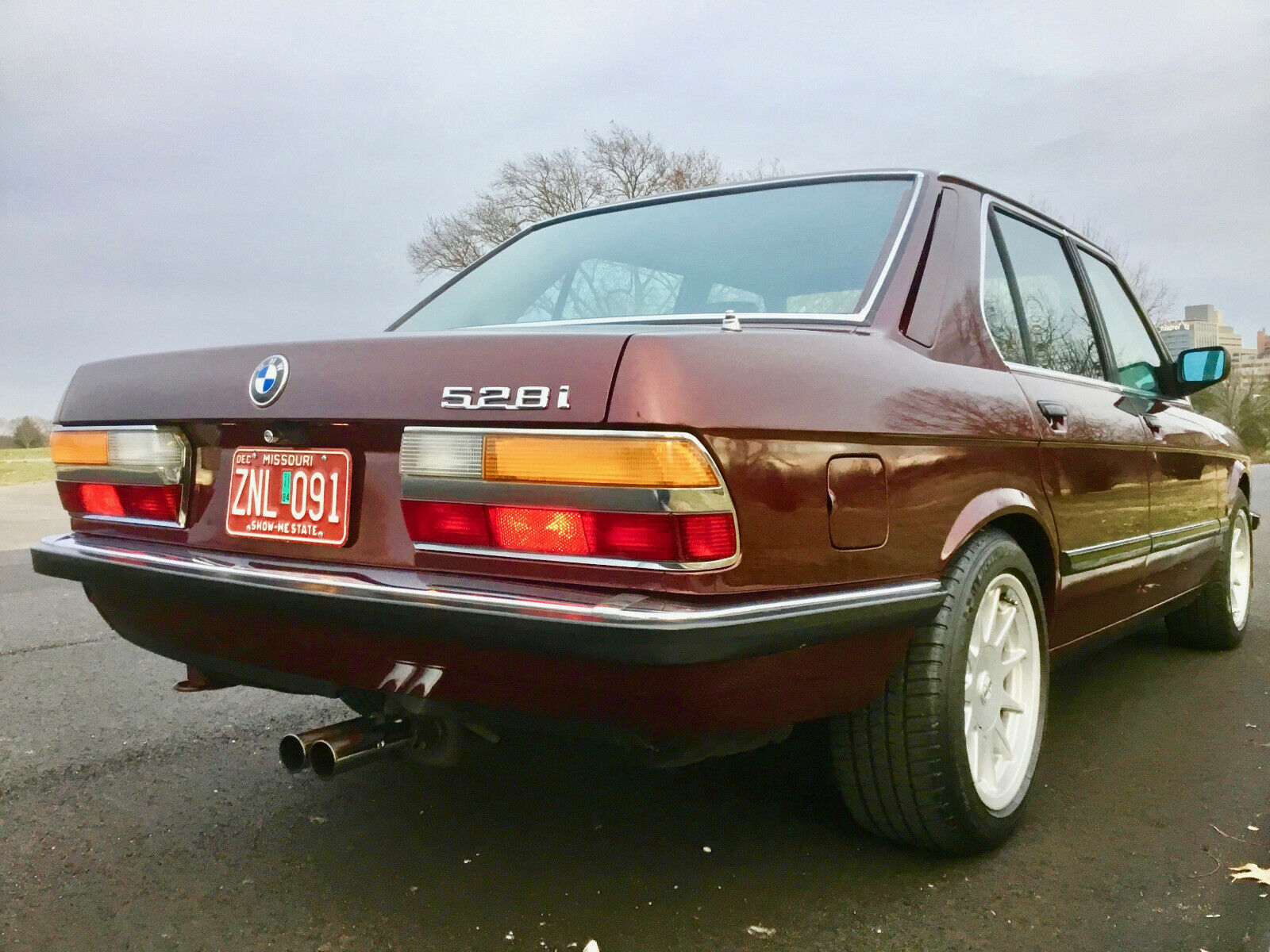 Year: 1984
Model: 528i
VIN: WBADA710509275457
Engine: 2.8 liter inline-6
Transmission: 5-speed manual
Mileage: 97,850 mi
Price: $17,950 Buy It Now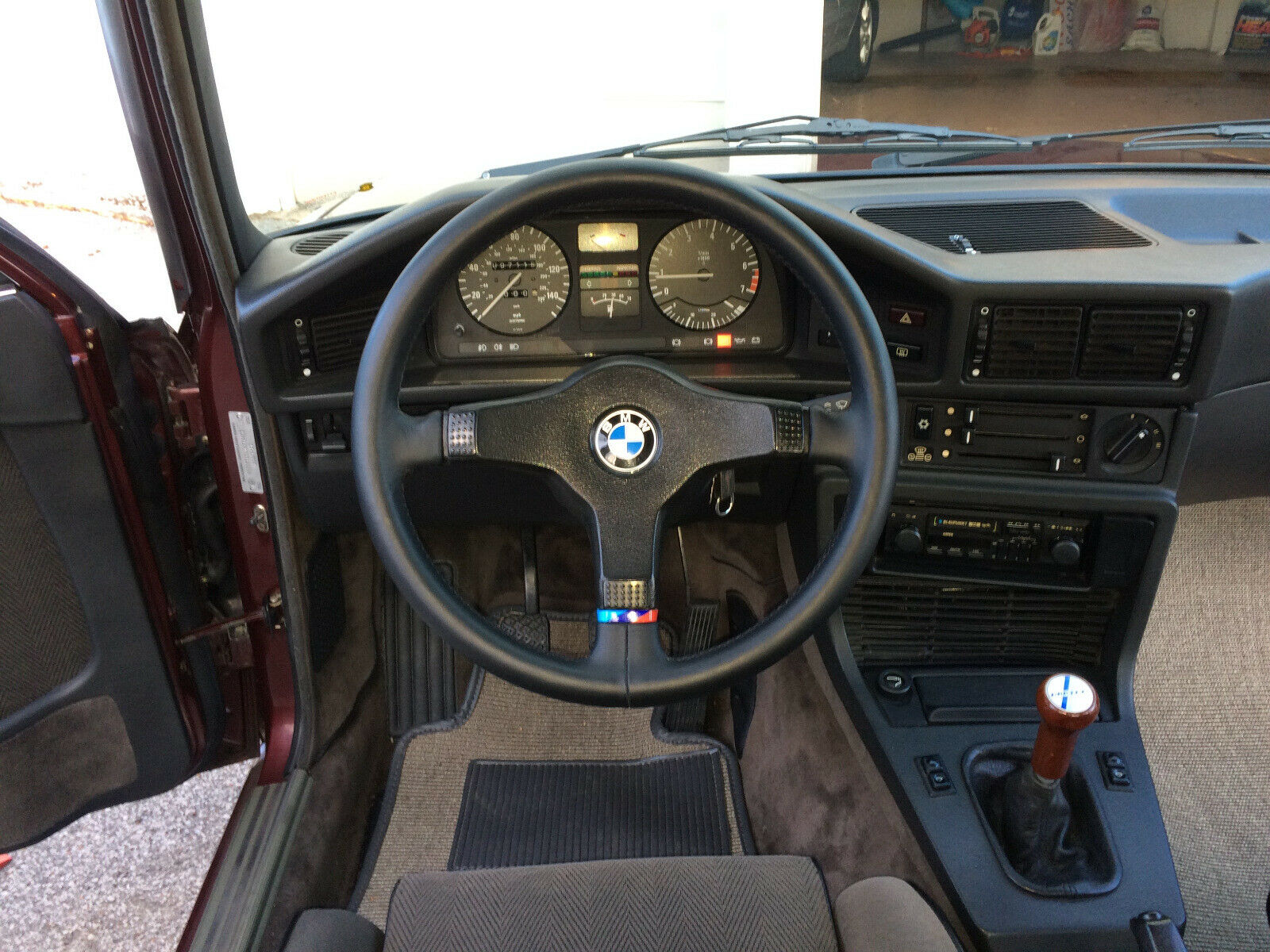 I am offering for sale my 1984 528i eurospec car. This rust-free e28 is running strong and drives/handles as it should. The car starts right up, drives straight as an arrow and runs smoothly and strong; the steering wheel is perfectly aligned, stops are straight and fast, and there is no shimmy whatsoever at any legal speed. I have all service records from day 1 on this car when it was legally imported by the original owner to California and federalized. The California BAR sticker is present on the door jamb and shown in the images below. During my stewardship, considerable attention has been focused on the car's brakes, heating/cooling, and many other items outlined in this description. The car is stored in my heated garage and never driven in rain, snow or salty roads.

In this auction, I have provided a small sampling of the many images from the car's Flickr album:

https://www.flickr.com/photos/9095119@N06/albums/72157675034033787/with/45622137295/

The headlights are brand new OEM French market headlamps sourced from The Netherlands.

This e28 has antique car status in the state of Missouri. The car has a metal plate certifying this status riveted inside the driver's side door jamb by the MO Highway Patrol, all officially approved by the MO Dept. of Revenue.

The sport seats are a transplant from the previous owner's Hartge H5S. The Hartge H1 front spoiler and Hartge shift knob can also be seen in the many images provided.

The car received an outstanding repaint in the original Burgundrot Metallic (199) color in 2014, and the slim Euro bumpers have been fitted with new rubber trim. Hartge Type A staggered 16? wheels wear new New Michelin Pilot Sport A/S tires (Front = 205/55/16 Rear=225/50/16).

The dash is crack-free, and the headliner has normal age discoloration around the rear glass.
RECENT SERVICES PERFORMED
Oil and filter;
Brake fluid flush
Coolant flush
Replaced coolant overflow tank and coolant hoses as needed
Replaced heater core
Fixed fuel evap leaks (new fuel hoses as needed)
Replaced heater valve diaphragm
New battery
New Michelin tires (225/50R16) Pilot Sport A/S and 4 wheel alignment
New Hella French market headlamps
A/C service (R134 refrigerant)
Replaced many burnt out dash lights
Complete Tune up service
Removed and replaced all hood insulation with OEM product;
New OEM rear license plate bracket
New exhaust downpipes; changed out rear resonator with good used replacement
New rear deck speakers and new OEM speaker grills
Recovered M-tech 1 steering wheel to replace the original factory wheel
REplaced SI board with new modern circuit board (no batteries required)–bad Si boards are common cause of speedometer/odometer issues
Speedometer service: replaced odometer gears set
Replaced speedo drive sensor with new OEM sensor
BRAKE RELATED SERVICES:
Replaced Brake system accumulator
Replaced front brake calipers with new OEM calipers and new hoses
New master cylinder
New HYDRO BOOSTER
Replaced brake pressure switches

COSMETIC RELATED WORK and CONDITION
The original owner had the car repainted the factory color in 2014;
Entire car wet-sanded and polished smooth to eliminate all of the orange peel
INTERIOR ( Upholstery, carpet) professionally cleaned; two small wear areas on driver's leg bolster can be easily addressed if desired by an auto upholstery shop (flipping the cloth around on the bolster and reinstalling so that the wear area is on the underside of the bolster)
Perfect dash–no visible sun damage or cracking
Headliner shows sun discoloration around back window and C-pillars

Regarding the air conditioning system, it has a Non-AC factory center console typical with an aftermarket system of that era. The A/C lines enter the engine compartment through the passenger side firewall. The variable thermostatic control knob is located inside the glovebox. The air blows cold through all 4 dash vents; the A/C system has a separate motor that turns off the regular blower motor when the A/C switch is in the ON position. The fan speed switch controls both blower and A/C motors, whichever one is in use at the time.

Finding an e28 with no rust is becoming just about impossible much less an example where all the work has been done.

I will respond quickly to all questions.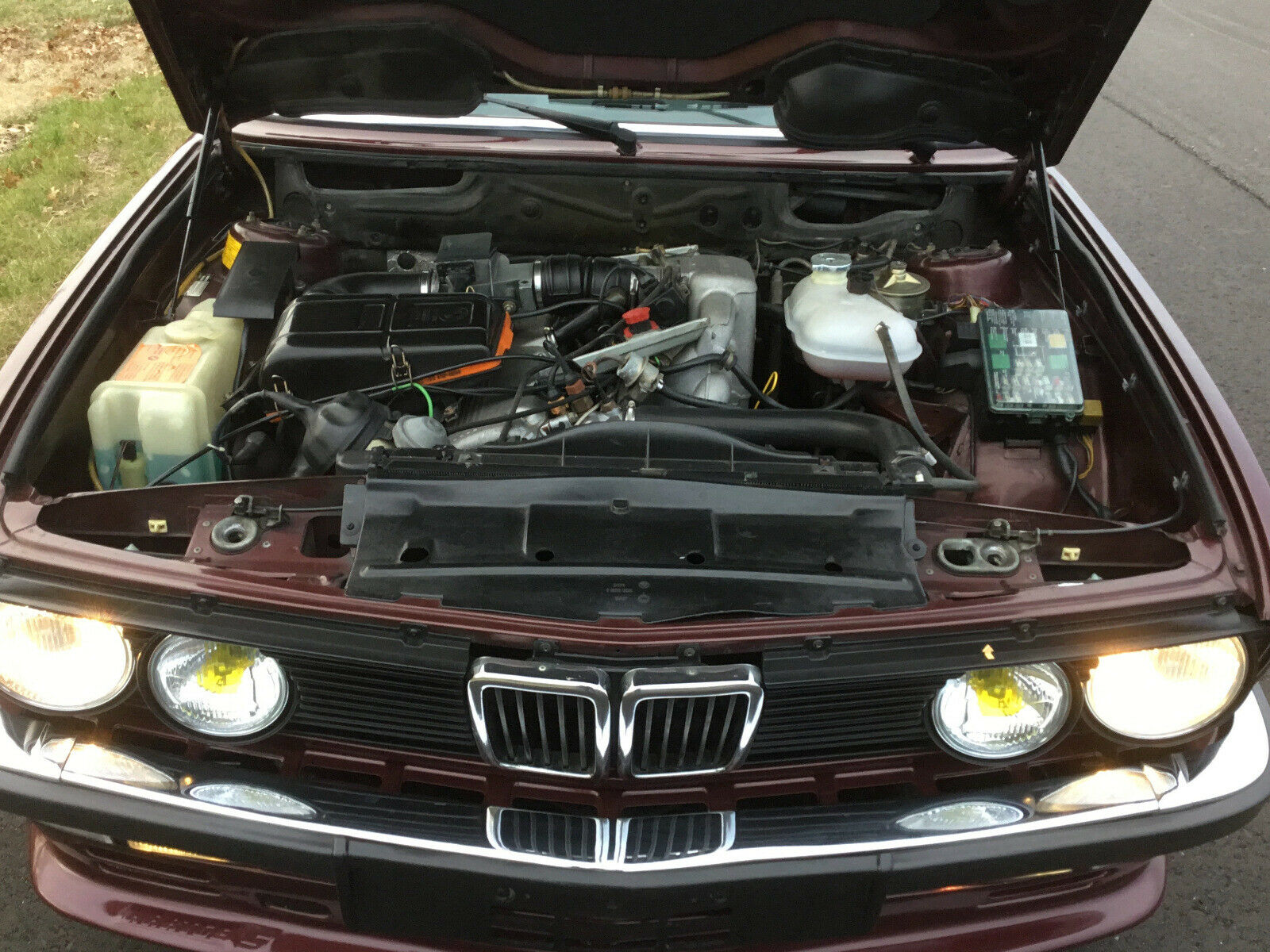 Fit with L-Jetronic fuel injection, the M30B28 was rated 181 horsepower and 177 lb.ft of torque, which was the same power rating as the U.S.-market 533i and only a touch down on the later 535i, so while the "28" badge may not impress as much as the bigger M30s, performance shouldn't suffer much. The car seems quite well documented by its current owner and is certainly lovely in Burgundrot Metallic (199) with Anthrazit (129) sport seats fit. The Hartge bits add a bit of flare which helps the car stand apart from the typical BBS-clad or Alpina'd fleet of classic BMWs.
The price of nearly $18,000 certainly feels steep at first, but looking at the work that's done it's certainly justifiable to the right person. Last year I took a look at an even more extreme 528i with a higher asking price:
To me, today's 528i is a bit more pure and I love the presentation. While the asking price could get you into a 535i or iS, it's not likely to be in this condition and with these options. Just doing the correct Euro front end swap can be thousands of dollars alone, never mind sourcing the correct parts like bumpers, spoilers, and wheels. I hope this enthusiast gets close to his asking price, and I bet other E28 owners do too.
-Carter